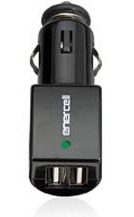 Many small electronic devices have switching regulators in them that can generate a bunch of Radio Frequency Interference (RFI). This is not my first encounter with RFI-spewing devices. See this article about a automotive 12V-to-USB adapter giving me trouble: This Interference Seems To Follow Me Everywhere
I recently bought a couple of adapters that are physically larger than the one I wrote about. I was thinking that a larger size might allow for a little more filtering and a design that does not radiate. I was half right: one of them works pretty well, the other is an RFI Bad Boy.
Take a look at this short video where I check them out.
This is an Amazon link to the adapter that works pretty well.
Enercell® 2-Port USB CLA Car Charger
73, Bob K0NR
The post Radio Frequency Interference From 12V-to-USB Adapters appeared first on The KØNR Radio Site.
Joyce/K0JJW and I had intended to hike Pikes Peak this year for a Summits On The Air (SOTA) activation but somehow the plan never came together. I still had my eye on it as a drive-up activation before the end of 2017. The road to the summit is open year round now but closes frequently due to snowstorms passing through. Saturday morning the road was open to 13 miles (out of 19 miles) with the promise that it would be open to the summit later in the morning. (Call 719 385-7325 for a recorded message on road conditions.) By the time we got to the toll gate around 10 am, the road was open to the summit.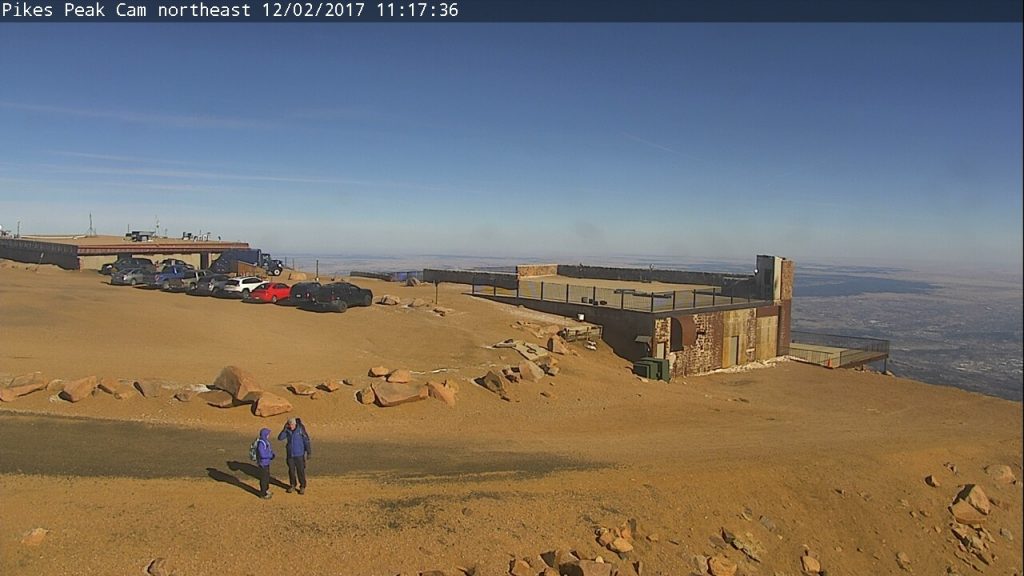 When we reached the summit, the weather conditions were 20 deg F with 20 mph winds, creating a windchill of 4 deg F. We were prepared for that having loaded up on the winter clothing. Still, it was freaking cold up there. As you can see in the webcam picture, there was only traces of snow on the summit.
To be SOTA-compliant, we had all of our gear loaded into our packs and walked some distance away from our vehicle to set up. Because of the wind, we chose the observation platform, tucked in behind one of the walls. Normally, that platform is to be avoided because its overrun with tourists but with the cold weather we only had a few people to contend with.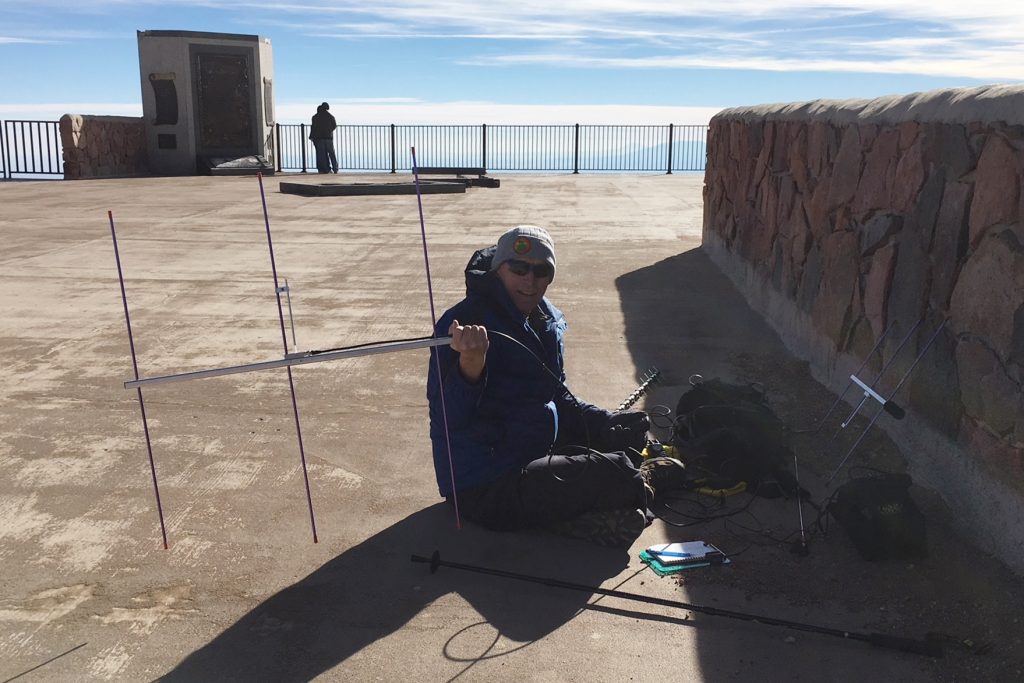 Joyce set up on 2m fm (146.52) using a handheld transceiver (HT) with a vertical antenna. Even with her headset (foam protection on the microphone), the wind noise on her signal was significant. I started out on 2m fm but quickly moved up to 223.5 MHz and worked a few stations there, then on to 446.0 MHz. I had HTs and small yagi's on both of those bands. Then I fired up 1.2 GHz with an Alinco HT (just 1W on that band) and a 16-element yagi. I worked Paul/W0RW, Gary/WB5PJB and Wayne/N0POH on that band. My QSO with N0POH in Aurora was a new personal best for distance on 23cm/1.2 GHz, at about 90 km.
I tried 2m SSB using my FT-817 but made only one contact: Jim/WB0GMR. Shortly thereafter, I switched back to 2m fm using the 25W mini-mobile rig with a 3-element yagi to work many more stations. Again, just running a bit of power and having a decent antenna on 2m fm was very effective at making radio contacts. I expected the Tytera radio to be overloaded with signals on the summit of Pikes but it actually held up well with just occasional bursts of interference.
Overall, we made 54 QSOs (not too shabby): 43 QSOs on 2m, 5 QSOs on 70cm and 3 QSOs on both 1.25m and 23cm. Our best DX was Jeff/N0XLF near Akron, CO for a distance of about 130 miles (on 2m and 70cm).
73, Bob K0NR
The post Pikes Peak SOTA (W0C/FR-004) Winter Activation appeared first on The KØNR Radio Site.
Walt/W0CP had recommended this Summits On The Air (SOTA) summit (W0C/SP-076) to me a while ago. Somehow it had escaped my attention, probably because it's an unnamed peak and not that well known. Joyce/K0JJW and I decided to give it a try today and it turned out great.

We followed Walt's directions on the SOTA website, using the southern route. We were pleasantly surprised to find a pretty good trail most of the way to the summit. There were a few spots with downed timber, where people have diverted around the logs, but generally the trail was easy to follow. The trail is not shown on many maps, including the USFS San Isabel Forest map. Thus, I was expecting considerable bushwacking to get to the summit.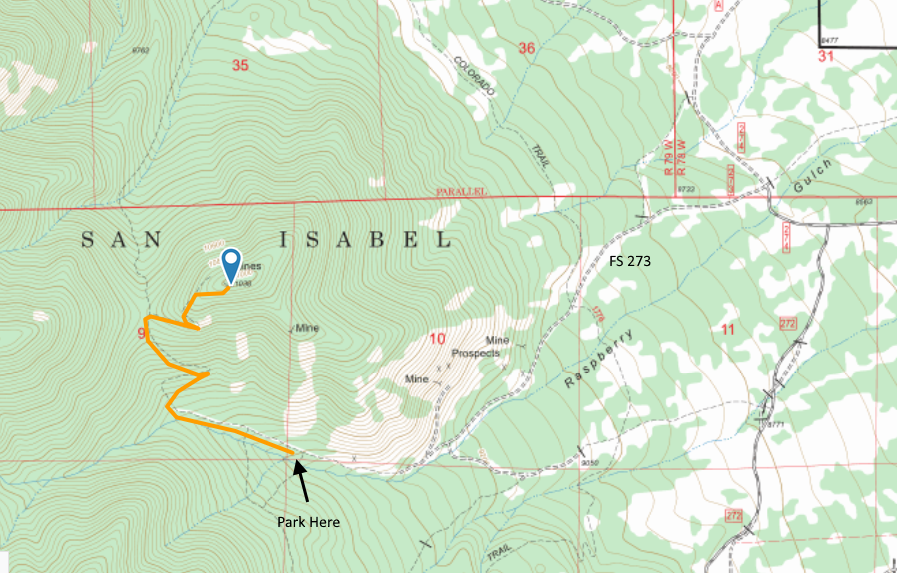 The route to the trailhead is via FS Road 273, easily accessible from Highway 285 south of Buena Vista and north of Salida. See the San Isabel National Forest map for orientation. The road is narrow in spots. Our Jeep Wrangler fit OK but a wider vehicle would get to deal with the brush on both sides of the road.  The road is easy 4WD and should be passable with a high-clearance 2WD vehicle. The road had some snow on it (Nov 25, 2017) and with a few more snowstorms may not be passable.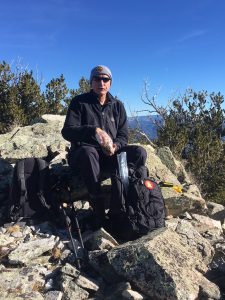 The road continues a little further than indicated on our topo map but it is obvious when it ends. After that, the road turns into a nice trail (our route shown on the map above). The trail has a few broad switchbacks that made for easy hiking. When we got near the summit, the trail was covered by many small snow drifts, so we opted to go off trail and just head for the summit. So our last quarter mile or so is probably not optimal for summer hiking. There are several mines at or near the top of the mountain.
We had quite a variety of radios with us, for 2m, 1.25m, 70 cm and 23 cm, FM only. We started on the workhorse band (2m FM) with the 25W Tytera radio and a vertical half-wave antenna. It seems that someone (me) left the 3-element 2m yagi antenna at home. We quickly made contacts with KD0MRC, W0BV, KD0VHD, KE0DMT and KL7GLK on 2m and/or 70 cm. I used my Alinco 222 MHz handheld to work KD0MRC on 223.5 MHz, which is apparently the first 222 MHz SOTA contact in Colorado. (Yeah, not a popular band.)
For the most part, it was pleasant on the summit, about 40 degrees F, but it got cold whenever the wind picked up. Without the wind, it was great. With the wind, kind of cold.
This is a great hike and a great summit. Only a few people have activated it for SOTA, so I wanted to write it up for others to consider. We will definitely return to this one due to it's excellent combination of easy accessibility, good trail and wonderful views.
73, Bob K0NR
The post Hidden Gem: W0C/SP-076 Unnamed SOTA Summit appeared first on The KØNR Radio Site.
Here's the SOTA activator scores for Colorado (W0C). I have to admit that I like checking this to see how everyone is doing. Some of it is friendly competition but mostly its enjoying the accomplishments of my fellow SOTA enthusiasts.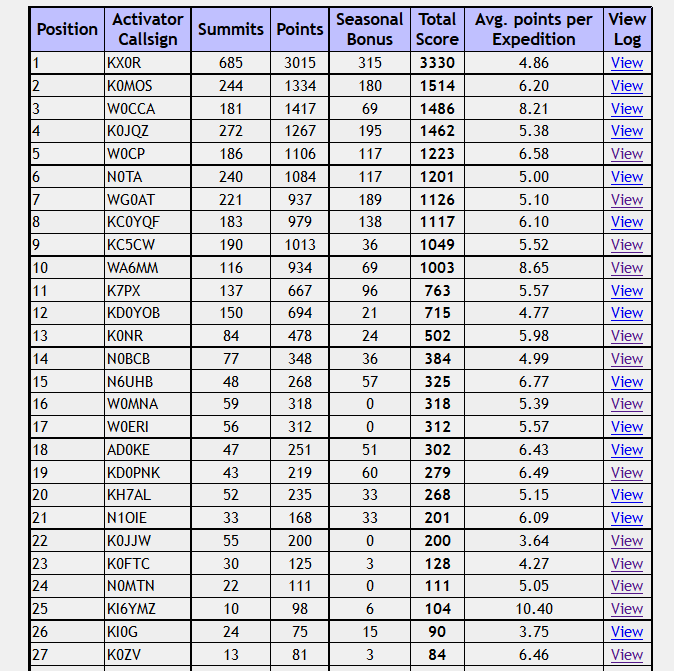 We've got 10 "Mountain Goats" in Colorado now, with 1000 or more points. Carey, KX0R just never stops activating. It seems like he is out there on a summit every day. My friend Brad WA6MM just made "Mountain Goat," by activating only Colorado summits, never repeating any, with many difficult climbs. Note that his average points per expedition is 8.65, higher than any of the other MGs. (W0CCA comes close at 8.21) Congratulations, Brad!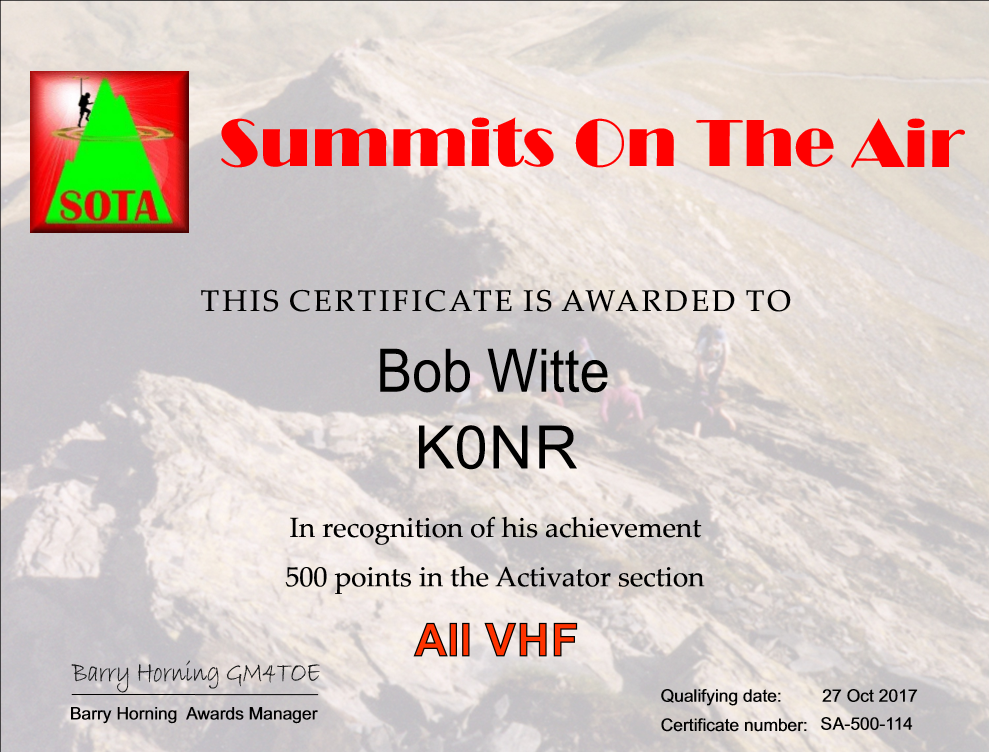 It looks like K7PX and KD0YOB are next in line for Mountain Goat, while I am still a ways back. My hiking partner Joyce/K0JJW is coming on strong, having accumulated 200 points. I just cleared "half a Mountain Goat" at 500 points, so I requested a certificate for that accomplishment. At my current rate of progress, I am about 2 years away from Mountain Goat. I keep telling myself to be patient, keep at it and (most of all) enjoy the journey.
73, Bob K0NR
The post Colorado (W0C) SOTA Activators appeared first on The KØNR Radio Site.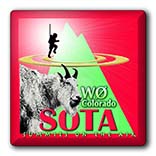 For years now, I've been doing Summits On The Air (SOTA) activations using VHF and higher frequencies. The GO TO band/mode for VHF SOTA is 2-meter FM because of its overall popularity. Just about everyone has a 2m FM radio (well, almost everyone). Still, if you are on a remote peak you may not find anyone within range to work. Because of this, it really helps to optimize the performance of your portable VHF station.
Antennas
I've already written that the first step is to upgrade the rubber duck antenna to something that actually radiates. My measurements indicate that a half-wave antenna performs 8 to 10 dB better than your typical rubber duck. That's a big difference. I tend to favor the collapsible half-wave antennas because they are compact and don't require any support. Another option is the J-pole or Slim Jim antennas, typically build out of twin lead or ladder line.
The next step up is to use a small yagi antenna, such as the 3-element Arrow antenna. Although Arrow does not specific the gain of this antenna, it has been measured at the Central States VHF Society conference as having ~6 dBd of gain. I've been on the lookout for a higher gain antenna but I have not found one that has significantly more gain while still being backpack portable.
Modulation
Frequency Modulation performs very badly when signals are weak. The well-known threshold effect means as the signal level decreases at the receiver it simply crashes into the noise. Linear modes such as CW and SSB work much better when signals are weak, which is why they are popular with the serious VHF crowd. I've used my Yaesu FT-817 to make SOTA contacts on both 2m and 70cm SSB and CW. My all time best distance on 2m during a SOTA activation was 229 miles, a QSO with N7KA from Capulin Mountain using CW. However, the problem with SSB/CW is that there are much fewer radio amateurs that operate that mode. I estimate that on a typical day, there are 10 to 100 times more hams on 2m FM than are on 2m SSB/CW.
More Power on FM
I've noticed that I sometimes hear stations on 2m FM but they cannot hear me. Further investigation revealed that they were typically running more power than me. I had my little HT putting out 5W and they were running a 50W mobile. That got me thinking about whether I could increase my power while still having a backpack-compatible station. SOTA operation is typically QRP, around 5 or 10 W of power. However, SOTA does not specifically state a required power level…it's really driven by the need to operate backpack portable. Hence, there are very few 1 KW amplifiers in use on SOTA summits.
Some of the Chinese manufacturers now offer compact dualband (and even quadband) VHF/UHF transceivers that output 10 to 30 watts of RF power. I purchased the Tytera MD-8600 based on my experience with other Tytera products. The radio's specified output power is 25 watts on 2 meters. The DC power current is rated as 0.2 A on receiver and 4A on transmit, not too bad for battery operation. I paired it with a 13.2V LiFe battery rated at 4300 mAH. In theory, that would provide over an hour of transmit time or 21 hours of receive. That should be plenty for the typical SOTA activation. The size is a slightly larger than 4″ W x 1.5″ H x 5″ D and it weighs about 2 pounds. All in all, this setup is very compatible with the typical backpack portable operation.
Let's do a little math to understand the difference in transmit signal. The TH-8600 puts out 25W compared to the 5W from FT-60. The difference in dB is 10 log (25/5) = 7 dB. Someone said to me "hey, that's only a little more than one S unit, which is normally defined as 6 dB. Is that really enough to make a difference?" To which I responded, "yes, 7 dB can make the difference between making the radio contact or not…when signals are near the noise floor of the receiver." For strong signals, it just doesn't matter.
I've used this configuration on three SOTA activations and I like the results. On two of the activations, I compared the TH-8600 (25W) to the Yaesu FT-60 (5W) that my hiking partner (Joyce/K0JJW) was using. Both radios were connected to 1/2-wave vertical antennas, operating on 2m FM. The radios performed the same on receive, as expected. But the weaker stations we were working had trouble hearing the FT-60. Again: if signals were strong, it didn't matter but the extra power made the difference when near the noise floor.
I checked out the basic performance of the radio on my test bench and found it to be adequate. The transmit frequency was spot on, the harmonics and spurious on 2m were about 60 dB below the carrier. The receiver sensitivity was about 0.2 microvolts. The RF output power was low, 22.4 W on 2m and 17.7W on 70cm (compared to the specs at 25W and 20W).
I was hoping the receiver performance would be better with regards to rejecting adjacent channel signals and intermodulation. I don't have a good test bench for that but I can tell you that I noticed some unwanted interference from transmitters that were not close to my location.
How Many dB's Is That?
So let's summarize the dB situation.
5W HT with standard rubber duck antenna       0 dB
5W HT with 1/2-wave antenna                  +8 dB
3-element Yagi antenna (Arrow or similar)    +6 dB
25W transceiver (vs 5W output)               +7 dB

Total improvement (25W with yagi vs HT)     +21 dB
Wow, I can improve my signal strength by over 20 dB be making these improvements! I should point out that the antenna improvements help on both transmit and receive, while the increased transmit power only improves your stations transmitted signal.
73, Bob K0NR
The post More Power For VHF SOTA appeared first on The KØNR Radio Site.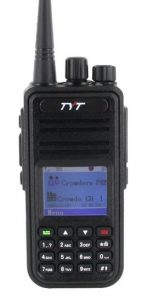 The Tytera MD-380 is an low cost radio for analog FM and DMR on the 70cm band (see video here). One of the limitations with the radio is that it only holds 1000 contacts…which seems like a lot of contacts but it fills up quickly. With DMR, each radio or user has a unique 7-digit radio ID number. For ham radio use, the DMR-MARC organization maintains a database that maps radio ID number to user name and callsign. If a user is in your contact list, the user's name and callsign pops up in your radio's display. Otherwise, you just see the radio ID which is not very helpful. There are over 63,000 users in the database with more being added on a daily basis.
There are a number of firmware updates to the MD380 and I have not checked them all out. I heard some guys talking about the TyMD380Tools on one of the DMR talkgroups, so I decided to give it a try. This software was developed by KG5RKI (go here) and is easily installed from Windows without a lot of messing around. This firmware upgrade loads the entire DMR-MARC database into the radio.
Now that I have the worldwide database of DMR users loaded onto the radio, its like having caller ID on my HT (see photo below). Actually, its better than that, it pulls up the other ham's full name, callsign and location information.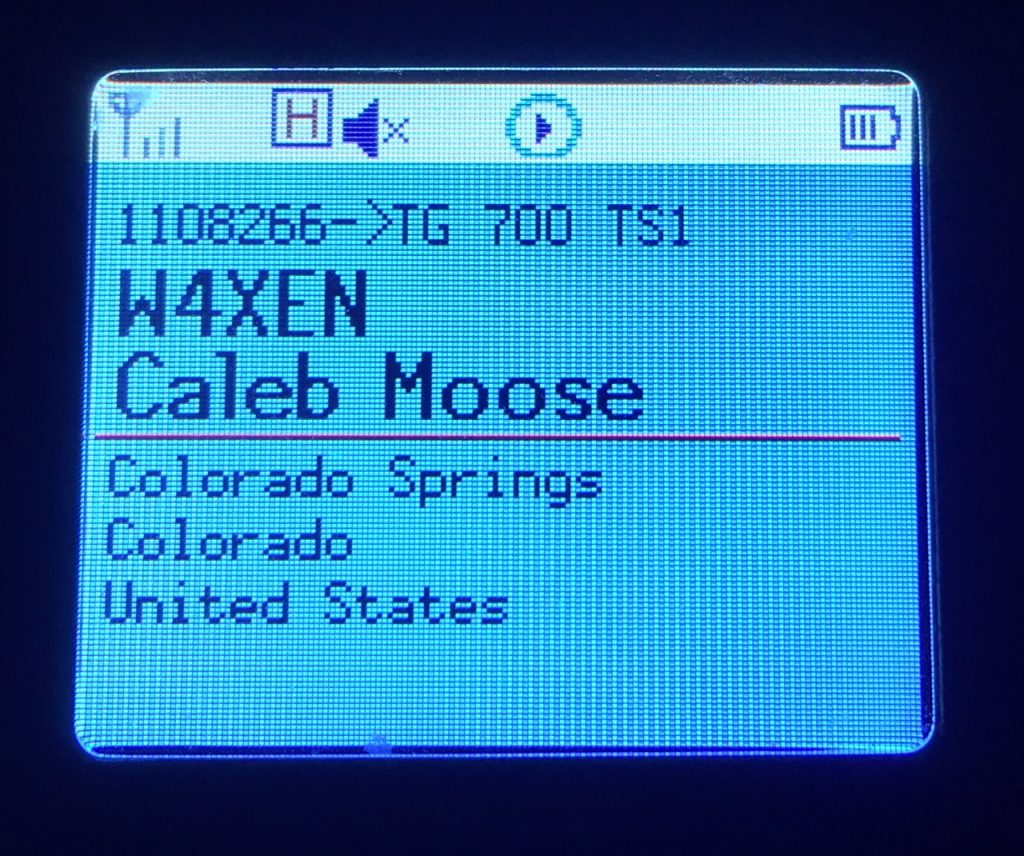 This may not seem like a big deal but I've found it to be surprisingly useful. I am often scanning a few channels or talkgroups with my radio and just listening casually. I may not be tracking who's talking but I can just look at the radio to see who's on the air. It's one of those convenience features that makes me think "why don't all of my radios do this?"
The TyMD380Tools implements a bunch of other features but increasing the number of contacts has been the most important one for me. This is a great example of radio amateurs adapting ("hacking") commercial gear with improvements for ham radio use. KK4VCZ, DL4YHF and others contributed to this code. Check out the software…seems to work great.
73, Bob K0NR
The post TyMD380tools for Tytera MD-380 appeared first on The KØNR Radio Site.

I noticed that I've been blogging mostly about SOTA activations, so here's something completely different: a bunch of exciting stuff flowing forth from the interwebz.
From the Why Do They Do That Department, Jeff/VA2SS shared this article on the origin of the radio term "Roger That."  See The story of why pilots say "Roger that"
This reminds me of the classic scene from the movie Airplane, with the flight crew named Roger, Victor and Clarence.

I recently came across the Wikipedia web page on Etymology of Ham Radio, which explains the origin of the term "ham radio."  Etymology: the origin of a word and the historical development of its meaning. About the same time, Dan/KB6NU wrote about the use of the term "ham radio": HAM? HAM radio? ham radio? Amateur Radio? amateur radio! I have to admit that I do get annoyed by people that write "HAM" in all caps. What the heck is that?
The ARRL recently published a series of six posters promoting the value of amateur radio. I'm not quite sure where to deploy these but I do like them.
I was checking on electrical voltages and plugs in various countries and came across this site: Power Plugs and Sockets of the World  Very handy and easy to use.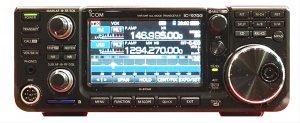 Twitter was abuzz with news about a new VHF/UHF transceiver from ICOM: the IC-9700. This is the first new radio aimed at VHF and up enthusiasts in a long while. I try to not get excited about these early product teasers and wait until the product is shipping in quantity. But I have to admit that this radio has my attention. I don't have a lot of Icom gear in the shack but this radio may change that.
The DX Engineering web site shows these key features for this unreleased product:
Direct-Sampling SDR design
Three bands: 144 and 432 MHz (50 Watts), 1.2 GHz (10 Watts)
High definition Real-Time TFT display
Main and Sub RX
Dual Real-Time Spectrum and Waterfall displays
Dual Watch (with Spectrum/Waterfall displays)
Touchscreen interface (LCD touch-screen control)
That's some good stuff spewing from the internet. What did I miss?
73, Bob K0NR
The post This Spewed Out of the Internet #35 appeared first on The KØNR Radio Site.