It's time once again for The Weekender. This is our bi-weekly departure into the world of amateur radio contests, open source conventions, special events, listener challenges, hedonism and just plain fun. Thanks for listening and, if you happen to get a chance, feel free to call us or e-mail and send us some feedback. Tell us how we're doing. We'd love to hear from you.
73 de The LHS Crew
Russ Woodman, K5TUX, co-hosts the Linux in the Ham Shack podcast which is available for download in both MP3 and OGG audio format. Contact him at

[email protected]

.
Yesterday afternoon I was on FT8 and was spotted in Tasmania which for me was a great sign of propagation. Then a surprise showed up on the waterfall VK7AC from Tasmania was calling me. We exchanged reports I received -11 and sent -04.
Mike Weir, VE9KK, is a regular contributor to AmateurRadio.com and writes from New Brunswick, Canada. Contact him at

[email protected]

.
Judy and I hiked up the range road behind Swain's Farm this afternoon. What fantastic fall colors! I worked Trinidad and Texas with the KX3 and enjoyed one of the last warm days of the year.
I tossed a wire into a giant maple tree at the edge of one of the hay fields. I sat on the ground underneath a canopy of gold and set up the KX3.
I started on 17 meters and heard 9Z4Y Mark from Trinidad just finishing up a QSO. I called and he gave me a 559. Then I switched to 20 meters.
W5ZO in Texas had just signed with another station when I called him. Mike was strong to me and gave me a 559. He kept saying how surprised he was, because I was peaking at S8. We chatted for 15 minutes and then signed.
My view from under the maple tree was stunning with a view to the south and east toward the Belknap Range.
This may be the last warm day of the year. Next week the forecast is calling for cold temperatures in the 40s during the day.
Jim Cluett, W1PID, is a regular contributor to AmateurRadio.com and writes from New Hampshire, USA. Contact him at

[email protected]

.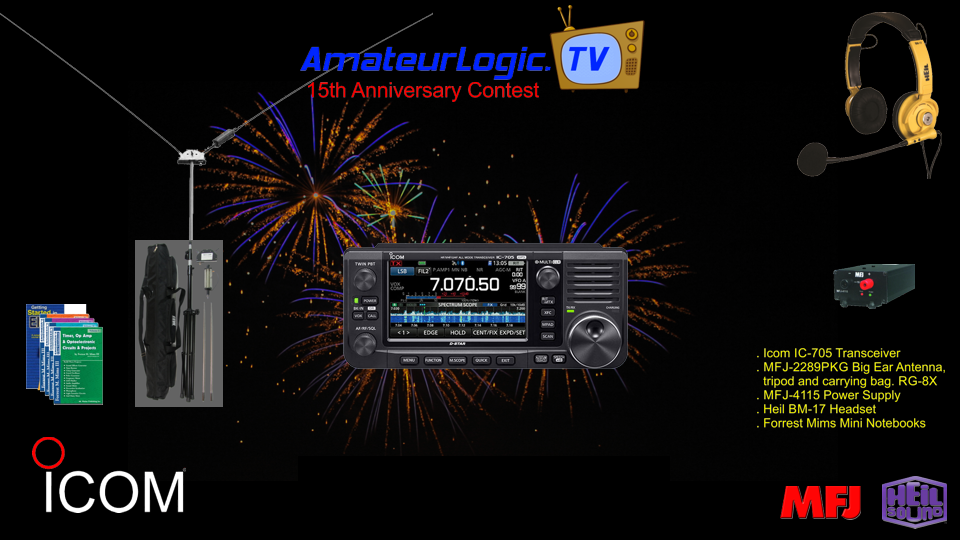 Congratulations to Clint Frost, W2BL of Owens Cross Roads, AL. Clint was randomly selected as winner of the AmateurLogic.TV 15th Anniversary contest!
Thanks to all who participated in the contest and thanks for watching AmateurLogic.
Watch our 15th anniversary show.
George Thomas, W5JDX, is co-host of AmateurLogic.TV, an original amateur radio video program hosted by George Thomas (W5JDX), Tommy Martin (N5ZNO), Peter Berrett (VK3PB), and Emile Diodene (KE5QKR). Contact him at

[email protected]

.
Today I started my PC and was greeted with the above screen......I did restart and all was ok but I was wanting to hear some of my readers wisdom as to what this could but and more importantly is it a sign of worse things to come?
PC information is as follows:
OS is Win 7 64 bit
The processor is AMD FX-8320 3.5 GHz
Ram 8 GB
Graphics card Nvidia Geforce GT 730
Mike Weir, VE9KK, is a regular contributor to AmateurRadio.com and writes from New Brunswick, Canada. Contact him at

[email protected]

.
Good afternoon to all my blog readers that is if you have not given up on me and my lack of posting? I have been on and off the radio but not really any news out this way. I will say that this retirement gig sure keeps me busy! I am the type of person that has to be doing something, it's very hard for me to sit idle and listen to the bird's sing. My hat goes off to those who can sit and just relax, I call it doing nothing but those who practice it call it recharging the batteries. Well maybe sometime I will get to that point but at this point in my life, I like to keep busy. Before I retired I wanted to make sure that when I did I kept busy. To accomplish this Julie and I agreed (as I drive her NUTS if I have nothing to do) to purchase a fixer-upper home. Funny thing when you mention that to a real estate agent their version of a fixer-upper is what I call a "dump"!
We ended up getting a place that needs some "remodelling" and some outdoor stuff done and just enough to keep me busy. There was some outdoor medium to major projects I wanted to complete before the snow flies and down here on the East coast that can be very soon. The projects are now finished but unfortunately, it had put my ham radio activities on hold for most of the summer months. Winter means indoor work and I plan to slow the pace down a bit so that I am not to really tired in the evenings.
As I look back I have been retired for over a year now and the time is just flying. Before I retired I had a conversation with some gents who were already retired and they told me the following:
- It is going to take some time getting used too.....very true it took me about 6 months to get into a routine.
- You will feel less stressed..... to be honest, I did not feel stressed at the time BUT once I retired I began to realize I had become accustomed to the stress level and it was my unhealthy normal. I now can say that I really was stressed and am now much more content.
- You will forget what day of the week it is........good lord I just can't tell you how many times I have to really stop and think of what day it is.....never thought that would be me!
You will be busier than when you were when working fulltime........ true that!!
I am not sure if I missed any retirement life lessons but if I did feel free to chime in. Now that fall is here it's time to slow down sure the projects are still ongoing but I am going to practice the last bit of advice my retired buddies told me that that is "If it does not get done today it can wait until tomorrow or the next day" My next retirement life lesson is going to be.....make sure I fit time in for my hobby as it too is doing something!
Mike Weir, VE9KK, is a regular contributor to AmateurRadio.com and writes from New Brunswick, Canada. Contact him at

[email protected]

.
AP-378 Mayne Island, BC
It's CLE time again!'CLE's are 'Co-ordinated Listening Events, and NDB DXers around the world focus their listening time on one small slice of the NDB spectrum.

This time the hunting ground is from 190.0 - 1740.0 kHz!

The challenge this time is to log just one (1) beacon from as many 'radio countries' as you can. In North America and other regions, an individual state or province counts as a radio 'country', so there are plenty of opportunities to fill your logbook.

Propagation on MF has been excellent this past week and hopefully will continue to be good.

A challenge target for listeners in North America is AP - 378kHz on Mayne Island, BC which is about 1/2 mile from me just down the beach! But 'AP' is a challenging target since, from what I can tell, has virtually no ground system. Although it has been heard as far south as Texas, it has never been heard further east than Nebraska. Listen for AP's upper sideband on 378.411kHz with your receiver in the CW mode.

When tuning for NDBs, put your receiver in the CW mode and listen for the NDB's CW identifier, repeated every few seconds. Listen for U.S. NDB identifiers approximately 1 kHz higher or lower than the published transmitted frequency since these beacons are modulated with a 1020 Hz tone approximately.

For example, 'AA' near Fargo, ND, transmits on 365 kHz and its upper sideband CW identifier is tuned at 366.025 kHz while its lower sideband CW ident can be tuned at 363.946 kHz. Its USB tone is actually 1025 Hz while its LSB tone is 1054 Hz.

Often, one sideband will be much stronger than the other so if you don't hear the first one, try listening on the other sideband.

Canadian NDBs normally have an USB tone only, usually very close to 400 Hz. They also have a long dash (keydown) following the CW identifier.

All NDBs heard in North America will be listed in the RNA database (updated daily) while those heard in Europe may be found in the REU database. Beacons heard outside of these regions will be found in the RWW database. These databases have recently been re-vamped and are slicker than ever before!

From CLE coordinator Brian Keyte (G3SIA), comes the following CLE info:

Hello all

Our October Coordinated Listening Event is less than a week away.
Something very straightforward, but it is a first-time idea and it should be
good for everyone - including first time listeners.
It is a 'One per Radio Country' CLE!

Days: Friday 23 Oct. - Monday 26 Oct.
Times: Start and end at midday, local time at the receiver
Target: ONE NDB from each radio country
QRG: 190.0 - 1740.0 kHz

Yes, please log JUST ONE NDB from each radio country (not DGPS, NAVTEX,
Amateur or UNID).
All our radio countries are listed in the NDB List Website
(http://www.ndblist.info/ndbinfo/countrylist.pdf) There are 373 of them!
However most of the countries will be out of range for you and several are
without any active NDBs at all:

Region Radio
Countries
-------------- -------
N. America 66
C. America 35
S. America 20
Europe 63
Africa 68
Asia 60
Oceania 49
Antarctica 5
Int. Waters 7
-------
373
(UNIDs 8)

Even listening from the best location possible you will do very well if you
log 50 countries. Reaching 100 will be magnificent!
(If you would like one or more of our attractive listening awards, this
would be an ideal CLE -
Please see http://www.ndblist.info/ndbinfo/NDBAwardsList3.5.pdf)

Please look out for extra information in the Final Details in a few Days,
with advice on log-making, etc.

73
Brian
---------------------------------------------------------------------
From: Brian Keyte G3SIA ndbcle'at'gmail.com
Location: Surrey, SE England (CLE coordinator)
---------------------------------------------------------------------
If you are interested in some remote listening - maybe due to local difficulties - you could use any one remote receiver for your loggings,stating its location and with the owner's permission if required.
A remote listener may NOT also use another receiver, local or remote, to make further loggings for the same CLE.
These listening events serve several purposes. They

• determine, worldwide, which beacons are actually in service and on-the-air so the newly-re-vamped Rxx online database can be kept up-to-date

• determine, worldwide, which beacons are out-of-service or have gone silent since the last CLE covering this range

• will indicate the state of propagation conditions at the various participant locations

• will give you an indication of how well your LF/MF receiving system is working

• give participants a fun yet challenging activity to keep their listening skills honed
Final details can be found at the NDB List website, and worldwide results, for every participant, will be posted there a few days after the event.
The NDB List Group is a great place to learn more about the 'Art of NDB DXing' or to meet other DXers in your region. There is a lot of good information available there and new members are always very welcome. As well, you can fol
low the results of other CLE participants from night to night as propagation is always an active topic of discussion.
You need not be an NDB List member to participate in the CLEs and all reports, no matter how small, are of much value to the organizers.
Remember - 'First-time' logs are always VERY welcome!
Reports may be sent to the NDB List Group or e-mailed to CLE co-ordinator, Brian Keyte (G3SIA), whose address appears above. If you are a member of the group, all final results will also be e-mailed and posted there.
Please ... give the CLE a try ... then let us know what NDB's can be heard from your location! Your report can then be added to the worldwide database to help keep it up-to-date.
Have fun and good hunting!
Steve McDonald, VE7SL, is a regular contributor to AmateurRadio.com and writes from British Columbia, Canada. Contact him at

[email protected]

.