Joyce/K0JJW and I had intended to hike Pikes Peak this year for a Summits On The Air (SOTA) activation but somehow the plan never came together. I still had my eye on it as a drive-up activation before the end of 2017. The road to the summit is open year round now but closes frequently due to snowstorms passing through. Saturday morning the road was open to 13 miles (out of 19 miles) with the promise that it would be open to the summit later in the morning. (Call 719 385-7325 for a recorded message on road conditions.) By the time we got to the toll gate around 10 am, the road was open to the summit.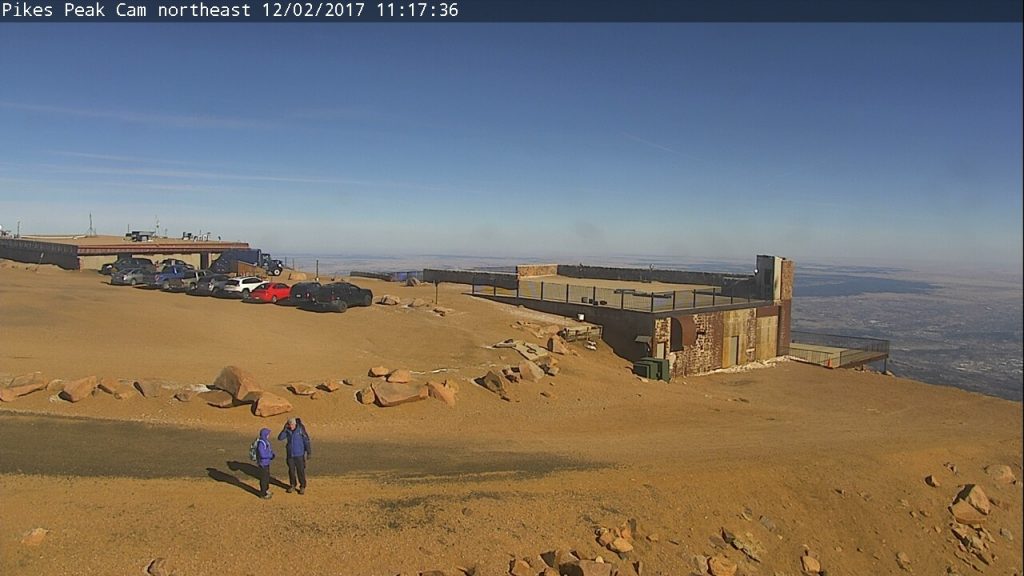 When we reached the summit, the weather conditions were 20 deg F with 20 mph winds, creating a windchill of 4 deg F. We were prepared for that having loaded up on the winter clothing. Still, it was freaking cold up there. As you can see in the webcam picture, there was only traces of snow on the summit.
To be SOTA-compliant, we had all of our gear loaded into our packs and walked some distance away from our vehicle to set up. Because of the wind, we chose the observation platform, tucked in behind one of the walls. Normally, that platform is to be avoided because its overrun with tourists but with the cold weather we only had a few people to contend with.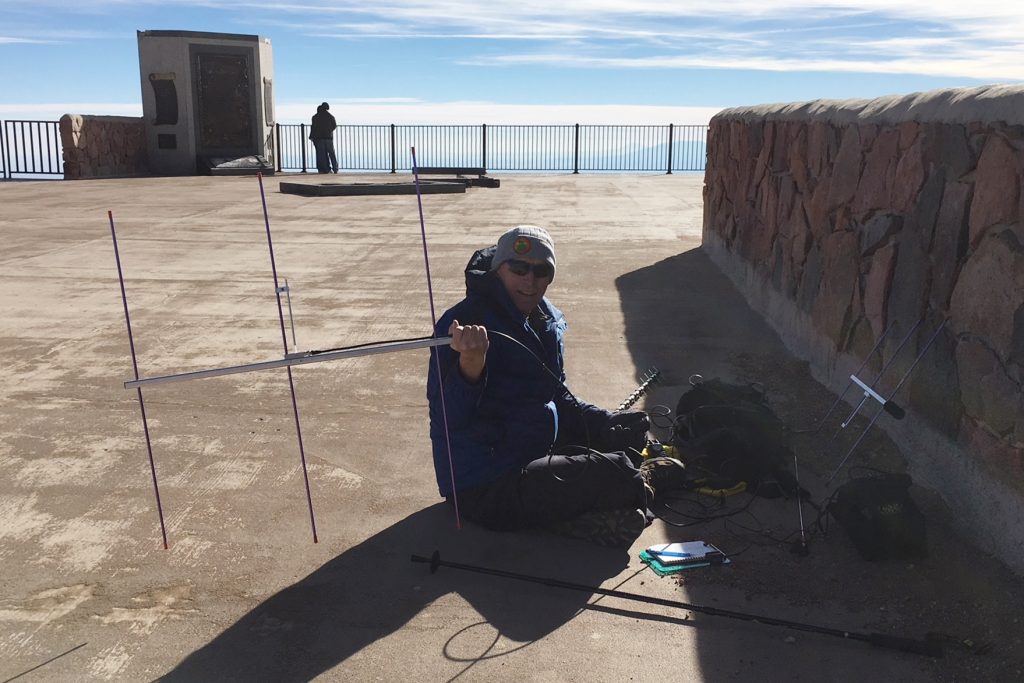 Joyce set up on 2m fm (146.52) using a handheld transceiver (HT) with a vertical antenna. Even with her headset (foam protection on the microphone), the wind noise on her signal was significant. I started out on 2m fm but quickly moved up to 223.5 MHz and worked a few stations there, then on to 446.0 MHz. I had HTs and small yagi's on both of those bands. Then I fired up 1.2 GHz with an Alinco HT (just 1W on that band) and a 16-element yagi. I worked Paul/W0RW, Gary/WB5PJB and Wayne/N0POH on that band. My QSO with N0POH in Aurora was a new personal best for distance on 23cm/1.2 GHz, at about 90 km.
I tried 2m SSB using my FT-817 but made only one contact: Jim/WB0GMR. Shortly thereafter, I switched back to 2m fm using the 25W mini-mobile rig with a 3-element yagi to work many more stations. Again, just running a bit of power and having a decent antenna on 2m fm was very effective at making radio contacts. I expected the Tytera radio to be overloaded with signals on the summit of Pikes but it actually held up well with just occasional bursts of interference.
Overall, we made 54 QSOs (not too shabby): 43 QSOs on 2m, 5 QSOs on 70cm and 3 QSOs on both 1.25m and 23cm. Our best DX was Jeff/N0XLF near Akron, CO for a distance of about 130 miles (on 2m and 70cm).
73, Bob K0NR
The post Pikes Peak SOTA (W0C/FR-004) Winter Activation appeared first on The KØNR Radio Site.
Bob Witte, KØNR, is a regular contributor to AmateurRadio.com and writes from Colorado, USA. Contact him at

[email protected]

.
One Response to "Pikes Peak SOTA (W0C/FR-004) Winter Activation"