Walt/W0CP had recommended this Summits On The Air (SOTA) summit (W0C/SP-076) to me a while ago. Somehow it had escaped my attention, probably because it's an unnamed peak and not that well known. Joyce/K0JJW and I decided to give it a try today and it turned out great.

We followed Walt's directions on the SOTA website, using the southern route. We were pleasantly surprised to find a pretty good trail most of the way to the summit. There were a few spots with downed timber, where people have diverted around the logs, but generally the trail was easy to follow. The trail is not shown on many maps, including the USFS San Isabel Forest map. Thus, I was expecting considerable bushwacking to get to the summit.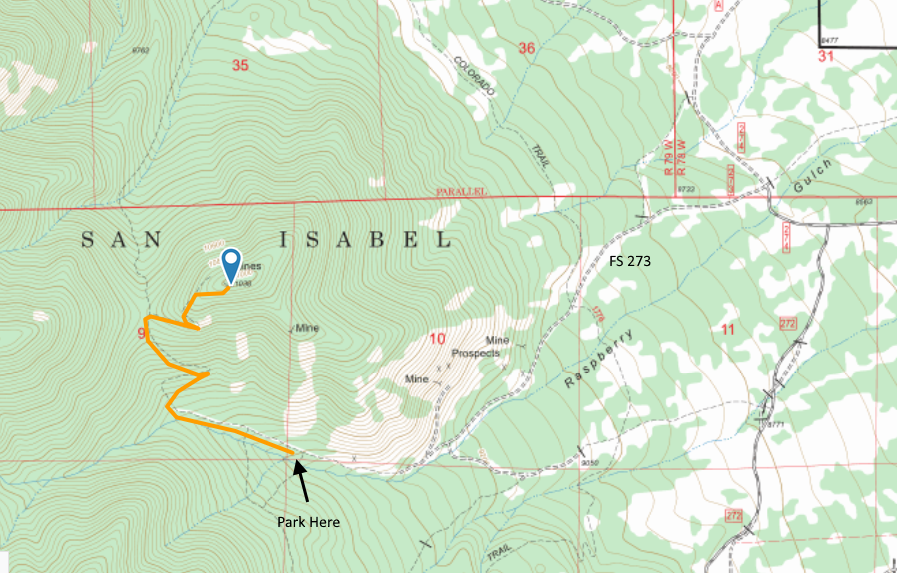 The route to the trailhead is via FS Road 273, easily accessible from Highway 285 south of Buena Vista and north of Salida. See the San Isabel National Forest map for orientation. The road is narrow in spots. Our Jeep Wrangler fit OK but a wider vehicle would get to deal with the brush on both sides of the road.  The road is easy 4WD and should be passable with a high-clearance 2WD vehicle. The road had some snow on it (Nov 25, 2017) and with a few more snowstorms may not be passable.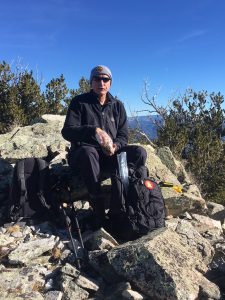 The road continues a little further than indicated on our topo map but it is obvious when it ends. After that, the road turns into a nice trail (our route shown on the map above). The trail has a few broad switchbacks that made for easy hiking. When we got near the summit, the trail was covered by many small snow drifts, so we opted to go off trail and just head for the summit. So our last quarter mile or so is probably not optimal for summer hiking. There are several mines at or near the top of the mountain.
We had quite a variety of radios with us, for 2m, 1.25m, 70 cm and 23 cm, FM only. We started on the workhorse band (2m FM) with the 25W Tytera radio and a vertical half-wave antenna. It seems that someone (me) left the 3-element 2m yagi antenna at home. We quickly made contacts with KD0MRC, W0BV, KD0VHD, KE0DMT and KL7GLK on 2m and/or 70 cm. I used my Alinco 222 MHz handheld to work KD0MRC on 223.5 MHz, which is apparently the first 222 MHz SOTA contact in Colorado. (Yeah, not a popular band.)
For the most part, it was pleasant on the summit, about 40 degrees F, but it got cold whenever the wind picked up. Without the wind, it was great. With the wind, kind of cold.
This is a great hike and a great summit. Only a few people have activated it for SOTA, so I wanted to write it up for others to consider. We will definitely return to this one due to it's excellent combination of easy accessibility, good trail and wonderful views.
73, Bob K0NR
The post Hidden Gem: W0C/SP-076 Unnamed SOTA Summit appeared first on The KØNR Radio Site.
Bob Witte, KØNR, is a regular contributor to AmateurRadio.com and writes from Colorado, USA. Contact him at

[email protected]

.