What is an amateur radio repeater and how do they work?
In this video, with a non-amateur-radio viewer in mind, I chat about the very basic concepts of a repeater.  This is a vlog (video blog) entry on my video channel, and it is shot in a relaxed, "ride along with me" format. Feel free to share this short overview with those who might be interested in our hobby.  There are more of these sorts of ridealongs coming.
Thank you for watching, and for sharing…
..
Joyce K0JJW and I were preparing to drive back home from the mountains and began to consider what Summits On The Air (SOTA) peaks might be on the way and easy to access. I consulted with Steve WG0AT, who had a number of good suggestions but we ultimately decided on Blue Mountain (W0C/SP-123). This is an easy summit to get to and an easy summit to hike.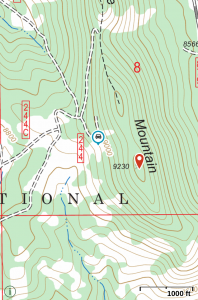 I found Carey's (KX0R) trip report to be helpful, so I suggest reading that information. To get to Blue Mountain, just get on Blue Mountain Road (CR 61) heading south out of Lake George.  Looking at your Pike National Forest map (you do have a National Forest map, right?), you'll see that this road passes by Blue Mountain on the east side and then turns west. Take forest service road FS 244 to the right (north), which takes you up to the west side of Blue Mountain.This road turns into easy 4WD (challenging 2WD with high clearance). We just kept going on FS 244 (ignoring the side roads) and parked at the very last turn, as shown on the map (38.93108N, 105.35597W). At this point, you can just take aim at the summit (40.33530N, 105.28100W) and hike your way up. Approaching the slope at an angle makes it not quite so steep.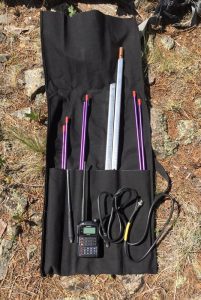 For this activation, we took along gear for 2m, 70cm and 23cm, FM only. Basically, this amounts to a pile of HTs and a few compact antennas. All of our contacts were on 2m FM except I did work Paul W0RW on Wilkerson Pass using 1.2 GHz (23 cm). At an elevation of 9230 feet, this location does pretty well on VHF and higher, so we easily worked stations in Buena Vista (W0BV), Woodland Park (WA6TTY) and Como (KD0VHD). We also worked a hiker (Jim, KD0MRC) on the side of Mount Yale, about 50 miles away.
The photo on the left shows my portable 2m FM station: Yaesu FT-1DR handheld transceiver, 1/2-wave Flex antenna (Smiley Antenna), and the dismantled 3-element Yagi (Arrow Antenna). I recently started using the Smiley halfwave antenna because it flexes on the connector end, making it more resilient to on trail use.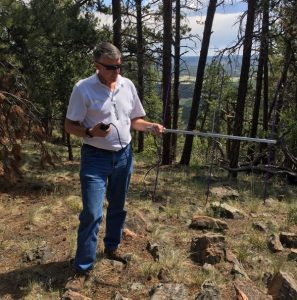 In the photo to the left, I've got the yagi antenna assembled and I'm using it to make contacts. With a little practice, the Arrow antenna screws together quickly and provides some nice gain over the halfwave vertical (about 6 dB).
We had excellent weather today so that helped make for a fun day. If you are in the Lake George, CO area consider Blue Mountain for an easy and fun activation.
73, Bob K0NR
The post Easy SOTA: Blue Mountain (W0C/SP-123) appeared first on The KØNR Radio Site.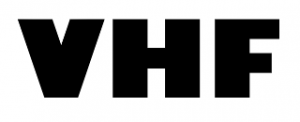 Last weekend, I was able to participate in the ARRL June VHF Contest, my favorite ham radio operating event. I thought conditions were pretty good…mostly I am satisfied if we have some decent sporadic-e propagation on 50 MHz, which we did. Once again, I entered in the Single Operator – 3 Band category with a claimed score of 34,969.
This is the first contest where I used WSJT modes and was successful but certainly not highly skilled. I know I blew a couple of MS144 contacts due to operator error on my part. As I prepared for the contest, I was really focused on getting the computer/radio connections sorted out in advance, which I did accomplish. I made some JT65 and MSK144 contacts a few days ahead of the contest, so I was good to go. The issue that I totally missed was thinking through the operating position so that I could switch modes/bands easily. Instead, I had lots of cable plugging and unplugging as I moved things around. More to learn and improve on next time.
K0NR Single Op - 3 Band
Band QSOs Mults
-------------------
 6:   254 110
 2:    29 10
 222:
 432:   3 1
-------------------
Total: 286 121
Total Score = 34,969
I made a dozen JT65 QSOs, all on the 6 meter band. These contacts were with very weak signals so I probably would have missed them on SSB. I have concluded that the main purpose of JT65 is to give bored operators something to fiddle with when band conditions are poor. It always seemed like there was just enough signal present for me to keep trying, sometimes with success, sometimes not.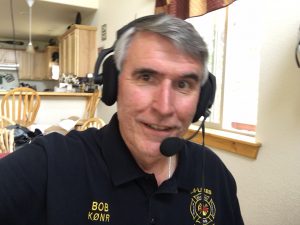 I was very pleased to work K5QE for my first 2m meteor scatter QSO (MSK144). My intent is to spend more time with this mode in the coming year and focus on chasing grids on 2 meters.
I looked back at my previous scores in the 3-band category. My best score (48,117) was back in 2013, the first year there was a 3-band category. Looking back at my blog posting from that year, at the time I didn't think the band conditions were very good. I also came across this article by W0VG which indicates that stations from Colorado scored pretty well that year compared to other parts of the country. The results article in QST for that contest provides more detail.
So maybe propagation wasn't that great this year after all. At least not in Colorado. (The DX spotting map looked really good in the eastern side of the US.) But I'll go back to my earlier statement that any June VHF contest with some decent sporadic-e propagation on 50 MHz is a win.
Thanks to everyone that came out and played radio on the VHF bands.
73, Bob K0NR
The post 2017 June VHF Contest (K0NR) appeared first on The KØNR Radio Site.
Thinking back to when I was a kid, I used to love riding my bike. My friends and I would get up early every morning and go riding our bikes for about an hour before school started. Then after school we would leave and ride our bike for another two hours or so until it was time to go home for supper.
I wasn't a ham back then, but I sure loved that bike. Fast forward a few years to my junior year of high school when I got my ham license. I didn't ride my bike so much anymore, because I didn't live in town anymore and would've been a seven mile ride to and from school and on roads that probably were not the best roads to ride on.
I did start to merge the hobbies somewhat around this time though, however it isn't anywhere near what Mike and the rest of his club does on theirs. I would clip an HT to my belt and the speaker mic to my shirt and that was the about it.
In today's episode, Mike talks with me about how he does it, how he operates while being Bicycle mobile. We talk about some of his experiences and some contacts he has made.
The biggest hamfest is over, but the biggest ham radio on the air event is quickly approaching! Yes I am talking about Field Day 2017! Back in episode 67, I had Ian on and we talked about PSK31. During that interview he mentioned that he was the Field Day Chair for his radio club, the North Fulton Amateur Radio League, so I asked him to come back and talk to us about Field Day.
We had a great conversation about what Field Day is, some general information about it, what its like to be the Field Day Chairperson and be in charge of planning the event for your club and wrap it up with things that his club does during Field Day and what goes on afterwards.
Check out the show notes of this episode for more information about things that we talk about, links that we mention and probably some that we didn't. The show notes can be found at: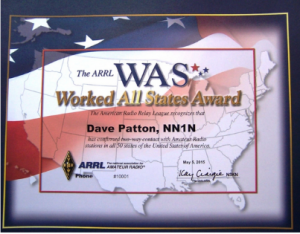 Operating goals or awards are a fun way to keep focused on accomplishing something via ham radio. Really, it's a specific reason to get on the air and make radio contacts. I am not big on idle chit chat via the radio ("the weather here is 65 deg and raining") so having a reason to make contacts helps me get on the air. I've tended to pursue awards in a serial manner…once I hit some level of accomplishment, I usually declare victory and move on to something else.
Way back in the wayback machine, the first award I pursued was Worked All States (WAS). It does take some effort but I was pretty active on the HF bands at the time, so many of the states just showed up in my log. But to really drive it home, I kept track of which states I still needed and actively looked for opportunities to work them.
Next up was Worked All Continents (WAC), which obviously requires working some DX. But then I decided that if I was going to have any DX cred at all, I needed to get DX Century Club (DXCC). This turned out to be a bit of a challenge with my modest station (100 watts and a dipole) but I found that working DX contests to be very helpful. The big hassle was collecting the QSL cards and getting them checked by the ARRL (back before the Logbook of the World days). Once I checked the box on DXCC at just over 100 countries, I was satisfied and went on to other things. Serious DXers chase all available countries/entities to get Honor Roll and other bragging rights.
The VHF and higher bands have always been a passion for me, so I pursued the VHF/UHF Century Club (VUCC) awards. First, it was 6 meter VUCC, the easiest one to get. A really good run during the ARRL June VHF contest can produce the 100 grids you need for the award in one weekend. For me, it took a few more contests than that after factoring in the fallout that occurs when trying to get confirmation QSLs. The 10 GHz VUCC only requires 5 grids which turned out to be not too difficult. My VHF collaborator at the time, Doug W0AH (now W4LY) and I took turns operating from Pikes Peak while the other guy went out and activated the required 5 grids. It helps to have a big honkin' mountain nearby to use for 10 GHz operating. About this time, I got into working the LEO satellites and worked the required 100 grids for satellite VUCC. I don't have very many grids confirmed on 2 meters, so that one is still calling to me.
Recently, I spent some effort going for the CQ WPX Award (worked prefixes award). This is an intriguing award structure because every new callsign prefix counts as a new one. For the basic mixed-mode award, you need to work at least 400 different callsign prefixes. I found this format to be a lot of fun because "everyone is DX" so to speak, but DX prefixes are also very valuable. The same approach is used for the WPX contests, which naturally brings out stations with less common callsign prefixes. A big motivator for me was when the ARRL announced Logbook of the World (LoTW) support for the CQ WPX awards. I mean, there was no way I was going to collect 400 QSL cards to submit for this award, but using LoTW made this very efficient. More on that story here: CQ WPX, LoTW and the End of QSL Cards.
Summits On The Air
Lately, I've been active in the Summits On The Air (SOTA) program, both activating and chasing summits. This is a natural fit for me as I've enjoyed mountaintop operating in various forms, mostly on VHF and UHF. (See my SOTA blog postings.) The SOTA program has a wide variety of awards, supported by a very powerful database used to record SOTA radio contacts and keep track of the scores. It is not really a competition but there is friendly rivalry between SOTA enthusiasts as they monitor each other's posted scores.
I've been using VHF (and UHF) exclusively for SOTA and managed to qualify for the Shack Sloth Award using just those bands. (Shack Sloth is achieved with 1000 chaser points.) Shack Sloth is a bit of a misnomer for me as many of my SOTA chasing contacts were done while hiking, mobile or portable (not sitting at home in a shack). The Mountain Goat Award is taking a bit longer because I have to drag myself up enough summits to reach 1000 points as a summit activator.
Here's the current scores for the Colorado (W0C) SOTA activators: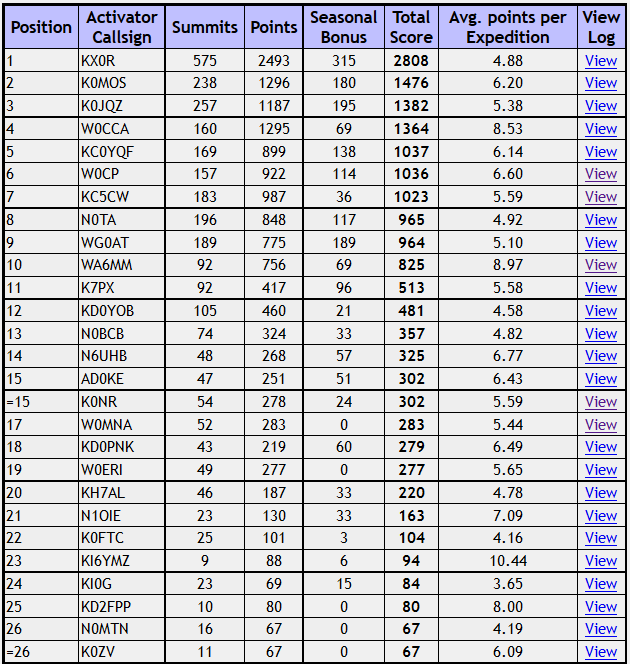 At the top of the list, we find Carey KX0R totally killing it with 2808 points. These folks have all reached the coveted Mountain Goat status: KX0R, K0MOS, K0JQZ, W0CCA, KC0YQF, W0CP, KC5CW.  I am further down the list, tied with AD0KE at 302 points. Now, remember this is not a competition

Honestly, I wish I were further along the path to Mountain Goat but I've decided to keep at it and enjoy the journey. Walt W0CP recently gave me some excellent advice: just keep making progress.
Other Goals
You may not find the awards and goals I've mentioned to be very interesting, but there are many other options. In 2016, the ARRL sponsored the National Parks On The Air (NPOTA) program, which created a lot of interest and activity. I did just three activations for NPOTA but many people really got into it.
You might also set your own personal goal, not associated with any award. I know one ham that decided his goal was to make a ham radio contact every day of the entire year. This sounds simple but if you have a full-time job and other responsibilities, it takes some persistence to make this happen. Perhaps you are public service oriented; you might set a goal for the number of ARES events you support this year. I challenge you to think about what it is you are trying to do with ham radio and set a goal that is consistent with that.
Those are my thoughts, what do you think?
73, Bob K0NR
The post Pursue Radio Operating Goals appeared first on The KØNR Radio Site.
With the most recent release of the W0C ARM, there were 61 summits added to the Colorado SOTA list. I noticed that one of the new summits, H-44 Benchmark (W0C/SP-130) was easy to access, easy to climb and was in the vicinity of our mountain cabin. Surely, we needed to check it out and perhaps be the first ones to activate it.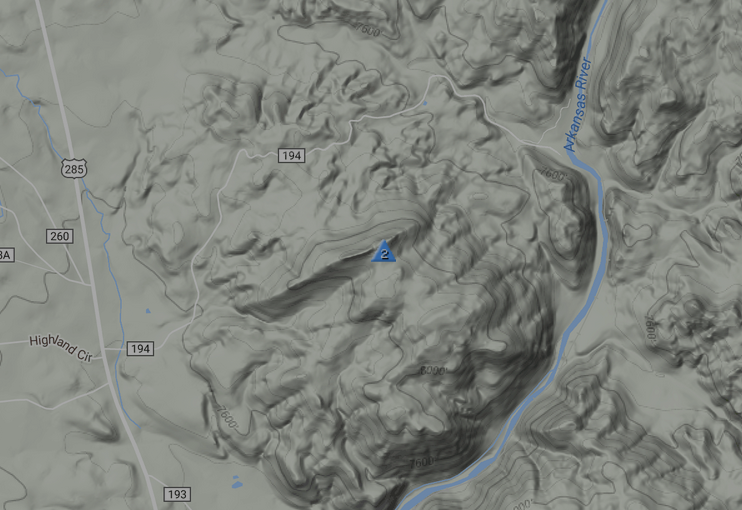 To get there, take Highway 285 south out of Buena Vista (or north from Salida), exiting at County Road 194 clearly marked as Hecla Junction. As you travel east, the road climbs then tops out. Soon after the road started to descend, Joyce K0JJW and I stopped and parked at lat/lon: N38.64998 deg, W106.06747. I don't think where you park is critical but be aware that this road can get busy during the summer with the many rafting outfitters taking out at Hecla Junction (on the Arkansas River). There are two driveways heading south near where the road crests…we opted to stay to the east of these. One of them appears to be a campsite and the other leads to a house/cabin.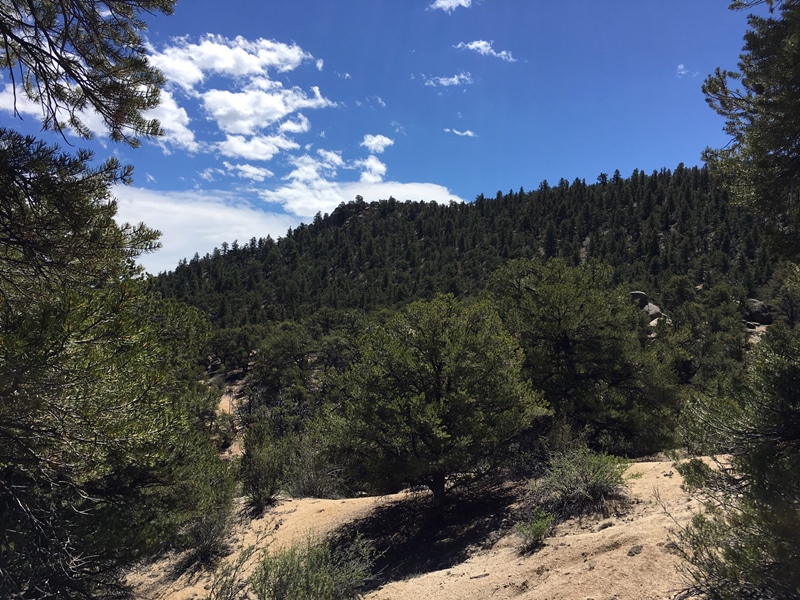 We proceeded south towards the visible summit, looking ahead to find a route that did not have too many ups and downs. There are many options and there was not much downed timber to deal with. We found a nice route that hit the main ridge about 0.2 miles west of the actual summit. We did cross a old logging road which had some recent dirt bike tracks on it, so that may be another option.
Joyce K0JJW had the honor of activating this SOTA summit for the very first time. As usual, we were working VHF//UHF, mostly 2m FM, but we also made some contacts on 440 MHz and 1.2 GHz. I managed to work Jay W9RM near Olathe, CO on the west side of the state using 2m CW. (We couldn't quite make the contact on SSB, so we switched to CW to get the job done.)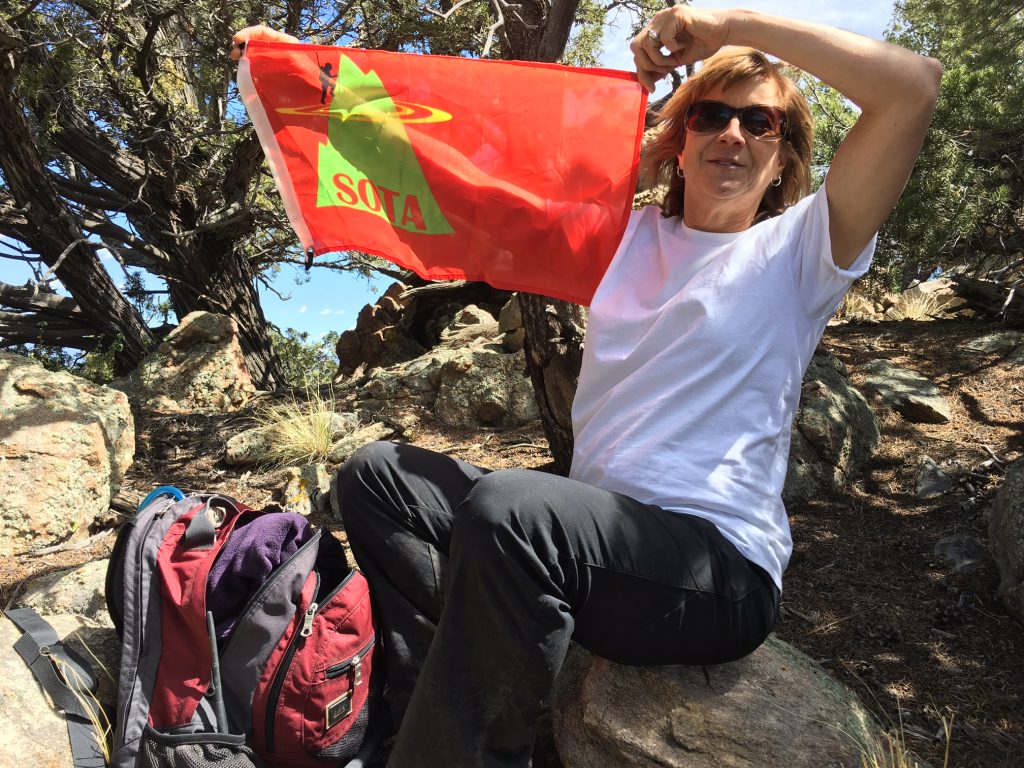 I've noticed a few other SOTA peaks are named "something benchmark." I think that's essentially an unnamed peak that happens to have a survey benchmark on it. So I looked around for the benchmark and found this marker at the summit: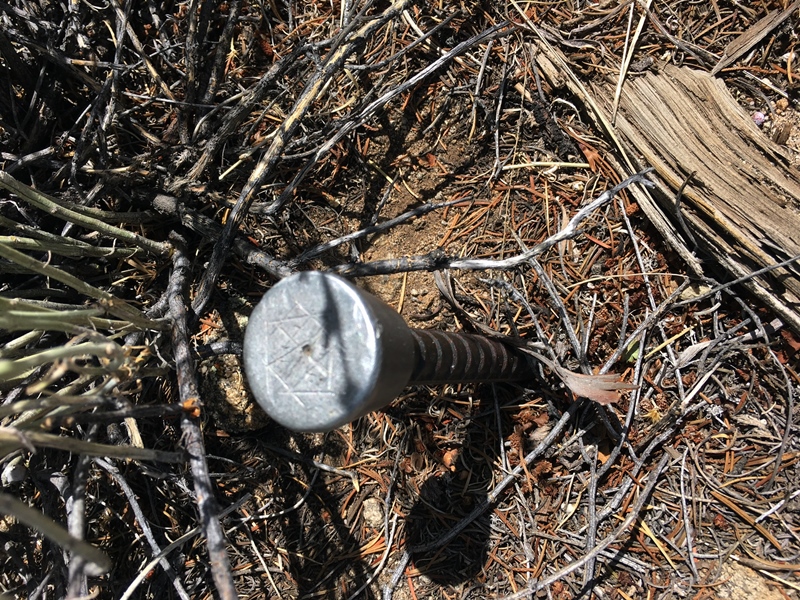 Of course, like many of the lower summits in the Arkansas Valley, this one has a great view of the Collegiate Peaks to the west.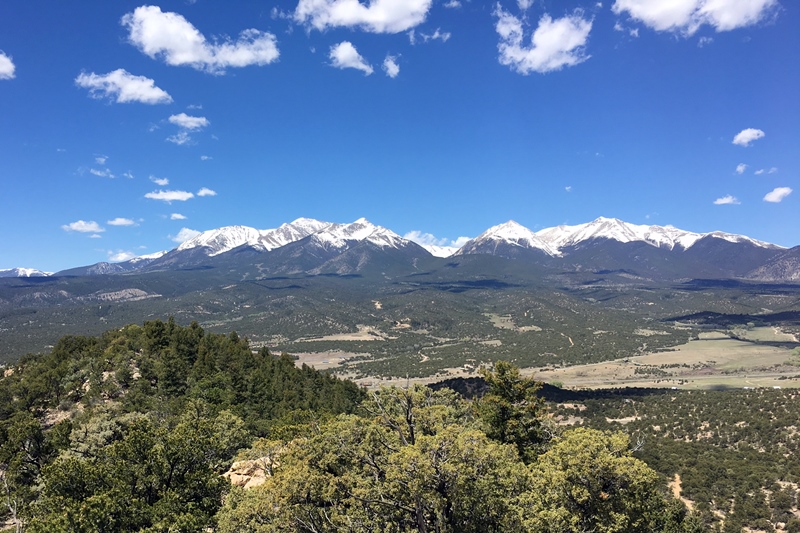 I expect this summit to be a popular SOTA activation because its easy to get to and has a great view. I estimate our total distance traveled as 1.2 miles with an elevation gain of 500 to 600 feet. Sorry, it's only 2 points.
73, Bob K0NR
The post First SOTA Activation: H-44 Benchmark (W0C/SP-130) appeared first on The KØNR Radio Site.