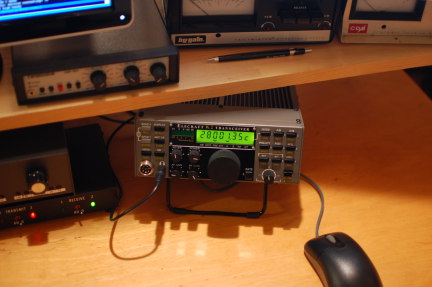 One of the goals I had for the K2 that I failed to mention in the previous post was to fill-in for the K3 in DXpedition service.  This is a tall order.  It also necessitated upgrading the basic K2/10 to a 100-watt K2/100—being loud (enough) is an important part of pileup control.  I had the good fortune to come across an already-assembled final amplifier unit at an attractive price a few days after I purchased the radio.  I took that as a sign!
Another rite of passage for the K2/100 would be…how does it perform in a pileup?  One of the really great things about ARRL DX CW since the advent of the CW Skimmer and Reverse Beacon Network is that literally any U.S. station (especially on the East Coast, my Western and Midwestern friends will remind) with a modest signal can elicit a blistering run of Europeans.  I've been relatively unhappy with the K3′s response to pileups, with callsigns often being mushed together more than with other radios (e.g., the TS-930S).  I understand that tailoring the K3′s AGC should help this—the KE7X book now graces my shelf but I haven't had a chance to explore all of his suggestions yet.  Having heard anecdotally that the K2 does better in this regard, I was excited to break it in with ARRL DX.
Sarah worked this weekend and I was frankly wiped out from a full week at work plus shoveling 18 inches of snow and cutting up trees from the previous week's ice storm!  Nothing approximating a "full" operation was in the cards.  In about two hours of operating, mostly on Sunday, I made about 140 QSOs on 10 and 15 meters.  I'm happy to report that the K2 did quite well with regard to the pileup response and I didn't manage to break it CQing hard at full power.  The K2 also passed the "W3LPL test"…Frank lives just a few miles away and is frequently quite loud here.  But, I could still hear nearby stations with no problem at all.  The one thing that disappointed me about the K2 is that it seemed a little deaf as the 15-m band was closing to Europe.  A number of stations were right at the noise floor and were tricky to copy.  This might have been "one-way" propagation, too, a topic I should write about at some point.
The upshot is that I'm extremely pleased with the K2 and I look forward many more QSOs with it!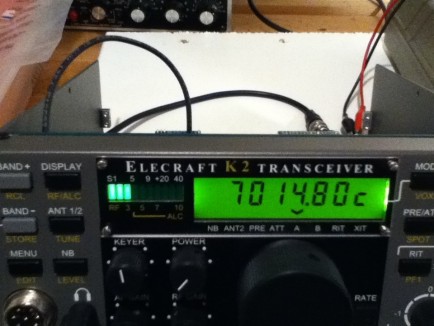 On Christmas Eve, I was sitting at my in-laws' kitchen table with the Small Wonder Labs SW-40 I built as a high school kid in 1998 listening to beautiful music and I got the itch to come up with a radio smaller (and less expensive) than the K3 to drag around with me when I go places.  My mind wandered to the NorCal Sierra, which was a featured project in ARRL Handbook's of my youth.  I was able to come up with a draft version of that Handbook article on the web—pause for a moment and think how revolutionary that is—my in-laws don't have an ARRL Handbook, let alone the one that contained the Sierra article.  I looked at the bill of materials and realized that I had some 70% of the parts in my junkbox.  This seemed like a good idea until I went searching for a PCB.
Why PCB?  Well, I've done the dead-bug thing and it works great but it's a pain to troubleshoot and unless you have decades of experience doing it, it looks like a Mexico City suburb, sprawling unpredictably in every direction with only the most tenuous connections to the core.  Since I was seeking a travel radio, I wanted it to be compact, easy-to-troubleshoot, and relatively rugged.  Due in no small part to the wishes of the Sierra's designers (not coincidentally founders of Elecraft), boards are no longer available.  I looked into doing my own board, but if you don't mix chemicals yourself, you've suddenly spent $150 on PCBs, plus the layout effort.  I toyed with making the board smaller (a win in several ways) by using surface-mount parts but even that was a non-starter since my junkbox parts are through-hole, requiring me to buy everything.
Astute readers can extrapolate what occurred next.  I went to the Elecraft web site to price the Sierra's successor, the K1.  I had all but made up my mind to sell off some junkbox items and raise the capital to buy a K1 kit when something occurred to me:  fellow ham blogger Mike, VE3WDM, had recently moved to a smaller QTH and was offering a half-completed K2 kit for sale.  His asking price was only a little more than the K1 kit with some of the options I wanted and it was all-band.   The ad had been posted for some days by this point, so I fired off a sheepish e-mail to Mike asking if the radio was still available.  It was.  We sealed the deal and the radio made the somewhat tortuous ride (for us, not the radio—it sat in Chicago for two weeks) from his QTH to mine via the postal system.
I would not have bought a partially-finished kit from just anyone.  However, since this was Mike's second K2 build and he was documenting it carefully in a blog, I figured it was a pretty safe bet.  So far, that is definitely true.
While I was eagerly awaiting the radio's arrival, I redoubled my efforts to get a friend's TS-930S off of my workbench, a task that involved replacing all 115 electrolytic capacitors on the cookie-sheet-sized "Signal Unit" board (similar to the K2 and K3 "RF unit").  That radio still has low drive (it has ALC again and sounds like a million bucks), something I traced to a hard-to-find semiconductor that's now on-order.  So, I gathered it up and started work on the K2 on Sunday afternoon.
Last night, I got it on 40 meters RX-only and peaked up the RX BPF.  Former K2 owner KL9A mentioned to me that it has some blow-by on strong signals but that he thinks it's a pretty good radio.  I can confirm that based on my experience last night.  It sounds really really good on CW.
More on the build to come…including a look back at some troubleshooting of the BFO circuit.
My Elecraft K2 which is now more than 11 years old (serial #2198) has served me well, even earning me QRP DXCC (100 countries with 5 Watts) some years ago. It is still cosmetically in mint condition, except for that single item which sticks out like a sore thumb: The tuning knob.
This became very clear to me a couple of months ago when LA8OKA's and my K2 were displayed side by side at our stand at Oslo Maker Faire. His is less than two years old, serial #7224, and they were similar except for the scratches in the faceplate of my tuning knob. If I am allowed to generalize from my knob only, it seems as if the faceplate had poor quality paint and has been replaced by a better quality version over the years.
Anyway I ordered a new one and paid the price which at present is $30.37 plus shipping. The difference is really striking and I feel like I have a new K2 now, well worth the price! The K2 now serves as my second rig, and I think it has many years of good service still to come.
Related posts:
Last night, I received an e-mail from Bob W3BBO about an item he saw in The County Hunter News. The article was written by Bob Voss N4CD, and it concerned a book written 100 years ago, entitled "Bert Wilson, Wireless Operator". The book has been made available through Project Gutenberg.
The book was available in various formats, including kindle format. Bob and I are both kindle owners and avid readers, especially (although not exclusively) when the topic is Amateur Radio. I downloaded the book last night and began reading it today. Even though the book is 100 years old, it is a fun and easy read. It's not terribly long, and I'm already a third of the way through.
You do have to keep in mind that this was written in 1913. The author, J W Duffield makes an early mention of "the unfortunate accident and loss of life" that happened "last year". Of course, he's referring to the Titanic, without directly mentioning the ship by name. The language is a bit different, with a lot of "By Jove"s, "Great Scott"s appearing throughout. Friends are referred to as "fellows" and there's a lot of back slapping that occurs instead of the "high fives" that we have become so accustomed today. Further examples – baseball teams are referred to as "nines" and ball fields as "diamonds", all fitting descriptions, but all very old-timey. There are also some very un-PC descriptions of things in there, so if you're offended by that kind of thing, please be aware. We are talking 1913, here.
But as I've mentioned before, it is a very entertaining little story. I can only imagine that the target audience back then was the same audience for which the Hardy Boys and Tom Swift books were written in my younger days.
In fact, if you go to Project Gutenburg and type in "wireless" into their search box, there are a couple dozen various books that you will be led to. Some appear to be fiction, while others definitely are not. But they are all free and readily available to be downloaded for your reading pleasure.
The other thing that I wanted to mention is that there's another unbuilt HW9 up for bid on eBay:
A couple of weeks ago, John AE5X mentioned an auction for one of these. That kit ended up selling for close to $2000.00. This one is up to $305.00 with 5 days to go. I am pretty certain that any unsuccessful bidders from the first auction learned a lesson about holding their cards closer to their vests. I am predicting that bids will probably (and I mean probably, but I might be wrong) not move much until right before the end of the auction in an attempt to keep the winning bid lower than the $2000.00 neighborhood. It will be interesting to see how much this unbuilt Heahtkit will end up selling for.
Almost makes me want to buy a K2 and just stash it away somewhere for my kids to sell in about 30 or 40 years.
72 de Larry W2LJ
QRP – When you care to send the very least!
I got confirmation from Elecraft on Monday that my K3 was shipping UPS 3 Day Select. So you have to figure – Tuesday, Wednesday, and delivery on Thursday. In fact, that's what the official UPS Tracking Website confirmed for me – delivery by the end of the day on June 28th. So imagine my surprise when I got home to find a big brown box waiting for me. Inside was:
Serial number 6625 – just waiting to be built!
Also included inside are the K3 ATU, the 400Hz, 8 Pole Roofing Filter, and the handheld microphone. I also ordered a microphone for the KX3 while I was at it. And no, before anyone gets all excited, I am not renouncing CW! I got the microphone(s) for two basic reasons.
1) Doing Ham Radio demos. I have found that demos go best when you show folks CW and SSB. There's nothing like putting a mic into the hands of someone and allowing them to speak with someone halfway around the country, or the globe for that matter. It's something that THEY can relate to. Morse Code is "cool" as I have been told by a lot of kids – but letting them talk to someone in far off Uzbekafgonalakistan is the ultimate "Wow". (A note to my lawyer – yes, that is a made up country name).
2) Special Event stations – I really used to like to hunt them. A lot are not on CW at all these days, a lot are phone only. Hence, my decision to buy some microphones. Take for instance the "13 Colonies" Special Event that is held each year around Independence Day. Last year I was able to find exactly ONE state (MA) on CW. Maybe I won't work many; but at least now I can try.
I really have to tip my hat to you SSB QRP guys. You guys have supernatural patience! Except for the rare instance, I will stick with CW for a 99% majority of my operating time. I don't have your kind of patience.
Tonight was preoccupied with other matters. Tomorrow night, God willing and the creek don't rise, I will begin by doing a complete inventory. I don't expect anything to be missing as K3s are not rushing out the door as the same rate as KX3s.
Oh, and by the way, in case I didn't mention it ….. the K2 is going NOWHERE! I am NEVER giving that radio up!
Even though the sunspot number is a paltry 28, I had a good night on 20 and 30 Meters. Germany, Lithuania, Ecuador and The Ukraine were all easily reached with 5 Watts. I even managed to bust a mini-pileup to work the Lithuanian on 30 Meters. That felt really good!
72 de Larry W2LJ
QRP – When you care to send the very least!
In the APRS world a new piece of software has been creating some excitement. It is a soundcard modem for packet radio by UZ7HO. It runs under Windows and emulates the AGW Packet Engine so that it can be used by any program that is designed to work with it. The reason for the excitement is that this packet modem can decode several packet signals on slightly different frequencies in parallel, resulting in many more decodes on HF where it is quite common for stations to be 50Hz or more off-frequency.
Unfortunately I haven't been able to try the new packet engine as the PTT won't key my Elecraft K2 and I don't know why. My K2 CAT cable has a transistor switch on the DTR line which goes to a 3.5mm jack plug that plugs in the K2 key socket. This was originally used for computer Morse keying using software like MixW, but it can also be used for PTT with digital mode software as the key and PTT lines are common. Using fldigi and even using a serial port test program I am able to activate the DTR line on COM2 and the K2 will respond by switching to transmit. But if I use this software modem no PTT ever occurs so although the audio is generated the packet signal is never transmitted. If I was using a SignalLink or other device such as my homebrew USBlink with fast audio derived VOX then this wouldn't matter but as I have a PTT connection on this serial port I'd really prefer to make use of it.
If I change the serial port to COM3 then the program will key my Elecraft K3, which uses a different serial cable but still uses DTR for PTT. I tried the original AGW Packet Engine, both free and paid-for Pro versions but that won't key the K2 either. So the problem must be something to do with my K2 CAT cable. But my poor old brain has been having rather a tough time recently with all the treatment making me feel like a bit of a zombie and I'm finding it rather difficult to think things through logically and find the solution which is probably staring me in the face!