This past weekend (third full weekend in February, February 15-16, 2020) is the ARRL International CW Contest (ARRL DX CW link: http://www.arrl.org/arrl-dx ). This is interesting to my study of radio signal propagation as a columnist and as an amateur radio operator​ because of the contest objective: "To encourage W/VE stations to expand knowledge of DX propagation on the HF and MF bands…" This contest is a good way to get a feel for current propagation–though there are caveats.
Speaking of Morse code and the CW mode on our amateur bands: those of you using CW during contests, do you send by hand or by computer?  Do you copy the code by head, or do you use a computer for decoding?
In most contests like the ARRL DX CW contest, I copy by ear, and send mostly by rig keyer. If needed, I use a single paddle key with the Icom rig's internal keyer to answer unique questions and so on.
Below is a quick demo of using the internal Morse code keyer in my Icom IC-7610 transceiver.
V47T, in the Saint Kitts and Nevis Island in the Caribbean, is calling CQ TEST in the ARRL DX CW contest.
Using the programmable virtual buttons, in which I programmed my callsign, NW7US, and other info, I answer and make a complete contest QSO.
In activity like the Straight Key Century Club (SKCC – https://SKCCGroup.com) K3Y special event, it is all manual. I send my Morse code using a WWII Navy Flameproof Signal Key, and decode with my ears.  It is contextual for me.
How do you do contesting Morse code?  Bonus question: How do you do logging while doing contest operation?
73 es best dx = de NW7US dit dit
The new cool digital mode for amateur radio is FT8, made possible by Joe Taylor/K1JT and the WSJT software. At first, FT8 seemed like just the next digital mode to try but it is turning out to have a bigger impact than that. Jeff/KE9V recently posted about the popularity of FT8 here:
FT8 is so far out in front that other digital modes are a foregone conclusion. CW only remains relevant because of its popularity in contests. Even phone, the Holy Grail of wannabe HF operators everywhere, is a nearly forgotten mode compared to FT8.
This reminded me of some of the classic research on adoption of new innovations. What are the factors that cause a new thing to really take off versus languish on the shelf? How do these apply to the quick adoption of FT8?
Diffusion of Innovations
In Diffusion of Innovations, E. M. Rogers lists five factors will influence how quickly a new innovation gets adopted:
Relative Advantage: The degree to which the innovation is superior to ideas it supersedes.
If an innovation is clearly superior to the present way of doing things, people will be more likely to adopt it without too much concern about its usefulness. If it's not clearly better, people will tend to question whether it is worth the trouble of changing.
Compatibility: The degree to which the innovation is consistent with existing values, past experiences, and the needs of the user.
If an innovation is similar to existing practice and blends in well with user needs and expectations it is more likely to be adopted.  If it requires change on the part of the user or represents an inconsistency with the user's past experience, it may be rejected.
Complexity:  The degree to which the innovation is relatively difficult to understand and use.
The more complex something is, the more likely people will reject it because "it's just too much trouble."  Understandable ideas will tend to be considered more carefully and are more likely to be adopted.
Trialability:  The degree to which an innovation may be tried on a limited basis (in other words, without committing to full-scale, total operational change.)
The easier it is for an individual or organization to try something out without being fully committed, the more likely they will give a new innovation a try.  If the innovation can only be tried with full-scale change and great expense, it will tend to get rejected.
Observability:  The degree to which the results from the use of an innovation are visible and easily communicated to users and other decision-makers.
If the results of an innovation are difficult to measure or see, rejection is more likely.  If the results are clearly visible, then the adopting individual or organization can more easily correlate the results to the innovation.  Generally, a decision-maker wants to be sure that the intended results can be measured, otherwise how can the innovation be evaluated?
Adoption of FT8
It is very clear that FT8 has a strong relative advantage to other modes. Just listen to the many comments from hams like "the band conditions are really bad but I'm still making contacts." One could argue that FT8 is not that compatible with existing operating habits (think CW or SSB) but the mega-trend of using "sound card modes" is a huge enabler. For some time now, hams have been using the PC platform as a digital signal processing engine, using the sound card to handle the analog-to-digital conversion (and back). Perhaps this traces back to PSK31 as one of the major forces that caused hams to connect their transceivers to their computer. In that sense, FT8 is very compatible with existing sound-card-enabled stations, making it strong on compatibility and trialability. Just load up the WSJT-X software and give it a try. Of course, observability is strong too…now I'm making QSOs when I wasn't before.
There is a bit of a learning curve with FT8, which could be a barrier to adoption. You need to learn the software and fiddle around with the settings to make it work. But for many hams, this is not a barrier but a fun challenge to take on. Most of us like to try new things, as long as they aren't too frustrating.
The final point I'll make is that the popularity of FT8 reinforces my contention that Ham Radio Is Not For Talking. FT8 is all about making a radio contact and does not enable conversations. Sure, most hams like to talk (usually about radios) but when the bands are poor they like making radio contacts via FT8. Making QSOs is king.
Those are my thoughts. What do you think?
73, Bob K0NR
The post FT8 Adoption: The New Cool Thing appeared first on The KØNR Radio Site.
Hello, dear listeners! Thank you for tuning into another episode of Linux in the Ham Shack. In this week's episode, your hosts discuss a variety of topics from 600-meter operation to Linux in cars to Star Wars. Our featured segment tonight is a look at PC-to-radio interfaces for digital mode communication. Thanks for tuning into, and hope to see you next time.
73 de The LHS Team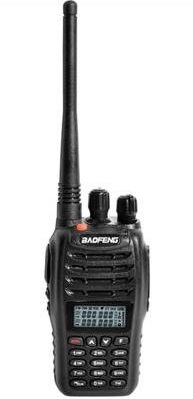 The various models of Baofeng handheld transceivers keep popping up everywhere. At prices less than $50, radio amateurs (including veterans and newbies) are scarfing up these radios. See my postings or check out PD0AC's blog for more information.
Also very frequently, the new owner of such a radio finds that they cannot figure out how to program it. Of course, the solution is "use the programming software" which is often helpful (and often not). The really gnarly problem that usually surfaces is getting the programming cable to work.
It appears that many of the cheap Baofeng USB programming cables use a clone of the Prolific PL-2303 chip that is not supported by the latest Windows driver. This Miklor web page does a good job of explaining the driver problem and giving some helpful advice. (Actually the Miklor site has tons of information on these radios, so check it out.) I'll also note that the same cable can be used to program a Wouxun radio, so the same remedies apply. Using the info on the Miklor site allowed me to get my Baofeng/Wouxun cable working with my old Windows XP computer. When I bought a new notebook PC, it came with Windows 8 installed, which I later "upgraded" to Win 8.1. (I will spare you the sad story of dealing with Win 8 and 8.1)  Anyway, I have not gotten the Baofeng cables to work on Win 8 or 8.1, even following the Miklor advice.
I started using the Chirp programming software, an open source application that supports a wide variety of radios. (I have found the supplied Baofeng and Wouxun software to be, uh, well, crapware. It can be made to work but it is a pain.) While the Chirp software is not bug free and is in perpetual beta, it basically works well and does a great job of supporting a wide range of radios. I noticed that the Chirp Cableguide recommends the use of programming cables with an FTDI USB chip. I found this one on Amazon for $19, a little more expensive than the cheapo cables but not bad.  I plugged it into my Win8.1 computer and it started working immediately. I did not load any drivers, Windows actually did its job and took care of it for me. In minutes, I was programming a variety of Baofeng and Wouxun radios. Success!!!
My strong recommendation at this point is to use the Chirp software and get a FTDI-based programming cable. You will be a much happier Baofeng or Wouxun owner.
73, Bob K0NR
A while back I wrote a blog post about the availability of $20 software defined VHF/UHF radios in the form of re-purposed USB digital television dongles.
Now-days, with the improvements in software and documentation, the hardest part is finding the right dongle. What you order from EBay, and what you receive, can be two different things and only some of the dongles are suitable for use as VHF/UHF software defined radios.
So, I was pleased to see that at least one hobbyist electronics supplier has sought out and supplies a suitable device for SDR at a fair price :
Adafruit has available the USB dongle and "antenna" suitable for experimentation for $22.50, not far from the EBay (direct from China) price.
Click here to go directly to the product page: Software Defined Radio Receiver USB Stick – RTL2832 w/R820T
No, I didn't receive a free evaluation unit and I don't work for Adafruit … I'm just glad to see these useful devices available from a local company with an increased chance of you "Getting what you paid for."
Adafruit also helpfully stock the adapter cables to convert the less common MCX antenna connector into the much more common BNC connector: MCX Jack to BNC RF Cable Adapter
At 522,000,000 miles per watt, Voyager could be the ultimate in QRP … if you have the right antenna.
For most HAMs the experience of seeing sub-one watt WSPR signals decoded from across the globe is enough of a thrill. However, the fine folks at the National Radio Astronomy Observatory have taken this a little further and used the Very Long Baseline Array radio telescope to precisely pinpoint the position of the Voyager 1 space probe.
While the layperson might see detecting the glimmer of 22 watts across the vastness of space miraculous, the amateur radio community can see this feat as the natural evolution and refinement of the technology and medium we know and love.
Earlier this year, the National Science Foundation's Very Long Baseline Array telescope turned its gaze to NASA's famed Voyager 1 and captured an image of this iconic spacecraft's faint radio signal. The Green Bank Telescope also detected Voyager's signal, picking it out from the background radio noise in less than one second.
Astronomers using the National Science Foundation's (NSF) Very Long Baseline Array (VLBA) and Green Bank Telescope (GBT) spotted the faint radio glow from NASA's famed Voyager 1 spacecraft — the most distant man-made object.
According to NASA's Jet Propulsion Laboratory (JPL), the VLBA imaged the signal from Voyager 1's main transmitter after the spacecraft had already passed beyond the edge of the heliosphere, the bubble of charged particles from the Sun that surrounds our Solar System.
Using NASA's Deep Space Network, JPL continually tracks Voyager and calculates its position on the sky, which is known as the ephemeris. Since the VLBA has the highest resolution, or ability to see fine detail, of any full-time astronomical instrument, NRAO astronomers believed they could locate Voyager's ephemeris position with unprecedented precision. This is unrelated to Voyager's distance from the Sun or position relative to the heliosphere.
The initial observations, which were made on February 21, placed Voyager very near, but not precisely at its predicted location. The difference was a few tenths of an arcsecond. An arcsecond is the apparent size of a penny as seen from 2.5 miles (4 kilometers) away. The second observations on June 1 produced similar results.
"It is possible that these observations are at the milliarcsecond [one-thousandth of an arcsecond] level, or better," said NRAO scientist Walter Brisken, who led the observations with the VLBA. At 11.5 billion miles — Voyager's approximate distance at the time of the initial observations — one milliarcsecond would be roughly 50 miles across.
Voyager's main transmitter shines at a feeble 22 watts, which is comparable to a car-mounted police radio or — in visible light — a refrigerator light bulb. Though incredibly weak by the standards of modern wireless communications, Voyager's signal is astoundingly bright when compared to most natural objects studied by radio telescopes.
"The ability to pinpoint the location of Voyager and other spacecraft is critical as we explore the inner Solar System and beyond," said Brisken. "The NRAO's VLBA has the capability to do this vital task with unprecedented precision."
Voyager 1, which was launched in 1977, is now headed away from the Sun at a speed of about 38,000 miles per hour.
In a remarkably sensitive complementary observation, the NRAO's Green Bank Telescope (GBT), which is the world's largest fully steerable radio telescope, easily detected Voyager's signal, picking it out from the background radio noise in less than one second.
"Voyager is the first man-made object to penetrate the interstellar medium, and we really want to be able to receive the data from this new frontier," said NRAO scientist Toney Minter, who oversaw the Green Bank observations. "This information will provide many clues about how the interstellar medium behaves and how the Sun interacts with it."
"NRAO's instruments have the capability to provide the most accurate position information of distant spacecraft like Voyager," said NRAO Director Tony Beasley. "The remarkable sensitivity of GBT and VLBA's sharp vision are essential for discovery but also have unique capabilities that have enabled us to make this contact with one of humanity's most ambitious missions of exploration."
The VLBA is a system of radio antennas located across the United States from Hawaii to St. Croix. The antennas work together as a single telescope nearly 5,000 miles across, giving the VLBA its ability to see fine details. Only seven of the VLBA's full complement of 10 antennas were used to make these observations.
The 100-meter GBT is located in the National Radio Quiet Zone and the West Virginia Radio Astronomy Zone, which protect the incredibly sensitive telescope from unwanted radio interference. The GBT observations were made by NRAO scientists Toney Minter and Frank Ghigo, and Green Bank Director Karen O'Neil.
This certificate for the CQ Worldwide VHF Contest arrived in the mail today, 1st Place Single Operator All Band for Colorado. Most of these contest awards take so long to arrive, I have usually forgotten all about the contest by the time they show up in the mail.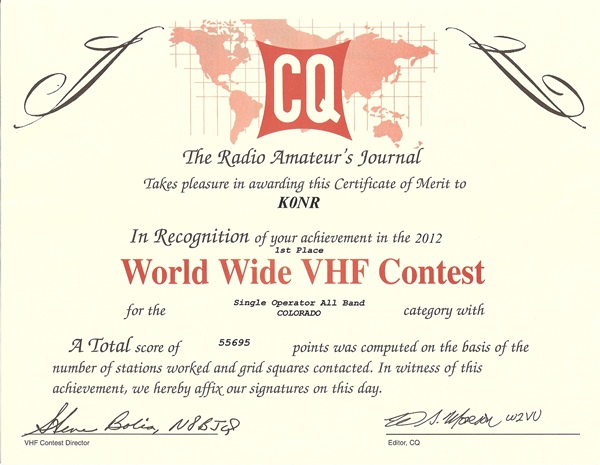 Last year, I had a pretty good run at it with an excellent 50 MHz sporadic-e opening on Saturday that ran up the QSO and grid totals. See my previous report on the contest here.
   73, Bob K0NR