To quote
Robert Burns
The best laid schemes o' Mice an' Men, Gang aft agley,
An' lea'e us nought but grief an' pain, For promis'd joy!
That sums up my weekend perfectly.
After becoming licensed my eagerness got the better of me and in a moment of weakness I'd purchased a couple of 10m ready made cables from a major supplier only to discover quite quickly they were made from low grade RG58 coax (you can literally count the number of strands in the braid) and the connectors while serviceable were so poorly fitted they fell off!
James that PL259 has fallen off again!
I had refitted the connectors using some solder this time and had managed to blag a 20m length of good quality RG58 (this actually has some braid) and I am ashamed to say these cables have been the weak link in my set up for far too long and needed to be upgraded.
I also needed to sort out the mounting for my aerials. Up till now I have been using a
5 meter telescopic painting pole
that had cost around £16 from B&Q, it was okay when I was just clamping one aerial at a time to it but with the purchase of the rotator I has been chancing my luck with the loading, narrowly avoiding catastrophe when pushing the pole. I also couldn't fully extend the top section as the tube and joint were potentially weak. It was guyed quite well but was far from aesthetically pleasing, even in the summer sunshine!
6M Moxon up on temporary pole
I couldn't fit anything to outside of the house, not only for logistical reasons but also it wasn't sanctioned by the station manager. Anything on the side of the house would be highly visible from the road and the back wall of the house has too many large windows and an extension making it inconvenient to fit and access anything.
Never fear I had a plan, a 20ft (6m) scaffold pole bolted using swivel joints on to to an another pole concreted in the ground in the back garden. The garden was extensively landscaped a few years back but it was before I became licensed, so I hadn't planned ahead. With careful negotiations with the station manager I secured a location where I could put it.
Thanks to my local handy man I now have two 10ft scaffold poles, sunk to a depth of nearly 5ft and encased in concrete in the corner of the lawn. A few inches of soil was left on the top to allow the grass to grow. They have been left for over a fortnight to completely set.
Scaffold pole sunk in ground
I ordered a 100M reel of RG213 coax from
Nevada Radio
along with plenty of high quality N-Type connectors and various clamps and intended to sort out my antenna set up this weekend and banish the abysmal RG58 coax and PL259 connectors to some dark corner of the shack.
Before I took everything down on Saturday I managed to make contact with GB0TDF the special event station being run by the
Denby Dale Radio Society
from Cartworth Moor, Holmfirth for the
Tour de France Grand Départ
A few months back I picked up a cheap rotator at the
Dambusters Hamfest.
It is designed for television aerials and isn't heavy duty but I was sure it would cope turning with the small 2M, 70cm Yagi and a 6M antenna on the same pole, with the X-50 collinear on the very top. However I was concerned by the potential lateral loading.
The rotator is a generic design and I spotted that an optional support bearing is available as an accessory. I chanced on one via
Ham Radio Deals
and had salvaged several good lengths of galvanised pole from a skip where I work. So the plan arrangement was as shown.. simple right?
Planned arrangement
It turned it a frustrating morning after cutting the metal pole to length, bolting and clamping everything together I tested it at ground level with no antennas and the rotator refused to turn correctly and I narrowly avoided burning it out.
I checked poles and they were true, the rotator was free running as was the bearing. I unbolted, fettled and just couldn't make it work. I went away and had a beer while watching some of the Tour de France on the TV and in a moment of clarity realised what the issue was.
The problem was the diameter of the salvaged pole I was using. It was was slightly narrower (a couple of millimetres) than the hole in the bearing. I'd assumed it would line up with the rotator as it was similarly clamped, however when all clamped up top and bottom the pole wasn't perfectly perpendicular and wouldn't turn due to the eccentricity, Hopefully the drawing illustrates the problem.
Annoyed by this basic school-boy error I reverted to Plan-B for the short term, no support bearing! I was in bad mood now and so decided to leave the rewiring to another day. So I quickly put the 2M yagi on the existing coax as a test on the new scaffold pole to make a few contacts for the VHF NFD.
Temporary installation to test scaffold pole
Walking up the scaffold pole is straight forward, I have bolted a small cut off of scaffold across the top of support poles to act as a safety stop, lowering it likewise easy and I will certainly build up the muscles!
I managed to grab just 8 QSOs but was otherwise engaged for the rest of the weekend, however I was encouraged by the distances.
A few 2M QSOs during the NFD, Tour de France, Grand Prix and fixing a dripping tap took priority ;-) pic.twitter.com/BECaepRIlu
— Andrew Garratt (@nerdsville) July 6, 2014
I hope to get the 70cm antenna up tonight on the RG513 ready for the 432MHz UKAC on Tuesday evening.
The birds like the new setup
Radio frequency interference (RFI) is the bane of a lot of amateur radio operators. Sadly it is becoming a real issue at my QTH.
RFI is referred to as QRM or QRN and I am learning the difference.
QRM means "I being interfered with" and is interference coming from someone using radio equipment. This covers deliberate jamming, people tuning up or just normal operations on a crowded band that causes QRM.
QRN means "I am troubled by static" and technically means interference from a natural noises but has come to refer to interference coming from anything that is not an intentional radio emission and interferes with reception of transmissions. So now covers atmospheric noise, static or the noise generated by electronic devices.
Noise isn't a new issue here as I have
posted before
. It has tended to be sporadic and bearable but since becoming licensed I have become more sensitised to it. Until now I have tended to focus on the VHF/UHF side mainly contesting venturing only briefly onto HF.
My HF set up is limited at the moment with just a single antenna which isn't optimal for the lower bands. Due to the day job I am largely restricted to evening/night time operation when the upper bands have largely been closed anyway so haven't really attacked HF with much enthusiasm apart from data modes such as JT65 and WSPR which have immunity to noise.
When I have got the chance for some early morning daytime operation or at the weekend I have struggled with noise. Recent weekends have seen some special event stations operating for the Museums On The Air and the
GB1JSS
Summer Solstice which have been predominately on the 40M band but I just cannot hear anything on that band due to noise.
I am aware the Sun has been particular active recently producing a number of large flares and CMEs that have caused a number of radio blackouts, but this noise isn't due to atmospherics I am certain it is man made by one of neighbours.
I made this video last weekend
and this video was from the weekend before that
This weekend was the 50MHz Trophy Contest which I was looking forward to, sadly it was also to become a victim of the QRN as this screenshot from my SDR will confirm, for much of the time I was operating I was just listening to noise.
I wasn't operating constantly, just grabbing a few minutes here and there and I did manage to make some decent contacts when the QRN subsided even catching some of the sporadic E opening to get EF7X in Spain.
I have ruled out any noise being generated by myself by powering everything off and running on battery. This leaves me in a bit of a quandary I could go around and locate and confront the culprit or even contact OFCOM but at the same time I don't want to antagonise anyone who could then object to any antennas I might want to put up in the garden.
Rotating the 6M Moxon around at the weekend during the contest as at least pointed me in the direction of one strong noise source. I am also convince that much of my problem is due to an evil
PLT
device in an adjacent property.
Following on from the weekend last night was the UKAC 50MHz contest and yet again I was troubled with noise leading to mostly local contacts.
I have been looking at some of the noise cancellers that are available from
MFJ
and
others
. I have heard conflicting options on their effectiveness but I am willing to try one if I can obtain one cheaply, or even home-brew one from the numerous designs
available.
These devices work by using a second antenna which receives just the noise which is then mixed out of phase with the main antenna signal hence nullifying the noise. By all accounts they are tricky to use and often need constant adjustment but may be my only viable solution at present.
All too quickly and the holiday is over
Apart from the UKAC on the
Tuesday night
I didn't do anything else with the radio, I did have the HF antenna up but the trapped nerve in my back meant I was in a lot of discomfort after being out and about during the day and so rested and zonked out on painkillers rather than struggling to set up the rig.
I must sort out a proper portable station that I can just open it up and start operating, I am impressed with Charlie's M0PZT
porta-pack frame
idea being an excellent solution especially for back packing.
In the past the wife and I used to be keen walkers, tackling many of the peaks in Cumbria, Snowdonia, the Peak District and elsewhere. We completed the
Coast-To-Coast Walk
back in 1991 and
The Cleveland Way
the following year.
Dipping my boots at Robin Hood's Bay in 1991 at end of the Coast-To-Coast
Sadly I am too overweight now to be a serious
Summits On The Air
(SOTA) operator but I plan on getting back to a reasonable level of fitness. As it happens if I'd been more prepared our walk of
Latrigg
last week could have been my first
Wainwright On The Air
(WOTA) activation.
Next month we are off to the
Isle of Skye
. We are staying in a self-catering cottage with plenty of room so rather than being /P portable I can be /A alternative and will be able to set up the rig in the cottage so can use it as and when I want.
I've already mentioned the holiday coincides with the 50MHz/6 Meter UKAC and am currently toying with the antenna choice, one advantage of being so far North is I won't need to rotate it as pointing it South South East should cover most of the UK. From the photographs of seen the cottage is reasonably elevated with clear views across Loch Bay in that direction. There are mountains ranges to contend with but who knows with propagation? I'll be in the rare IO67 locator square so might even have to contend with a pile up!
I will almost certainly operate as 2E0NRD rather than M6GTG for that week as using just 10W might be a bit optimistic.
IO67 Locator Square
I got somewhat excited last week when I received an email announcing the
RSGB First 50MHz Contest results
I was down in 35 place in the SF section but with a rosette next to my callsign? Wow I'd got an award! Pleased with myself I jumped on twitter to spread the news...
Gobsmacked.. pic.twitter.com/sGDI4jDh1W
— Andrew Garratt M6GTG (@nerdsville) June 7, 2014
Perhaps I shouldn't have been quite as quick to brag as it appears I was the only Foundation Level entrant!
Still I managed 4 verified QSOs on what by all accounts was a very difficult contest, with low activity and poor conditions. In fact I almost missed the contest altogether and was only alerted to the contest by a tweet by Robert
@G1ZJP
and was late starting as I needed to get the antenna up. I actually made 5 QSOs but one was broken because I mistakenly put 59 in as the serial number.. Doh!
This weekend is the
2nd RSGB 144MHz Backpackers
contest and the
Practical Wireless 144MHz QRP Contest
Unfortunately the FT857 is too powerful for the QRP contests as the limit is 3W but I could have a go at the Hill Toppers section in the RSGB contest which is limited to 10W and as luck would have it I am left to my own devices this weekend so might take a drive in the car..
Its not often I get a bumper crop of contacts on the UKAC series but 2m offers probably the best opportunity. Last weeks 6m contest gave just a handful of contacts but last night 26 contacts that ranged from Perthshire in the north to the south coast. I usually don't hang about past about 21:30 anyway and as conditions were deteriorating I decided to come home and sort out the log.
Operating /p with just 10w and a 5 ele beam means I can go out with the minimal equipment but I was very jealous of the Wasdale Mountain Rescue truck who had not read the memo about Sandwith being 'my spot'. Not only had they beat me to the best spot but they had a Clark pump up mast that looked great. I'll bet their best dx was worse than mine
All in all a good evenings work. Made better by the warm and wind free evening. I'm beginning to think I'll wake up in a bit.
Last night I went on 2m SSB with 5W in the monthly UKAC activity contest. After 1 hour and 40 minutes I had to stop as my voice was gone (stroke). Best DX missed was GI6ATZ in N.Ireland. I called him a few times without success.
In all 16 QSOs were completed showing that modest power and antenna from the home QTH is enough to enjoy the contest. Had I stayed on longer I'm sure I would have worked more squares. Quite a few stations in northern England worked too on the small, hand rotated, 3el beam, from the home QTH.
Looking at the map, I should have turned the beam towards the SW. Hardly likely I'll come other than close to the bottom, but that was not the point – it was good fun taking part.
2m stations worked with 5w/3el UKAC June 3rd 2014
Last nights 144MHz UKAC Contest gave me the opportunity to try operating portable for the first time. Caravanning in the Lake District just outside the town of Keswick I had spent the previous evening preparing (
see earlier post
) and after a day out walking I set up the station in the awning.
I hoisted the 3-Element Delta Beam to full height and waited for the appointed time. The campsite was very quiet but I still attracted some strange looks as people wandered past!
In the end I struggled only making 6 contacts, I searched and pounced initially and then called CQ for a time with no response. The caravan site has a strict no-noise policy after 22:30 so shutdown and packed up just before 22:00 Despite the low number of QSOs I wasn't disappointed, given my location and low power (10W) I was glad of any contacts.
Earlier in the day my wife and I took the dogs on a walk to the top of
Latrigg
which is just to the North of the campsite and is one of the lowest fells in the Lake District at 381m asl. From the summit we could clearly see the campsite below at just 218m. So perhaps not the best spot to be operating from, being surrounded on all sides by mountains.
Next month I am away to the Isle of Skye for the UKAC 6m contest, encouraged by the Delta Beam I might have a go at constructed one for then (if the wife agrees)
In the meantime I have got the magitenna up for HF but haven't used it yet after all I am here on holiday and have to spend time with the wife and dogs!
Just a correction in my
earlier post
about passing my intermediate I neglected to acknowledge the help of Nigel (M0CVO) and
SKARS
for the assessments and organising the exam.
Have taken one further step up the amateur radio licensing ladder, passing the Intermediate exam and assessments. A big thank you to
Grantham ARC
and Alan and Keith for invigilating and congratulations to my fellow candidate Mark Orbell who also passed.
My new callsign is 2E0NRD
Current QTH
I am currently writing this blog entry while on holiday sitting in the caravan watching the sun rise over the Lake District. I have brought the rig along with a
M0CVO magitenna
for HF and not wanting to miss out on the 144MHz UKAC tonight have a
Sandpiper 3-Element Delta Quad
.
It has already caused some strange looks on the campsite while I built it up and tested it last night and I hope I won't have any RFI issues as caravans are often fitted with wideband TV amplifiers! Thankfully the site is currently very quiet as the school holidays have finished.
Testing the Delta Quad last night
Initially was going to make a Moxon for 2m but I messed up my first attempt and ran out of time to make another so at the last minute ordered the Delta Quad from Sandpiper. It is a well built antenna I just had to cut the three loops and solder them up, the instructions were very clear. It is easily dismantled and seems ideal for portable work so is an investment for the future. I hope to use it during July's
VHF NFD
.
The antenna has an excellent VSWR match and when testing I clearly heard a cw/jt65 beacon around 144.480MHz which must have been
GB3NGI
on the Slieve Anorra Mountain in County Antrim, Northern Ireland (IO65VB)
I will be operating as M6GTG/P tonight as don't want to upset my UKAC scores and I am not really sure what to expect as surrounded by mountains in most directions here but should be fun. I might even rope in Boris to give me a hand
Boris not looking too impressed
Last Tuesday (27 May) was the 50MHz UKAC. I had intended to do some operating over previous Bank Holiday weekend and with reports of Sporadic E propagation picking up on 6m I had put my homebrew Moxon back up on the pole with the new rotator. Unfortunately the operating was curtailed due to the discomfort I am currently suffering due to a trapped nerve in my back.
That weekend saw some horrendous weather and it rained heavily for several days, indeed it had rained most of Tuesday, checking the VSWR in the evening before the start of the contest I was shocked to see it had risen from 1:1.5 to nearly 1:3!
I knew the bad weather was forecast before putting the antenna up so had made sure all the coax connectors and the feedpoint were properly sealed with self amalgamating tape so was somewhat perplexed. In the end I decided what I thought the issue was, the moxon frame was untreated softwood and in the bad weather had become very wet and damp and suspect it was affecting the resonance.
Despite this I decided to carry on as I was only running 10W and had a productive few hours despite some local noise.
I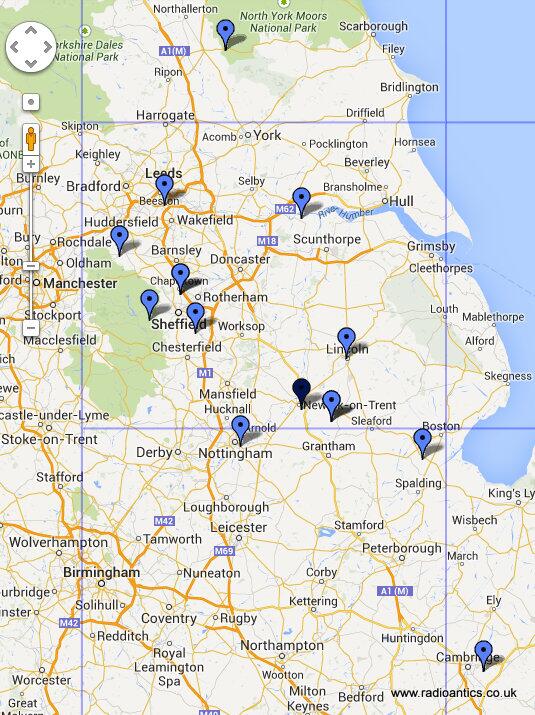 27 May 2014 - M6GTG 50MHz UKAC QSO Map
Anyway time to put the kettle on and I will post an update about how I get on tonight.