Posts Tagged 'Propagation'
The last three years have been, well, challenging.
In 2021, I became ill with Covid.  That was rough, but I bounced back.  That bout with illness caused me to lose my job, though, because I was ill too long.  What is worse is because I was not hospitalized, I did not fall under the protections of "disability," and had to step down from my employment at that time.  After I recovered, I found employment.
In 2022, I again fell ill to a second Covid.  That illness was significantly worse!  I nearly WAS hospitalized, but I resisted this, and hung on by a thread. I made it through, though the illness lasted a lot longer the second time around. Because I was ill for about five months, I again had to step down from employment.  This second Covid was the worst illness I have ever experienced, physically, emotionally, and financially.  I am thankful for my friends and family that were very supportive.
After I recovered, I found employment in late 2022.  It took a while for my health to stabilize, but the new job leadership has been supportive.  I have been happily working at this new job since late 2022.
But, the challenge to recover was high.  I sought answers.
In December 2022, I was diagnosed with Primary Hyperparathyroidism.  Sure enough, the many tests I endured confirmed that I had more than one tumor in at least two of my four parathyroid glands (we each have four of them, because we're given redundancy for this critical body part).
I had surgery at the end of February 2023 to remove these tumor-riddled glands.  The surgeon, once in my neck, found that THREE of my four glands were tumorous!  He removed the three.  I now have just one parathyroid gland.
Recovery has gone well.  My health is improving nicely.  It is like a switch was flipped, and I no longer have some of the debilitating symptoms like brain fog, extreme fatigue, and an out-of-control metabolism.  I have a stable function of the remaining parathyroid gland, and that is supporting the proper function of the rest of my body.  It is amazing how the whole body relies on these four glands for running correctly!
All of these challenges of the last few years caused enough distraction that my YouTube channel, and my writing, here, as well as other hobby activities, suffered my absence.  Now that I am getting back on my feet with my health, and because my job continues nicely, I am beginning to spend some energy and time on these hobby areas.  I plan on creating and releasing a few series on amateur radio, radio propagation, and space weather, on my YouTube channel.  If you are already a subscriber, you probably saw my latest video where I announce that I am, indeed, back:
If there are topics that you would like me to cover in the new educational videos I am planning and will create, please let me know with a comment to this post, or, look my email address up on my profile at QRZdotCom.  I will do my best to answer your questions and cover amateur radio and space weather topics in which you are interested.
If you are not yet familiar with my YouTube channel, you can find my channel here:  https://YouTube.com/NW7US — Please subscribe and hit the bell to be notified when I release new video content.
I will also post more often on this site.  I appreciate the opportunity to share with you my love of amateur radio, and the science of propagation and space weather which affects our radio signals.
Best regards,
Tomas, NW7US
https://NW7US.us
From the RAIN HamCast episode #56, 2021-XII-11 (used with permission):
When you were knee high to a grasshopper, did you undergo a game-changing experience that shaped your future career?
Here is text from the introduction:
Tomas Hood/NW7US did. Tomas has been a shortwave enthusiast since 1973. He was first licensed as a ham in 1990 at age 25.

In the mid 1990s Tomas launched the first civilian space weather propagation website, HFRadio.org, which later spawned SunSpotWatch.com. His website, NW7US has been up and running since June, 1999. Tomas has contributed to the Space Weather Propagation column in CQ magazine for over 20 years, and for The Spectrum Monitor magazine since 2014.

A product of the Pacific northwest, Tomas resides today in Fayetteville, OH. RAIN's Hap Holly/KC9RP spoke with Tomas recently about Solar Cycle 25 and the game-changing afternoon Tomas experienced in 1973 at age 8 ( Read more about this, at his amateur radio and space weather blog: https://blog.NW7US.us/ ).
Here is the first part of the two-part interview:
Mentioned in the interview is Skylab:
From Wikipedia's article on Skylab: Skylab was the first United States space station, launched by NASA, occupied for about 24 weeks between May 1973 and February 1974. It was operated by three separate three-astronaut crews: Skylab 2, Skylab 3, and Skylab 4. Major operations included an orbital workshop, a solar observatory, Earth observation, and hundreds of experiments.
Tomas was drawn into space weather as a life-long passion, by inspiration from Skylab, and from the hourly propagation bulletin from the radio station WWV.
WATCH FOR THE NEXT EPISODE, PART TWO
This video is only part one. The RAIN HamCast will conclude Hap's conversation with Tomas in RAIN HamCast #57, scheduled for posting Christmas Day.
Hap Holly, of the infamous RAIN Report (RAIN = Radio Amateur Information Network), is now producing The RAIN HamCast. The results are both on https://therainreport.com and on the RAIN HamCast YouTube channel, https://www.youtube.com/channel/UCUbNkaUvX_lt5IiDkS9aS4g
KEEP ON HAMMING!
The RAIN Hamcast is produced and edited by Hap Holly/KC9RP; this biweekly podcast is copyright 1985-2021 RAIN, All rights reserved. RAIN programming is formatted for Amateur Radio transmission and is made available under a Creative Commons license; downloading, sharing, posting and transmission of this ham radio program via Amateur Radio in its entirety are encouraged. Your support and feedback are welcome on https://therainreport.com. Thanks for YouTube Technical Assistance from Tom Shimizu/N9JDI.
This imagery captured by NASA's Solar Dynamics Observatory (SDO; link) covers a busy period of activity in October, during which we witnessed an X1.0-class X-ray flare.
From late afternoon October 25 through mid-morning October 26, an active region on the left limb of the Sun flickered with a series of small flares and petal-like eruptions of solar material.
Meanwhile, the Sun was sporting more active regions at its lower center, directly facing Earth. On October 28, the biggest of these released a significant flare, which peaked at 15:35, 28 Oct 2021 UTC.
This X1.0 X-ray flare that erupted from Active Region 12887 (we typically drop the left-most digit when referring to an active region, so this is AR2887) is the second X-class flare of Solar Cycle 25, as of the time this video goes live.
The first X-class flare occurred on 3 July 2021 and measured X1.59. It, too, caused an HF radio blackout. These blackouts will occur more often as the cycle activity increases, because the higher sunspot activity leads to many more flares, and thus cause the geomagnetic storms as the typical CME is erupted out into space, possibly colliding with Earth's magnetosphere.
Solar flares are powerful bursts of radiation. Harmful radiation from a flare cannot pass through Earth's atmosphere to physically affect humans on the ground. When intense enough, they can disturb the atmosphere in the layer where GPS and communications signals travel. Some of these disturbances to communications are called radio blackouts. They cause the lower layers of the ionosphere to become more ionized, which results in the absorption of shortwave radio frequency signals.
This flare on October 28 was classified as X1.0 in intensity. X-class denotes the most intense flares, while the number provides more information about its strength. An X2 is twice as intense as an X1, an X3 is three times as intense, and so on. Flares that are classified X10 or stronger are considered unusually intense.
This was the second X-class flare of Solar Cycle 25, which began in December 2019. A new solar cycle comes roughly every 11 years. Over the course of each cycle, the Sun transitions from relatively calm to active and stormy, and then quiet again; at its peak, known as solar maximum, the Sun's magnetic poles flip.
Two other eruptions blew off the Sun from this active region: an eruption of solar material called a coronal mass ejection and an invisible swarm of solar energetic particles. These are high-energy charged particles accelerated by solar eruptions.
Credit: NASA/GSFC/SDO
Thanks for liking and sharing!
73 de NW7US dit dit
The following footprints are of my CW signals on 2021-March-14 at about 04:00 to 04:20 UTC.
Click on this image to see a larger version of this image: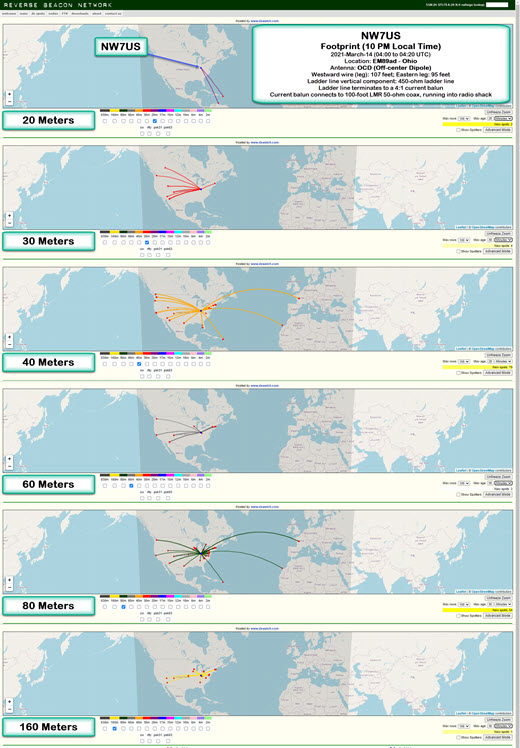 Location: EM89ad – Ohio
Antenna: OCD (Off-center Dipole)
Description of Antenna:
This is an off-center dipole, with the two legs running East-East-South (approximately 125 degrees of North), and West-West-North (about 306 degrees on the compass). The westward wire (leg) is approximately 107 feet in length, while the eastward leg is about 95 feet in length.
These legs (an off-center-fed dipole) is directly connected to about 90 feet of 450-ohm ladder line, which is hanging directly below, vertically, the feed point. The feed point is 50 feet above the ground.
The ladder line terminates (at the 12-feet-above-ground point) to a 4:1 current balun. This current balun then connects to a 100-foot LMR 50-ohm coax, which is running into the radio shack. It is connected via an antenna switch to my Icom IC-7610 transceiver. I am transmitting a 100-watt CW signal using an Icom IC-7610, in the following format:
TEST TEST TEST DE NW7US NW7US NW7US
The Reverse Beacon Network reports any spotting of this test transmission. The beta mapping interface, at http://beta.reversebeacon.net/main.php, then maps the resulting spots. To learn more about the RBN, visit http://beta.reversebeacon.net/index.php, or, http://reversebeacon.net/index.php.
I show the 20-, 30-, 40-, 60-, 80-, and 160-Meter band footprints.
I've been capturing these CW transmission spots, at different times of the day, today. I'll get data from several days, at regular intervals, and create a overview of how the antenna appears to be working during this month and under these propagation conditions.
73 de NW7US dit dit
..
Blog readers may remember my previous blog discussing a more optimistic prognosis for the just-starting solar Cycle 25. It described the then recently-published scientific paper whose conclusion was rather startling:
"... we deduce that Sunspot Cycle 25 could have a magnitude that rivals the top few since records began."
The scientific paper described the exact opposite of any and all predictions that I have read or have seen referenced, and at the time of publication, was surely a bold and risky claim for the paper's authors. (1)

An over-simplification of the methodologies used to develop their prediction describes the study of the complex relationship involving the Sun's 22-year (Hale) magnetic cycle, the end points of adjoining cycles called 'terminations' and sunspot production, to predict the eventual strength of the new cycle.
The end of the cycle or 'terminator' event plays a significant role in the new cycle's progress, as the shorter the separation between adjoining terminators, the stronger the next cycle will be. The possibilities of Cycle 25 being a truly strong one depends upon (according to the paper) a terminator event occuring sometime before the end of 2020.
Although there has been no official announcement as of yet, it appears that the termination may be presently occuring. Again following the paper, the termination event will produce a sudden and marked upturn in the growth of solar activity and will in fact, switch on suddenly within one solar rotation. As startling as this sounds, it appears to be exactly what is happening on the Sun right now.
Just one week ago, the Sun's solar flux stood at ~79 sfu (Solar Flux Units) but has climbed rapidly to 110. With several active sunspot regions on the earth-facing side of the Sun and several actively flaring groups about to rotate into view on the backside, it seems as if this sudden growth may be sustainable.
What is particularly encouraging is the activity level of the earth-side spots as well as the ones coming around, with several C and B-class flares continuing to push the flux higher.
Although it will likely slow and subside, a key indicator of future strength will be the time that it takes to recover and climb again.
Another interesting gauge of a new cycle's possible future strength is the number of months needed to reach an average monthly SFI of '90'. Strong cycles tend to climb early and rapidly, in order to reach their lofty heights.
The strongest cycle on record was Cycle 19, the grandaddy of them all.
Compared to anything before or after, it was a magnificent monster of a cycle for ham radio. Cycle 19 reached the magic SFI 90 value in only 18 months ... Cycle 25 has reached this same point in just 12 months! If this is indeed an accurate marker for cycle strength, and there is no reason to believe otherwise, then maybe we should all hold onto our hats.

We've been told for several years by those who know these things, that Cycle 25 would likely be a repeat of the poorly-performing Cycle 24, or even weaker. I think one thing that can now be reasonably surmised is that this isn't another Cycle 24! We should know shortly, if Cycle 25 is the real thing or not, once the termination event has been confirmed.

In the meantime, enjoy the wide open strong signal opportunities now playing on 10m ... the band is back once again and in fine form ... way earlier than anyone ever expected!
(1) Scott W. McIntosh (1), Sandra C. Chapman (2), Robert J. Leamon (3,4), Ricky Egeland (1), and Nicholas W. Watkins (2,5,6)

1 National Center for Atmospheric Research, P.O. Box 3000, Boulder, CO 80307, USA.
2 Centre for Fusion, Space and Astrophysics, University of Warwick, Coventry CV4 7AL, UK
3 University of Maryland, Department of Astronomy, College Park, MD 20742, USA.
4 NASA Goddard Space Flight Center, Code 672, Greenbelt, MD 20771, USA.
5 Centre for the Analysis of Time Series, London School of Economics and Political Science, London WC2A 2AZ, UK
6 School of Engineering and Innovation, STEM Faculty, The Open University, Milton Keynes, UK

It might not take as much antenna as you may think would be necessary to make two-way contacts on shortwave radio (as an amateur radio operator putting an HF transceiver on the air). However, often, makeshift antennae are effective enough to be viable–just look at all the contacts many amateur radio operators make with their low-power (QRP) rigs (transceivers) using short, helically-wound, mobile antenna sticks. If they can work magic with such inefficient antenna setups, surely your effort at an antenna would pay off to some degree. Right?
Of course, I want to make a proper dipole out of this example antenna. But, while I wait for the rest of the parts I need to complete this antenna project (pulleys and a ladder, and maybe a potato launcher), I've put this makeshift antenna on the air, with it just high enough so that I can enjoy some time on the shortwave bands.

With this antenna, I've made successful two-way voice and Morse code contacts (QSOs) with stations in Europe and across North America. I am able to tune it on the 60-, 40-, 30-, 20-, 15-, 17-, 12-, and 10-Meter bands. Reverse beacon detection picks up my Morse-code CW signals, especially on 40 meters (the band on which it is tuned physically).

The bottom line: just get something up in the air and start communicating. Improve things over time. You'll have much fun that way.

73 de NW7US dit dit
Unlike most forecasts for solar Cycle 25, a recently released paper from five solar scientists
(1)
has given many 6m diehards new reasons to hope!
After countless dire predictions for the upcoming cycle indicating similar or even poorer activity levels than the disappointing Cycle 24, the new paper suggests just the opposite!
In fact, the group of scientists predict that "
Cycle 25 will probably be among the strongest solar cycles ever observed, and that it will almost certainly be stronger than present SC24 (116 spots) and most likely stronger than the previous cycle 23 (180 spots).
" The possibility of a
smoothed sunspot number
(SSN) reaching as high as
305
is in the prediction!
Solar Cycle 19 was a monster, reaching a SSN level of
285
... to imagine the possibility of something even stronger is truly exciting. The just-ending
Cycle 24
was one of the weakest on record, reaching an SSN of just
116
.
Will Cycle 25 replace Cycle 19 as #1? Image source with my addition in RED.
During Cycle 24, maximum usable frequencies (MUF) for F2 propagation often struggled just to reach 28MHz, and except for the peak year, the worldwide propagation conditions that amateurs had come to expect were often absent.
Should these new optimistic predictions come to pass, 6m operators can look forward to some truly, never-before-seen, fall and winter propagation ... for at least three or more winters.
With SSN values reaching
the high two-hundreds or beyond
, west coast operators can expect to see the 6m band often open before sunrise, most likely favoring Europe via the polar path or towards Africa via the trans-Atlantic path. Unlike 20m, there will be little to no 'polar flutter' and since signals propagating near the F2 MUF suffer very little path loss, they will probably be very strong.
Later in the day, propagation will shift south towards Central and South America before moving to the west. Depending on the time of year, the propagation will favor Asia, with signals from Japan, China and other far-eastern exotica in the early fall through the New Year. As well, the band will often stay open for some time after local sunset. Late winter and spring will see the western path favour signals from down under, and stretch out to the southern far east regions towards the Indian Ocean. These were the propagation
patterns
noted from here during
Cycles 21-23
, when SSNs reached
233
,
214
and
180
respectively.
With much gratitude to Mark (VA7MM) for converting my old analog tapes to mp3, here is a recording I made on the morning of
November 7, 1979
, at the height of Cycle 21. It will give you a taste of what could be in store. On that Wednesday morning, the band opened around 0800 and continued through to sunset, closing with a three-hour opening to the Pacific and Japan. Like many other 6m operators, I had taken the day off work with a case of the 'F2 flu' that was very prevalent that winter! The recording begins with a short exchange between VE1ASJ and VE1AVX, while trying to work their first KL7 ...
F2 from Cycle 21
The graph of Cycle 21 shows when the recording was made. Although not known at the time, it was very close to the peak of the cycle.
A record-busting Cycle 25 will be like these previous cycles only on steroids! With such a cycle, 10m will follow a similar pattern but will likely be open 24/7 as I recall listening to VKs and ZLs on 10m AM well after midnight during the downward climb of Cycle 19 ... and this was on a very '10m-deaf' Hallicrafters S-38 and a short wire out the attic window!
For those wanting to read the fascinating paper (
Overlapping Magnetic Activity Cycles and the Sunspot Number: Forecasting Sunspot Cycle 25 Amplitude
), you can
find a pdf here
. As well, you can read the ARRL's own announcement of this exciting possibility
here.
One certainty is, that if FT8 is still around by then, it and your soundcard will fold up quickly once the band opens with wall-to-wall S9++ signals. It may be useful during the first early minutes or during marginal openings, but knowing the signal levels that 6m F2 can produce, it will be like trying to use FT8 with dozens of new neighbors operating on your own block ... and you can easily guess how well that might work! As we've come to understand, FT8 is a wonderful weak-signal mode, but throw just one bone-crushing signal into the waterfall and it's game-over ... on F2, there will be dozens of these!
Such stellar conditions on 6m are ideally suited to CW or SSB and I think there will be a fast exodus from FT8 back to the traditional modes very early ... those that aren't prepared for this, relying only on FT8, will most likely be in for a rude awakening. If you're a 6m "no-coder", now's the time to hunker-down and learn CW ... by the time Cycle 25 becomes productive, you won't be left out of the many CW DX opportunities that will surely be available on this much quicker QSO mode.
We will no doubt be reading more about this as Cycle 25 begins to grow. As in almost all stronger than normal cycles, growth from the start to the peak is much shorter than normal so I'll be watching for a fast rise in sunspot numbers once we are really underway.
Hindcast modelling (backtesting) of the data derived from previous cycles going back to the 1700s using the paper's prediction methodology, shows an accurate alignment with what actually occurred. The red dots in the graph above indicate the model's predicted peak superimposed on the actual peak. In some cases, the peaks were even higher than the modelling suggested.
The predictions identify the so-called "termination" events, landmarks marking the start and end of sunspot
and
magnetic activity cycles, extracting a relationship between the temporal spacing of terminators and the magnitude of sunspot cycles. The success of these predictions will depend upon an upcoming terminator event
before
the end of 2020. Should it occur on time, the predictions will be given a much greater chance of coming to fruition ... "
with a terminator event in 2020, we deduce that sunspot cycle 25 will have a magnitude that rivals the top few since records began. This outcome would be in stark contrast to the community consensus estimate of sunspot cycle 25 magnitude.
"
More interesting discussions of the paper can be found
here
and
here
.
This week's high-latitude Cycle 25 sunspots are a great sign. When the terminator event occurs, solar activity will ramp-up very quickly, within one 27 day solar rotation. Let's hope we're getting close.
As noted in the paper, "
Very early indications of the spot pattern are appearing at higher than average latitudes. Historically, high latitude spot emergence has been associated with the development of large amplitude sunspot cycles — only time will tell.
"
Hopefully we'll all need to hold on to our hats ... it just might just be the ride of our lives!
(1)
Scott W. McIntosh (1), Sandra C. Chapman (2), Robert J. Leamon (3,4), Ricky Egeland (1), and Nicholas W. Watkins (2,5,6)

1 National Center for Atmospheric Research, P.O. Box 3000, Boulder, CO 80307, USA.
2 Centre for Fusion, Space and Astrophysics, University of Warwick, Coventry CV4 7AL, UK
3 University of Maryland, Department of Astronomy, College Park, MD 20742, USA.
4 NASA Goddard Space Flight Center, Code 672, Greenbelt, MD 20771, USA.
5 Centre for the Analysis of Time Series, London School of Economics and Political Science, London WC2A 2AZ, UK
6 School of Engineering and Innovation, STEM Faculty, The Open University, Milton Keynes, UK