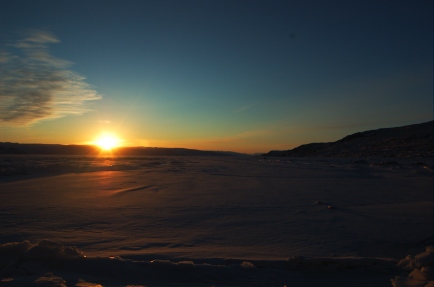 Last year, I managed to scrape together some equipment funds at work to buy a small spectrograph system for studying atmospheric light emissions (airglow and aurora).  A co-worker secured the funds and contacts for us to install it at an observatory in Greenland.  Because we need to make the measurements at night, and because the instrument was delivered in early December, we made immediate plans to go to Greenland as soon as possible.  (Sarah is certainly laughing at this point because the plans were actually far from immediate and we bought our passage just over one week before departure.)
Greenland is only a short (4- to 6-hour) flight from the NE U.S., however the only route that operates in winter (and indeed the only commercial route) is on Air Greenland via Copenhagen, which operates four round-trip flights per week in winter.  This turned getting there into a two-day affair of perverse travel arrangements totaling over 12,000 air miles to go about 4200 miles round-trip on the great circle.  I met my co-worker, a United Airlines devotee (myself an American Airlines devotee), in Copenhagen and we flew to Kangerlussuaq (Sondrestrom) on Air Greenland.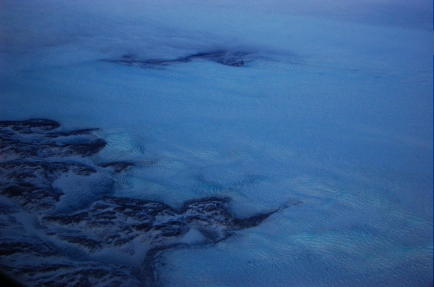 One of the things that strikes you about Greenland as you approach Kangerlussuaq is how otherworldly and remote it is.  Kangerlussuaq is the site of the former U.S. Sondrestrom Air Force Base, and one of two runways (the other is at Thule) on the island large enough to accommodate aircraft capable of flying to Greenland from abroad (this is a mild, although amusing exaggeration).  Air Greenland has its hub there, shuttling passengers off to towns around Greenland on twin-engine turboprops like the Dash-8.  It is, as our host explained, "…not your typical Greenland town.  It is far inland at the end of the fjord and not on the coast.  The only reason it exists is because of the airport."  Fuel and supplies are all brought in from outside.  Like most current and former U.S. military installations worldwide, it is reliant on diesel fuel for its on-going existence.  It's sobering to be someplace that is totally unsustainable, although one might argue similarly of many U.S. cities, but I digress.
Kangerlussuaq is also near "the dog line," north of which sled dogs are very common.  Here is one of the two road hazard signs we saw while driving around…dogsled crossing: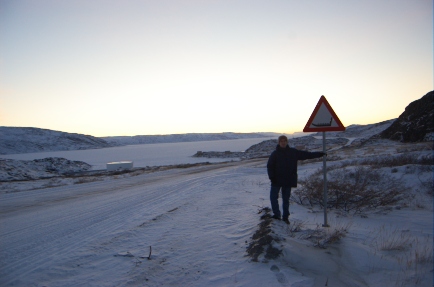 The instrument set up easily the first afternoon and we were able to collect some data with it that night.  As we were setting the instrument up, we heard reports of an Earth-directed CME from the Sun and hoped for aurora over the next few days. We were not disappointed…
The second night, I stood "aurora watch" in the cold while my warm-blooded co-worker processed the previous night's data.  Soon, I saw some faint cloudy white sheets way down on the horizon and I ran back in to alert him and retrieve the camera tripod.  This photograph was taken facing toward the east southeast.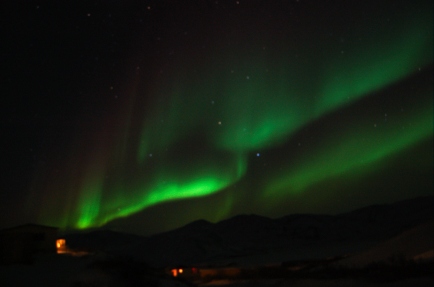 And, the 3.5-MW peak L-band incoherent scatter radar was running.  The dish is blurred because it is moving.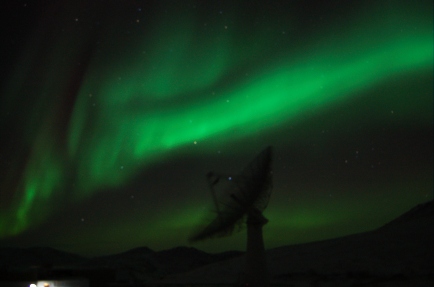 And, here is a shot of my fan dipole strung up on the DK9SQ mast.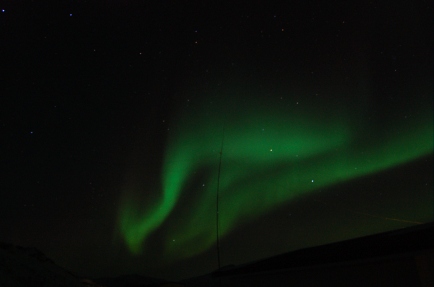 Speaking of radio, I did manage to make a few QSOs as OX/K8GU on 17 meters, but not as many as I would have liked.  The combination of high absorption in the auroral oval (mostly to our south during our stay), little sunlight, a poor low-angle shot (required to avoid the auroral zone) to North America, short openings, and the fact that we were well-occupied with work for the four days we were there conspired to keep my contact count low.  QSOs will go into LoTW soon—the certificate was issued yesterday.  I have not yet designed a card, but there will be a special card.  Thanks to those who did contact me.
This post might better be titled "supporting things that you value."  A recent large-scale DXpedition to a "new one" just started sending out QSL cards in the past few weeks.  I have seen a bit of traffic leaking onto the regional contest club's e-mail reflector about QSLing this operation and today someone complained that QSL requests that included donations were being processed rapidly and that he had not yet seen his. He was thoroughly chastised by a number of people on the reflector (including one of the DXpedition operators who went on at some length about the cost of the DXpedition) before the thread was (wisely) quashed by the moderator.
I composed a short reply very early in the melee, but decided (also wisely) not to contribute it because it really had little to do with contesting.  So, I'm writing here in hopes that someone finds it interesting.
When I was a new ham, I won a copy of the ARRL Operating Manual at a hamfest.  It sounds inane now, but I read the thing cover to cover.  In the chapter on DXpeditions, the author writes, "A donation should never be a condition for receiving a QSL card."  That has stuck with me through the years.  The fundamental question is: why spend tens of thousands of dollars on the effort only to hold the operators who worked you hostage for a donation that might cover your QSLing costs if you're lucky?
But, life is rarely black and white and most DXpeditions understand the futility of that question, so the situation outlined above rarely happens.  In the present scenario, the DXpedition stepped into the gray by prioritizing donors ahead of non-donors.  I have no problem with this.  In fact, as I began to write in my reply, it is a matter of supporting things that are important to you.  If having a card for the "new one" is important so you get on the Honor Roll for this year's DXCC Yearbook, how much is that worth?
This falls into the same category as people who used to complain about the results of contests sponsored by CQ magazine being unavailable for free online.  Well, if you want the results, buy the magazine!
Enough ranting…did somebody mention that CW Sweepstakes is this weekend?  SWEEPSTAKES!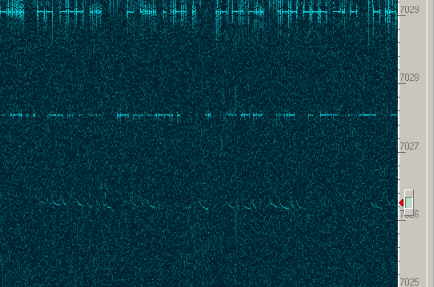 Last night, as I have been doing lately in both the evenings and mornings, I was trawling the bands with a SoftRock (a dual-band v6.0 built for 40 and 80 meters—my first SoftRock) and Rocky.  Without fail, the waterfall enables me to see something interesting, which brings me to the point that I really need to integrate these receivers into my station.  But, I digress.  The really tantalizing, fascinating signals are the weak ones, especially when they are weak and unusual.
The subject weak and unusual signal is shown in the figure headlining this post.  Rocky's cursor shows the approximate bandwidth of the CW filter (250 Hz, if I recall correctly) and the center frequency (7026.25 MHz).  I tuned it in and caught a CQ from "AA1T…"  Recalling that I head read about Mike, AA1TJ's, Das DereLicht transmitter built mostly from parts scavenged from a dead CFL, I suspected it was him.  After a moment the QSB came up and I caught the 'J.'  Thanks to the fact that the SDR is not fully integrated into the station, I scrambled to plug my 15-year-old Small Wonder SW-40 in and get it online.  Mid-scramble, Sarah handed Evan off to me for a diaper change, but I did manage to snap the screenshot above.  By the time I returned to the shack awhile later to close things down, AA1TJ had disappeared.
Through the (ubiquitous) magic of the Internet, I sent Mike an apologetic e-mail QSL, which yielded a nice response.  It turns out that he was trying a 40-meter version of the first transistor transmitter described in the amateur literature.  The design for 146 MHz by K2AH appears in March 1953 QST.  If you are an ARRL member, pull up those old QSTs in the archives and read about it.  K2AH is on the cover of February 1953 QST with the same transmitter.  Mike figures he was making 20 mW, or 20650 miles/Watt on the path from his station to mine.  The more remarkable thing is that he was using a 1956-era point-contact transistor (the same type as in the K2AH article).  Fascinating stuff!  Hopefully, we'll connect for a real over-the-air QSO sometime soon.
Thanks, Mike, for making my day by doing something interesting and sharing it on the air!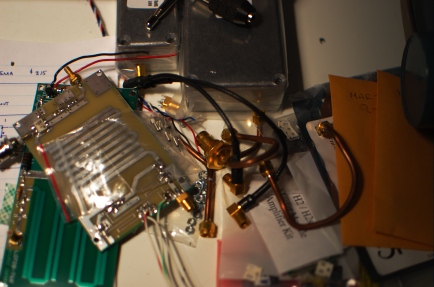 This is about building electronics, not making beer, at home; although, I am sure there are parallels.  Three things brought me to writing this:  1. an eHam forum thread I responded to a few weeks ago;  2. the June 2011 issue of IEEE Microwave magazine (has articles by K2UYH, N2UO, and KK7B, perhaps others? thanks to W3KL via the PVRC reflector for bringing it to my attention since I let my IEEE/MTT membership lapse); and 3. a few minutes spent last night resuming a partially-completed Softrock kit gifted to me by a friend who decided to buy a FLEX-3000 instead.
Every once in a while, a thread appears on an amateur radio forum that goes a little bit like this, "Hi, I'm a new ham and I don't have a lot of money to spend so I want to build an HF SSB station from scratch" or something similar. Somehow, somewhere, somebody has given the impression that it is less expensive to build your own amateur radio equipment than to buy it.  That's true in some circumstances, but certainly rarely for anything that is mature, mass-produced, and readily-available on the second-hand market.  After all, there is nothing novel about a 100-watt superheterodyne HF SSB transceiver these days. The principal uncounted cost is the "engineering cost" associated with getting your first few projects working and keeping them working.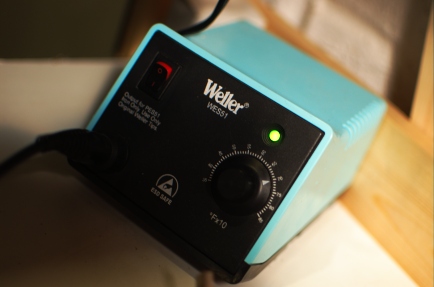 One of the first construction projects I undertook as a new ham was to build a Ramsey Electronics HR-20 (NE602-based) 20-meter receiver—$20 at a hamfest.  It did actually work eventually—but this was a simple kit with maybe two dozen parts.  Next, I built a ONER transmitter kit from now defunct 624 Kits.  I think that was another $20.  I never made any QSOs with that combination because I was always afraid of blowing out the receiver with the transmitter.  The first thing that I built that I actually managed to make a QSO with was a Small Wonder Labs SW-40, which I still have.  That set me back $55 and it did not work immediately.  Suddenly, that's over $100 by the time you include the money I spent on a soldering iron and solder.  That's one-third to half-way to a "real" used HF transceiver and I had two bands at 1 watt on CW only.  Furthermore—these are all kits—they leverage economies of scale in purchasing parts from various vendors and they have instructions to help you along.  And, I'd like to think that I was a relatively representative example of a recently-minted ham who had more ambition than money or skills…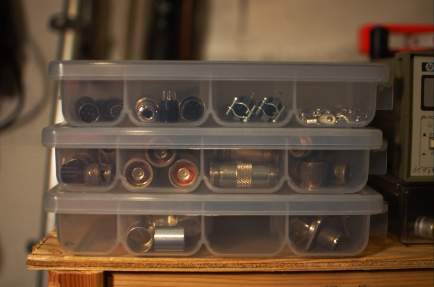 As I soldered down 1206-size (easy ones) SMT capacitors last night, I was thinking of times that I rushed through a homebrew or kit project just to get it on the air.  In those instances the process was often, as I have belabored above, about saving money, not about the act of creating something.  Last night was about creating, not saving, and that is the joy of homebrew.
The May issue of QST arrived in the mail today and an article about building a "fox" for hidden-transmitter hunting was included.  That brought back memories of a teenage project of mine that I had once thought of writing up for QST, but now just makes a good story for the blog.
The first (and only) handheld radio I've owned is an Alinco DJ-580T.  Like most HTs of a certain age, it has provision for an external ("speaker") microphone.  The microphone input is a sub-miniature (3/32-inch, "2.5 mm") stereo phone plug.  As a high school student, one of my passions was tinkering with a graphing calculator—the venerable Texas Instruments TI-85—do kids these days even use this stuff or have they gone the way of slide rules and nomograms?  The TI-85 offered the provision to link to a computer or another calculator through a similar sub-miniature stereo phone plug.
Well, one afternoon in probably 1997, I was sitting with the DJ-580T in one hand and the TI-85 in the other…and it hit me…I wonder if I can use the the TI-85 to drive the DJ-580T microphone input?
A few preliminaries are now in order.  Thanks to a helpful (and still operational, albeit now with a CMS and the attendant spam) web site called ticalc.org, a few friends and I had learned to load our TI-85s with third-party binary machine code programs with considerably faster execution times than the built-in scripting language.  This allowed us to play relatively powerful video games surreptitiously on a school-sanctioned platform…a tactic that worked well until the English teacher wisened up to the fact that the five students with their calculators out were not typing essays on them.  Not satisfied to just play games—although I did set a very high score in Tetris during Spanish class—I sought to harness the power of the Z80 microprocessor in the TI-85 for myself.  Recall that this was before widely-available and inexpensive microcontroller development systems like the PIC, Arduino, and AVR.
I gathered the tools and eventually managed to write some fairly sophisticated (given my utter lack of formal training in computing) software in Z80 assembly language, including a crude clone of Space Invaders and a crude adventure game I called "Kashmir."  Maybe some screenshots or stories about them will come later.
But, for the story at hand, I learned how to manipulate the link port.  Fortunately, the sleeve was ground on both the TI-85 and the DJ-580T.  So, it was just a matter of tip and ring—one was audio and the other was PTT on the radio, and both were settable on the TI-85 for some kind of two-wire communication link.  So, I reasoned that I could write up a bit of assembly code that would key the PTT by pulling it low, then toggle the audio line back and forth at 500 Hz or so to generate a rough audio tone.  It worked!
This was an expensive, although trivially so since I had the hardware, way to build a hidden transmitter.  So, I modified the software to send my callsign in Morse code (using a look-up table) and stuffed the whole thing in a cigar box.  It was good fun for a few of us teenage boys.
And, for the interested, I found the original source code, which is sadly not well commented or dated.  But, it does have my old callsign (AA8UP) listed by the lookup table.
Several people have commented over the years that I should "write more" on the blog.  I usually respond that I could spend my free time tinkering/hamming or blogging, but not both.  Here are a month's worth of blog posts as freestyle poetry:
A section on my workshop has been added to k8gu.com under Engineering.
Discovered that although the SoftRock VHF Ensemble II won't fit (barely) into the Bud CU-473 diecast box I bought for it, it will fit into an extruded enclosure that housed an ancient X-band radar detector I picked up at Dayton in 2002 in hopes of stripping the Gunn diode assembly and getting on 10 GHz.  Bonus points for thriftiness.  Photos will follow once I finish the project.
Did not observe Quadrantid meteor pings with the SoftRock VHF Ensemble II, but did notice something interesting about the W3APL beacon.  Need to investigate.
Have more CE/K8GU QSL cards again, finally.  Tonight, I might finish the bureau (and, ashamedly one direct) cards languishing.  Some K8GU (and AA8UP, no kidding) bureau cards are sitting here staring at me, too.  Not a big project, though.
Operated the NAQP CW on Saturday (8 January 2011) for four hours and twenty minutes and made 318 QSOs x 128 multipliers for 40,740 points before log-checking discounts.  This total is pleasing to me especially considering that it was almost all leap-frogging SO2R search-and-pounce, which can be very fatiguing.  It's fun to see the rate meter stay over 100 when you're S&Ping.  Good Sprint practice.
Still the best 30 minutes on the radio every week:  I operated the NS Ladder on Thursday (6 January) night and made my customary 30 QSOs x 24 multipliers for 720 points.  Hopefully, adding 160 will give me some momentum to increase this score back over 1000.
We had a spell of 50F (10C) weather on New Years' Eve.  So, I put the 2-meter beam back up on the chimney.  It was formerly mounted on a steel mast that was ratchet-strapped to the chimney.  A strong wind (>50 mph gusts) before Christmas bent the mast (actually a fence top-rail) and I had removed it.  I cut the bent lower portion of the mast off and attached the remaining top portion with rotator to a "girder" constructed from two pieces of treated 2″ x 4″ x 10′ lumber joined with a half-dozen lag screws.  Again, I ratchet-strapped the entire assembly to the chimney.  The present configuration is much stronger and less prone to damage.  The 3-element 50-MHz Yagi is still on the ground until I actually get the transverter finished, which should be soon (as it has been for 12 months now).
Repaired a SoftRock v6.2 downconverter for WF1L and learned that you can solder leads back onto SOIC packages if you're careful.
Have had delightful exchanges with KN6X and ZL1CDP about repairing the TS-930S.  Some of these discussions (and their fruits) may make it onto the site at some point.
Back in December, I started integrating the W1GHZ transverters using UT-141 semirigid jumpers with pre-installed SMA connectors obtained on attractive terms from Max-Gain Systems.  Mitsubishi RA18H1213G (1296 MHz) and RA30H0608M (50 MHz) modules arrived from RF Parts.  May have a lead on something less expensive with more gain for 903 MHz via HA1AG.  The big remaining tasks in all three transverter projects are the sequencer and IF interfacing.
Also in December, I had dinner with NS Ladder father Bill, N6ZFO, in San Francisco at the Hyde Street Seafood House & Raw Bar, which is a favorite of NA Sprint father, Rusty, W6OAT.  Yes, I did feel that I was in the presence of greatness.  (I had their excellent pork chops since I'm not into seafood, especially raw seafood.)  Like most contesters, Bill's a super, fascinating guy apart from his radio contesting interests.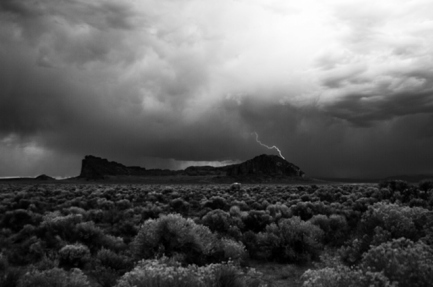 The ARRL 10-meter (28-MHz) contest was a couple of weeks ago.  Given that I had bothered to install a 10-meter antenna at this QTH and that conditions seem to be improving, I thought it would be fun to play.
I fired up CQing on Saturday and after a few minutes, Sarah appeared at the shack doorway.  This usually means that something is broken or I'm causing RFI to something she wants to be using.  Since I'm not KT0R, who used to tell his neighbors that he was "busy and please come back on Monday," I obliged her.  It was the CO detector again.  I unplugged it (it's battery-backed, so it just means that contesting burns through 9-volt batteries) and returned to the game.  Peace reigned again in the Miller household.
Sneaking in a little bit of contesting before church on Sunday morning is a long-standing habit of mine, although it seems that the Sunday openings are usually better than the Saturday openings.  Today was no exception.  I was working hard to extract a few QSOs out of what appeared to be a mostly dead band and Sarah again showed up at the shack doorway—this time with wet hair and quite agitated.
"The outlet is popping when I plug the hair-dryer into it!"
I assured her that I would take care of it, adding that it was "probably just the radio getting into the GFI.  Let me send a few dits and see if it starts clicking."
"No, you stay there, I'll send the dits.  How do you do it?"
"Just press the left paddle."
And so, Sarah made her first ham radio transmission on 10-meter CW this morning (after which I did identify, for the record).  I confirmed that the outlet made a little click.  She was not completely convinced, but I told her I would shut down while she dried her hair so I could monitor the situation.
The hairdryer (a prior unit), Sarah, and I have had run-ins before.  Several years ago, when we were poor graduate students, a loose screw was causing a nasty vibration in the old hairdryer.  So, I tightened it up and gave it back to her, not knowing that there was another screw floating around inside the case.  One morning, that screw found its way into the motor and sparked.  When Sarah called me on the phone, I thought she'd burnt the house down.  As much as it pains me, I no longer attempt to fix any appliances that cost less than $50 as a result of this episode.
Still worked up, Sarah took the opportunity to grill me about the compatibility of contesting with family life…"When have children, how will you hear them if they're in trouble and you have your headphones on?  (In jest, I later proposed wiring a baby monitor into the SOnR audio chain.)  Can't you listen with the speaker?  How will we keep them from eating your little parts, bits of wire, and globs of solder?  Electricity is not a toy!"
We laughed at the last one.  And she added, "I hope they're all girls who want everything hot pink—so much hot pink that we want to barf."
I suppose if someone makes a hot-pink Hello Kitty AK-47 (the photo actually looks like a painting of an AR-15) and the Sarah-cuda bow, we can find hot-pink solder irons, paddle finger pieces, headphones, and even radios (I seem to recall that there was a BabyPhat mod'ed hot-pink Motorola HT floating around the web a few years ago).
Anyhow, this post is for Sarah because she puts up with a lot of tinkering, RFI, and headphone time and gets very little blog recognition in return for it.
(The photo above is of Ft Rock, Oregon, taken by me when I was on assignment there.)