Posts Tagged 'communication'
Some of you wanted to see the complete version, uncut, of this video in which I discuss the differences between CB and the Amateur Radio Service.  This is in response to the recent episode in which the NCIS writers missed a great opportunity to discover the vibrant reality of the current amateur radio service in the United States of America.
The previous version of the video was prematurely cut short by just over three minutes.  This version includes that ending.  I also remove some of the low-end rumblings from the vehicle.  This version should sound a little bit less annoying.  Hopefully, the quality of the video is sharper, as well.  This version was edited by Adobe Premiere CC 2017.
I appreciate the many comments, views, and shares.  Please subscribe, too!
73 from Omaha!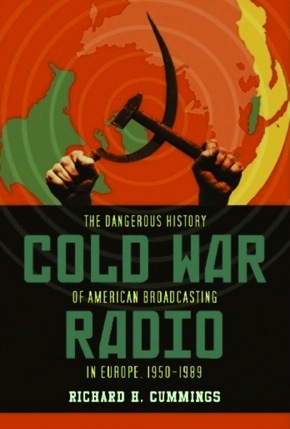 Shortwave radio has been a source for great sci-fi plots, spy intrigue novels, movies, and so on, since radio first became a "thing." But, what is the big deal, really? What is it that amateur radio operators listen to?
In this video, I share some of the types of signals one might hear on the high frequencies (also known as shortwave or HF bands). This is the first video in an on-going series introducing amateur radio to the interested hobbyist, prepper, and informed citizen.
I often am asked by preppers, makers, and other hobbyists, who've not yet been introduced to the world of amateur radio and shortwave radio: "Just what do you amateur radio operators hear, on the amateur radio shortwave bands?"
To begin answering that question, I've taken a few moments on video, to share from my perspective, a bit about this shortwave radio thing:
Link to video: https://youtu.be/pIVesUzNP2U — please share with your non-ham friends.
From my shortwave website:
Shortwave Radio Listening — listen to the World on a radio, wherever you might be. Shortwave Radio is similar to the local AM Broadcast Band on Mediumwave (MW) that you can hear on a regular "AM Radio" receiver, except that shortwave signals travel globally, depending on the time of day, time of year, and space weather conditions.

The International Shortwave Broadcasters transmit their signals in various bands of shortwave radio spectrum, found in the 2.3 MHz to 30.0 MHz range. You might think that you need expensive equipment to receive these international broadcasts, but you don't! Unlike new Satellite services, Shortwave Radio (which has been around since the beginning of the radio era) can work anywhere with very affordable radio equipment. All that you need to hear these signals from around the World is a radio which can receive frequencies in the shortwave bands. Such radios can be very affordable. Of course, you get what you pay for; if you find that this hobby sparks your interest, you might consider more advanced radio equipment. But you would be surprised by how much you can hear with entry-level shortwave receivers. (You'll see some of these radios on this page).

You do not need a special antenna, though the better the antenna used, the better you can hear weaker stations. You can use the telescopic antenna found on many of the portable shortwave radios now available. However, for reception of more exotic international broadcasts, you should attach a length of wire to your radio's antenna or antenna jack.
Episode #118 Audio (Listen now!):
Brief Topics
Tuxmachines Tentatively Sold to Techrights
Raspberry Pi Exceeds Sales Expecations
Russ, K5TUX, No Longer 10M Virgin
Main Topics
HAMRADIONOW.tv – Gary Pearce KN4AQ

Episode 104: Be Prepared (Be Very Prepared)
Watch the episode on the http://www.HamRadioNow.tv web page
HamRadioNow  has episodes on many topics of interest to Hams & non-Hams alike:   From Amsat to Field Day to community service, etc…
Scientists predict sun's magnetic field is about to flip
Announcements & Feedback
E-mail exchange with Mike N2HTT
Donations and Subscriptions

Thomas H. (Very generious donation)
Richard G. (Yearly)
Gary U. (Monthly)
Jim N. (Monthly)
Bill H. (Monthly)
Bill A. (Monthly)
Scott P. (Monthly)
Social Media Roundup
Google+
Twitter

73s @73s
Ken KKØHF @RadioGeek
Rugby LUG
Latest Digitals @LatestDigitals
HamRadioForever @HamRadioForever
David L. KK4WW @Apple1computer
Glenn @KD5HCL
Jason B. KY9J @jasonbegley
RUSSELL – M3LCZ @m3lcz
Jeffrey B. NT1K @itsBail
Norman P. CVWOC @CVWOC
Andy H. K5PO @K5PO
Todd S. @wm8c
Phil H. @k4ne
Kevin T. @N5PRE
Trent f. @N4DTF
Greg W. @k4hsm
Jeff P. @ke4ole1
Jeff D. @ke9v
Marco b. @iw2iga
Mike M. @n5jky
David L. M0IBC
Tim P. @KG8OC
Eltje  aka Drs. C @PA3CEE
Chuck M. N9KY @deN9KY
Steve C. @K4DXV
Danny P. @NG9R
Rob  W. @RobM_TMA
Pete D. @RadioN3FNE
Stephen H. @g8ebm
Mitch @KF5OEF
William S. @NE4RD
Thomas D.  @TomDavis_KF5GBL
Craig [email protected]
N8VSI – Scott P.  @N8VSI
Jon @N5JLD
Mike R.  @badtoyz
Outro
Please check out our website:  http://lhspodcast.info.
Become  an ambassador!  Visit the Web site for upcoming events and information  how you can represent Linux in the Ham Shack at a nearby Linux con or  hamfest.
You can e-mail us at [email protected] or leave a voice mail at 1-909-LHS-SHOW (547-7469).
All hate mail is routed to Harrison at [email protected]
Please subscribe to the mailing list.  A link is on the Web site.
Go  to CafePress and Printfection and buy some of our show merchandise.   Each purchase helps out the show.  You can also help the show by  clicking on the sponsored ads in the right-hand column of the homepage.
Listen  live every every other Tuesday at 8:00pm Central time, or Wednesday at  0200z.  Our recording schedule and countdown timer to the next episode  is on the Web site.
Thank you to all of our listeners, live and quasi-live.
Music
"Fluoride" by Brad Sucks from the album Guess Who's a Mess, courtesy of Jamendo.

Released January, 2013.
Track length 3:42
"Locked In" by Fresh Body Shop from the album Make This End, courtesy of Jamendo.

Song released July, 2007
Track length 3:42
While many are talking about how Solar Cycle 24 is the weakest since the Maunder Minimum (the period starting in about 1645 and continuing to about 1715 when sunspots became exceedingly rare, as noted by solar observers of the time — see this Wiki entry), there are moments when activity on the Sun strongly increases, providing brief moments of excitement.
Here is a case in point, witnessed by the Solar Dynamics Observatory (SDO; see SDO Mission) on June 7, 2011, when the Sun unleashed a magnitude M2 (a medium-sized) solar flare with a spectacular coronal mass ejection (CME). The large cloud of particles mushroomed up and fell back down looking as if it covered an area almost half the solar surface.
SDO observed the flare's peak at 1:41 AM ET. SDO recorded these images in extreme ultraviolet light that show a very large eruption of cool gas. It is somewhat unique because at many places in the eruption there seems to be even cooler material — at temperatures less than 80,000 K.
This video uses the full-resolution 4096 x 4096 pixel images at a one minute time cadence to provide the highest quality, finest detail version possible.  The color is artificial, as the actual images are capturing Extreme Ultraviolet light.
It is interesting to compare the event in different wavelengths because they each see different temperatures of plasma.
Credit: NASA SDO / Goddard Space Flight Center
Video: http://g.nw7us.us/1aOjmgA – Massive Solar Eruption Close-up (2011-06-07 – NASA SDO)
Visit: SunSpotWatch.com
Hello, friends! Episode #118 of Linux in the Ham Shack is ready for your immediate consumption. Lots of ham radio and Linux related news in this episode, including discussion of Ham Radio Now, the sun's magnetosphere, digital contacts on 28MHz, Linux Mint, Linux news aggregation sites and more. Sit back in your easy chair, put on your headphones, and enjoy a sweet slice of podcast nirvana. Until next time...
73 de The LHS Guys
This is for you vintage science film buffs: here is a circa 1920 film: How the Telephone Talks (A Silent Film).
This is an educational film from 1920 that explained the "modern" telephone. The concepts are still relevant to today's modern versions, including the cell phone, which is both radio and telephone.
From Wiki:
A telephone, or phone, is a telecommunications device that permits two or more users to conduct a conversation when they are not in the same vicinity of each other to be heard directly. A telephone converts sound, typically and most efficiently the human voice, into electronic signals suitable for transmission via cables or other transmission media over long distances, and replays such signals simultaneously in audible form to its user. The word telephone has been adapted into the vocabulary of many languages. It is derived from the Greek: τῆλε, tēle, far and φωνή, phōnē, voice, together meaning distant voice.

First patented in 1876 by Alexander Graham Bell and further developed by many others, the telephone was the first device in history that enabled people to talk directly with each other across large distances. Telephones became rapidly indispensable to businesses, government, and households, and are today some of the most widely used small appliances.

The essential elements of a telephone are a microphone (transmitter) to speak into and an earphone (receiver) which reproduces the voice of the distant person. In addition, most telephones contain a ringer which produces a sound to announce an incoming telephone call, and a dial used to enter a telephone number when initiating a call to another telephone. Until approximately the 1970s most telephones used a rotary dial, which was superseded by the modern Touch-Tone push-button dial, first introduced by AT&T in 1963. The receiver and transmitter are usually built into a handset which is held up to the ear and mouth during conversation. The dial may be located either on the handset, or on a base unit to which the handset is connected by a cord containing wires. The transmitter converts the sound waves to electrical signals which are sent through the telephone network to the receiving phone. The receiving telephone converts the signals into audible sound in the receiver, or sometimes a loudspeaker. Telephones are a duplex communications medium, meaning they allow the people on both ends to talk simultaneously.

A landline telephone is connected by a pair of wires to the telephone network, while a mobile phone, such as a cellular phone, is portable and communicates with the telephone network by radio transmissions. A cordless telephone has a portable handset which communicates by radio transmission with the handset base station which is connected by wire to the telephone network.

The telephone network, consisting of a worldwide net of telephone lines, fiber optic cables, microwave transmission, cellular networks, communications satellites, and undersea telephone cables connected by switching centers, allows any telephone in the world to communicate with any other. Each telephone line has an identifying number called its telephone number. To initiate a telephone call the user enters the other telephone's number into a numeric keypad on the phone.

Although originally designed for simple voice communications, most modern telephones have many additional capabilities. They may be able to record spoken messages, send and receive text messages, take and display photographs or video, play music, and surf the Internet. A current trend is phones that integrate all mobile communication and computing needs; these are called smartphones.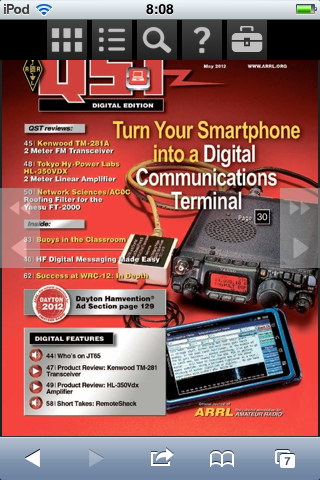 The other day I received, like some unknown number of others, an invitation to try the QST Digital Edition beta for the May 2012 issue.  I am not a hard-core mobile/digital media user.  But, Sarah is a librarian who has specialized in management and procurement of electronic journals and books.  So, she gave me the low-down on what to look for.  And, over the years, I've given her what-for about eBooks because, as I like to say, "I am willing to risk a single print copy of something by taking it places I wouldn't risk taking an electronic reader."  That sums up the perspective I took when reviewing e-QST.
You can read about the Digital Edition on ARRL's FAQ here.  The desktop version requires Flash to use in-browser or Adobe Air and an enormous download to go stand-alone, neither of which really warmed my heart.  But, it does work in the web browser of a mobile device.  I have a 2nd generation iPod Touch running iOS 4 and it worked great in Safari.  I now have a bit of insight as to why people might love their iPads (which I have always viewed as a more-expensive, less-convenient version of the iPod Touch or iPhone).  There appear to be only two levels of zoom: fit page width and zoomed-in.  No matter how good your eyesight, you need to be zoomed in to read because the characters don't render legibly otherwise.  I think iPad's larger screen might make reading it easier.
Browsing page thumbnails was OK, but it's difficult to actually know what you're looking at before you select the page.  It also would be nice if the pages were numbered in thumbnail view.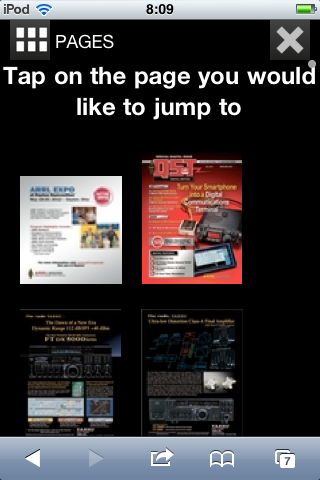 One of the big advantages of the Digital Edition is that you can do things you can't do with the print version, like including audio of JT65.  Granted, I think almost anyone who's active on HF CW or digital knows what JT65 sounds like, but it's a basic demonstration of the kinds of things that will be possible in the new format.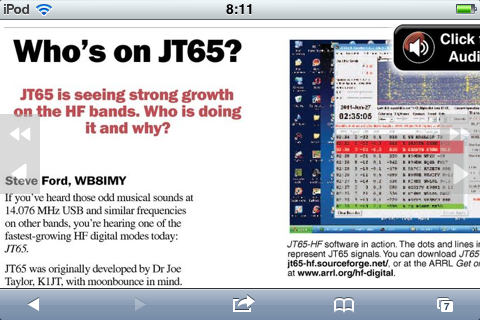 Given that I'm usually done with one month's issue by the time the next one comes out, the Digital Edition is alright for basic browsing and reading.  It's much faster to skim the print issue, at least with my barebones 768 kbps DSL connection and the higher visual bandwidth of print (read Tufte's essay The Cognitive Style of PowerPoint for more on this and other interesting reasons to hate slide decks).  The mobile version also requires you to be connected to the Internet to browse.  It turns out that an entire issue is on the order of 350 MB to download stand-alone on a computer.  This makes it difficult to take places where I often want to read QST (on airplanes, for instance)…  It is possible to print from the desktop version (I tried it using 32-bit Windows XP and Firefox), although it seems to be slower than the mobile version (not entirely unexpected).
Another thing that's a bit different is that if you download the offline content to your desktop, you still need to authenticate to open it.  It's not clear whether this continues if you drop your ARRL membership.  It is a bit different than owning boxes of back issues…even if you drop your membership, you still have the magazines.  I don't think this is a huge concern for most hams, who probably wouldn't be interested in old QSTs if they dropped the membership.
In summary, I like the concept of the Digital Edition, but I wish I could carry off-line issues around on my mobile device.  ARRL hints at this in the FAQ, so I am hopeful.