Here is this week's space weather and geophysical report, issued 2019 Sep 09 0301 UTC.
Highlights of Solar and Geomagnetic Activity 02 – 08 September 2019
Solar activity was at very low levels. Region 2748 (N14, L=205, class/area Hsx/020 on 02 Sep) was quiet and stable and decayed to plage on 03 Sep. No Earth-directed CMEs were observed.
No proton events were observed at geosynchronous orbit.
The greater than 2 MeV electron flux at geosynchronous orbit was at very high levels on 02-04 Sep and high levels on 05-08 Sep. Electron flux reached a maximum of 87,900 pfu at 04/1835 UTC.
Geomagnetic field activity ranged from quiet to G1 (minor) storm levels on 02 Sep due to effects from a large, recurrent, positive polarity CH HSS. From 03-06 Sep, quiet to active levels were observed as HSS effects continued. Quiet to unsettled levels were observed from 07-08 Sep. Wind speeds began the period near 750 km/s, but slowly decayed to end the period near 400 km/s.
Forecast of Solar and Geomagnetic Activity 09 September – 05 October 2019
Solar activity is expected to be at very low levels.
No proton events are expected at geosynchronous orbit.
The greater than 2 MeV electron flux at geosynchronous orbit is expected to be at high levels from 09-13 Sep, and again from 27 Sep – 06 Oct due to HSS effects. Normal to moderate levels are expected on 14-26 Sep.
Geomagnetic field activity is expected to be at mostly quiet levels on 09-26 Sep. Isolated unsettled periods are possible on 23, 26 and 30 Sep, and 01-03 Oct. G1 (minor) to G2 (moderate) geomagnetic storm levels are likely on 27-29 Sep due to positive polarity CH HSS effects.
Don't forget to visit our live space weather and radio propagation web site, at: http://SunSpotWatch.com/
Live Aurora mapping is at http://aurora.sunspotwatch.com/
If you are on Twitter, please follow these two users: 1. https://Twitter.com/NW7US 2. https://Twitter.com/hfradiospacewx
– – – – – – – – – – – – –
Be sure to subscribe to our space weather and propagation email group, on Groups.io
https://groups.io/g/propagation-and-space-weather
Spread the word!
– – – – – – – – – – – – –
Links of interest:
+ Amazon space weather books: http://g.nw7us.us/fbssw-aSWSC
+ https://Twitter.com/NW7US
+ https://Twitter.com/hfradiospacewx
Space Weather and Ham Radio YouTube Channel News:
I am working on launching a YouTube channel overhaul, that includes series of videos about space weather, radio signal propagation, and more.
Additionally, I am working on improving the educational efforts via the email, Facebook, YouTube, Tumblr, and other activities.
You can help!
Please consider becoming a Patron of these space weather and radio communications services, beginning with the YouTube channel:
https://www.patreon.com/NW7US
The YouTube channel:
https://YouTube.com/NW7US
..
Tomas Hood, NW7US, is a regular contributor to AmateurRadio.com and writes from Nebraska, USA. Tomas is the Space Weather and Radio Propagation Contributing Editor to 'CQ Amateur Radio Magazine', 'The Spectrum Monitor', and 'RadioUser UK Magazine'.
Back in 2014, Joyce/K0JJW and I did the first activation of W0C/SP-089 (also known by its elevation: 10525). See the trip report here.
As noted in that trip report, we never did find much of a trail so we had to do some serious offtrail bushwacking. Being on the summit was great but bushwacking up was not. Later Walt/W0CP found a much better route using the Davis Meadow Trail. We definitely wanted to try this route and get back on top of that summit.
We approached the Davis Meadow Trailhead from the east via Highways 285 / 24. We took FS 311 from Trout Creek Pass to FS 373, then FS 373A. FS 311 starts out in good condition, passable by high clearance 2WD vehicles. Later it turns into "easy 4WD" but it gets very steep in spots which may be a problem during wet weather. You can also approach from the west side coming up from Buena Vista. Check the San Isabel National Forest map for the complete picture.
Just to the east of the unnamed summit is a natural arch, marked on some maps as Aspen Arch. We've hiked up the arch on numerous occasions, often with visitors from out of state. So we've started referring to this unnamed SOTA as Aspen Arch, to differentiate it from the other unnamed summits in the area.
The Davis Meadow Trailhead is marked by a sign. Trail 1413 heads north and loops around the north side of SP-089. The trail is well laid out with plenty of switchbacks, much more than indicated on the Trails Illustrated map.
We followed the trail until it looped around the north side of SP-089. Marmot Peak, another SOTA summit (W0C/SP-063), sticks out prominently to the north and is a good landmark to use for navigating. As shown on the map above, we left the trail and bushwacked south up to the summit. I don't claim that our route was optimal. It was classic offtrail hiking with some areas quite open and others clogged with plenty of downed trees and rocks. (Next time, I think we'll try to stay a little further east of our recorded track. It looked a little better over there.)
The GPS app on my phone recorded the one-way hike as 2.7 miles and 1100 vertical feet.
We arrrived at the summit around noon and thunderstorms were moving into the area. We both made four quick radio contacts on 2m FM to get the activation points, then headed back down the trail.  The summit is exposed and very rocky but once we got off the top, we were hiking in trees with limited lightning danger. Thanks to Bob/W0BV, Jim/KD0MRC, Larry/KL7GLK and Kevin/KD0VHD for working us.
After our first bushwack adventure on this summit, we were not motived to activate this one again. However, using the Davis Meadow Trail has changed our opinion.  (Thanks Walt/W0CP!)  This route still has some offtrail bushwacking but it is not bad. We will be back!
The post A Better Route Up SOTA W0C/SP-089 appeared first on The KØNR Radio Site.
Bob Witte, KØNR, is a regular contributor to AmateurRadio.com and writes from Colorado, USA. Contact him at

[email protected]

.
In this episode, Colin Butler (M6BOY) discusses training, licencing and growing the amateur radio hobby with Martin Butler (M1MRB/W9ICQ), Chris Howard M0TCH and Dan Romanchik (KB6NU).
ICQ AMATEUR/HAM RADIO PODCAST DONORS
We would like to thank Donald Gover (KC9ZMY ), Nigel Wells (2w0cgm) and John Baggott (K2BAG) and our monthly and annual subscription donors for keeping the podcast advert free. To donate, please visit - http://www.icqpodcast.com/donate
International Air Ambulance Week 2019
Eddie De Young (AE7AA) Named CQ Awards Editor
Colin Butler, M6BOY, is the host of the ICQ Podcast, a weekly radio show about Amateur Radio. Contact him at

[email protected]

.
We have been hearing about it all week as Dorian hit the Bahamas and then the U.S. and now it's our turn here in the Maritimes. Julie and I have never been in a storm like this ever! It's 17:00 here local time and the winds are really picking up along with the rain but we are told on the new the worst is yet to come. I have no antennas as of yet up and thank goodness as now that I have seen what could happen here weather wise it may cause me to rethink where and how my HF antenna will be constructed and where. So far our power has not gone out but as the evening goes on the wind picks up I would not be surprised if we are in the dark. We did prepare earlier this week with water, food that can be cooked on the BBQ (once the storm calms down that is), our cells are charged up, our SUV is full of gas, the external battery chargers are topped up, our
Eaton FRX5-BT radio
if needed will be ready and the list goes on. Maybe because we are very new to this we are over reacting but I would rather have and not need than need and not have. Our generator arrived yesterday but before that can be put into service I have to install the transfer switch. We are now going to throw the dice and start dinner which is homemade mac and cheese.
Oliver our cat has his own take on things.......
Mike Weir, VE9KK, is a regular contributor to AmateurRadio.com and writes from New Brunswick, Canada. Contact him at

[email protected]

.
It's just about time to celebrate another birthday at ALTV. We've teamed up with Icom, MFJ and Heil Sound for another great giveaway.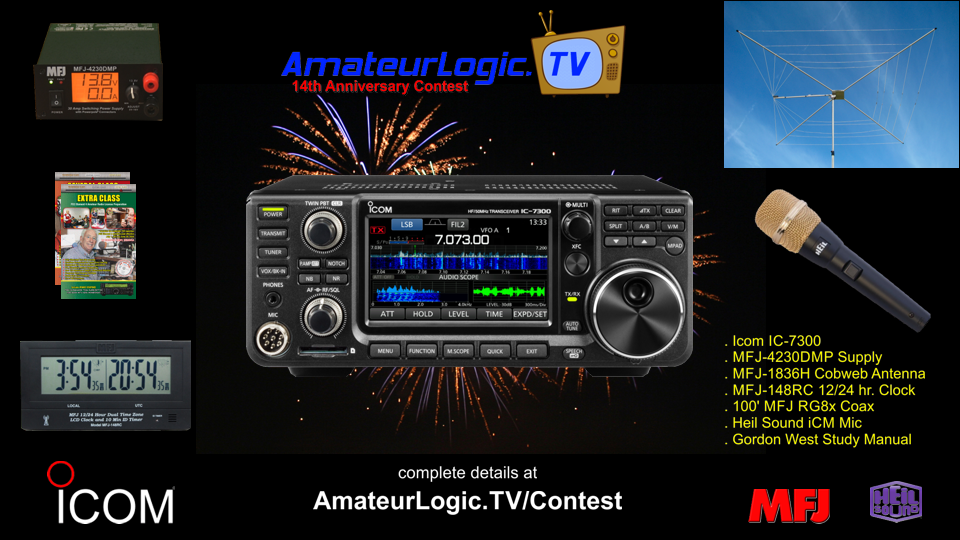 Get the complete details at:
George Thomas, W5JDX, is co-host of AmateurLogic.TV, an original amateur radio video program hosted by George Thomas (W5JDX), Tommy Martin (N5ZNO), Peter Berrett (VK3PB), and Emile Diodene (KE5QKR). Contact him at

[email protected]

.
It's time once again for The Weekender. This is our bi-weekly departure into the world of amateur radio contests, open source conventions, special events, listener challenges, hedonism and just plain fun. Thanks for listening and, if you happen to get a chance, feel free to call us or e-mail and send us some feedback. Tell us how we're doing. We'd love to hear from you.
73 de The LHS Crew
Russ Woodman, K5TUX, co-hosts the Linux in the Ham Shack podcast which is available for download in both MP3 and OGG audio format. Contact him at

[email protected]

.
RIDGELAND, MS. September 4, 2019. "The hits just keep on coming," announced Colin Butler M6BOY of the Homebrew Heroes Award Program Steering Committee. "We are delighted to include Heil Sound as our newest corporate prize donor to our pending 2019 Hero recipient."
Bob Heil K9EID said, "Heil Sound is very honored to be a part of the Homebrew Heroes Award. Designing and building Amateur Radio projects has been the basis of my career and I am always promoting 'home brewing' so let's warm up those soldering irons and build something! Thank you guys for making this happen." The CEO of Heil Sound, now celebrating it's 50th year, is an avid builder and recent winner of the January 2018 QST Cover Award for his famous Pine Board Project. He launched the Ham Nation podcast on May 24, 2011, some 411 episodes ago. The video podcast is published weekly and includes Gordon West WB6NOA and other well known co-hosts. Bob K9EID continues to elmer a wide audience of amateur radio operators through his popular hamfest forum talks and other demonstrations. He also frequently gives presentations to amateur clubs via Skype.
Martin Butler M1MRB of the Steering Committee added, "I met Bob Heil this year at Hamvention in Xenia. A busy man, he kindly took the time to show this bloke from across the pond his new Parametric Receive Audio System. After 30 minutes or so, I left feeling as if I'd known Bob for a lifetime. He really, really knows the design and building of amateur radio devices!" Committee member Frank Howell K4FMH concurred, "Bob was kind enough to have me on as a guest on Ham Nation on the TWiT.tv network, to discuss the Homebrew Heroes Award concept and what we were trying to build. He followed up quickly with telling me of his desire to have Heil Sound as part of the sponsoring donors. That's Bob. He's going to help if he believes in something."
Heil Sound will provide these items to the winner: Heil Wire, XT-1 Matching Transformer, Heil Stealth connectors, Heil XLR broadcast connectors, Heil 5.1 dynamic microphone element, and
Pro 3 Headphones. All will no doubt be used in the recipient's subsequent build projects.
Frank Howell, K4FMH, is a regular contributor to AmateurRadio.com and writes from Mississippi, USA. Contact him at

[email protected]

.