The Olivia digital mode on HF radio is a mode capable of two-way chat (QSO) communication (keyboard to keyboard, like RTTY) over long-distance shortwave (HF) ionospheric propagation paths, especially over polar regions.
If you are interested in more than a logbook QSO (such as is typical with FT8 and other propagation-checking modes) but want to chat with other hams around the world using digital modes, consider Olivia as one option.
This video captures a few moments of two-way conversation on the Twenty-Meter band, up in the sub-band where 1000-Hz digital modes are commonplace. More narrow-bandwidth settings are used in a lower subband in the digital slice of Twenty Meters. More details about the mode are in the files section of this website: http://OliviaDigitalMode.org.
In 2005, SP9VRC, Pawel Jalocha, released to the world a mode that he developed starting in 2003 to overcome difficult radio signal propagation conditions on the shortwave (high-frequency, or HF) bands. By difficult, we are talking significant phase distortions and low signal-to-noise ratios (SNR) plus multipath propagation effects. The Olivia-modulated radio signals are decoded even when it is ten to fourteen dB below the noise floor. That means that Olivia is decoded when the amplitude of the noise is slightly over three times that of the digital signal!
Olivia decodes well under other conditions that are a complex mix of atmospheric noise, signal fading (QSB), interference (QRM), polar flutter caused by a radio signal traversing a polar path. Olivia is even capable when the signal is affected by auroral conditions (including the Sporadic-E Auroral Mode, where signals are refracted off of the highly-energized E-region in which the Aurora is active).
Currently, the only other digital modes that match or exceed Olivia in their sensitivity are some of the modes designed by Joe Taylor as implemented in the WSJT programs, including FT8, JT65A, and JT65-HF–each of which are certainly limited in usage and definitely not able to provide true conversation capabilities.  Olivia is useful for emergency communications, unlike JT65A or the popular FT8. One other mode is better than Olivia for keyboard-to-keyboard comms under difficult conditions: MT63. Yet, Olivia is a good compromise that delivers a lot. One reason for this is that there are configurations that use much less bandwidth than 1000 Hz. 16 tones in 250 Hz is our common calling-frequency configuration, which we use lower down in the Twenty-Meter band, with a center frequency of 14.0729 MHz.
Q: What's a 'CENTER' Frequency? Is That Where I Set My Radio's Dial?
For those new to waterfalls: the CENTER frequency is the CENTER of the cursor shown by common software. The cursor is what you use to set the transceiver's frequency on the waterfall. If your software's waterfall shows the frequency, then you simply place the cursor so that its center is right on the center frequency listed, above. If your software is set to show OFFSET, then you might, for example, set your radio's dial frequency to 14.0714, and place the center of your waterfall cursor to 1500 (1500 Hz). That would translate to the 14.0729 CENTER frequency.
The standard Olivia formats (shown as the number of tones/bandwidth in Hz) are 8/250, 8/500, 16/500, 8/1000, 16/1000, and 32/1000. Some even use 16/2000 for series emergency communication. The most commonly-used formats are 16/500, 8/500, and 8/250. However, the 32/1000 and 16/1000 configurations are popular in some areas of the world (Europe) and on certain bands.
These different choices in bandwidth and tone settings can cause some confusion and problems–so many formats and so many other digital modes can make it difficult to figure out which mode you are seeing and hearing. After getting used to the sound and look of Olivia in the waterfall, though, it becomes easier to identify the format when you encounter it. To aid in your detection of what mode is being used, there is a feature of many digital-mode software implementation suites: the RSID. The next video, below, is a demonstration on how to set the Reed-Solomon Identification (RSID) feature in Ham Radio Deluxe's Digital Master 780 module (HRD DM780).
I encourage ALL operators, using any digital mode such as Olivia, to TURN ON the RSID feature as shown in this example. In Fldigi, the RSID is the TXID and RXID; make sure to check (turn on) each, the TXID and RXID.
Please, make sure you are using the RSID (Reed Solomon Identification – RSID or TXID, RXID) option in your software. RSID transmits a short burst at the start of your transmission which identifies the mode you are using. When it does that, those amateur radio operators also using RSID while listening will be alerted by their software that you are transmitting in the specific mode (Olivia, hopefully), the settings (like 8/250), and where on the waterfall your transmission is located. This might be a popup window and/or text on the receive text panel. When the operator clicks on that, the software moves the waterfall cursor right on top of the signal and changes the mode in the software. This will help you make more contacts!
RSID Setting:
+ NOTE: The MixW software doesn't have RSID features. Request it!
Voluntary Olivia Channelization 
Since Olivia signals can be decoded even when received signals are extremely weak, (signal to noise ratio of -14db), signals strong enough to be decoded are sometimes below the noise floor and therefore impossible to search for manually. As a result, amateur radio operators have voluntarily decided upon channelization for this mode. This channelization allows even imperceptibly weak signals to be properly tuned for reception and decoding. By common convention amateur stations initiate contacts utilizing 8/250, 16/500, or 32/1000 configuration of the Olivia mode. After negotiating the initial exchange, sometimes one of the operators will suggest switching to other configurations to continue the conversation at more reliable settings, or faster when conditions allow. The following table lists the common center frequencies used in the amateur radio bands.
Olivia (CENTER) Frequencies (kHz) for Calling, Initiating QSOs
It is often best to get on standard calling frequencies with this mode because you can miss a lot of weak signals if you don't. However, with Olivia activity on the rise AND all the other modes vying for space, a good deal of the time you can operate wherever you can find a clear spot–as close as you can to a standard calling frequency.
Note: some websites publish frequencies in this band, that are right on top of weak-signal JT65, JT9, and FT8 segments. DO NOT QRM weak-signal QSOs!
We (active Olivia community members) suggest 8/250 as the starting settings when calling CQ on the USB frequencies designated as 'Calling Frequencies.' A Calling Frequency is a center frequency on which you initially call, 'CQ CQ CQ. . .' and then, with the agreement of the answering operator, move to a new nearby frequency, changing the number of tones and bandwidth at your discretion. Even though 8/250 is slow, the CQ call is short. But, it is narrow, to allow room for other QSOs nearby. It is also one of the best possible Olivia configurations for weak-signal decoding.
Tomas Hood, NW7US, is a regular contributor to AmateurRadio.com and writes from Nebraska, USA. Tomas is the Space Weather and Radio Propagation Contributing Editor to 'CQ Amateur Radio Magazine', 'The Spectrum Monitor', and 'RadioUser UK Magazine'.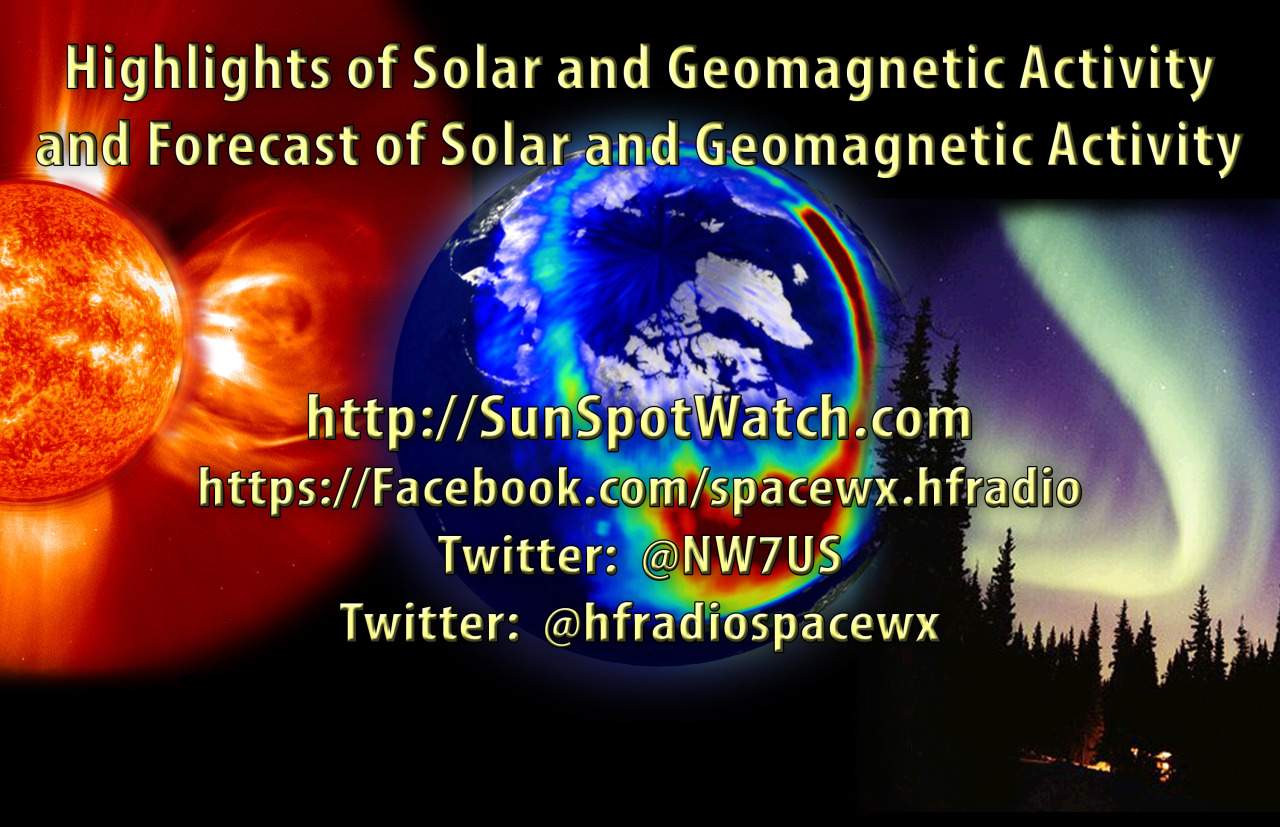 Here is this week's space weather and geophysical report, issued 2019 Oct 28 0109 UTC.
Highlights of Solar and Geomagnetic Activity 21 – 27 October 2019
Solar activity was very low. The solar disk was spotless throughout the period. A faint, slow-moving, possibly Earth-directed CME was observed in satellite imagery at 25/0654 UTC, with a potential arrival late on 29 Oct or early on 30 Oct.
No proton events were observed at geosynchronous orbit.
The greater than 2 MeV electron flux at geosynchronous orbit reached high levels on 25-27 Oct with a peak flux of 36,223 pfu observed at 27/1900 UTC. Electron flux was at normal levels throughout the remainder of the reporting period.
Geomagnetic field activity reached G2 (Moderate) storm levels on 25 Oct, G1 (Minor) storm levels on 26 Oct, and active levels on 24 Oct in response to a recurrent, positive-polarity CH HSS. Quiet to unsettled conditions were observed throughout the remainder of the period.
Forecast of Solar and Geomagnetic Activity 28 October – 23 November 2019
Solar activity is expected to be at very low levels throughout the outlook period.
No proton events are expected at geosynchronous orbit.
The greater than 2 MeV electron flux at geosynchronous orbit is expected to reach high levels on 28-31 Oct, and 21-23 Nov, with moderate levels on 01-15, and 20 Nov, in response to coronal hole high speed stream (CH HSS) influence.
Geomagnetic field activity is expected to reach G1 (Minor) storm levels on 21-22 Nov, with active levels on 28-30 Oct, and 20, 23 Nov, due to recurrent CH HSS activity. Quiet to unsettled conditions are anticipated throughout the remainder of the outlook period.
Don't forget to visit our live space weather and radio propagation web site, at: http://SunSpotWatch.com/
Live Aurora mapping is at http://aurora.sunspotwatch.com/
If you are on Twitter, please follow these two users: 1. https://Twitter.com/NW7US 2. https://Twitter.com/hfradiospacewx
– – – – – – – – – – – – –
Be sure to subscribe to our space weather and propagation email group, on Groups.io
https://groups.io/g/propagation-and-space-weather
Spread the word!
– – – – – – – – – – – – –
Links of interest:
+ Amazon space weather books: http://g.nw7us.us/fbssw-aSWSC
+ https://Twitter.com/NW7US
+ https://Twitter.com/hfradiospacewx
Space Weather and Ham Radio YouTube Channel News:
I am working on launching a YouTube channel overhaul, that includes series of videos about space weather, radio signal propagation, and more.
Additionally, I am working on improving the educational efforts via the email, Facebook, YouTube, Tumblr, and other activities.
You can help!
Please consider becoming a Patron of these space weather and radio communications services, beginning with the YouTube channel:
https://www.patreon.com/NW7US
The YouTube channel:
https://YouTube.com/NW7US
..
Tomas Hood, NW7US, is a regular contributor to AmateurRadio.com and writes from Nebraska, USA. Tomas is the Space Weather and Radio Propagation Contributing Editor to 'CQ Amateur Radio Magazine', 'The Spectrum Monitor', and 'RadioUser UK Magazine'.
Moving down to New Brunswick from Ontario involved lots of planning and changing of information to our new location. With regards to ham radio it meant a new call and changing what I thought was a "few things". Well...........I had no idea of all the changes that had to be done such as QRZ.COM, Club log, Eqsl, my blog, LOTW, ARRL, Rad com and the list goes on and on. Some of the changes involved a simple online form. Others involved emails to individuals and even phone calls to inform of a call change. When you think you have covered all the bases and there is nothing that is left which needs the VE3WDM to VE9KK change...........There are times when things are right under your nose and fail to see it!
My splash screen on the Icom 7610 for the past 2 months!


Ahhhh that's better.
Mike Weir, VE9KK, is a regular contributor to AmateurRadio.com and writes from New Brunswick, Canada. Contact him at

[email protected]

.
In this episode, Martin M1MRB is joined by Chris Howard M0TCH, Martin Rothwell M0SGL, Frank Howell K4FMH, Ed Durrant DD5LP and Bill Barnes N3JIX to discuss the latest Amateur / Ham Radio news. Colin M6BOY rounds up the news in brief and this episode's feature is Grow, Merge or Disband your Amateur Radio Club!
ICQ AMATEUR/HAM RADIO PODCAST DONORS
We would like to thank our monthly and annual subscription donors for keeping the podcast advert free. To donate, please visit - http://www.icqpodcast.com/donate
- PACTOR Developer SCS Announces Monitoring Software - Can Online Ham Radio Exams Improve Accessibility? - Inspiring Youth with Science in Space - Michigan State University Amateur Radio Club Celebrates Centennial with Second-Century Special Event - New ARRL Online Groups for More Direct Communications - Amateur Radio Operator Faces Fine for Blocking Other Amateurs - RSGB Youth Team Recruiting - December is YOTA Month
Colin Butler, M6BOY, is the host of the ICQ Podcast, a weekly radio show about Amateur Radio. Contact him at

[email protected]

.
Ham College episode 58 is now available for download.
General Amateur Radio Exam part 29. General questions pool updates 1 of 3.
01:06:31
George Thomas, W5JDX, is co-host of AmateurLogic.TV, an original amateur radio video program hosted by George Thomas (W5JDX), Tommy Martin (N5ZNO), Peter Berrett (VK3PB), and Emile Diodene (KE5QKR). Contact him at

[email protected]

.
It's time once again for The Weekender. This is our bi-weekly departure into the world of amateur radio contests, open source conventions, special events, listener challenges, hedonism and just plain fun. Thanks for listening and, if you happen to get a chance, feel free to call us or e-mail and send us some feedback. Tell us how we're doing. We'd love to hear from you.
73 de The LHS Crew
Russ Woodman, K5TUX, co-hosts the Linux in the Ham Shack podcast which is available for download in both MP3 and OGG audio format. Contact him at

[email protected]

.
Those hearing me on 20m FT-8
This evening I gave FT-8 a go on 20m and 30m and I was shocked with the contacts I was able to make. I was calling CQ on 20m FT-8 and JI3MJK from Japan came back to me! The contact was made and then JA3ADW came back to my CQ call. I was not able to make contact with him as there was about 4 other station also calling me, he may had given up. My evening contacts both on 20m and 30m were from Italy, U.S, Japan, Denmark, Slovenia and the Czech Republic and the U.S.
Those hearing me on 30m FT-8



On 20m I was being heard in Japan, South America, Central America, Europe(including Iceland) and all over the U.S. On 30m FT-8 the food gates opened to Europe and all over the U.S but Japan closed down. Overall I am very pleased with how my Endfed antenna preformed this evening.
Mike Weir, VE9KK, is a regular contributor to AmateurRadio.com and writes from New Brunswick, Canada. Contact him at

[email protected]

.