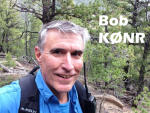 It's always interesting to see which of my blog posts are getting the most attention. According to my website stats, these posts got the most views in 2014. It turns out that most of these were written before 2014 but they are still getting lots of hits.
The top post was 2012 Jeep Wrangler Radio Install. When it comes to doing mobile radio installations, I've often found it helpful to search the web for information. There's nothing like seeing how someone else did their radio install to get some help and guidance. With this post, I tried to repay the favor and it seems that lots of people have gotten use out of it.
The second most popular post is Can I Use My Ham Radio on Public Safety Frequencies?  I wrote this one back in 2012 but always seems to get a lot of hits. It is getting a bit out of date, so I should probably update it.
Next up is Solving the Baofeng Cable Problem. This article explains how to solve one of the biggest challenges of programming those low cost HTs from China. Also on the subject of low cost HTs is this popular post: Yet Another HT From China (Baofeng UV-B5).
Another popular post is my list of favorite ham radio iPhone apps: The Incomplete List of Ham Radio iPhone Apps.  This post from 2011 is definitely out of date but keeps getting lots of hits. I've updated this list a couple of times now and the most recent post is here: The Completely Updated Incomplete List of Ham Radio iPhone Apps. For some reason, the obsolete post still gets viewed the most.
Well, that is the top five posts but I am including a sixth bonus post at no extra charge. The FM/VHF Operating Guide is arguably one of the best time-tested articles I've written, originating way back in the twentieth century. It has taken many forms and revisions over the years and is now a static page on k0nr.com.
Thanks for stopping by k0nr.com and have a Happy New Year.
73, Bob K0NR
The post Top Five K0NR Blog Posts from 2014 appeared first on The KØNR Radio Site.
Bob Witte, KØNR, is a regular contributor to AmateurRadio.com and writes from Colorado, USA. Contact him at

[email protected]

.