If you are anything like me you have used those little repeater
directories and strained your eyes in the process. I use to hate trying to find a repeater to use while I was on a trip. Most of the time, while I was on a trip, the town that I was in didn't have any repeaters in it, but the next town over did. Maybe it was two towns over, or the third of fourth town that I look at in the directory. Either way, it was a pain in the…well you know.
Bob had the same thinking that I did all those years ago, but he acted on it. He went and digitized all the repeater data that was available and made it into an Android app. It is now available to IPhone, Android and on the web for just a small fee.
RFinder is the official repeater directory of Canada, the United Kingdom as well as 13 other countries. This year the ARRL partnered with RFinder to print the 2017 ARRL repeater directory. This years directory has 10,000 more listings and is the first time that the ARRL has crowd sourced the repeater information. The data that RFinder uses comes from many different places including Repeater societies, club websites and directly from repeater owners.
For more information about RFinder, hear it from Bob himself in the latest episode of the Everything Ham Radio Podcast at http://www.everythinghamradio.com/podcast/75
Hello, listeners! We're putting out our latest episode of Linux in the Ham Shack just before Hamvention. We have great topics tonight including hams suing hams, the fight between Oracle and Google, antenna and kit building, mobile operation and so much more. Don't forget that we WILL be at the Dayton Hamvention this year in the East Hall, booth 625. Also, please note that we could still use your help in defraying some of our Hamvention expenses. If you'd like to donate (and maybe pick up some cool LHS swag in the process), please click on our Generosity Campaign link. See you there!
73 de The LHS Crew
Last summer when we were camping in the national parks, there were many campsites where we had no cell phone service. I am not complaining about that, but our work around to communicate back home to the XYL often required a trip to the pay phone (sometimes hard to find). I thought about perhaps using APRS's capability of relaying short pieces of text as emails. Part of the problem is that there are many areas of the parks that don't have any APRS digipeater coverage (Glacier and Yellowstone National Parks for example). How to get a message through?
Then I remembered my MARS station (AEN5AC) in Iraq. I was using an ICOM IC-7000 and an SCS PTC-IIusb modem to pass MARSGRAMS from my location north of Baghdad to another station at the US embassy in Qatar. The pairing worked quite well and I was consistently able to connect and pass traffic using PACTOR 3 at the 1400 baud rate. Could I use a similar setup to provide an HF email option while camping this summer?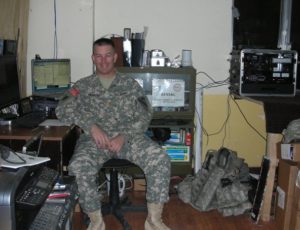 I dug out my SCS PTC-IIusb modem. I had not used it since shutting down the MARS station in June of 2008. Everything was still in the box. To include the cables necessary to interface the modem with an ICOM IC-706MKIIG… the same rig I use for HF mobile.
I pulled out my spare IC-706MKIIG. Coming back to Kansas from Field Day in California back in 2009, my IC-706MKIIG quit on me. I ended up buying a second at the HRO in Denver and sent the broke one to ICOM. ICOM fixed it and returned it. I kept it in the box and it went back on the shelf. I did order a 6 pin Molex connector with powerpoles to allow for an easy power connection (#9). I connected the two cables from the modem to the rig. Once cable is for the data and plugs into the 706's 13 pin accessory connection (#4). The other cable connects to the 706's CI-V interface (#6) to have the radio change frequencies based on what station is being contacted.
I had the basic hardware of a HF email station, except for a computer. I would need one that would function out of the vehicle. This would probably require a laptop. I also decided for the ease of simplicity that the computer should be Windows driven (instead of Linux). Gasp! The bottom line is that the software and drivers required to send email via HF and use the SCS PTC-IIusb modem is Windows based. The answer ended up being an Dell XPS 15.

Using a Windows based computer helped me with a number of summer travel tasks that could not be accomplished by my small Linux laptop:
(1) Run the software required for HF email (more on Winlink and Airmail later)
(2) Run ARRL's TravelPlus for Repeaters
(3) Run RT Systems radio programming software for my TM-D710A
(4) Run RT Systems radio programming software for my VX-8RGs
(5) Read the SD card from my Canon digital camera
Interestingly enough, the new laptop does not have a CD/DVD drive nor an RJ-45 connection for a LAN cable. Neither of these have been a show stopper yet.
ARRL's TravelPlus for Repeaters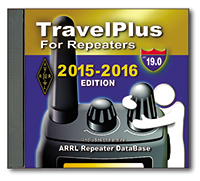 I had purchased TravelPlus for Repeaters with the intent of installing it on my existing Linux laptop and running it under a VirtualBox Windows session (similar to how I run iTunes on my Linux laptop). However the software failed to install. I tried troubleshooting and looking at suggested fixes found on the forum sites but still had no luck. I tried installing TravelPlus using WINE. It installed but would not run as well.
Dell XPS 15 to the rescue. As the laptop does not have a CD/DVD drive, I copied the drive onto network storage. I then was able to install TravelPlus over the network and it is working without issue.
RT Systems Programming Software
The RT Systems programming software works fine under a VirtualBox Windows session. As I was moving all my vehicle related radio/computer tasks to the new Windows laptop, I attempted to install the programming software for the TM-D710A (used for beaconing the location of my vehicle and talking on VHF/UHF). Following a similar procedure that worked for TravelPlus, I copied the programming software from the install disks to a network drive. The software installation for the TM-D710A worked without a hitch. The software for the VX-8RGs (HTs we use for around camp and hiking) failed to load. The error said that I must use the original disk to install. A big challenge when the laptop doesn't have a CD/DVD drive. The work around is that you find another Windows computer with a CD drive, load the software CD, then back on the driveless laptop, map the CD drive (like you would map a network drive). That worked and I was able to install the programing software for the VX-8GR.
HF Email Software
There are two main choices for software to allow for HF email: RMS Express and Airmail. I installed both. Airmail was the same program I used in Iraq and it offered easy configuration with the IC-706MKIIG and the SCS PTC-IIusb.
I now had all my equipment for a test run setup in my basement hamshack: spare IC-706MKIIG, SCS PTC-IIusb, and the Dell XPS 15 with Airmail. I connected the IC-706MKIIG to my Elecraft tuner and used my existing G5RV antenna. Airmail configures easily. The software has a list of stations offering mailbox services that can be viewed on a propagation chart by frequency and distance. Based on time of day, I selected a station in Texas that offered a 40M PACTOR 3 connection. Airmail allows me to click on the frequency in the propagation chart which then changes the dial frequency of the radio. After listening to see if there were any ongoing connections, I initiated contact. The modem lights flashed and the rig clicked between transmit and receive. The connection was made and I was able to send a test email as well as a position report.
Success! The position reports that go into the Winlink system are copied over into APRS. Now, even if I am not able to reach a digipeater with my VHF APRS beacon, I can send a position report over HF to let the XYL know where we are.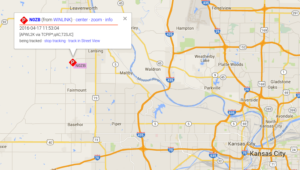 I then thought about the steps I would have to take of transitioning my IC-706MKIIG configured for HF mobile to be ready to work with the PTC-IIusb to send email. As the remote head is located up near the drivers seat, this would present problems with being able to observe the modem, laptop, and radio control head all at the same time.
What if I just dedicated the spare IC-706MKIIG rig to the task of HF email? It would save me time and bother in pulling and plugging cables. It would also give the camping option of being able to operate HF from outside the vehicle.
Using an additional iPortable box, I rack mounted the spare IC-706MKIIG and the SCS PTC-IIusb. Now I will have a spare HF rig with me, so if one goes out I will still be operational. I also attached the Tarheel screwdriver antenna's rocker switch to raise and lower the antenna on the side of the box. During normal HF mobile operations, the TurboTuner (connected to the other IC-706's tuner connection and CI-V connection) manages achieving a correct match between the operating frequency and the screwdriver antenna.
I only have the one TurboTuner. The TurboTuner requires a connection to the CI-V. So does the SCS PTC-IIusb. My solution was to leave the TurboTuner alone. Instead, using the rocker switch, I can manually tune the antenna while visually observing the 706's SWR meter.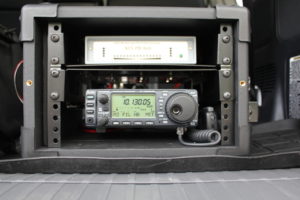 To transition between using the 706 dedicated to HF mobile to the 706 now dedicated to HF email, I have to do the following:
(1) disconnect the antenna feedline from the TurboTuner
(2) disconnect the control line that goes from the TurboTuner to the Tarheel screwdriver antenna
(3) connect the antenna feedline directly to the HF email 706
(4) connect the control line to the rocker switch
(5) connect the laptop to the SCS PTC-IIusb via a USB cable
(6) connect the iPortable's powerpole connection to the junction box in the back of the vehicle
… then I am ready to go. The iPortable box rests nicely on the vehicle's tailgate, next to the laptop. All at about lawn chair height. Not only can I use this setup to send email via HF, but I can also use it for causal National Parks On The Air contacts as well.
What's left to do:
(1) Constant cooling fan modification for both IC-706s (see AD5X's article)
(2) An extended control cable for the Tarheel screwdriver antenna. This will allow me to further remote away from the vehicle, but still use the antenna.
(3) A length of antenna feedline for remoting.
(4) A length of powerpole-ready powerline to attach to either the travel trailer battery or directly to the spare vehicle battery… again for remoting away from the vehicle.
(5) I have a set of Heil headsets that worked with my IC-7000. I think if I get the AD-1ICM, I should be able to use them with the 706.
(6) A Heil HS-2 hand PTT switch to use with the headset.
Helge DF8LS has just published a web page showing how to send and receive email on HF using Winlink and the SCS Tracker TNC. I just sent an email to myself (isn't this one of the signs of madness?) and it was received, so the instructions are obviously good!
A Winlink session on HF
Mention of Winlink seems to cause strong emotions in some quarters. Personally I think using ham radio to send and receive email is rather cool, even if it is too slow to use for today's level of email use. It's a pity more hams don't activate their Winlink account, which is callsign @ winlink.org .
If you use APRS then you can also send and receive email by that means using a feature called APRSlink. The trouble is, I use it so infrequently that I forget the commands. It would be wise only to use it if the APRS channel is quiet like it is here.
Introduction:
Join us this episode as our intrepid hosts, Richard and Russ (mad posstcatter!), interview John Hays of NorthWest Digital Radio.
Topics:
Interview with John Hays (K7VE) from NorthWest Digital Radio.
John has been a licensed amateur radio operator for 40 years. His wife and all of his children are hams, too!
A couple years ago John gave a presentation at TAPR, and discussed his wish for a reasonably priced radio for digital communications with just a few connections: antenna, power and Ethernet.
Bryan Hoyer (now K7UDR) approached John and volunteered to build one. Their collaboration (with Basil Gunn) resulted in NorthWest Digital Radio.
Their first product will be the UDR56K-4 Universal Digital Radio, planned for availability in early 2013.
John goes on to discuss the features of their digital radio and some of the design decisions the company made.
Specifications (subject to change, of course):

25W 70cm Transceiver
4800 to 56Kbps
FSK, GMSK, 4FSK
Open Source Linux Platform — a full Linux-based web server is built-in. It uses the Debian kernel, running on an ARM processor (faster than a Raspberry Pi).
Web Interface over Ethernet
4 USB Host Ports

Applications:
The radio can be completely controlled through the web interface or the command line.
John talks about other potential applications for their radio platform.
Keep an eye on the website for more information and to sign up for email announcements.
You may also be interested in John's blog.
Contact Info:
Here we are at Episode #090, just 10 away from the century mark. Things have been rolling along fairly smoothly, and except for Russ being deathly ill for the last eight days, there's not even a lot to complain about. In this episode, we have yet another interview. This time it's with John Hays, K7VE, of Northwest Digital Radio. These guys are producing an entirely new purpose-built radio platform called the UDR56K. This technology promises to be a great advance in the amateur radio arena as well as in the computing arena. It's a bit of kit that's going to find a use in almost every radio amateur's shack. If you want to find out why, please sit down and take a listen to this episode of LHS. We promise you will not be disappointed.
73 de The LHS Guys
Introduction:
Apologies for being late with this episode.
Announcements:
LHS had planned on attending the Ohio LinuxFest on September 9-11 in Columbus,OH, and the Huntsville, AL hamfest Aug 21-22, but it's just too expensive. To address that, LHS has started the LHS Ambassadors program where listeners of the show act as representatives for LHS at events. If you're interested, please contact us at [email protected]
When you make a donation to LHS, you can choose to appear on the Sponsors page on the LHS website.
Linux Format magazine, the producers of the Tux Radar podcast, recently reviewed various Linux-related podcasts, and LHS wasn't even mentioned! Ouch!
Richard announces the demise of Resonant Frequency: The Amateur Radio Podcast. Richard is looking for a place to post the articles and other content. The podcast episodes are saved at the Internet Archive, and the videos will remain on YouTube.
Topics:
WinLink and AX.25
Richard describes his trials and tribulations getting a WinLink packet gateway working under Ubuntu Linux.
For the most part, Richard followed the instructions provided by Charles, K4GBB: How to install RMS Gate.
Richard and Russ describe the steps in the Howto and possible pitfalls. Richard notes that you'll probably want to run the commands as the root user, either by logging in as root or using sudo.
(Note, near the end of Section 4 of the Howto, it appears the author left out the "wget" in the command to retrieve the script. On the page it reads:

Get Script – Bernard has written a little Housekeeping script...

http://f6bvp.free.fr/logiciels/ax25/rc.init.script && ...

I think that command should be:

wget http://f6bvp.free.fr/logiciels/ax25/rc.init.script && ...

Note that I've shortened the lines with ellipses here. -Ed.)

Other useful links:
Feedback:
Andy, KB1OIQ, tells us of his Ham Radio Linux CD, based on Ubuntu Linux 10.10, and includes many ham radio programs.
Rich, KD0BJT, of the LowSWR podcast, is working on a ham radio-related Linux distribution, too.
Contact Info:
Music:
"Mendes" by Assembly Line Gods from the album "Control: Volume 1."
"Pound of Flesh" by Assembly Line Gods from the album "Control: Volume 1."
Please note that the music in this episode is neither Creative Commons nor podsafe. To support the artist, please visit Assembly Line Gods on Facebook, iTunes or at http://www.assemblylinegods.com.