From the RAIN HamCast episode #57, 2021-XII-25 (used with permission):
RAIN's Hap Holly/KC9RP spoke with Tomas recently about Solar Cycle 25. This is the second and final excerpt from their discussion.
From the introduction to The RAIN HamCast, Episode #57:
In this episode, we continue our discussion with Tomas Hood/NW7US, the author of many writings about space weather and effects of solar activity the past 20-plus years.

(Part 1 of 2 can be found here: Episode #56, https://www.youtube.com/watch?v=HnuSOXhFELQ)

Tomas has been a short wave enthusiast since 1973, a ham operator since 1990, and is a United States Army Signal Corps veteran today. He launched the first civilian space weather propagation website, HFRadio.org, in the mid 90's; HFradio later spawned SunSpotWatch.com; at press time Sunspotwatch.com is being revamped for the new Solar Cycle 25.

Tomas has contributed to the Space Weather Propagation column in CQ magazine for over 20 years, and for The Spectrum Monitor magazine since 2014. A product of the Pacific northwest, Tomas resides now in Fayetteville, Ohio.

RAIN's Hap Holly/KC9RP spoke with Tomas recently about Solar Cycle 25. This is the second and final excerpt from their discussion.​
Here is the second part of the two-part interview:
If you missed part one of this conversation, you'll find it as RAIN Hamcast #56 both on therainreport.com and on the RAIN Hamcast page on YouTube, as well as here: Episode #56, https://www.youtube.com/watch?v=HnuSOXhFELQ.
RAIN Hamcast #58 will post January 8, 2022. Hap Holly/KC9RP edits and produces this biweekly ham radio podcast. It is copyright 1985-2021 , RAIN, all rights reserved. RAIN programming is made available under a Creative Commons license ; you are encouraged to download, share, post and transmit the RAIN Hamcast in its entirety via Amateur Radio. Your support and feedback are welcome on therainreport.com. Thanks for YouTube Technical Assistance from Tom Shimizu/N9JDI. I'm Will Rogers/K5WLR bidding you very 73 and 44 from the Radio Amateur Information Network.
KEEP ON HAMMING!
Footnote: Yes, NW7US misspoke about the time it takes sunlight to travel from the Sun to the Earth. He meant that it takes sunlight and radio waves just over 8 minutes to make that trip…
It might not take as much antenna as you may think would be necessary to make two-way contacts on shortwave radio (as an amateur radio operator putting an HF transceiver on the air). However, often, makeshift antennae are effective enough to be viable–just look at all the contacts many amateur radio operators make with their low-power (QRP) rigs (transceivers) using short, helically-wound, mobile antenna sticks. If they can work magic with such inefficient antenna setups, surely your effort at an antenna would pay off to some degree. Right?
Of course, I want to make a proper dipole out of this example antenna. But, while I wait for the rest of the parts I need to complete this antenna project (pulleys and a ladder, and maybe a potato launcher), I've put this makeshift antenna on the air, with it just high enough so that I can enjoy some time on the shortwave bands.

With this antenna, I've made successful two-way voice and Morse code contacts (QSOs) with stations in Europe and across North America. I am able to tune it on the 60-, 40-, 30-, 20-, 15-, 17-, 12-, and 10-Meter bands. Reverse beacon detection picks up my Morse-code CW signals, especially on 40 meters (the band on which it is tuned physically).

The bottom line: just get something up in the air and start communicating. Improve things over time. You'll have much fun that way.

73 de NW7US dit dit
In the 1990s while living in eastern Montana, I had the amazing experience of reuniting two soldiers that served in the Devil's Brigade. They both trained near Helena, Montana.
One day, I was operating on the amateur radio shortwave Ten-Meter band, and a gentleman answered my, "CQ, CQ, CQ, this is N7PMS in Montana, Over". I took notes of our conversation.
The next day, when again I called for any station to answer my call for a conversation, another fellow, from Canada, answered me. I learned something amazing: Both of these two men mentioned that, during World War Two, they both were in the same special forces unit, training near Helena, Montana.
One of these Veterans served in the Canadian Armed Forces, and the other in the American Armed Forces. Listen to my story, for the full details of this amazing experience I had as an amateur radio operator.
Jump to 3:22 if you wish to skip my introduction to the story, during which I give some background on when and so on:
https://youtu.be/YFMplHjxy6s?t=3m22s
This certainly was one of the most memorable moments in my amateur radio hobby experience! The joy of reuniting friends is good.
From https://en.wikipedia.org/wiki/First_Special_Service_Force:
The 1st Special Service Force (also called The Devil's Brigade, The Black Devils, The Black Devils' Brigade, and Freddie's Freighters), was an elite American-Canadian commando unit in World War II, under command of the United States Fifth Army. The unit was organized in 1942 and trained at Fort William Henry Harrison near Helena, Montana in the United States. The Force served in the Aleutian Islands, and fought in Italy, and southern France before being disbanded in December 1944.
The modern American and Canadian special operations forces trace their heritage to this unit. In 2013, the United States Congress passed a bill to award the 1st Special Service Force the Congressional Gold Medal.
Thank you for watching, and sharing. Comments are welcome: do you have a memorable moment in your radio hobby experience on the air?
73 de NW7US
In this video, I expound on another point of view regarding the ARRL petition to the FCC. The petition requests an expansion of operating privileges of Technician-class operators in the USA. The ARRL believes that giving broader shortwave access, using digital communications, to Technicians, will better entice the Techs to upgrade to General or Amateur Extra. In this video, I discuss this a bit.
If you are wondering why I've made a few videos about this topic, when the topic has been the hot item on many forums already, I believe that the drama will not cease until well after the FCC makes a decision, because this is a relevant topic, and one that has a significant impact on the amateur radio community at large. It is not a trivial conversation about which type of coax is best suited for Arctic field activity.
After some replies came from various viewers, I clarify my point. I stand corrected.
I failed to mention that there are a limited few slices of VOICE (SSB) spectrum on HF that the petition seeks for the Tech licensee. The ARRL states, "ARRL has asked the FCC to expand HF privileges for Technician licensees to include limited phone privileges on 75, 40, and 15 meters, plus RTTY and digital mode privileges on 80, 40, 15, and 10 meters."
More specifically, "ARRL proposes to provide Technician licensees, present and future, with phone privileges at 3.900 to 4.000 MHz, 7.225 to 7.300 MHz, and 21.350 to 21.450 MHz, plus RTTY and digital privileges in current Technician allocations on 80, 40, 15, and 10 meters. The ARRL petition points out the explosion in popularity of various digital modes over the past 2 decades. Under the ARRL plan, the maximum HF power level for Technician operators would remain at 200 W PEP. The few remaining Novice licensees would gain no new privileges under the League's proposal." Reference: http://www.arrl.org/news/arrl-requests-expanded-hf-privileges-for-technician-licensees
My point holds: give some reason to desire to upgrade to a higher class. Do this by granting HF operations on lower bands (lower in frequency than 10 Meters), with more than a CW-only privilege.
If a tech can only use CW on 80m, but doesn't know CW, then it is likely she won't ever try making contacts on 80m. Hence, no exposure to the magic of 80-meter DX. If, however, the Tech can dabble with digital or limited SSB, on 80m, then she gets a real, practical exposure to the magic, and may well upgrade. Why do you think a General, who has limits, would ever upgrade? What am I missing here?
The following video expands this idea:

The truth is, I see a strong argument for just ONE license, permanent. Or a temporary entry-level training ticket, then the permanent. But, that would make us like some other countries. That can't be good.
The original video to which this new video continues is here:

Some viewers are asking me why I am making a video while driving. They try to convince me that talking while driving is too distracting. My answer is here:

73 de NW7US
The following open letter to the ARRL Board of Directors and Leadership is in concert with many others coming from current members in response to the activities occurring at the ARRL Leadership level.
To join in and voice your thoughts, please visit:


(More information is found after the following open letter)
---
To: All ARRL Directors and Officers
From: NW7US
Many actions–policy and governance–taken by the League's leadership over the past two years trouble me. Formalization of specific actions planned for the Board meeting on January 19, 2018, specifically worries me.
At this time, any action taken by the ARRL Board of Directors cause me concern. As a result of this, I add my name to those seeking that the Board delay consideration of any ByLaw changes at the January 19 Board meeting.
In particular, I strongly urge you to:
1. Reject any proposal to allow the President and individual Vice-Presidents to vote as Directors.
2. Reject any provision that allows expulsion of an ARRL member "for cause" without delineated criteria.
3. Reject any provision that allows expulsion of any Director, Vice-Director of Officer for bringing ARRL into "disrepute" without specific criteria.
4. Reject any provision that reduces Members' ability to recall a sitting Director.
5. Reject any current or proposed provision that allows the Board to disqualify candidates for elected office without full disclosure of the reasons for such disqualification.
6. Reject any proposal that would allow the Board to designate replacements for Directors instead of appointing an elected Vice Director or other elective processes.
7. Reject any current or proposed provision that allows censure, removal or other disciplines of a Director for revealing or openly discussing any view expressed at a Board meeting that is not consistent with the Board's action.
8. Adopt a policy that elected Directors, and Vice Directors are not "personnel" for the purposes of declaring that any information about removal or disqualification is confidential and may not be released.
It is crucial that ARRL remain a solidly democratic, membership-based organization with principles of openness and accessibility through our elected Directors. I urge you to vote per my wishes at the January 19 meeting.
Beyond these issues of governance, I am concerned about the policy-making process of the ARRL leadership–leadership that I feel has become much less Member-driven, and that no longer reflects the needs of the Membership.
Ham radio is in a time of transition. The ARRL must focus on the issues that make a difference for the future success of the hobby.
73, Tomas Hood / NW7US
---
More information about this effort:
myARRLvoice is an independent grassroots group of amateur radio operators working on behalf of our fellow Members of the American Radio Relay League (ARRL), monitoring the activity of its leadership and advocating change to optimize the organization's effectiveness in matters of policy and governance, and to foster ethical and competent stewardship.
myARRLvoice acts as a vehicle for ARRL Members to make their voices heard on matters of governance and policy, and to participate in the policy-setting process, holding our elected and appointed leaders accountable. We strive to make the activities of ARRL leadership more transparent by insisting on the creation and dissemination of records of the deliberations and actions of all ARRL Boards, Committees, and the operational Executive Team.
myARRLvoice believes that good ARRL stewardship can only be achieved through a check and balance system that includes the watchful eye of the Membership.
Visit the website at www.myarrlvoice.org
Some of you wanted to see the complete version, uncut, of this video in which I discuss the differences between CB and the Amateur Radio Service.  This is in response to the recent episode in which the NCIS writers missed a great opportunity to discover the vibrant reality of the current amateur radio service in the United States of America.
The previous version of the video was prematurely cut short by just over three minutes.  This version includes that ending.  I also remove some of the low-end rumblings from the vehicle.  This version should sound a little bit less annoying.  Hopefully, the quality of the video is sharper, as well.  This version was edited by Adobe Premiere CC 2017.
I appreciate the many comments, views, and shares.  Please subscribe, too!
73 from Omaha!
I need your help!
Come meet me on the shortwave (HF) ham bands for the Morse code (CW mode) special event, the Straight Key Century Club (SKCC) celebration, with special callsign, K3Y. During the shifts (time slots) listed below, I am the control operator as K3Y/0.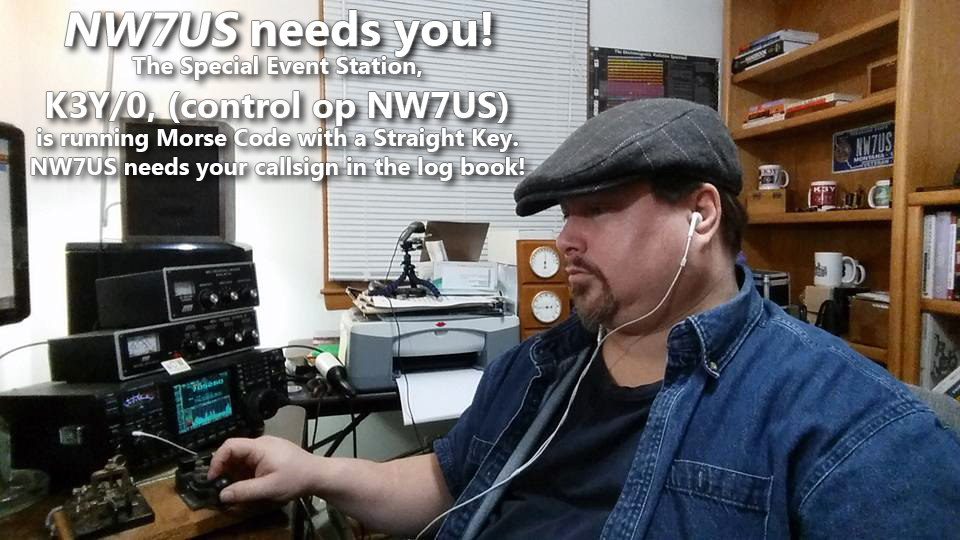 I need you to make a contact with me.
This special event takes place every year during January. We celebrate the legacy of Morse code, and promote Morse code and manual creation of the code by any non-electronic (digital) device and method. Which means that we love mechanical bugs, straight keys, two ends of a wire, or any other manual device, if Morse code is generated. The Straight Key Century Club is a free membership group. The link to their website is below.
I need you to make a contact with me, during my scheduled times, listed below.
NOTE: YOU DO NOT NEED TO BE A MEMBER OF THE (free) SKCC GROUP. To get into my logbook, you meet me on my frequency, and use Morse code to communicate with me. It is painless. If you must, you can use computer-generated Morse code. Or, you can tap it out on any Morse code signalling device, like a bug, a set of paddles, or a straight key; whatever you choose to make Morse code emanate from your HF transmitter.
HOWEVER: For those of you who want to get fully immersed in the spirit of this event, you are invited to use a straight key. And, as a bonus, you may and can join the SKCC group for FREE. Then, you would have your own SKCC number. That'd be cool; we SKCC members use that number in our exchange during our QSO information exchange. But, you don't need that. Since it is free, why not?
What is needed is simply you, getting on the shortwave band, finding me, hearing me, and responding to me with Morse code. In other words, we need to have a QSO using Morse code. I am not a fast operator, so no problem if you are not very fast. I'll meet your speed.
In any case, here are some of the times I will be on the air as K3Y/0… please dust off your straight key, bug, paddles, whatever, and make a QSO with me. Thanks!
My current schedule:

UTC Start/End (remember, these are NOT your local times, but are the UTC (GMT) times!)

(revised times, as of edit date)

00:00 - 02:59 19-Jan-16
00:00 - 02:59 20-Jan-16
00:00 - 02:59 21-Jan-16
00:00 - 02:59 22-Jan-16
00:00 - 05:59 23-Jan-16
14:00 - 18:59 23-Jan-16
20:00 - 21:59 23-Jan-16
00:00 - 02:59 24-Jan-16
14:00 - 18:59 24-Jan-16
21:00 - 21:59 24-Jan-16
00:00 - 02:59 25-Jan-16
00:00 - 02:59 26-Jan-16
00:00 - 02:59 27-Jan-16
00:00 - 02:59 28-Jan-16
00:00 - 02:59 29-Jan-16
00:00 - 05:59 30-Jan-16
13:00 - 18:59 30-Jan-16
20:00 - 21:59 30-Jan-16
00:00 - 03:59 31-Jan-16
13:00 - 23:59 31-Jan-16

Now, what frequency will I be on?
To find out what frequency I am on:
Visit http://g.nw7us.us/sched4SKCC and look on the right side for my callsign, NW7US. I usually post my frequency of operation right after my call sign.
Typically, evening operation is 30m, then 40m, and then possibly 80m.
If you are trying to alert me to your presence, you may message me on my personal Facebook profile, under my "Tomas David Hood" profile messages, but I may not see that right away.
Here is the detail covering the K3Y operation and the SKCC group: http://skccgroup.com/k3y
73 de NW7US
dit dit
This was last year:
https://www.youtube.com/watch?v=UfRvITFpTb4
..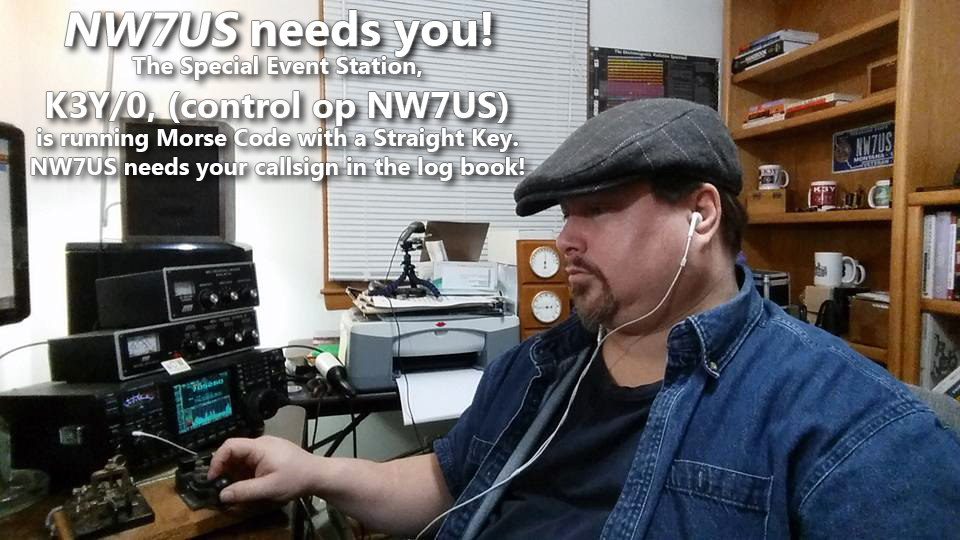 ..