I need your help!
Come meet me on the shortwave (HF) ham bands for the Morse code (CW mode) special event, the Straight Key Century Club (SKCC) celebration, with special callsign, K3Y. During the shifts (time slots) listed below, I am the control operator as K3Y/0.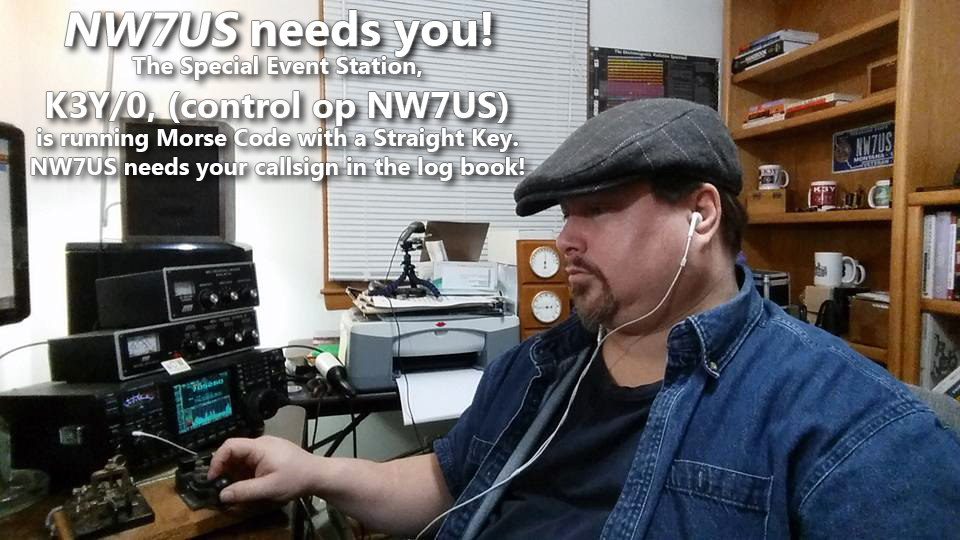 I need you to make a contact with me.
This special event takes place every year during January. We celebrate the legacy of Morse code, and promote Morse code and manual creation of the code by any non-electronic (digital) device and method. Which means that we love mechanical bugs, straight keys, two ends of a wire, or any other manual device, if Morse code is generated. The Straight Key Century Club is a free membership group. The link to their website is below.
I need you to make a contact with me, during my scheduled times, listed below.
NOTE: YOU DO NOT NEED TO BE A MEMBER OF THE (free) SKCC GROUP. To get into my logbook, you meet me on my frequency, and use Morse code to communicate with me. It is painless. If you must, you can use computer-generated Morse code. Or, you can tap it out on any Morse code signalling device, like a bug, a set of paddles, or a straight key; whatever you choose to make Morse code emanate from your HF transmitter.
HOWEVER: For those of you who want to get fully immersed in the spirit of this event, you are invited to use a straight key. And, as a bonus, you may and can join the SKCC group for FREE. Then, you would have your own SKCC number. That'd be cool; we SKCC members use that number in our exchange during our QSO information exchange. But, you don't need that. Since it is free, why not?
What is needed is simply you, getting on the shortwave band, finding me, hearing me, and responding to me with Morse code. In other words, we need to have a QSO using Morse code. I am not a fast operator, so no problem if you are not very fast. I'll meet your speed.
In any case, here are some of the times I will be on the air as K3Y/0… please dust off your straight key, bug, paddles, whatever, and make a QSO with me. Thanks!
My current schedule:

UTC Start/End (remember, these are NOT your local times, but are the UTC (GMT) times!)

(revised times, as of edit date)

00:00 - 02:59 19-Jan-16
00:00 - 02:59 20-Jan-16
00:00 - 02:59 21-Jan-16
00:00 - 02:59 22-Jan-16
00:00 - 05:59 23-Jan-16
14:00 - 18:59 23-Jan-16
20:00 - 21:59 23-Jan-16
00:00 - 02:59 24-Jan-16
14:00 - 18:59 24-Jan-16
21:00 - 21:59 24-Jan-16
00:00 - 02:59 25-Jan-16
00:00 - 02:59 26-Jan-16
00:00 - 02:59 27-Jan-16
00:00 - 02:59 28-Jan-16
00:00 - 02:59 29-Jan-16
00:00 - 05:59 30-Jan-16
13:00 - 18:59 30-Jan-16
20:00 - 21:59 30-Jan-16
00:00 - 03:59 31-Jan-16
13:00 - 23:59 31-Jan-16

Now, what frequency will I be on?
To find out what frequency I am on:
Visit http://g.nw7us.us/sched4SKCC and look on the right side for my callsign, NW7US. I usually post my frequency of operation right after my call sign.
Typically, evening operation is 30m, then 40m, and then possibly 80m.
If you are trying to alert me to your presence, you may message me on my personal Facebook profile, under my "Tomas David Hood" profile messages, but I may not see that right away.
Here is the detail covering the K3Y operation and the SKCC group: http://skccgroup.com/k3y
73 de NW7US
dit dit
This was last year:
https://www.youtube.com/watch?v=UfRvITFpTb4
..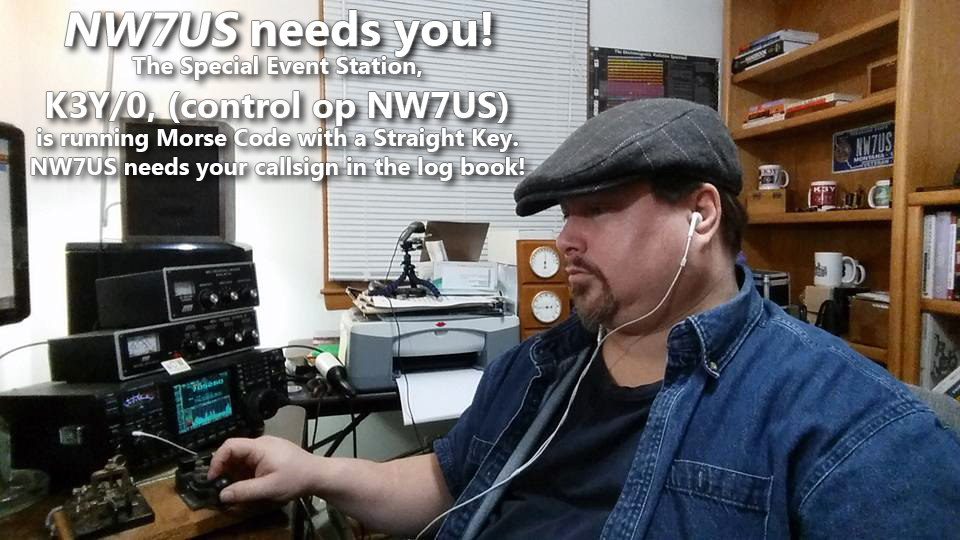 ..