Today started early, about 5:30am or so, getting email, RSS feeds, and social media perused, worked or avoided so I could communicate on behalf of the Mississippi Section ARES Simulated Emergency Exercise (S.E.T.) from 9am-9pm. I won't work the entire 12 hours but I did assist our RACES Director, Mike N5DU operate the MS Emergency Management Agency's EOC Radio Room. A few other hams, like Todd K5TDD, Bob KG5ZDZ, and Jim K0UPW (newly relocated from State of Washington) also came by to assist.
Mike N5DU has a RACES Team that he is growing, putting together continual training for those who can be deployed to other emergency zones around the country and those who will remain local (like me) to operate either at the MEMA Command Center or sheltered in-place at their QTH. It's always a growth process as volunteer hams come and go, tire of EmComm, or leave our midst due to health reasons. But it takes organized, thoughtful, and diligent leaders like N5DU to keep the ball rolling.
MEMA has grown in it's technical capability since the 2005 Hurricane Katrina. Our team working the SET today got a tour of the Command Center when integral state agencies, non-government organizations, and selected others have designated "seats" in front of PCs on the floor of the Command Center. The facility meets federal security standards specified by FEMA, Homeland Security, and other relevant regulations.
Our THIS IS A DRILL scenario today was at sudden, significant seismic activity at the New Madrid Fault in Northeast Arkansas. It is pronounced New Maaa-drid, unlike the city in Spain, commonly pronounced Ma-DRID. I texted our Section's Emergency Coordinator, Robert KC5IMN, the correct pronunciation to relieve him of future abuse at the hands of Emergency Coordinator's near Memphis!
We had a good response and participation during the first four hours with one-hour shifts for net control operators around the state. Steve K5OMK in Starkville did a great job as did the ARES Team in Starkville. They had a lost person beacon chase (successful) in addition to the earthquake activity. I guess that was simulated preparation for the start of Southeastern Conference Football weekends in StarkVegas. Operators in Houston, Vicksburg, and elsewhere worked until we closed the MEMA EOC operation about 12:30pm. They are still at work as I write this blog post. As Assistant Delta Division Director, I'm proud of the work that Malcolm W5XX, Bob KC5IMN, and Mike N5DU have engaged in this annual activity.
The MS Section finished # 1 in ARES Section rankings for the SET in 2018. Whether that ranking continues this year matters not, if we all get more effective, efficient, and engaged in bringing our amateur radio communications game to a higher level. You keep score to motivate teams to get better, not to just win rankings, when lives are on the line. Thank God, it's just a drill today.
Here's a gallery of pictures from the MEMA Command Center, Levels of Activation, how this agency is organized into regions, and the radio network operating in the State, called MSWin. A staffer at MEMA today kindly gave us a brief tour.
I came across this story in my archives, written by me way back in August 1992. This was before mobile phones were commonly available, so ham radio turned out to be critical in this incident. Even today, there are many places in the Colorado backcountry where mobile phones don't work but amateur radio can communicate. My callsign at the time was KBØCY
Something happened on the way to Uncompahgre Peak on August 8, 1992.
Around noon, my brother, my two nephews and I made it to the summit and had just signed the log. I called on 146.52 and contacted Chris, NQ5V, who was somewhere to the east of me (Creede, I think). This must be his summer location, since his callbook address is Texas. We talked about the trail up Uncompahgre, since he was interested in hiking it.
After I signed clear with NQ5V and was about to start down the mountain, a teenage boy came up to me and said he had been sent to "find the guy with the radio" because a girl had been hit by a rock down below and was hurt. I am not sure how they knew I had a radio, other than I used it once on the way up the trail. The story seemed rather sketchy and I was skeptical but asked NQ5V to standby on frequency because we may have a medical emergency. At that time, Arnold, W7JRC, from Cedaredge, CO, came on frequency and said he had a phone nearby. (NQ5V did not have a phone available.) A second, older teenager came up the the trail with more information. He said he was a pre-med student and had search and rescue experience. He had more detailed info which made the story more clear. At this time, I concluded that we had a real emergency and asked W7JRC to call the authorities. I handed my HT to the older teenager and had him describe the victim's condition to W7JRC. W7JRC had some trouble contacting the police, but eventually got through to the Ouray County Sheriff's Office. (It turned out we were in Hinsdale County, but we did not know that at the time.)
Jim, NR5Y (also close to Creede, I think) came on frequency and said that he was close to a telephone. I was not always able to communicate with NR5Y, so NQ5V relayed to NR5Y. Since W7JRC was having trouble with getting the telephone call through, I asked NR5Y to also try to place a call. He called the Mineral County Sheriff, who relayed to Hinsdale County. All this time, I was moving down the mountain to try to get closer to the victim without losing my radio contact. About this time, my HT battery went dead, so I switched to my spare (Good thing I had one!) As I moved onto the saddle below Uncompaghre, I lost contact with W7JRC and contact with NQ5V got much worse, but usable. About this time, Doug, NØLAY, came on the air and his signal was very strong at my location which allowed me to stay on low power and conserve my HT batteries. N0LAY apparently came on the air in response to a call from the Hinsdale County Sheriff. N0LAY also had a radio which was on the sheriff's frequency and relayed information from me to the sheriff's dispatch.
I had not proceeded down any further because I was certain that I would lose radio contact with NØLAY. The victim had several people with her that had First Aid training and was about 1000 feet below me at the bottom of a cirque. I sent the older teenager back down to the victim with instructions to signal me as to her condition. We both had signal whistles – two whistles meant her condition was the same (stable), three whistles meant her condition had deteriorated. After I got the two whistles back, I felt like things were going to be OK.
About that time, NØLAY relayed that an ambulance had been dispatched to the trailhead and a search and rescue person was on the way up the trail with a trail bike. Also, a helicopter had been dispatched from Montrose. It took us a little while to communicate to the sheriff where the victim was, but we had a pretty good topo map, so we eventually gave them an accurate fix on the location. As I was listening to NØLAY relay, I realized that my Kenwood TH-77A could receive most police frequencies. NØLAY provided me with the frequency and I programmed it into the HT, scanning between 146.52 and the sheriff's frequency. This allowed us to listen in on what was going on. In fact, many times I was clearly hearing the various parties while they were having trouble communicating.
The S&R guy on the trail bike made it to the accident scene without us noticing him. He had parked his bike about half a mile away from us and had scrambled down to the victim. The first time I was aware of his position was when he transmitted from the accident site. He confirmed that the girl was pretty bashed up, but stable, and needed a helicopter ride out. About this time, the sheriff's dispatch reported that the helicopter was about 5 minutes out (I think it turned out to be more like 15 minutes away). Soon the helicopter came up on the sheriff's frequency and I could hear the S&R guy coordinating with the helicopter pilot The two-seater helicopter landed and they put the girl in the second seat. Apparently, she was stable enough to walk to the helicopter with some assistance. The alternative was to put her outside the chopper in a litter. The helicopter lifted off and set back down a few minutes later near the ambulance which was near the trailhead. The two-seater chopper was not a medical evacuation helicopter and the plan was that Flight-For-Life from Grand Junction would pick up the victim at the ambulance location. It turned out that Flight-For-Life was unavailable so they took the victim to a hospital by ambulance (to a local clinic, then Gunnison, I think).
We stayed on the ridge until the chopper headed for home, then we did the same. On the way down, the S&R guy on the trail bike caught up with us and we talked about the accident. He said the girl lost some teeth, had facial cuts, internal bleeding and swelling in the face, but was in stable condition. He said that without the radio report that they would be just getting the initial call at the time he was heading home. That is, we saved about 5 hours on the response time with amateur radio.
I have carried my HT on every 14er hike I have ever done and had considered the possibility of using of using it for emergency communications. I guess I never gave it too much thought because people venturing into the backcountry need to have a self-sufficient attitude. That means being prepared and preventing or handling any emergency situation on your own. But the unexpected happens, and here I was in the middle of a medical emergency. It certainly has caused me to take this emergency communications thing more seriously.
Things I learned that day:
Always carry an extra HT battery (or two)
Always carry a decent portable antenna (more than a rubber duck)
Always carry a good topo map, even if you don't need it to follow the trail.
Make note of what county you are hiking in when in unfamiliar parts of the state. This aids in getting to the right Sheriff's office. (This is important because the person you contact via radio is likely to be two or three counties away.)
My signal whistle (which has caused considerable abuse from a few hiking companions) is actually useful.
Extended coverage receive is very useful in emergencies. (I am still thinking about extended transmit — I clearly could have used it in this case.)
I was very pleased that everyone reacted quickly but in a professional manner. The radio amateurs all helped out when they could be stayed out of the way when appropriate. I am sure we can find some things that could have been done better, but I felt like things went well overall.
– Bob KØNR
The post Rescue on Uncompahgre Peak (1992) appeared first on The KØNR Radio Site.
Some of you wanted to see the complete version, uncut, of this video in which I discuss the differences between CB and the Amateur Radio Service.  This is in response to the recent episode in which the NCIS writers missed a great opportunity to discover the vibrant reality of the current amateur radio service in the United States of America.
The previous version of the video was prematurely cut short by just over three minutes.  This version includes that ending.  I also remove some of the low-end rumblings from the vehicle.  This version should sound a little bit less annoying.  Hopefully, the quality of the video is sharper, as well.  This version was edited by Adobe Premiere CC 2017.
I appreciate the many comments, views, and shares.  Please subscribe, too!
73 from Omaha!
EDIT: Please view the NEW article, in which the FULL VERSION of this video exists.
I've been reading some of the chatter regarding the NCIS episode in which they incorrectly portray the amateur radio service. I thought I would make a video (vlog) and express my thoughts.
I use my new headset mic to make the video. If you have a few moments, please check it out, and let me know how the mic sounds.
Of course, share your thoughts on the NCIS thing… thanks!
Yes, the video gets prematurely cut off.  The editing software on my cell phone chopped off the ending, and I did not realize it until after it posted the video.  I'll record a follow-up video that includes the ending thoughts, but in a new vlog edition.
Cheers and 73 de NW7US
..
Come spend some time with me in this ride-along video blog episode, the first in a series that I am doing to help you begin your journey into the amateur radio hobby. This video is an experiment in that I am trying out this format as a type of "chat" in which I share my thoughts and experiences regarding the ham radio hobby, and how you might start out exploring the hobby.
Regarding the experiment: I have tried to edit the sound to reduce the road noise. Please comment on the noise level, and how well you can hear me talking about the topic. Should I ditch the ride-along format? Comments directly on the YouTube channel are better if you leave a comment on the actual video as displayed on my YouTube channel.
..
73 de NW7US
..
There was a fun interaction on twitter the other day about how we represent amateur radio to the general public. It started with this tweet from @FaradayRF: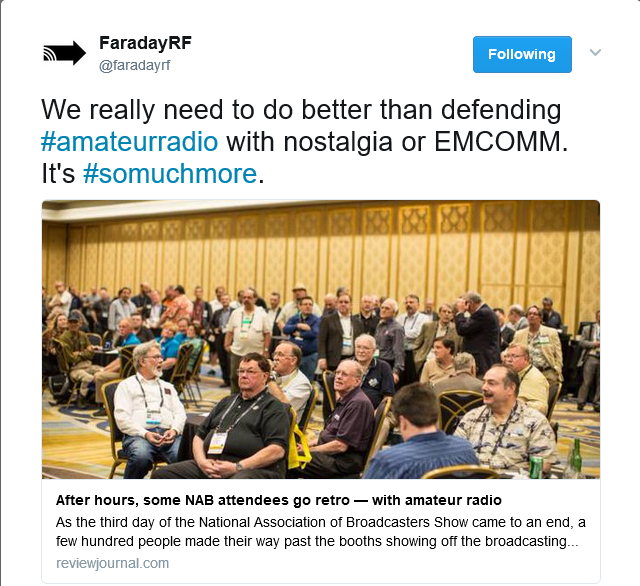 This refers to an article in the Las Vegas Review-Journal newspaper where the author decided to use the theme of "ham radio is retro" to tell the story of a ham radio gathering at NAB. I really hate it when ham radio gets positioned as "old technology" in the world of awesome wireless stuff. Clearly, some of our technology is dated, but the amateur service includes lots of new technology and experimentation. (Actually, the tone of the article was very positive, so we shouldn't complain too loudly.)
So I replied, along with a few other folks: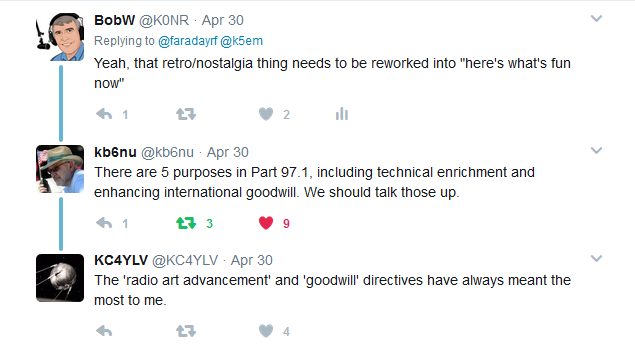 So KB6NU and KC4YLV took the discussion back to good old Part 97 of the FCC rules. (You ever notice how often radio hams like to quote Part 97? It's right up there with the U.S. Constitution and the Declaration of Independence.) I tried to recall from memory the five things listed in 97.1 as the Basis and Purpose of the Amateur Radio Service, but failed.
I had to look them up, so I'll save you the trouble and list them here. Actually, I am going to provide the KØNR Abbreviated Version (go here to see the full text):
Part 97.1 Basis and Purpose of Amateur Radio
a) Voluntary public service, including emergency communications
b) Advancement of the radio art
c) Advancement of communication and technical skills
d) Expansion of trained radio/electronics enthusiasts
e) Enhancement of international good will
These five things are still relevant and are being pursued today. Not all radio amateurs contribute to every one of these but as a group we are doing these things. The good news is that many non-hams do understand the When All Else Fails aspect of ham radio…most have had their cellphone become a useless brick during major incidents. Items b, c and d are all about learning new things, building skills and expanding the number of radio hams. We should talk more about that. Enhancing international good will may seem a bit quaint but this crazy world can always use another dose of that.
Part 97 does leave out one thing that is the ultimate attraction and, in fact, the universal purpose of ham radio:
To Have Fun Messing Around with Radios.
73, Bob KØNR
The post We've Got Some Explaining to Do appeared first on The KØNR Radio Site.
To all my friends/readers in Florida, Georgia and The Carolinas ........
Earnest prayers that Matthew leaves you as un-battered and un-bruised as possible - AND that all your antennas stay up in the air.
Be safe; and have those batteries charged and those "Go Kits" locked and loaded!
And special prayers go out for our friends in the Carribean nations who are dealing with the aftermath.
72 de Larry W2LJ
QRP - When you care to send the very least!