This is a pretty simple modification that converts a SoftRock Ensemble RXTX SDR RF interface board from "common-IF" (RX and TX share the same antenna port) to "split-IF" (RX and TX have separate ports).  Split-IF is the standard for high-performance transverters on the 50-, (70-), 144-, 222-, and 432-MHz amateur bands.
So, I had a look at the RXTX schematics (here, here, and here) and considered the following options for where to break the RX and TX portions of radio: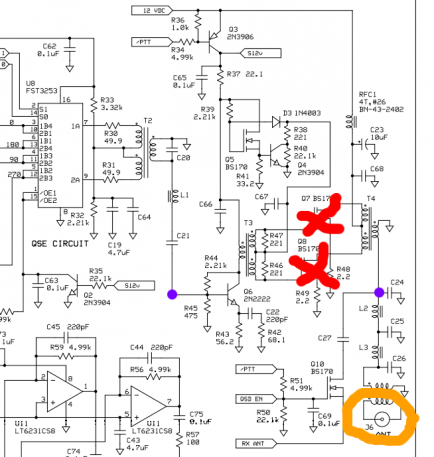 The purple dots were the first option.  Unfortunately, these locations on the actual printed circuit board were not easily accessible to miniature coax and this process would involve significant surgery to perform and restore the modification.  The second alternative I considered was the red Xs…jumpering over the BS170 PA transistors.  By this time, I was looking for a way to avoid butchering the original circuit too much.  So, I elected for option three, which was to install a second T/R switch at the antenna jack (golden circle).  This had at least two advantages, the first of which was being minimally invasive.  The big advantage, though, is that the radio could be operated at its design output and run through a fixed or step attenuator on the TX side to the transverter.  This meant that I would be assured of having a reasonably clean signal to work with if I configured the radio correctly.  It also meant that I could operate the radio as designed if I simply disabled the the second T/R switch and connected the antenna to the default port.
So, here is the modification that I came up with using parts I had in my junk box.  KB9YIG ships the Ensemble RXTX with a couple of spare BS170 FETs that can be used in place of the 2N7000.  I just had a lot of 2N7000s and thought I'd save the BS170s in case I ever burnt one in the RXTX.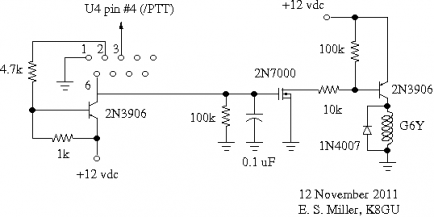 The interface to the transverter is through a DB9 connector.  PTT for this transverter is +12 volts (as done with the TS-930S) on pin 6.  Pin 1 is ground.  Pins 2 and 3 are shorted together in the transverter cable connector to enable the modification in the SoftRock.  The right portion of the schematic with the relay driver and Omron G6Y relay is based on the T/R switch from W1GHZ's "Multiband Transverters for the Rover" that I decided not use on the microwaves when I found a cheap source of SMA coaxial relays.  An I2C decoder would be great to put band data on the other pins to select a transverter (or transverter cascade for the microwaves).
The whole mess works great from a switching standpoint.  When I key the PTT on Rocky or PowerSDR, it switches the TX line and keys the transverter.  I'm a little ambivalent about the quality of transmitted signal that's actually coming out.  I think it's good enough if you live in a sparsely-populated area, but I have a lot of VHF neighbors that I'd rather not upset.  So, I need to do some more testing on this—a lot of it is getting the RXTX and PowerSDR configured correctly.  It appears that the I/Q channels are flipped on my sound card (Audigy 2 ZS) between transmit and receive.  I don't know if that's a wiring error in my breakout box or whether it's normal.  Spectra to come at some point…
A few photographs of my latest tinkering—a SoftRock Ensemble RXTX.  This unit provides all of the hardware necessary to have a software-defined radio (SDR) transceiver that uses a computer soundcard for ADC and DAC.  It is available here as a kit.  They are kitted in batches of 20-100 every few weeks and usually sell out within 24-48 hours.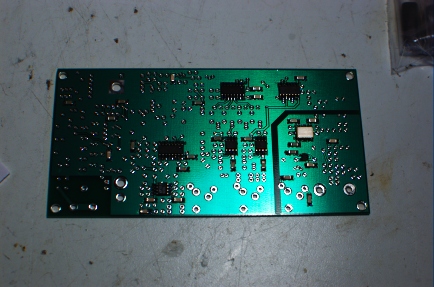 I originally had little interest in doing a full SDR transceiver (preferring receivers only) until it occurred to me that I could modify the RXTX as an IF strip for VHF/UHF transverters like many have done with the FlexRadio Systems rigs.  So, I have developed a modification that is minimally invasive to the operation of the RXTX.  At build time, you choose a nearly octave-wide "super band" for operation.  This one was built for the 20-30 MHz band, covering the 15-, 12-, and 10-meter Amateur bands, as well as the 25-28 MHz IFs that I (will) use with present and planned transverters for the 6-, 2-, 1.25-, and 0.70-meter bands.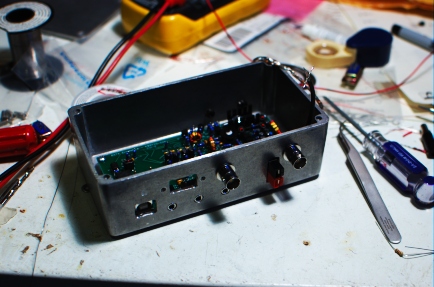 I'm not sure I have the enthusiasm to build another SoftRock.  There are a lot of trifilar transformers to wind.  The final result looks pretty good and seems to work.  I'm going to put it on the spectrum analyzer soon to see how clean the output is and how I should balance the drive for the transverters.  Then, I will also include a write-up of how the modifications are done.  (I promise that writeup is the same place as the control circuit schematic for the 50-MHz transverter!)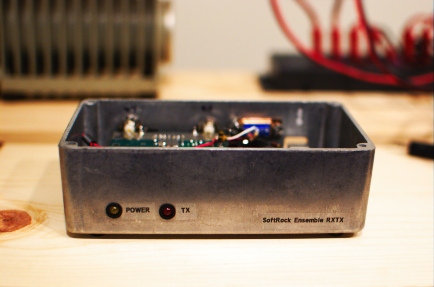 Here, you can see the W1GHZ relay board for doing split-IF T/R switching.  If the transverter control cable (DB-9) is disconnected, the SoftRock switches to common-RF for regular 15-/12-/10-meter operation.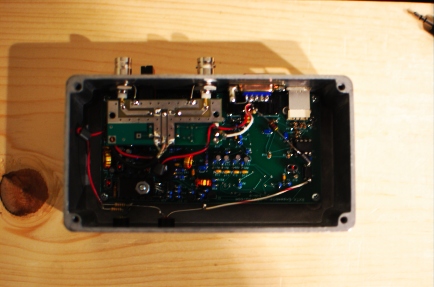 The November 2011 issue of QST contains an Op-Ed that really left me shaking my head more than normal.  The author bemoans the complexity and feature sets of newer handheld radios and pines for the days of his IC-02AT.  He goes on at length about the "unnecessary" receive capabilities (NOAA weather broadcasts, AM/FM radio, etc) and how he has to search for the manual every time he wants to program a repeater offset.
Well, as someone who recently upgraded from a radio just slightly newer than the IC-02AT to a "modern" HT, he's wrong on nearly every account (except the micro-/mini-USB port, which I would wholeheartedly support for charging purposes).
Eliminate extraneous features.  Too bad we all have different definitions of this.  I think scanning is a worthless feature, but like NOAA/NWS weather broadcasts.  In fact, my wife is delighted that we now have a battery-powered AM/FM+NOAA/NWS radio again that I will always be able to find and will guarantee that it works.  Did you hear that, guys?  My non-ham wife actually likes my HT and uses it to listen to FM radio!
Eliminate multilevel menu trees.   I'm just dying to replace my cell-phone-sized VX-3r with a knob-covered brick.  I'm sure you are too.  It'll look great in my shirt pocket.
Eliminate the proprietary programming cables.  Maybe I'm not a typical ham, but I only have about ten memory channels programmed into my VHF/UHF FM radios and they took about 10 minutes to program through the front panel (my bad, menus).  The mini-/micro-USB port is a good idea for charging, though.
Allow for a battery pack that uses disposable batteries.  Last time I checked, most radios have this option.  Did I miss something?
Create an inter-vendor standard for user interface.  What if they standardize on Icom?!?!  The last Icom VHF/UHF FM radio I used received a "grade of S, for 'stupid'" from its owner.  That was in 1993.  All of the Japanese manufacturers will be put out of business by the factory owned by the Chinese military that produces their products before this happens.
He should buy another IC-02AT if he liked them so much.  I bet for a Jackson or two, you could have a nice one…complete with the 6x AA battery holder.  Heck, buy two or three for spare parts.  I think I have the Service Manual around here somewhere if I didn't already sell it.
On a more serious note, there are lots of no-frills radios available out there, even brand new ones with factory warranties.  Until recently, at least, the money in VHF FM radios was in two-way, government, and public safety, not amateur.  There are a lot of amateur rigs at the "low end" of the market that share a lot in common with their commercial counterparts.  And, of course, you can always buy used Motorola gear on eBay if you desire ultimate performance and ruggedness.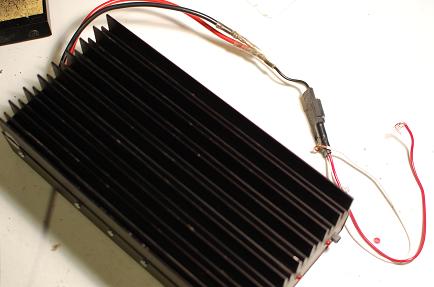 I've picked up a couple of Mirage "brick" amplifiers over the past few years.   I've also rewired the DC cable on each and every one.  Here's the latest.  AWG 10 to AWG 16 transition?  Seriously?  I know it technically doesn't matter too much for a short run, but these amplifiers suck down a lot of current and I just don't see cutting corners on that.  Maybe I'm a purist…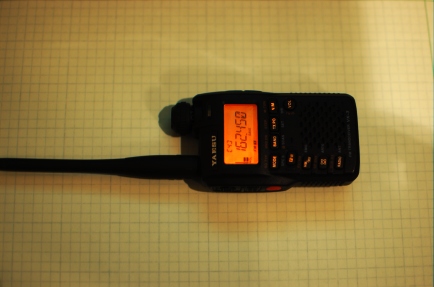 I do not spend a lot of time on VHF/UHF FM and have not for many years.  My first radio in 1993 was an Alinco DJ-580T handheld and I've thought at various times that a new handheld might suit me well, especially for receiving.  A few weeks ago, as I tend to, I came across a Yaesu VX-3R offered "for parts or repair" on attractive terms and so acquired it—my second handheld ever.  The problem seemed straightforward enough:  full TX power, but no RX on amateur bands.  RX on FM broadcast OK.  The seller assured me, after I had agreed to purchase based on his description, that "somebody" had told him that this problem occurs when "only one component is bad."
Based on the seller's description of the problem and a thorough reading of the Technical Supplement, I developed a short list of candidate failure modes, components, and sources.  Fortunately, all of the components could be sourced easily from the usual sources.
When the radio arrived, I gave it a functional check and it indeed exhibited the problem that the seller had advertised.  I quickly popped it open and noticed a small red sticker in the lower right-hand (when facing the device like you would operate it) corner of the Main Unit (Side A, per the Technical Supplement's notation).  A neatly hand-drawn arrow pointed to component Q1025, which upon closer inspection, was clearly damaged.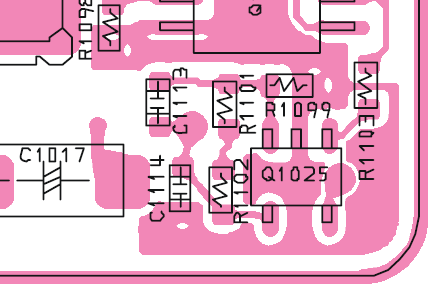 So, I quickly set about identifying the component and procuring a replacement.  It was a NJU7007F3 operational amplifier.  Huh…it did not contribute to any of the failure modes I had initially suspected.  However, a careful reading of the Technical Supplement indicated that this op amp drives varactor diodes in a tracking preselector—so, if it does not work, the radio will exhibit varying degrees of deafness in the amateur bands.  I found out later that the "somebody" was actually a Yaesu technician who had seen the radio for repair at the behest of a previous owner and left the sticker for me.  At any rate, this component clearly would have to be replaced if I were to fix the radio, so I set about looking for a source.
Mouser listed it in their catalog but wanted me to buy a reel of 3000.  No thanks.  At least they had it listed.  So, I did the next most logical thing—I made a list of other parts that I needed and called Yaesu.  The part was back-ordered to Japan for 4-6 weeks, but only cost 0.42 USD.  I bought three.
After however many weeks it has been, a package from Yaesu showed up on my doorstep tonight.  After repairing a damaged PCB trace (non trivial on something this small), I was able to replace it.  The little black speck in the middle of this photograph is the removed component.  For my non-US readers, the US 0.01 USD coin ("Penny") is about 19 mm in diameter.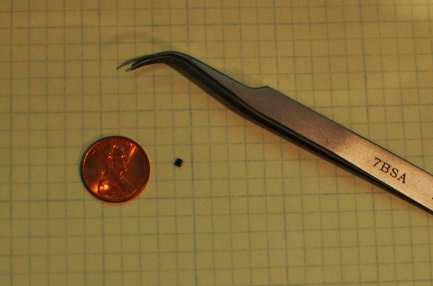 The radio fired right up and received NOAA/NWS right away.  The entire repair once I had the parts was about 30 minutes.  There are still two unbuilt SoftRock kits, an IC-290A with an unlocking PLL, and W1GHZ transverters for 903 and 1296 to be worked on…maybe tomorrow…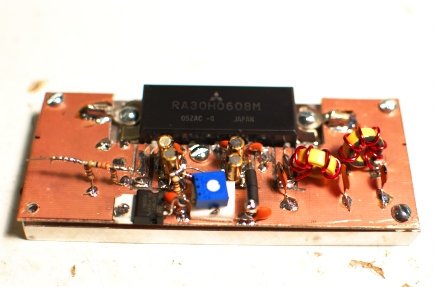 Over the past week in the evenings, I've managed to cobble a little PA together for the 50-MHz transverter.  It's a near-clone of the PA in the Elecraft XV50 using the Mitsubishi RA30H0608M.  Last night, I got it all hooked up and installed in the cabinet.  It broke into oscillation when keyed on CW.
The oscillation was about 50.040 MHz.  I reasoned that it might be the PA output coupling into the nearby TX RF bandpass filters which are followed by 12 dB of gain before returning to the PA.  So, tonight, I added a litle shield between the BPF and the PA board.  That seemed to clear things up and I got about 10 watts out.  There is a 6-dB pad between the last driver stage and the PA, so I should be able to get it up to about 18-20 watts.  But, the first goal will be to check the linearity on SSB.
In other transmit capability news, some boxes and heatsinks arrived for the W6PQL PAs for 903 and 1296 this afternoon.
As I mentioned previously, the receive capability in my 50-MHz transverter seemed to be a little bit anemic.  So, I decided to add a little bit of gain.  Looking at the block diagram for the transverter (shown below in updated form—jumper across the SGA-4586Z to understand what the circuit looked like initially—by the way, full-sized PDF versions of all of my notes and schematics will eventually be available here), I reasoned that I had the following losses and gains:  +10 dB for the LNA (this might be as much as +15 dB, but 10 seems more realistic, if not generous), -3 dB for the bandpass filter, -7 dB for the mixer conversion loss, and -3 dB in the diplexer, leaving me with -3 dB overall conversion gain.
So, I endeavored to find some more gain in the form of a MMIC (which is really what all gain blocks in this transverter would be if I were to do it again).  I have a nice (but dwindling) supply of SGA-4586Z's that produce about 20 dB gain with a 1-dB compression point around 16 dBm, which is probably a good part for this location.  The idea is to overcome the losses in following stages with robust gain in earlier stages (in order to keep system NF low).  So, I ripped out the existing two-pole BPF and replaced it with this:

I was relatively satisfied that I had everything working with the cover of the transverter off to peak the BPF on the W3APL beacon.  So, I replaced the cover and surprise!  To borrow a poetic description of RF circuit doom from N3UM, the MMIC "amplifier burst into song."  Bursting into song is a bit of a charitable description for something that sounded more  like S9 power line noise in the IF receiver.  I did not actually know that it was the MMIC oscillating at first, but I started wiggling cables and finally found that if I touched the 12RX (+13.8 volts on RX) line, the problem disappeared.  So, I added the 0.01-uF bypass capacitor to ground on the supply side of 180-ohm bias resistor and the problem was solved.
With the completion of the HF SoftRock with Si570 LO, I now have a tunable IF to play with the transverter.  We had a nice opening to the Southeast and Gulf this morning and I even heard my first DX with the transverter and SoftRock combination—CO2WF.  With the appropriate software, I can configure a the SoftRock as a panadapter with the TS-930S as the transmitter.  More on this in the future.  Best of friends: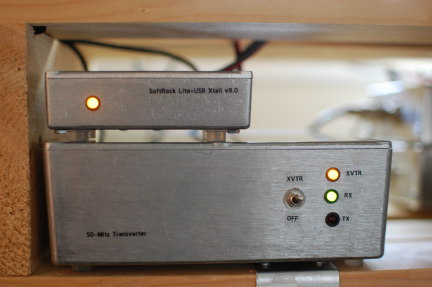 The real next step in making the transverter useful is building a 20-watt PA stage.  This should be good for driving a Mirage or TE Systems brick or even something bigger like a 3CX800 or 50-volt solid-state amp…