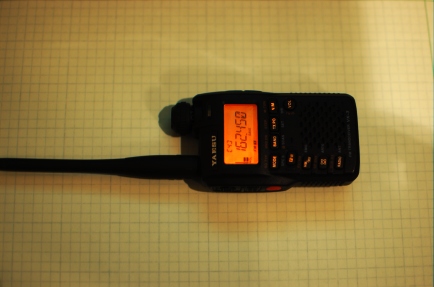 I do not spend a lot of time on VHF/UHF FM and have not for many years.  My first radio in 1993 was an Alinco DJ-580T handheld and I've thought at various times that a new handheld might suit me well, especially for receiving.  A few weeks ago, as I tend to, I came across a Yaesu VX-3R offered "for parts or repair" on attractive terms and so acquired it—my second handheld ever.  The problem seemed straightforward enough:  full TX power, but no RX on amateur bands.  RX on FM broadcast OK.  The seller assured me, after I had agreed to purchase based on his description, that "somebody" had told him that this problem occurs when "only one component is bad."
Based on the seller's description of the problem and a thorough reading of the Technical Supplement, I developed a short list of candidate failure modes, components, and sources.  Fortunately, all of the components could be sourced easily from the usual sources.
When the radio arrived, I gave it a functional check and it indeed exhibited the problem that the seller had advertised.  I quickly popped it open and noticed a small red sticker in the lower right-hand (when facing the device like you would operate it) corner of the Main Unit (Side A, per the Technical Supplement's notation).  A neatly hand-drawn arrow pointed to component Q1025, which upon closer inspection, was clearly damaged.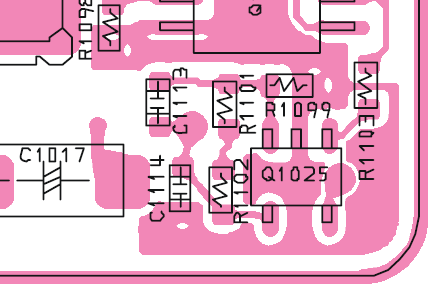 So, I quickly set about identifying the component and procuring a replacement.  It was a NJU7007F3 operational amplifier.  Huh…it did not contribute to any of the failure modes I had initially suspected.  However, a careful reading of the Technical Supplement indicated that this op amp drives varactor diodes in a tracking preselector—so, if it does not work, the radio will exhibit varying degrees of deafness in the amateur bands.  I found out later that the "somebody" was actually a Yaesu technician who had seen the radio for repair at the behest of a previous owner and left the sticker for me.  At any rate, this component clearly would have to be replaced if I were to fix the radio, so I set about looking for a source.
Mouser listed it in their catalog but wanted me to buy a reel of 3000.  No thanks.  At least they had it listed.  So, I did the next most logical thing—I made a list of other parts that I needed and called Yaesu.  The part was back-ordered to Japan for 4-6 weeks, but only cost 0.42 USD.  I bought three.
After however many weeks it has been, a package from Yaesu showed up on my doorstep tonight.  After repairing a damaged PCB trace (non trivial on something this small), I was able to replace it.  The little black speck in the middle of this photograph is the removed component.  For my non-US readers, the US 0.01 USD coin ("Penny") is about 19 mm in diameter.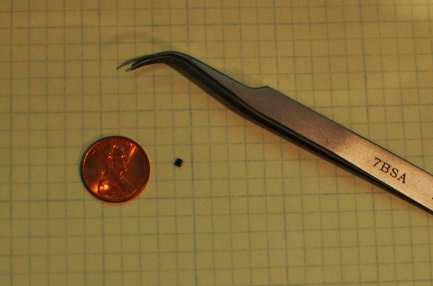 The radio fired right up and received NOAA/NWS right away.  The entire repair once I had the parts was about 30 minutes.  There are still two unbuilt SoftRock kits, an IC-290A with an unlocking PLL, and W1GHZ transverters for 903 and 1296 to be worked on…maybe tomorrow…
Ethan Miller, K8GU, is a regular contributor to AmateurRadio.com and writes from Maryland, USA. Contact him at

[email protected]

.
2 Responses to "A deaf VX-3R"