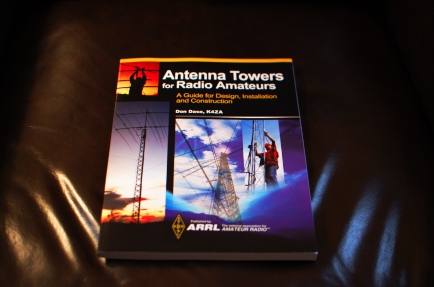 As I have commented before, I don't generally review or endorse products on the blog.  However, I was organizing my aluminum/steel pile in the back yard recently and posed a question to the PVRC reflector about potential improvements to a 402BA-S that I uncovered.  One of the responses came from K4ZA, who is a well-known "tower-guy."  (His blog is a pretty good read, too!)  I've been meaning to buy a copy of his book Antenna Towers for Radio Amateurs and I told him as much when I thanked him for his reply.  He offered a copy at a small discount from the cover price and I bought it.  It's the second autographed ARRL book I have, the other being the 4th edition of ON4UN's Low Band DXing, but I digress.
I've been at this whole radio thing for a few years now and have picked up a lot of the tricks.  Since most of what I know about towers comes from a high-school summer job in the two-way business, chatting with "The Good Reverend," and installing HF research radars, Don's book really filled in the gaps for me.  It is good…I read it cover-to-cover.
Don spent a career in video production before getting into the tower business full-time and it shows.  He knows the importance of telling the story to impart a trade.  He also includes candid stories from tower owners and workers explaining techniques and nearly-averted disasters from their own perspective.  Not only is it informative, the book entertains as well.
Antenna Towers for Radio Amateurs pretty much covers everything you need to know about planning, procuring, constructing, and maintaining your tower and antenna system—everything from how to evaluate the ubiquitous used tower sections to which tools and safety equipment to buy.  After reading it, you should be in a good position to understand how much of the tower-building process you are able to do yourself and how much to rely on local experts and professionals.  It is an excellent book and deserves a spot on the shelf of every ham who owns or dreams of owning a tower—and a few research radar scientists and engineers…
Ethan Miller, K8GU, is a regular contributor to AmateurRadio.com and writes from Maryland, USA. Contact him at

[email protected]

.
One Response to "Review: K4ZA Tower Book"