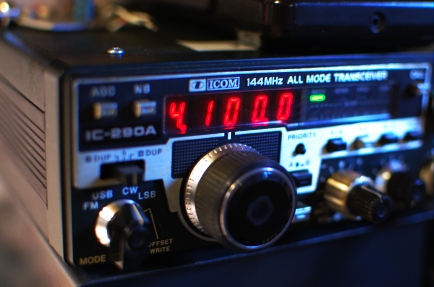 Apologies for the bad pun in the title.  I was going to call it "Microwave progress" but could help myself when I thought of this one.  Here are some notes from tinkering over the past few days.
1296 Mhz
After learning that the 1152-MHz LO power was -11 dBm, I inserted a MAR-3 MMIC on the 1296RSU transverter board.  W1GHZ shows an MAR-6 on his board, but the ever-astute N3UM noticed that the P1dB for the MAR-6 is 1 dBm, which is well below the nominal 7 dBm level of the ADE-5 mixer.  Unfortunately, the MAR-3 has about 12 dB of gain vs the MAR-6′s 20 dB.  A little bit of skullin' lead me to my stash of SGA-4586′s (suggested as an economical front end by W9SZ), which can do >20 dB gain with a P1dB point of 16 dBm or so.  Perfect.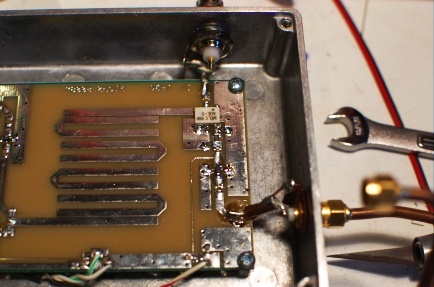 Unfortunately, with an 144-MHz IF drive of about 2 dBm, the 1296-MHz output was totally trashed with various mixing products.  I spent about 20 minutes searching frantically for the 3-dB SMA attenuator I'd purchased at Dayton.  But, I never found it—a sign that my organizational scheme has lost control or that I never actually bought the attenuator.  Either are possible.  So, I did the next logical thing—I added a Pi-network attenuator between the SGA-4586 "LO boost" MMIC and the ADE-5 mixer.  If the Dremel tool didn't make it's inventor independently wealthy, it should have.  The only SMD resistors that I had on-hand that were realistically appropriate (39.6 and 130 ohms) yielded about 6-7 dB of attenuation, so the effective gain of the SGA-4586/attenuator cascade was probably around 13-15 dB, yielding somewhere around 2-3 dBm of LO.  Blech.  That's essentially the same as the MAR-3.  The 1296-MHz output with 2 dBm of drive at 144 Mhz was about 2.5 dBm.
The data sheet for the ADE-5 suggests that the conversion loss increases as the LO drive level falls bellow 7 dBm (shocking!), but there are not enough data to show how precipitously it deteriorates.  However, essentially 0.5 dB of overall power gain does not jibe with the amount of gain in the system, which should be closer to 20 dB.  From this standpoint, perhaps the mixing products were due to IF overdrive instead of LO overdrive.  In any event, about 3 dB (instead of 6 or 7 dB) of attenuation in the LO would be a good thing.
902/903 MHz
Fresh off my mixed success with the W1GHZ 1296RSU (which are neatly packaged in Hammond 1590BB-sized cast aluminum boxes), I wanted to give the 902/903 version (which is still loose boards) a try with the spectrum analyzer.  So, I hooked up the 756LO board first.  It made -5 dBm at 756 MHz.  These numbers are more like what W1GHZ was promising.  So, I put the MAR-3 mentioned above onto the 902/903 transverter board.  With 2 dBm of 147-MHz drive, the output was a very clean 16 dBm on 903.  Score!  Must be livin' right at least half the time.  My last DigiKey order included a 1590BB for that transverter, but the 756LO board is a bit longer and I haven't yet found a suitable case for it.
3456 MHz
Thought I was done?  Me too.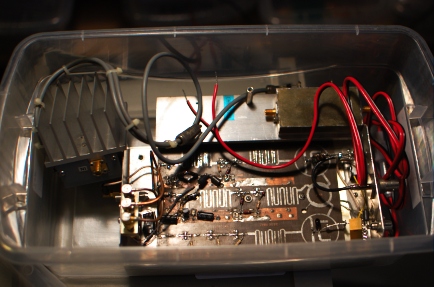 I admit it.  I'm a sucker for this sort of thing.  Fred, N1DPM, recently posted to VHFcontesting and the "Stanford" VHF lists that he was selling a bunch of spare microwave gear, including a first-generation DEMI 3456 transverter/LO and some amplifiers to get the output up to 4 watts.  Cheap.  He had some 2304 stuff, but ye old project fund is pretty much depleted since Dayton and I always try to keep a little bit in reserve for just this sort of opportunity.  Anyhow, the transverter is set up for 10 watts of drive on 144 MHz.  I gave it 250 mW (24 dBm) from my modified IC-290A (post to follow on this—not rocket science, just bypassed the PA) and the output came up at -9 dBm on 3456 MHz.  Once I remove the attenuator from the input, I should be able to get it up to about 13 dBm.  At least it seems to work on TX.  Need an antenna to try RX because the K3UO beacons are not as close as W3APL.
Ethan Miller, K8GU, is a regular contributor to AmateurRadio.com and writes from Maryland, USA. Contact him at

[email protected]

.
2 Responses to "Microwave updates"