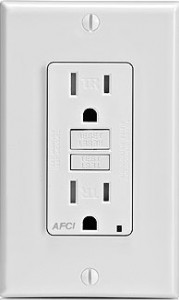 You are probably familiar with the Ground Fault Circuit Interrupter (GFCI), also called Ground Fault Interrupter (GFI), Residual-Current Device (RCD) and a few other names. While doing some electrical work for a family member, I discovered Arc Fault Circuit Interrupters (AFCIs) in the breaker box. Having a genuine Electrical Engineering degree (two, actually), I'd like to believe that I am reasonably up to date on basic house wiring. But somehow AFCIs had escaped my attention, even though they started appearing in the National Electric Code over 10 years ago.
A bit of searching on the internet revealed that these newfangled devices are intended to detect arc faults are below the trip level of a normal circuit breaker. Think in terms of a frayed extension cord that arcs over, creating a fire hazard, but not exceeding the 15 ampere rating of a typical house circuit. As usual, the Wikipedia entry is a good place to start. AFCIs detect arcs by monitoring the current behavior throughout the 60 Hz cycle. There are characteristics in the waveform that indicate an arc condition exists, causing the AFCI to disconnect the circuit. This article goes into more technical detail if you are interested:
New Technology for Preventing Residential Electrical Fires: Arc-Fault Circuit Interrupters (AFCIs)
Just like GFIs, AFCIs are available for installation in the main breaker panel and for installation at the electrical outlet. The diagram below shows the block diagram of a typical single-phase AFCI. This is not your old school circuit breaker but a complex system that performs both arc and ground fault detection. As already mentioned, the arc detection is performed by sensing the current behavior. The ground fault detection senses the difference between the current leaving and returning to the device. If there is a significant mismatch between the two currents, a ground fault has occurred.
This post is just a quick introduction to AFCIs, with a USA perspective. Your local building codes are now or will soon be requiring AFCIs on new construction, so you'll probably encounter them sooner or later. The National Electrical Manufacturers Association has a website with additional information: www.afcisafety.org.
73, Bob K0NR
The post Meet the Arc Fault Circuit Interrupter appeared first on The KØNR Radio Site.
Bob Witte, KØNR, is a regular contributor to AmateurRadio.com and writes from Colorado, USA. Contact him at

[email protected]

.
5 Responses to "Meet the Arc Fault Circuit Interrupter"