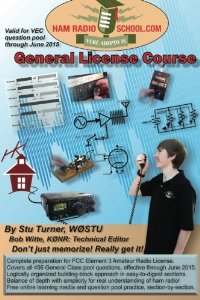 HamRadioSchool.com is off to a great start with a learning system that includes a web site, iPhone app and a great Technician License Course book. The Technician book, written by my fellow instructor Stu Turner W0STU, has turned out to be very popular. Stu did a great job of balancing "teaching the right material" with "focusing on the exam questions." We've used the book in our two-day Tech license class with great success.
Many people have been asking Stu when he's going to write a book for the FCC General Class License. So, by popular demand, here it is: HamRadioSchool.com General License Course. Using the same creative style that worked well with the Technician book, Stu has delivered an easy-t0-grok book for getting your General Class License.
I was happy to provide technical assistance to Stu for this book and earned the esteemed title of Technical Editor.  It even says so on the front cover! (It says Technical Editor because I can't be held responsible for proper grammar or spelling.)
Just like the Tech book, the General book has a companion iPhone app available on iTunes.
73, Bob K0NR
Bob Witte, KØNR, is a regular contributor to AmateurRadio.com and writes from Colorado, USA. Contact him at

[email protected]

.