AmateurLogic.TV Episode 145 is now available for download.
We've got Summertime outdoor Ham Radio fun. Emile and friends at the W5SLA club do Field Day from a new location. Tommy's unconventional Field Day. Join George, Tommy, and Ray for Saturday in the park with a great group of new portable antennas. Mike introduces the Grove Beginner Kit for Arduino. At this low price, even Emile is impressed.
1:14:58
Join us each Tuesday night at 8:00 CDT, 0100 UTC for the weekly AmateurLogic 'Sound Check' Net.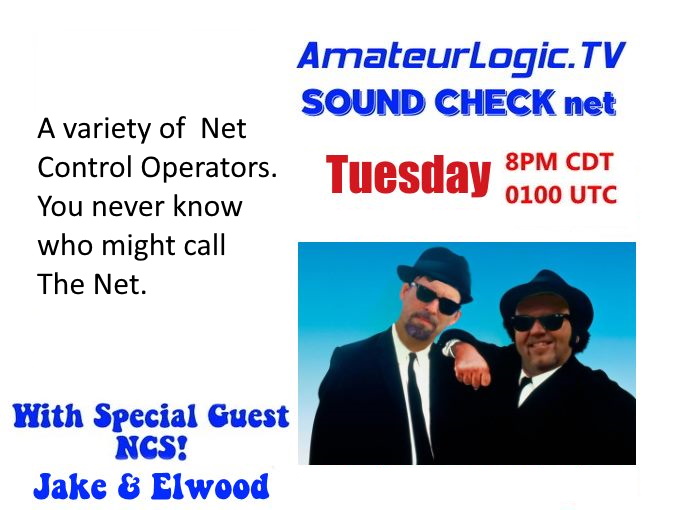 That one is unlike your usual nets. It's a fun and very well connected net. Just pick a mode…
RF
W5PPB Repeaters
145.45 – 77 Hz tone – Sharon, MS
145.39 – 77 Hz tone – Pelahatchie, MS
Echolink
W5PPB-R – Node 39154
K8JTK-R – Node 233196
N8PC-R – Node 275408
D-Star
DCS 983A
DMR Brandmeister
TG 31983
TG 314651
YSF
K8JTK 17374
Wires-X
Room 40680
Allstar
45743
50394
NXDN
TG 31983
P25
TG 31983
Hamshack Hotline
94026 *99=PTT #=Receive
Listen at www.live.amateurlogic.tv
Or try more than one mode. Some participants check in using several modes. The current record is 5 modes.
Join in the fun this week!
Note: some modes subject to change.
Ham College episode 65 is now available for download.
Extra Class Exam Questions – Part 3
Rules pertaining to automatic and remote control; band-specific regulations; operating in, and communicating with foreign countries; spurious emission standards; HF modulation index limit; bandwidth definition.
1:02:29

AmateurLogic.TV Episode 143 is now available for download.
Ray Novak, N9JA joins us for the latest information on the Icom IC-705. Tommy demonstrates his favorite new hotspot, the N5BOC Duplex Multiple Mode Digital Voice Modem. George shows how to 'Tap That Squelch'. Get a Squelch Open signal from a rig to interface with a computer rather than relying on Vox. Great for Echolink, digital mode software and more. Mike explores the Huskylens AI Machine Vision Sensor.
1:30:24