AmateurLogic.TV Episode 136 is now available for download.
It's just about Thanksgiving time here in the US and we'll soon be suffering from Turkey Fever.
Tommy's shows how to make an Arduino Frequency Counter. Mike, VE3MIC joins us with a look at the York Region ARC Hamfest. Emile discusses GPS Ham Radio Applications. And as a sheer coincidence, George reviews GPS History and advancements in accuracy, plus decoding US Coast Guard DGPS.
We also announce the lucky winner of our MFJ-1234 RigPi Station Server contest.
1:30 of fun designed for your cold weather viewing pleasure.

AmateurLogic.TV Episode 135 is now available for download.
October marks the 14th Anniversary of AmateurLogic.TV. We celebrate the event by awarding one lucky viewer an Icom IC-7300 transceiver with all the accessories you need for a complete HF station.
Peter's back for the party with an update on what he's been up to and details of his Friedrichshofen Germany Hamfest visit.
Tommy has tips for easily configuring the MFJ-1234 RigPi Stations Server.
Why fatigue your ears unnecessarily? Get the noise out with Emile's guide to proper RF Gain adjustment.
Enjoy quick and friendly HF operation. George has the details on how to combine a HF Transceiver with a SDR Play and MFJ SDR T/R Switch for complementary interaction.
1:49:44

AmateurLogic.TV Episode 134 is now available for download.
In this episode, George found some neat items at the Huntsville Hamfest. Emile builds the COMM Pi CD Archiver with remote control. Tommy creates an IP address Emailer to keep track of your IP address when you are away. Plus we announce the details of the AmateurLogic.TV 14th Anniversary Contest.
1:58:22
It's just about time to celebrate another birthday at ALTV. We've teamed up with Icom, MFJ and Heil Sound for another great giveaway.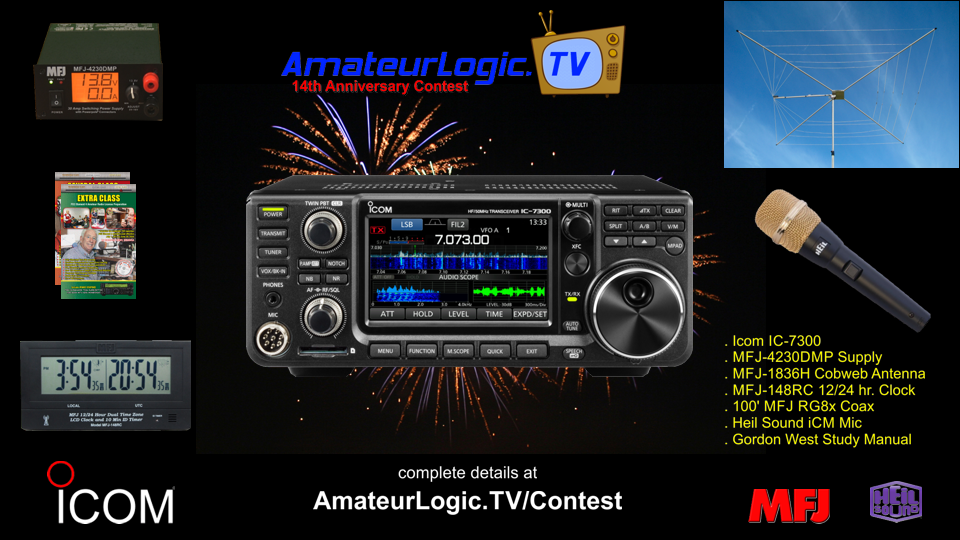 Get the complete details at: