I was reading
NY4G's blog
a week or two ago and came across a great post that I wanted to share with my readers. I emailed him about reposted it but never heard back so here goes.......It is full of great DXing tips!
DXing Tips For Little Pistols Like Me
OK I admit it I am more often than not a little pistol.  More than likely, I am trying to make a contact at 5W.
  Keep in mind two things - the heavy lifting is done not by you but by the DX who is trying to dig you out
of the mud.  Some are more willing than others.  Of course, the second thing is your persistence.  If you
 don't go away after he has worked stronger stations - chances are he will try to work you.
Mike Weir, VE3WDM, is a regular contributor to AmateurRadio.com and writes from Ontario, Canada. Contact him at

[email protected]

.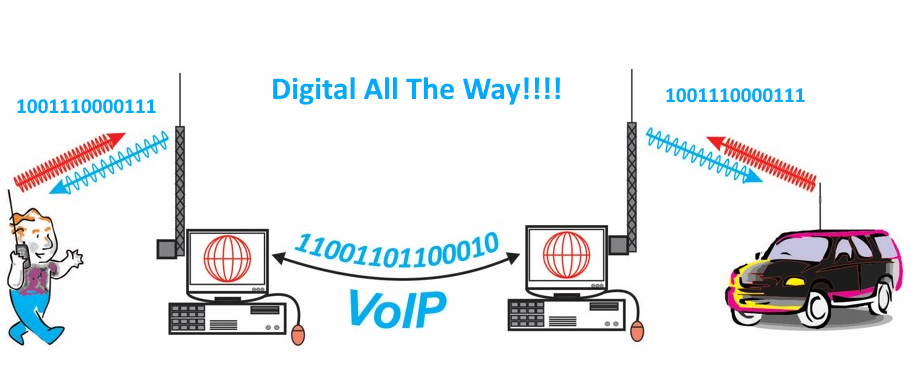 It wasn't that long ago that I commented on the state of digital voice on the VHF/UHF ham bands: Digital Voice Balkanization. We have three main competing (incompatible) standards in the running: D-STAR, DMR and Yaesu System Fusion (YSF). At a high level, these three formats all do the same thing but there are significant differences in implementation (See Comparison of Amateur Radio DV by Roland Kraatz W9HPX.) All three of these are (arguably) open standards, allowing anyone to implement equipment that supports the standard. However, the reality is that D-STAR is still largely an ICOM system (with Kenwood joining the party), YSF is mostly a Yaesu system and DMR is…well, DMR is not deeply embraced by any large amateur radio equipment supplier. Instead, DMR is promoted heavily by Motorola for the commercial market via their MOTOTRBO product line. Another big factor is the availability of DMR radios from some of the low cost providers in the ham market: Connect Systems, Tytera MD-380. Baofeng has also announced a DMR radio but it has some potential shortcomings.
D-STAR has a clear head start versus the other DV standards and is well-entrenched across the US and around the world. DMR and YSF are the late comers that are quickly catching up. To put some numbers on the adoption of DV technology, I took at the digital repeater listings in the August issue of the SERA Repeater Journal. SERA is the coordinating body for Georgia, Kentucky, Mississippi, North Carolina, South Carolina, Tennessee, Virginia and West Virginia. This is a large region that includes rural and large urban areas, so perhaps it is a good proxy for the rest of the country. I just considered the listings for D-STAR, DMR and YSF repeaters, some of which are set up as mixed-mode analog and digital repeaters.
D-STAR   161    39%
DMR      136    33%
YSF      121    29%
Total:   418   100%
SERA Repeater Journal - August 2016
I was definitely surprised at how the DMR and YSF numbers are in the ballpark with D-STAR. Of course, we don't know for sure how many of these repeaters are actually on the air or how many users are active on each one. Still, pretty impressive numbers. (And I did not bother to count the analog FM repeaters but those numbers are way higher, of course.)
It is the repeater clubs and repeater owners that drive the deployment of infrastructure for new technology. To some extent, they are driven by what their users want but also by their own technical interests and biases. One of the positive factors for DMR is that most of these systems are Motorola MOTOTRBO. Hams involved in commercial land mobile radio are exposed to that technology and naturally port it into the amateur radio world. MOTOTRBO is actually not that expensive and it's built for commercial use. YSF received a big boost when Yaesu offered their repeater for $500 to clubs and owners that would put them on the air. By using Yaesu's mixed analog/digital mode, it was an easy and attractive upgrade for aging repeater equipment.
Disruption From New Players
Early on in the world of D-STAR, the DV Dongle and DV Access Point by Robin AA4RC allowed hams to access the D-STAR network without needing a local repeater. This basic idea has continued and evolved in several different directions. For example, the DV4Mini is a cute little USB stick that implements a hot spot for…wait for it…D-STAR, DMR and YSF. This is very affordable technology (darnright cheap) that lets any ham develop his or her own local infrastructure. We don't need no stinkin' repeater. DV MEGA is another hot spot, supporting D-STAR, DMR and YSF. I guess somebody forgot to tell these guys they have to choose one format and religiously support only that one.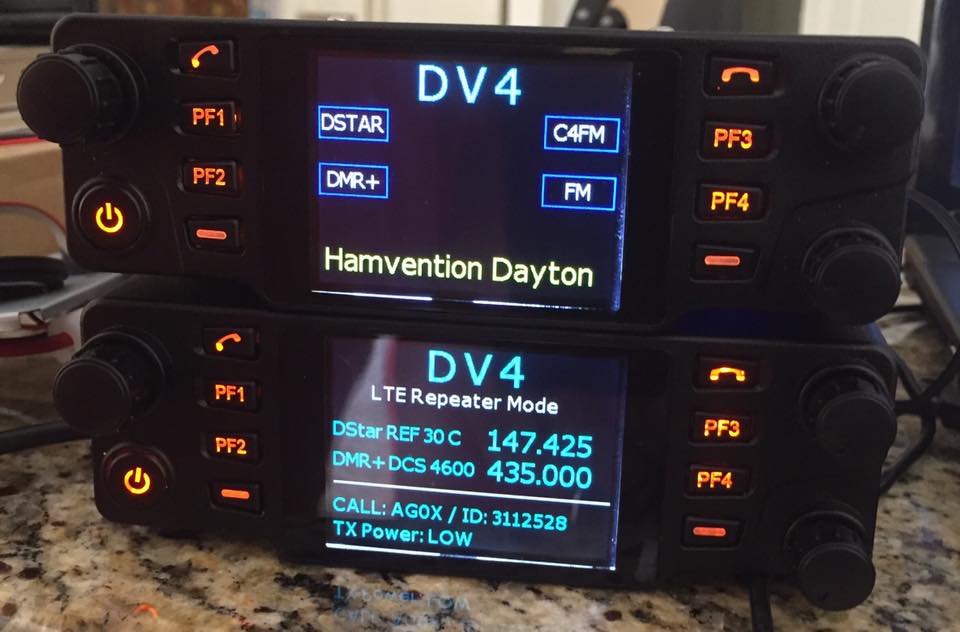 OK, so that's one way to solve the babel fish problem…support all three formats in one device. And that's what the DV4 mobile radio promises to do as well: "This DV4mobile is a tri-band VHF/UHF transceiver (2m, 1.25m and 70cm) that supports DMR, D-STAR and C4FM ( or "fusion") all in one box." Heck, let's throw in LTE while we are at it, it's only software. This site says the radio will be available Q4 2016. Well, it's Q4, so maybe it will be here soon.
Conclusions
So let's wrap up Part 1 of this story. What can we conclude?
For the foreseeable future, we will have D-STAR, DMR and YSF technologies being used in amateur radio. I don't see one of them dominating or any of them disappearing any time soon.
Equipment that handles all three of those DV modes will be highly desirable. It is the most obvious way to deal with the multiple formats. Software-defined radios will play a key role here.
A wild card here is DMR. It benefits from being a commercial land mobile standard, so high quality infrastructure equipment is available (both new and used gear). And DMR is being embraced by suppliers of low cost radios as well. This combination may prove to be very powerful.
The post The Cacophony of Digital Voice Continues (Part 1) appeared first on The KØNR Radio Site.
Bob Witte, KØNR, is a regular contributor to AmateurRadio.com and writes from Colorado, USA. Contact him at

[email protected]

.
This small VHF APRS tracker can easily be improved with some simple measures:
The 1 Watt of output power is often too little to reach the desired APRS digipeater reliably enough. It is much simpler to improve the antenna than to add an amplifier and it can be done as follows:
Use a longer telescopic antenna. In the picture I have used an antenna that can be extended from 16.5 cm to 45.2 cm. Depending on how you use the tracker, always extend the antenna as much as practically possible.
Add an external counterpoise or "tiger tail" of length a quarter of a wavelength. That's about half a meter. In the picture it is fastened on the antenna's BNC connector by means of an 8 mm ring terminal.
Update the firmware, if you haven't done so already, to the version from 3 Nov 2015. I have written before about my experience with that firmware.
Get rid of the pirated USB chip in the interface cable. I did that last year and now interfacing it to the PC and updating it is so much simpler.
These simple steps have made my AP510 tracker much more useful.
The post "
What it takes to make the AP510 APRS tracker useful
" first appeared on the
LA3ZA Radio & Electronics Blog.
Sverre Holm, LA3ZA, is a regular contributor to AmateurRadio.com and writes from Norway. Contact him at

[email protected]

.
Research indicates that new brain cells are grown whenever you learn a new process or study new material. If that's the case, I've a head-full of new cells this week after deciding to set-up a Twitter account for the first time.
Setting up the account and trying to learn the ins and outs of tweets, hash tags, re-tweets, who sees what and who doesn't ... all without trying to mess things up too badly, has been fun. Although I haven't figured everything out with confidence, I'm far enough along to get going ... I think!
The
link to my Twitter account is here
and I will add a specific link on my blog page, at the top of the right hand sidebar.
Although I try to keep my blog's subject material related to my amateur radio interests and activities, I envision a broader range of subject commentary for Twitter ... not limited to just 'radio' but also some of my other interests and daily observations. As well, I can use it to announce my beaconing schedule and to report any interesting contacts or propagation conditions of note. Although I live on a small island, there is a lot to do here that keeps me busy ... I have many interests and activities, way too many for the number of hours in the day it seems, and some of these will be 'tweet' topic material.
In the meantime, I will begin the hunt for other Twitter users with similar interests who I would like to add to my 'follow' list and hopefully begin to build my own list of 'followers' over the months ahead. Although I can make no guarantees, I'll be trying not to end up in the naughty-corner by doing something dumb ...
any and all input / advice gladly accepted!
Steve McDonald, VE7SL, is a regular contributor to AmateurRadio.com and writes from British Columbia, Canada. Contact him at

[email protected]

.

A geosynchronous Ham Radio satellite
The satellite's potential footprint could extend over the US from the Mid-Pacific to Africa.
AMSAT-UK
Is wind energy a good fit for you?
For the off grid Ham who wants to expand beyond solar, is wind energy the next likely step?
Off Grid Ham
Calling CQ: An email letter for amateur radio enthusiasts
The best editorial content promoting the hobby.
KE9V
Terminated inverted U antenna
I built the antenna using two 10m fishing poles spaced 5m apart.
Cross Country Wireless
Polite society on DMR
The wide area TG is kind of like meeting someone in the hallway or a noisy lobby. The "on-demand" TG's are out the way places to go have a discussion without upsetting the hall monitors.
Digital Mobile Radio for Hams
ISS Columbus Ham Radio inoperative
The Ericsson VHF handheld transceiver in the ISS Columbus module which is used for amateur radio voice contacts on 144.800 MHz and the packet radio digipeater on 145.825 MHz is unusable.
AMSAT-UK
CW Decoder Logic
CW decoder app for Windows.
LY3H
/P fun in the sun
In total, I made 8 QSOs (all CW, at 10-watts) 6 on 40m and 2 on 20m in what were reasonable conditions.
M0PZT
A simple approach to VHF contesting
The tow bar mount is made from a few off cuts of 47mm x 100mm (or 2″ by 4″ if you prefer) and a piece of rough sawn timber.
G7KSE
Hams in India monitoring "Highly Suspicious" VHF communications
The signals were being heard in the dead of night, with participants reported to be in motion and speaking in some sort of code.
ARRL
Video
1 foot mini magnetic loop transmitting antenna
I decided to make a mini magnetic loop and see if I could be heard down on HF with a tiny antenna.
YouTube
SOTA Signals from Signal Butte
Steve/K7PX and Steve/wGOAT activate Signal Butte for Summits on the Air.
WG0AT
Amateur Radio Weekly is curated by Cale Mooth K4HCK. Sign up free to receive ham radio's most relevant news, projects, technology and events by e-mail each week at http://www.hamweekly.com.
My love for radio began at an early age when I first started to tune the shortwave bands at age eleven. Little did I know then, that I was listening near the peak of the strongest solar cycle in recorded history, monster Cycle 19.
I thought that what I was hearing was normal for shortwave and that it would always be this way ... and it was, for a number of years.
As the solar cycle slowly declined, I began to take a deeper interest in propagation and its relationship with the Sun. After obtaining my licence and getting on the air, the reality set in with the arrival of a rather dismal Cycle 20. Following the vagaries of propagation became almost a hobby in itself, trying to correlate what I was observing with what the Sun was doing and even getting comfortable with predicting what might happen next.
It was particularly exciting during the stronger Cycles (21-23), to watch the dramatic effect of solar radiation on the F layer during the peak winter years of these cycles. With a major interest in 50MHz, watching the solar flux became a daily ritual, along with the fascinating daily rise of the F2
MUF
as the Sun peaked over the horizon.
On normal mornings, around sunrise, the MUF would typically start close to 28MHz and slowly begin to rise over the next few hours. Often it would slow and settle-in between 38 and 42MHz, stay there for most of the day and then slowly recede as darkness approached.
I found myself looking forward to and
wishing for more solar flares
, along with the solar flux boost that inevitably followed.
On these mornings, the MUF would often be at 35MHz or higher, right at sunrise ... and begin climbing. Some days it would shoot-up like a rocket and in a matter of minutes would be at 50MHz or above, bringing thundering signals from the east coast not long after dawn. On other mornings it would climb much more slowly, receding and then advancing again, surging higher and then lower, as it teased its way towards the magicband. It was as if the ionosphere was a living breathing entity, as the solar radiation danced a slow tango with the critical frequency of the moment. Often it would stop at around 48 or 49MHz, stay there for several hours and then collapse ... no 6m excitement that day.
A nice bonus of watching this live interaction between the Sun and our ionosphere, was listening to the communications in the range between 28MHz and 50MHz as I followed the rising MUF. This was, and still is to a lesser extent, utilized on FM by paramedics, fire and police services throughout the U.S. It was not uncommon to hear mobile units enroute to an emergency, with sirens blazing in the background. Southern drawls usually meant that any 6m openings would begin in the southern states or the Caribbean, while Boston or New York accents, would herald an opening to New England or the possibility of trans-Atlantic openings to Africa or Europe. I became even more familiar with the daily interaction of the solar wind and how it affected radio ... and found it fascinating.
But just as the Sun affects propagation so positively, I was recently soberly reminded of how 'unfriendly' it can be ... as it has been in the past and will be again in the future. An article in this month's '
Astronomy
', by Bob Berman, discussed threats to global welfare and in particular, a modern day repeat of the
Carrington Event of 1859.
This was a double mega-flare and
CME
, taking only 19 hours to reach earth, compared to the normal 3-day trip. It was the strongest impact on earth ever recorded and one that will be repeated ... and is almost, statistically 'overdue', unless we dodged it in 2012 when a storm of similar magnitude missed the earth.
In Berman's words:
"What would a Carrington-level event do today, with our ubiquitous power lines, transformers, and more than a thousand operational satellites? In 2008, the U.S. government convened a panel of experts, who concluded that such a storm would completely destroy our electric grid. It would require two to 10 years to repair and cost about $2 trillion. We'd be knocked back to the stone age.
That panel panel called Carrington a "low frequency/high consequence" event - the kind humans typically ignore until it happens."
We quickly release how dependent on the hydro system we have become, when our power goes out for a few hours or even a day or two, following a severe weather event. Such an event is certainly 'inconvenient' but soon forgotten when the power returns. Going without power, and its trickle-down effects on our depended-upon infrastructures for several months or longer, would not be just 'inconvenient'. It would be a life-altering.
The Carrington event happened during Cycle 10, on the upward climb to the peak of an average-sized cycle. Solar scientists, for the most part, now predict a general decrease in solar activity over the next few cycles ... a spotless sun may become more the norm. Perhaps it is a good thing that the likelihood of a mega-flare event will be reduced but it seems that a repeat, at some point, is inevitable.
Maybe I'd better stop wishing for flares.
Steve McDonald, VE7SL, is a regular contributor to AmateurRadio.com and writes from British Columbia, Canada. Contact him at

[email protected]

.
A Maker Faire is a gathering of makers, essentially anyone who builds stuff such robots, electronics, clothes, tools, and equipment.  It's a very heterogeneous culture of people young and old, and includes do-it-youselfers (DIYs), teachers, engineers, scientists, hackers, and geeks.  Think of Maker Faires as hamfests for makers.  I attended Maker Faire New York City this year, my first Maker Faire.  Think of Maker Faire NYC as the Dayton Hamvention of hamfests.
Any drive into The City, as we call it around here, is adventurous.  This Faire was located at the New York Hall of Science (NYSCI) in Queens.  You couldn't park anywhere near the event, but there were numerous public mass transit options and two offsite parking areas with shuttle buses.  We chose to park at Queens College and take the shuttle in.
The Faire consisted of mostly outdoor and some indoor exhibits, including ones that are part of NYSCI.  I can't do this event justice with the pictures I took, but there's a pretty good slideshow on the Maker Faire site.
The most popular area, at least judging by the line of people awaiting to enter, was the Radio Shack booth, believe it or not.  They had a build your own drone activity that people seemed to be falling all over themselves to get in.  If only Radio Shack could get lines like this in their stores.
The coolest contraption in my humble opinion was a toasted cheese sandwich machine.
On the Faire map I was pleased to see an area labeled Amateur Radio.  I donned my baseball cap embroidered with my callsign, normally reserved for the annual Dayton pilgrimage.  The way the map was labeled, I expected to find a whole row of amateur radio stuff.  There was one booth with two pop up canopies, manned by perhaps four hams.  One side of the booth had a portable rig mounted in a plywood enclosure with some accessory boxes, perhaps a digital station.  The other side of the booth had two tables with components and some kids soldering.
I want to be careful not to diminish or criticize the efforts of these amateurs and the organization they represented.  After all, these guys made the effort and had an amateur radio booth (which is more than I can say for other organizations).  But admittedly I was disappointed.  I was really dismayed there weren't more booths, especially considering the number of amateur radio operators there are in NYC, probably more in a five mile radius than I have in my entire rural county in PA.  This is undoubtedly the largest gathering of people on the east coast who are interested in how things work, how to build things, and they're smart people.  Wireless for many makers is just a shield that you buy and plop on an Arduino or a USB dongle you plug into a Raspberry Pi.  Amateur radio has so much to offer.
ARRL needs to have an exhibit at this event, in a big way, and not in the fashion they do at Dayton.  There needs to be interactive hands-on displays by enthusiastic high energy amateurs.  Not hardcore contesters or DXers, but amateurs who build stuff and can talk about practical applications that these makers can relate to and integrate into their existing projects and pursuits.  Even CW displays would be interesting for this audience, it just needs to not be presented as a code proficiency course or a rite of passage, but something that is fun.  Retro tech intrigues these people.  Vacuum tubes would be considered cool by many makers, especially if you had some homebrew rigs built on plywood with filaments lit up and some RF meters dancing around or big old speakers crackling with the sounds of code or sideband coming from a direct conversion receiver.  Fox hunts.  This crowd would eat that up.  Make a crystal radio with six components.  There are plenty of high power AM stations in NYC that you can receive on a simple crystal radio.  Kids holding Arrow antennas and listening to a satellite passing over.  There's just so much that could be done to showcase amateur radio at this and other Maker Faires, and draw people into the hobby.  We're missing a huge opportunity.  Huge.
This article was originally posted on Radio Artisan.
Anthony, K3NG, is a regular contributor to AmateurRadio.com.