This past weekend's
CLE event
was, as is so often the case, perfectly timed with the arrival of poor propagation in most parts of the world. This time around, it was particularly bad.
The '
Co-ordinated Listening Event
' might more aptly be called the '
Cursed Listening Event
' as once again the same large coronal hole (shown above) that has been present for several solar rotations seems to be more disruptive than ever. The subsequent higher than normal solar wind speeds causing widespread auroral conditions and elevated K indices have pretty much made a mess of MF and HF radio for the past several days.
NDB-band recordings made with the Perseus SDR for the three-night event turned up very little activity other than a few strange hot-spots. Both
'OIN'
in Kansas and
'CC'
in California were strong on all three nights! Nothing from eastern Canada was heard and one of Alaska's strongest signals,
'ELF'
, was barely detected. Only the following few stations were logged:
23 08:00 341.0 ELF Cold Bay, ALS
22 06:00 338.0 ZU Whitecourt, AB, CAN
22 06:00 343.0 YZH Slave Lake, AB, CAN
22 04:00 344.0 YC Calgary, AB, CAN
22 12:00 338.0 RYN Tucson, AZ, USA
22 04:00 344.0 XX Abbotsford, BC, CAN
22 12:00 335.0 CC Concord, CA, USA
22 10:00 344.0 FCH Fresno, CA, USA
22 08:00 341.0 OIN Oberlin, KS, USA
22 04:00 344.0 BKU Baker, MT, USA
24 08:00 335.0 BK Brookings, SD, USA
22 04:00 347.0 PA Prince Albert, SK, CAN
22 08:00 338.0 K Port Angeles, WA, USA
22 04:00 348.0 MNC Shelton, WA, USA
22 05:00 341.0 DB Burwash, YT, CAN
I suspect the this same coronal hole will be with us for several more rotations ... perhaps it's time fool Ol' Sol and stagger our CLE's 28-day cycle so it doesn't continue go sync-up with poor band conditions but somehow I think that Murphy might not be so easily duped!
Steve McDonald, VE7SL, is a regular contributor to AmateurRadio.com and writes from British Columbia, Canada. Contact him at

[email protected]

.
Starting out on my cool walk
CHA P-Loop antenna
I had the day off work today and it looked very nice outside, the sky was clear and the sun was out. I wanted to take this opportunity to test out my new portable antenna. I packed up my Elecraft KX3, batteries, key and my new
Chameleon CHA P-Loop
antenna. This post is not a review of the new antenna before I do that I want to try out the antenna several times. Before heading out I did not check the propagation reports, I find if I do this and they are poor it casts a shadow over the outing.As I was saying the day from inside the house looked nice but once out there was a cold wind off the lake, it felt like a cool fall day and not spring. Anyway.....because of the poor weather, my lack of warm clothing I quickly setup the antenna, checked out how it tuned on 10, 15, 20 and 30m and gave a few CW CQ's. With no answers and the wind picking up I was satisfied the antenna at least worked.
My setup
Mike Weir, VE3WDM, is a regular contributor to AmateurRadio.com and writes from Ontario, Canada. Contact him at

[email protected]

.
We ventured out to the Lincolnshire Wolds again on Saturday and spent most of the morning taking in a fabulous little 5 mile circular walk from the village of
Wold Newton
with the wife finding over twenty
geocaches
along the way.
After
last weekends
disappointment I had purchased a new Baofeng UV-82L dual band for the princely sum of £27 from
eBay
to replace the suspect UV-5R. It certainly seems more sensitive when receiving and the transmit audio is loud and clear.
With the '
flower-pot
' antenna in the rucksack I spent the walk monitoring the local repeaters (and could hear the regular idents) as well as the calling channels. I was putting out the odd call (with little success) when we stopped to allow the wife to search for the geocaches.
One man and his dogs
However I wasn't disheartened as the plan was to spend the afternoon on
Normanby Top
, the highest point on the Lincolnshire Wolds trying to activate the summit for
SOTA
.
I had been spurned on to have a go at an activation after watching a video of Michael Sansom's (G0POT) presentation on the SOTA scheme for the Chertsey Radio Club. The video is available online
here
and Michael has written an excellent companion introduction to SOTA on his website
http://peanutpower.co.uk/sota
View across to radar station on Normanby Top
After finishing the walk we drove the short distance stopping to collect more geocaches along the way and as we neared Normanby Top we stumbled across Thoresway Motoparc where they were busy practising their motorbike scrambling skills and I spent a while taking some action photographs from the side of the road.
Saw some spectacular jumping skills
But I digress,
Normanby Top
, as I've said is the highest point on the Lincolnshire Wolds and the actual summit has an Ordnance Survey
triangulation pillar
as indicated on the map but it on private land. The SOTA rules allow someone to activate a summit by being within 25m vertically of the high point, this means the activation area for Normanby Top is potentially huge as it is more of a plateau than a steeply defined hill.
Section of the 1:25000 Ordnance Survey Map
To the South of the summit is a road with an air-traffic control radar station. We parked up near this impressive structure to have some very late lunch (time had flown by)
Radar Station on Normanby Top
I could have activated from this road as others have done but I decided to use the bridleway to the North which leads off the
Viking Way
long distance footpath. The wife dropped me off at Acre House Farm and she went off to hunt for yet more geocaches and I set off down the track to find a suitable place to set up. I was a little hampered by the proximity of a power line which followed the bridleway but as luck would have it just as I had finished setting up at my chosen spot the landowner came down the farm track in his Land Rover.
I had a friendly chat with him and he was fully aware of what I was doing and had no issues having met other activators in the past. He also gave me permission to walk across his land up to the trig-point if I wanted to. As I've mentioned it isn't on a public right of way but said he is more than happy for people to go to the trig-point providing they ask at the farm
before hand
and take home all their rubbish, unfortunately he has some recent problems with inconsiderate litterers.
I decided to decamped and following his instructions to a gap in the fence and set off to the trig-point which was a little bit further away and a little steeper than I thought, but it didn't help I was carrying a half made up antenna, poles and a bag full of kit and my not inconsiderate bulk! Anyway I got there but due to us running already behind schedule and my change of location it was getting late in the day and was nearly 5pm.
Trig-point and radar station behind
I had taken my Yaesu FT-857D, two 7Ahr SLA batteries, fibreglass pole, antennas for 20m/40m HF, 2m SSB and 2m/70cm FM. Yes I'd travelled light! Having some lovely clear views all around I decided to try some 2m 'line of sight' contacts.
I put up the Sandpiper Delta Beam for SSB (horizontal) and my 'flower-pot' dual band for FM (vertical) on a fishing pole. The wind had started to pick up and I'd not got any proper bungee cords (doh!) so I lashed it up using guy ropes around the pillar.
It was straighter than this before I went to take photo


The radio was perched on top of the pillar and I put some calls on 2m SSB with no luck and switched to FM with more success. I was using between 5-10W and got nothing exceptional distance wise but racked up 8 very nice clear QSOs to claim an activation. The wife texted me to say she had returned from her searching and was parked up patiently at the farm awaiting my return, not hurrying me by any means. It was now nearly 6pm and the wind was getting up and the temperature was starting to drop. It had been a long day for us and the dogs so I decided to packed up and went back down the hill to the bridleway admiring the view across to the Humber and the Humber crossing.
View North (Humber to the top left)
I really enjoyed myself but wished I'd allowed myself more time, this was in part because it was a late decision in the week to tack the 'summit' on the end of a day out walking and changing my mind to actually go to the summit given the chance but it was nice to do that for my first SOTA but I really need to get the hang of travelling light.
Back down and met by the wife who wanted her shopping bag back
After my last post (which is also syndicated to
AmateurRadio.com
) I had some questions about Geocaching - Dave, WD8CIV left this
useful comment
which I shall repeat as summed it succinctly - thanks Dave.
"Geocaching is like a high tech Easter egg hunt. People hide caches – waterproof containers containing a logbook and maybe some little trinkets – and then post the GPS coordinates to a Web site like
geocaching.com
. Others will search the site for caches in an area of interest, then use their own GPS (and intuition and woodcraft skills) to try to find them. Anyone who finds a cache signs the logbook, may take one of the trinkets and/or leave a new one, then goes back to the Web site and reports that they found that cache. There's quite a community of geocachers, and it's been going on for over a decade."
Andrew Garratt, MØNRD, is a regular contributor to AmateurRadio.com and writes from East Midlands, England. Contact him at

[email protected]

.
In a rare moment of rashness I decided to not do any building work today on the summer house. Partly because its nearly finished and partly because Mrs g7kse was sent to the builders yard for 5off sheets of 22m ply and came back with 10 bags of gravel. So as punishment she had to do something construction-like with it. I on the other hand spent a few hours /p in a new venture I'm calling 'summat on the air?' There are a few rules to follow.
You have to be /p – Its best if you walk up a nice hill that may or may not be a summit, hump, lump, fell or other such designation.
Take a radio and antenna. Set this up in the usual manner.
Tune about for around an hour, call CQ a few times but in general the idea is that you don't have a QSO. Or if you do it needs to be with a contest station who is rattling off CW as if it was some kind of percussive attack.
Enjoy the view, this is imperative.
Go home and question if you've broken something in your rig / antenna / key / brain etc
Here's a few photo's to remind me of today's events. I'm sure you'll agree that St Bees head is a nice place. There's an old wartime lookout post (which must have been miserable) and a nice view towards the Isle of Man to the wets and the Lakeland fells to the south and east.
A little postscript….
The Cumbrian dialect has many variations. To the outsider they all sound a bit similar so to help the Cumbrian Dictionary will help you understand. So I have taken this from the dictionary to help:
summat1.(noun. summert) something, e.g. There must be summat wrang, he can normally mek it ower yon yat easy = I think something is amiss as he is usually able to jump that gate with ease.
My favourite word is 'dookers' if you were interested….eh?
Alex Hill, G7KSE, is a regular contributor to AmateurRadio.com and writes from Cumbria, UK. Contact him at

[email protected]

.
New IC chip installed
I recently upgraded the IC chip in my K1ELWinkeyer USB to version 3, it was only a 10.00 upgrade that gave me some nice advantages over the old IC chip. It was a very straight forward change out as the IC chip was not soldered in place.

One of the main advantages is this IC chip has the ability (via supplied software) to be upgrade over the internet. As new functions become available in the future the upgrade is just a click away.

Some of the other new features are:
1.
With WK3tools downloadableprogram software you can store messages and retrieve messages. For example in contests you can store the contest exchanges, give the file the name of the contest. In the future when setting up for the contest just download the file to the keyer and your 4 push buttons (that can be preprogramed for 8 messages) can be used for that contest. When the contest is done simply reprogram the keyer with the file for calling CQ.
2.
You can custom configure the keyer for 2 separate users or like me if you're the only one using the keyer…..then have one configuration for contesting and one for QSO's.
3.
You can now adjust the side tone frequency which is not a big deal for me but for some it may be.
4.
You can put your rig into tune with just the pressing of 2 of the Winkeyers top buttons the command and PB4 buttons.
5.
During the transmission of a message a simple tap of the keyer will stop the message.
6.
When and if you operate the unit from an internal battery the battery life has been extended by less drain.
7.
Finally on the K1EL's website under the software tab you will find some great finds. WK3tools, Winkeyer3 test app, WKscan that finds out what comport your Winkeyer is using, WK remote app and a software tools that is in the development stage and according to the website soon to be released a Winkeyer

QSO simulator app,
With added volume and headphone jack
You may notice from the picture, if you are familiar with the insides of the Winkeyer USB that is I have done some upgrades to the unit of my own. I removed the internal speaker and added a headphone jack, I also added a volume control for the headphones.
Mike Weir, VE3WDM, is a regular contributor to AmateurRadio.com and writes from Ontario, Canada. Contact him at

[email protected]

.

Low-Cost 10 GHz SSB Receiver
This set-up should be capable of receiving the amateur radio transponder on the geostationary satellite Es'Hail 2 that is expected to be launched in early 2018.
AMSAT UK
FCC proposes huge fine on New York Police radio jammer
The FCC has proposed a fine of more than $400,000 on a Queens, New York, man who has admitted making unauthorized transmissions on New York City Police Department radio frequencies.
ARRL
A better way to put a PL-259 on RG-58 coax
A soldering technique that seems to simplify assembly of PL-259s with RG-58 cable.
KB6NU
Tracking North Korean Numbers
The announcements typically take between 5 to 10 minutes to read dependent on the number of digits passed.
K2DLS
How to survive the Total Solar Eclipse of 2017
We're just 18 weeks away from the "Great American Total Solar Eclipse" that will darken skies across the continental U.S. on Aug. 21. Are you ready for it?
space.com
Apollo 16, 45th Anniversary Special Event
Apollo 16 was the first mission to visit the lunar highlands. John Young and Charles Duke spent 71 hours on the surface
NN4SA
Mastr 3 UHF Low Pass Filter Testing
One piece I see myself being able to use elsewhere is the final low-pass filters from the power amplifiers.
The Life of Kenneth
Morsum Magnificat available for free download
The Morse Magazine, otherwise known as "MM", contained a vast amount of information and illustrations of interest to Morse operators.
Southgate
Packet Pad app
Packet Pad lets you view Packet Radio transmissions on your iOS device.
Packet Pad
Video
Locating HF Interference in the home
After walking around with a portable receiver and failing to find the source, all house power was turned off and the interference was gone. You won't believe the eventual culprit!
YouTube
Installing A Mag Mount On A Fiberglass RV Roof
The Motorhome Ham Station starts to come along.
K6UDA Radio
Amateur Radio Weekly is curated by Cale Mooth K4HCK. Sign up free to receive ham radio's most relevant news, projects, technology and events by e-mail each week at http://www.hamweekly.com.
Joyce (K0JJW) and I were driving back to Colorado from Texas on Highway 87 that goes right past Capulin Mountain in the Capulin Volcano National Monument.  Capulin is a dormant volcano with a large crater on top, a great place to visit if you ever in the area. Oh, and it's a Summits On The Air (SOTA) peak, too (W5N/SG-009). Obviously, I thought it was a great opportunity to activate it for SOTA. There's only one problem: this summit is out in the middle of nowhere so making some contacts on 2 meters was not going to be easy. (Yeah, I have been doing SOTA activations only on VHF.)  In many locations, I just put out a call (or many calls) on 146.52 MHz and I eventually get my 4 QSOs to qualify for SOTA activation points. This works near populated areas and places where there is significant tourist traffic.
Capulin Mountain is in NE New Mexico, about 150 miles from Colorado Springs, 200 miles from Denver and about 190 miles to Albuquerque. These distances are all workable with a decent weak-signal station on 2 meters. But I was going to be operating at QRP power levels and a small 3-element yagi antenna. I concluded that this activation was still possible but it depended on getting some of the weak-signal VHF guys on the air so I had someone to work.  So I put the word out to some of the VHF enthusiasts in the Rocky Mountain area asking for help. I received a good response which was encouraging so I published a schedule for Tuesday afternoon, starting at 19:30 UTC, 1:30 pm local.
The national monument is easy to access, just a few miles from the highway. I have an annual national parks pass, so we did not have to pay an entrance fee. This satellite photo of the monument, shows the crater and the access road that winds around it. The parking area is visible on the west side of the crater (zoom in).
The parking lot is not within the SOTA activation zone, but an easy hike up the ridge got us to the summit. For VHF, I wanted to be as high as possible anyway with a 360-degree view. There is a trail that goes completely around the crater rim, also crossing the summit. It is a short hike on a paved trail, a bit steep in spots but nothing difficult. We did encounter some extremely annoying gnats that swarmed around us the entire time.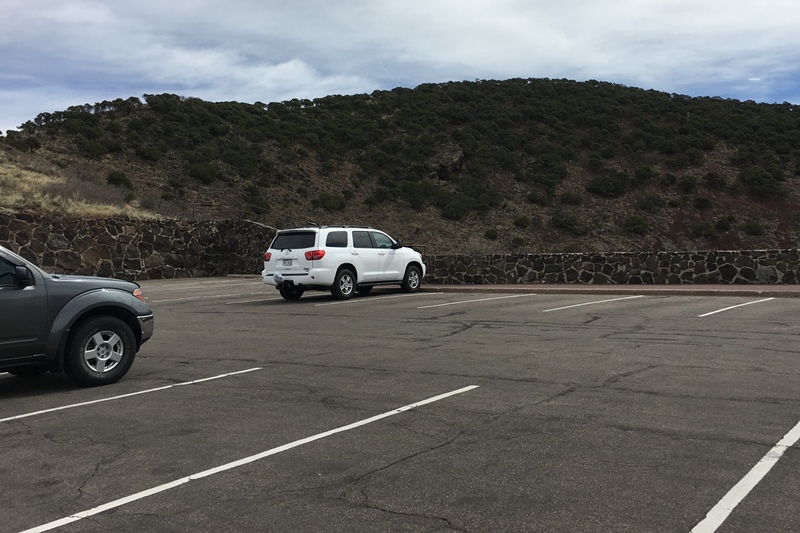 We got to the summit earlier than planned, around 17:30 UTC, started calling on 146.52 fm and 144.200 ssb without much luck. Finally, I caught WE7L in Elizabeth, CO (DM79) on 2m cw at 19:05 utc. He was weak but very readable. I think I was pointing the antenna a little too far east…later he came in stronger when I directed the antenna further west. After that I worked Arne N7KA (DM65) near Albuquerque and K9VSW (DM76) near Taos. Once I got my antenna zero'd in on K9VSW, I was able to work him on ssb. Some time later, I heard Lou K0RI calling from the Colorado Springs area. He was loud enough that I heard him off the side of the antenna, still pointed at Albuquerque. Lou was running 160w to a 17-element 2M5WL yagi at 75 feet.
| Time | Call | Band | Mode | Grid |
| --- | --- | --- | --- | --- |
| 19:05z | WE7L | 144MHz | CW | DM79 |
| 19:10z | N7KA | 144MHz | CW | DM65 |
| 19:12z | K9VSW | 144MHz | CW | DM76 |
| 19:15z | K9VSW | 144MHz | SSB | DM76 |
| 19:53z | K0RI | 144MHz | SSB | DM78 |
I heard some other stations but was not able to work them. The challenge was quite clear: most VHF enthusiasts are running 150W or more of RF power, while I had the FT-817 max'd out at 5W. This is quite an imbalance, easier for me to hear them than they could hear me. Clearly, cw saved the day, punching through with minimal signal levels.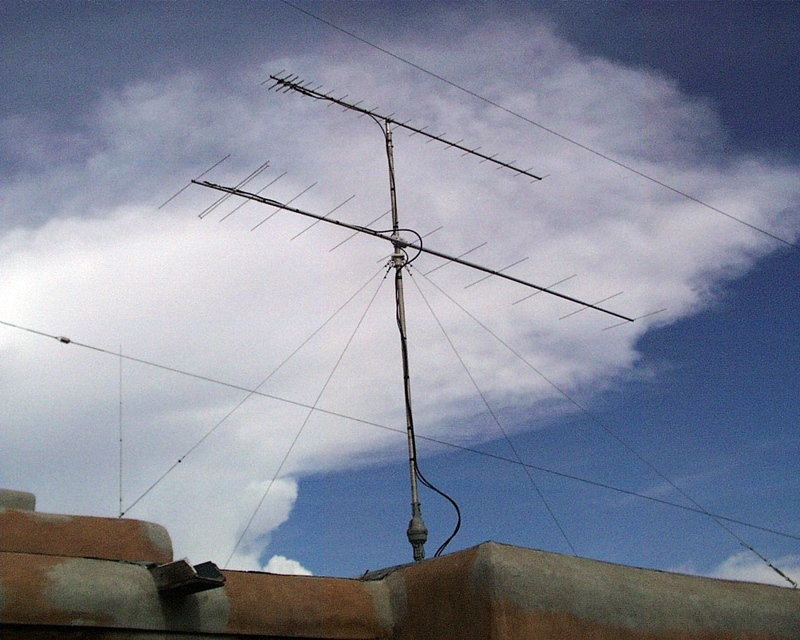 My best DX for the day was N7KA at 229 miles. Actually, this is an all time best distance for me on 2m while doing a SOTA activation. I recently worked W9RM from Mount Herman at 170 miles and was pretty happy with that. We had signal to spare that day, so I figured I could do better. Also, I had previously worked 160 miles using FM between two Colorado 14ers. See
Pikes Peak to Mt Sneffels – 160 Miles.
I really, really, really appreciate the hams that got on the air to try and work me on Capulin. I could not have activated the summit without those skilled radio operators and their capable VHF stations.
73, Bob K0NR
The post Capulin Mountain (W5N/SG-009) VHF SOTA appeared first on The KØNR Radio Site.
Bob Witte, KØNR, is a regular contributor to AmateurRadio.com and writes from Colorado, USA. Contact him at

[email protected]

.