One of the nice things of D-Star and DMR is the ability to talk all over the world without the need of an HF rig and a bunch of big antennas. While this largely reduces a radio to a simple Internet-driven communication tool – just like Skype or other VoIP apps – it's definitely nice to use.
There are a few problems surrounding DMR, one of which is the lack of more than two time slots. For example, if hams are using the Dutch Hytera network and occupying talk group 204 on slot 1, World Wide (which uses the same time slot) will be unavailable. Because 204-1 is a busy place, world wide QSOs are often impossible. It's one of the reasons I thought of dumping DMR all together — I can talk to the same Dutch guys on analog while enjoying a much better quality audio.
There are reasons to keep DMR too. DMR is maturing; there are more than enough possibilities to put less pressure on the nation-wide network by going local. Now if only hams would do that…. but most don't. Another reason to keep DMR for now is the gateway we recently added, which connects D-Star to our DMR network.
Not available on the Motorola network, sorry — some people responsible for that network appear to be so scared of such innovations that they will ban a repeater from the network if such a gateway is detected.
Talk group 'USA 1776′ could add to the appeal of DMR. It's unclear on which network this talk group will reside, but my best guess is that it will be the Motorola network.  MITCON writes:
The "USA 1776″ (English preferred) Talk Group will be distributed worldwide to DMR networks upon request.  The spirit of "1776" is to continue the Amateur Radio tradition of international friendship and to push the boundaries of technology in the new frontier of digital communications.
USA 1776 is intended to be a flexible, politically neutral, unrestricted Talk Group that can be used as Push-To-Talk (PTT) or Full-Time (FT) to meet the operating requirements of a DMR Network.  DMR subscribers are welcome to use 1776 as a universal meeting place to "Rag Chew" or as a jumping off point and QSY to an alternative Talk Group if desired.  To add USA 1776 to your DMR Network please contact us to schedule a time for configuration & testing.
Hans, PD0AC, is a regular contributor to AmateurRadio.com and writes from Almere, The Netherlands. Contact him at

[email protected]

.
My first rig the
Yaesu FT-857D
has proved a more than capable radio and as a shack in a box covering HF-VHF-UHF it is excellent and has allowed me to try my hand at most things since becoming licensed but I wanted a dedicated HF set up that was a bit less fiddly to use.
So last month I succumbed to temptation and ordered a
Yaesu FT-450D
. While it is still an entry level rig I had heard good things about it and liked the look and feel of it.
Martin Lynch & Sons
had them at a low price and combined with Yaesu's 'Late Winter Warmer 2015' cash-back
promotion
made it an opportunity I didn't want to miss.
It arrived last week but I only got to properly have a play this weekend even then not for as long as I really would have wanted. I know people might detest HF contests but I was quite glad of the
CQ WPX
to try out the radio with plenty of contacts on 10/15/20 and 40m while keeping the output below 50W.
I have still to work out all the settings and the DSP functions but first impressions are of an excellent receiver with good tone and clear audio from the internal speaker. Being a very popular contest the bands were crowded at the weekend but I had no trouble picking out weaker stations even with very strong adjacent stations. Using the supplied microphone and the default processing settings I had no issue getting out either, working nearly all of the stations I called.
I have previously used a manual ATU and found the internal ATU is a nice feature when switching bands and it did a excellent job of fine tuning the M0CVO OCFD. It couldn't tune it on 40m directly as the VSWR was greater than 3:1 so had to revert back to the external ATU.
Only very minor gripe I had was the CAT connection, In my research I noted it was a standard RS232C 9-pin connector and assumed I would just plug in a standard PC serial lead, but I hadn't spotted the radio had a male connector not female!
I wanted to try out the CAT but hadn't got a gender changer or connectors in the shack to make up a lead. I did have a number of commercial RS232 extension leads moulded male connector one end, female the other, so chopped up two and spliced the appropriate halves together. It works fine with a USB-Serial adapter in Ham Radio Deluxe but refused to work with the
Omnirig
control used by
PZTLog
until I disabled the hardware handshaking.
Still early days and I do need to read the manual but more than happy with it.
Andrew Garratt, MØNRD, is a regular contributor to AmateurRadio.com and writes from East Midlands, England. Contact him at

[email protected]

.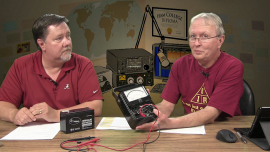 Ham College episode 3 is now available for download.
Ham College, the new show for those new to the hobby and those wishing to get into Amateur Radio.
In episode 3 we talk about voltage, demonstrate using voltmeters and cover 14 more questions and answers from the Technical class question pool.
59:07
George Thomas, W5JDX, is co-host of AmateurLogic.TV, an original amateur radio video program hosted by George Thomas (W5JDX), Tommy Martin (N5ZNO), Peter Berrett (VK3PB), and Emile Diodene (KE5QKR). Contact him at

[email protected]

.
The normal good old British early Spring wet weather, had stopped any Sunday outside activity, even the cat was having non of it, she was well tucked up after her lunch. Nothing interested me on the television, a boring afternoon ahead or maybe a sleep in the chair?
I remembered there were 2 years worth of Practical Wireless magazines and a few Sprats scattered over the house. 14 were together, 2 were stuck in a drawer by the bed, and the rest were eventually found mixed up with several other piles of junk, which had been dumped together when the XYL had been on one of her recent mad cleaning rounds.
Someone had got me the binders for a present last year, again they took a bit of searching for? But I eventually found them, and set to work. After an hour or so, all were now together sorted and bound, ready for the bookshelf a real professional job!
I like to keep my magazines bound together, making quick reference easy when I want to go back to an article. Todays effort will help with a bulk of projects on the list which you will hear about in the future .
Steve, G1KQH, is a regular contributor to AmateurRadio.com and writes from England. Contact him at

[email protected]

.
Special Notice: I was able to get one of the old tape based machines kind of working for the 661-296-2407 dial-in line. I have no idea as to how long it will be functional as its a "make-do" repair. But for now its there for those who need it and Ill keep it going as long as I can. However, the best way to get the audio version is to download the MP3 file from here our website -- de Bill P. / WA6ITF
Bill Pasternak, WA6ITF, is the co-founder and producer of Amateur Radio Newsline. Contact him at

[email protected]

.