The antenna on Rocky Top
The University of Tennessee Amateur Radio club has a set of antennas nestled between the lights at the top of Neyland Stadium in Knoxville. The tower is so high, most of the 102,000+ fans wouldn't ever notice it. With the lights on, it's impossible to catch a glimpse.
K4HCK
Portable AllStarLink node
Raspberry Pi 3 + Baofeng BF-888s connecting to a 4G LTE hotspot.
KP4IP
Ham Radio network keeps Capital commuters rolling along
The Capital District Commuter Assistance Network is a group of operators who provide information about travel hazards.
The Record
Thank you for my signal report
Maybe this is a radical idea but for my own operation I will strive to start sending more accurate reports and help the other station truly know how they are being copied.
AA4OO
Building a feedline HF choke
The choke has a resistance of over 1000 ohms on most of the Amateur HF bands, and up to 5000 ohms in the middle bands.
Daniel Estévez
Build an end fed match box
Connected to my end fed inverted L it shows decent SWR on 40 and 20m. My transceiver's built-in ATU easily matched on both those bands.
marxy's musing on technology
Video
NVIS event with a fence antenna
I connected to the fence using two alligator clips from the coax, one clipping to the fence and the other clipping to two 33ft radials which ran perpendicular to the fence.
VA3OSO
Antenna made from exterior Christmas lights
W6LG shows the dipole antenna and an instantaneous antenna tuner.
W6LG
USA-135M Cape San Blas lighthouse activation
The Panama City Amateur Radio Club activated USA-135M, the Cape San Blas Lighthouse.
W4RYZ
Rowboat mobile
While on vacation in Maine, I borrow a friends rowboat and go mobile maritime off the coast of Maine. I work a nice pile up and finish the day off with fish and chips.
KB1HQS
Behind the scenes at the Arecibo Radio Telescope
Matt and Tom
Baofeng UV-5R stress test: Receiver and transmitter overload
Open circuit with 5 minutes of RF, short circuit with 5 minutes of RF high power directly on the front end of the receiver.
YouTube
Resin casting tips and tricks
I cover some of the techniques that I use to be efficient when I am resin casting.
resin-casting-tips
Amateur Radio Weekly is curated by Cale Mooth K4HCK. Sign up free to receive ham radio's most relevant news, projects, technology and events by e-mail each week at http://www.hamweekly.com.
Yes, TX Factor episode 19 is now on the air at www.txfactor.co.uk
In part one of our reports from the UK's Hamfest 2017 we have a sneak preview of the Icom IC-7610 and IC-R8600 rigs.
We meet the new owners of PW Magazine, and Pete tries his hand at the RSGB on-line exam. There's also an update on the Society's EMC Committee's findings.
Bob finds his way back to New Broadcasting House in London where the Director General discovers he has amateurs working for the Corporation. Nevertheless, Lord Hall broadcasts from the shack of the newly resurrected club station G8BBC. And, Laurie Margolis G3UML recounts an historic QSO he had from the early 1980s.
Plus, you can win a mobile linear-amp for your handie in our free-to-enter draw.
Thanks you for your continued support and we hope you continue to watch and enjoy the show in 2018.
TX Factor Team
Nick Bennett 2EØFGQ co-hosts TX Factor with Bob McCreadie GØFGX and Mike Marsh G1IAR. Contact the team at

[email protected]
This happened the other day on Twitter.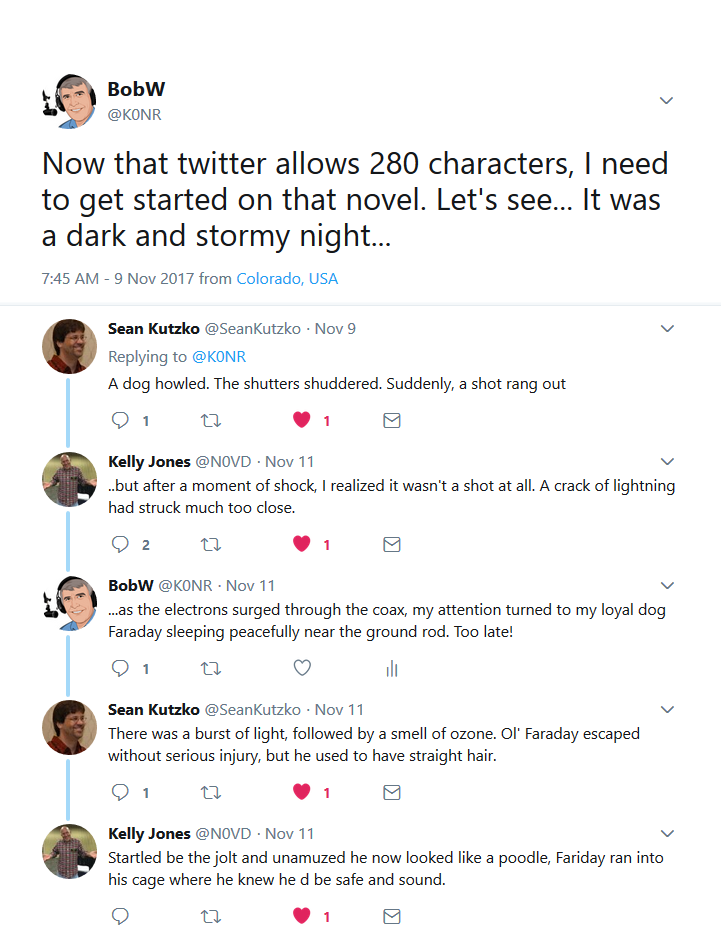 I thought it was funny. Thanks for the help, Sean and Kelly.
73, Bob K0NR
The post My Twitter Novel appeared first on The KØNR Radio Site.
Bob Witte, KØNR, is a regular contributor to AmateurRadio.com and writes from Colorado, USA. Contact him at

[email protected]

.
Vibroplex "Blue Racer"
Ever since earning my ticket as a teenager back in '63, almost all of my on-air activity has been focused on CW ... I've always loved it.
Back when I first got on the air there were very few amateurs using keyers. Most used bugs and the remainder used hand keys. It was very easy to tune across the band and identify any of the locals just by the sound of their fist ... like snowflakes, no two were the same. The same went for most stations that were very active. DX or otherwise, one could usually tell who it was, long before the callsigns were sent.
So much has changed now with the almost exclusive use of electronic keyers and everyone pretty much sounds the same, which is rather unfortunate I think.
Once my interest in building vintage-style vacuum-tube transmitters evolved, my interest in bugs was reactivated and over the years I have purchased a few more.
I'll do everything I can to promote and encourage the use of CW and especially hand-generated CW. That's why I was excited, once again, to read a recent e-mail from W6SFM, posted to several lists that I read, announcing the
Bug Roundup
!
The Samuel F. Morse Amateur Radio Club, a Sacramento, California based CW enthusiast club wanted a special time to bring bug operators together on the air. In the same spirit as ARRL's Straight Key Night, participants are encouraged to make simple, conversational, "chewing-the-fat" QSOs using their bug type key. This is an opportunity to exercise, share and exhibit your personalized fist. This is NOT a contest.
However, there is a very easy and quick required signup form found at https://w6sfm.com/bug-roundup/.
Once you are registered for the event simply call "CQ BR" so folks know you are a Bug Roundup Participant. So lets grab that bug, clean those contacts, and let'er fly! We want to hear that "Banana Boat / Lake Erie Swing" or that commercial KPH/WCC quality fist.

Reserve the date! The event begins on Friday November 17th (00:00 UTC) and concludes Sunday Nov. 19th (23:59 UTC), 2017.

That's 4:00 PM Friday evening until 3:59 PM Pacific Time (LOCAL)

For more information, to register your station, and to help assist in spotting, potentially increasing QSOs, an On-line chat window link can be found near the bottom of Bug Roundup home page located at https://w6sfm.com/bug-roundup/ We hope to hear you all on the air! 73, W6SFM
Sounds like a fun event and I'll have a tough job deciding on which bug to use but it'll probably be the Blue Racer once again. Please be sure to register for the event and see if you can squeeze-in a few hours of nice old bug-generated CW!
Steve McDonald, VE7SL, is a regular contributor to AmateurRadio.com and writes from British Columbia, Canada. Contact him at

[email protected]

.
After a "year off" the ARRL announced in the December issue of QST, it's newest operating event.
The 2018 ARRL International Grid Chase follows on the heels of the successful Centennial operating event and the even more successful National Parks On The Air operating event.
The idea is work as many different Maindenhead grid squares as you can, on any band (expect for 60 Meters) using any mode. Contacts made through satellites will count; but contacts made through earthbound repeaters will not.
So how will all these contacts be kept track of? Through
Logbook Of The World
, of course! So it is imperative that you have an LOTW account as well as the station you are working. When you both upload your logs to LOTW; and you get a match, you get credit for a valid QSO for the ARRL IGC.
While total cumulative results will be posted at the end of the year, the clock will "reset" so to speak, at the beginning of each month. So each month of 2018 will be like a new operating event; or competition. (I hate to use the word "contest", as we all know that contests are forbidden on the WARC bands.)
Should you not know your Maidenhead Grid Square locator, it's easy to find out. You can either look yourself up on
QRZ.com
, or go to
http://www.levinecentral.com/ham/grid_square.php
. What's interesting about these two methods is that you might get different results. QRZ tells me that my grid square is FN20to and Levine Central tells me that it's FN20so. No matter ...... for the purposes of the ARRL IGC, you'll only need the first four places. In addition, exchanging the grid square during the QSO is not required. LOTW will keep track of that. I suppose that for those who will go out and activate rare grids, there will be some provision made for identifying what grid square was operated from when uploading contacts into LOTW.
Will this be as successful as the last two events? That remains to be seen. The Centennial Event was huge success and NPOTA was a monster success. In any event, kudos to the ARRL for continuing to come up with ideas to keep Amateur Radio life a little on the spicier side.
72 de Larry W2LJ
QRP - When you care to send the very least!
Larry Makoski, W2LJ, is a regular contributor to AmateurRadio.com and writes from New Jersey, USA. Contact him at

[email protected]

.
In this episode, Martin is joined by Leslie Butterfield G0CIB, Edmund Spicer M0MNG, and Bill Barnes N3JIX to discuss the latest Amateur / Ham Radio news. Colin M6BOY rounds up the news in brief, and this episode's feature is Using PSK31.
We would like to thank our monthly and annual subscription donors for keeping the podcast advert free. To donate, please visit - http://www.icqpodcast.com/donate
430-440 MHz Medical Capsule Endoscopy Application
Canadian's Tiny LF Hop
VHF Manager Handbook Version 8.00
Sweden Releases Amateur Radio Training Guide
Tin whisker
New Digital Modes Changing Complexion of Bands and Ham Radio?
Hams in Argentina get 5 MHz and 472 kHz bands
Bletchley Park 'listener' Passes
Free Back Issues of Ham Radio Horizons
Colin Butler, M6BOY, is the host of the ICQ Podcast, a weekly radio show about Amateur Radio. Contact him at

[email protected]

.