Part two of our look at the Digital Modes. VOIP. Ohm's Law questions.
1:01:54
George Thomas, W5JDX, is co-host of AmateurLogic.TV, an original amateur radio video program hosted by George Thomas (W5JDX), Tommy Martin (N5ZNO), Peter Berrett (VK3PB), and Emile Diodene (KE5QKR). Contact him at

[email protected]

.
John - KB5NJD talks about his favorite topic, 630m
New experimental licensee, Jim, WI2XJG in Saint George, Utah, recently posted a question on the
Lowfer reflector
regarding the status of his favorite mode (CW) on the 630m band. The detailed response, provided by John KB5NJD / WG2XIQ, may well be of interest to others as well:
Hi Jim,

Most regular CW QSO's are occurring from about 472.5 to 475 kHz. Note that in Europe 472.5 kHz is a popular frequency. My freq of choice when open is 474.5 because it puts my signals close enough to the WSPR passband that operators there may be alerted to my activity. It seems its become commonplace to use "CW-USB" receive pass bands unlike other low bands that default to "CW-LSB" (At the end of the day it doesn't matter as long as you know since carrier frequencies are what are typically announced).

As mentioned in previous communications much of the CW activity is by sked

arranged either via the reflectors like this or the ON4KST chat or even
direct email. While random CW QSO's are not out of the question they are
rare during the summer as activity is decreased in spite of continued
propagation. YMMV. In the past I have mentioned how it might be
beneficial for you to listen to and decode some WSPR to determine the
current state of the band. Regular CW typically requires about -10 dB S/N
in a 500 Hz BW to make a QSO. If you are not receiving stations at -10 dB
or better, you may not hear any CW from that station.

If you live near an area of high activity, of course, this can be a
different result. As I mentioned before I maintain a daily CW sked at
1030z on 474.5 kHz as wx allows but your ability to hear it, particularly
during the summer may be severely compromised. Even those with very good

receive antenna systems like NO3M / WG2XJM in Pennsylvania fight the noise

this time of year and it can be hit or miss. I think Eric and I had a
total of two QSO's last summer and they were tough. Winter is a different
story and most nights, poor conditions and QSB aside, could yield a CW
ragchew over that same 1300 mile path. In the Winter I get many reports
from stations across North America that are scanning the band and hear the

activity. Its not necessarily too different from operating habits on 160m
in that respect.

Activity nights in the Fall and Winter often yield lots of activity as they
have in previous years and those are announced on the reflectors and often
get a mention in QST a few months before.

As for CW activity in Utah, a good start might be Mike, AI8Z / WD2XSH/12
near Denver, Colorado. Mike has a nice signal and you may be able to catch
him on the 600mrg reflector. Also the guys in the Pacific Northwest are
active but I would strongly advise for you to listen to and decode their
WSPRs first to see what your capabilities really are. Your distance from
the PNW is not much different from your distance to me in Texas.

CW speeds will vary with conditions just as other bands. Good signals and
operators can mean fast CW and those same ops under poor conditions may

have to slow it down.

JT9 activity is typically on 474.2 kHz USB dial and "carriers" are
typically between 1000 and 1300 Hz up but this varies. JT9 activity has
been low since we have moved into Spring and much of that is due to
abbreviated operating schedules that result from persistent poor weather
conditions. JT9 will require -24 dB to -27 dB S/N minimums typically for
QSO's and may be a good place for you to start, particularly if you arrange
a sked. I don't see much success from a random CQ on JT9 this time of year
unless guys know you are going to be there. Winter is another story and
guys often watch for signals in the waterfall pretty closely. Announcing
your operating intentions is still a good idea so that guys steer RX
antennas your direction.

Best advice I can give right now is to use WSPR to evaluate your station
(RX now and RX/TX when granted) and band conditions at any given time.

It will save you a lot of potential frustration later.

Thanks JD and list for the 630-meter bandwidth!

73!

John KB5NJD / WG2XIQ
John and others continue to maintain vigilance on the 630m band nightly and
his 630m web pages
remain the best source of up-to-date information on band happenings and progress to final acquisition of the band for U.S. amateurs. If you are thinking of getting on 630m now, or later, a visit to John's site will supply you with a ton of motivation!
For Canadians, that already have the 630m band as well as 2200m, I am trying to keep track of
Canadian activity here
. As well, there has been much information on 630m published on this blog and
looking here
will bring up all of the 630m related blog posts.
Steve McDonald, VE7SL, is a regular contributor to AmateurRadio.com and writes from British Columbia, Canada. Contact him at

[email protected]

.

Yaesu FT-891 update
The Yaesu FT-891 is the smallest and lightest 100W HF transceiver ever built at 155x52x218mm and 1.9Kg. Unfortunately, the 2A current draw on standby makes it unsuited for truly portable operations.
QRP Blog
2016 Dayton Hamvention: Exhibits Photos
Extensive photoset of Hamvention exhibitor spaces.
The SWLing Post
The Hamvention Takeaway
You're looking at about two football fields worth of parking spaces, filled with cars, tents, and collapsible tables and the strangest electronic devices you've ever seen.
Hack A Day
Photo tour of the 2016 Dayton Hamvention Flea Market
Weather at the Dayton Hamvention was quite pleasant–cool and partly cloudy.
The SWLing Post
Hamvention wants a future at Hara Arena
The Dayton Amateur Radio Association plans to stay at Hara for "as long as (they) draw breath."
myDayton Daily News
$25 satellite tracker
I found a $25 pan and tilt solution, meant for mounting cameras from drones.
Paul's Projects
80 meter inverted L
I needed a cheap and relatively unobtrusive solution and I found one in Len Paget's (GM0ONX) design for an inverted L.
AmateurRadio.com
FCC denies petition for consideration in vanity call sign dispute
An Arizona radio amateur has been unsuccessful in convincing the FCC to take a 1 × 2 vanity call sign away from its present holder and grant it to him.
ARRL
HF portable ops solar powered
My power source for the Yaesu FT-857D is my 12 volt power can with the batteries being maintained by the two solar panels.
Jerry's Journal
Is pirate radio still a problem in the digital age?
We are examining why 'pirate' radio persists despite the existence of legal alternatives to unlicensed broadcasting.
Middlesex University London
Video
Amateur Radio Weekly is curated by Cale Mooth K4HCK. Sign up free to receive ham radio's most relevant news, projects, technology and events by e-mail each week at http://www.hamweekly.com.
Another year, another Dayton in the history books.  This was my third Hamvention trek, but this year was a bit different for me as I attended with my girlfriend.  She somehow coaxed me into it, despite my concerns she would be bored out of her mind.  However, we both had a great time.
Happy Hamventioners
I didn't take as many pictures this year.  At times I felt I could have recycled photos from the last two years and no one would notice.  But there were some new sights to see….
Mannequintenna? 
Yaesu was handing out truckloads of free "Yaesu 60th Anniversary" hats and other logo-adorned swag as usual.  I was tempted to alter a hat to say "Yaesu FT-817 60th Anniversary" as the long-in-the-tooth rig continues to be offered with no modern update in sight.  Ride that pony, Yaesu.  As Jeff KE9V reported, no, the FT-891 is not an 817 replacement.  It's not an FT-897 replacement, either, so don't ask.  The FT-817 continues to be the Keith Richards of amateur radio rigs.
Required Equipment in Hara Arena Bathrooms
The Kenwood booth actually had visitors in contrast with last year when there were more tumbleweeds than attendees.  Their newly announced super duper digital VHF/UHF rig undoubtedly attracted inquiries, though shame on their product line management people for not having it ready to sell at Dayton.  In Kenwood's defense, Yaesu's new FT-891 wasn't available for purchase, either.
When All Else Fails, Make a Daiquiri 
The crazy rig-selling train known as Elecraft continues barreling down the track.  As everyone is undoubtedly well aware now, they released the KX2 at the Hamvention.  No, this isn't an X-rated version of the K2, or two K1s merged together, it's a smaller KX3 without 6 meters or 2 meter add-on capability.  This rig could have been a Yaesu FT-817 killer if it had VHF and UHF capability and reasonable pricing.  2 meter capability especially would have made sense to include considering this rig has the size and essentially the form factor of an HT.  No doubt Elecraft will sell a ton of these rigs, but then again if they released a new version of the K1 packaged in a 55 gallon drum, they would sell them by the dump truck load.
I question how much longer Elecraft can keep up this sales momentum which I often feel is fueled by unreasonable customer loyalty.  (Full disclosure: I own three Elecraft rigs.)  Last year's big announcement was the K3S, an improved K3, which teed off new K3 owners. This year's release was a repackaged KX3.  Elecraft seems to be innovating less and recycling products more.
Domo Arigato, Mr. Roboto
I'm pleased to report there was a robot competition area and a local Makerspace representative booth.  It's good to see more Maker-oriented vendors and displays, which is really going to be the key to growing amateur radio after our older amateurs go silent key in the next decade.  Hamvention folks, please, keep increasing this type of content.
Mendelson's Flea Market Tent Family Planning Center
The flea market appeared to be the same size, with many long standing attendees selling the same junk, I mean, classic wares.  I think there were less amplifiers for sale this year.  That's just a gut feeling, but I seem to recall many more amps last year.  The same goes for rigs.
No Hamvention report would be complete without mentioning the condition of Hara Arena.  Yes, good old Hara Arena.  This is the final year for Hara.  Seriously.  I'm going on record and predicting it now.  Really.  This is it.  Seriously.  Last year's announced multi-million dollar renovation plan fell through.  I can't imagine the facility can continue operating in its ever-worsening condition as it's become a human safety nightmare that would cause any sane insurance company underwriter to run away screaming like their hair was on fire.  Expect something to happen prior to the next Hamvention, either the occupancy permit being revoked, or the building turning into a pile a rubble on its own or by wrecking ball.  Last year.  Trust me.  That being said, I left late afternoon Saturday sadly waving bye to Hara Arena thinking this may be the last year, like I was losing a dying friend.  But the Hamvention is not Hara Arena, and Hara is not the Hamvention.
Anthony, K3NG, is a regular contributor to AmateurRadio.com.
Tim W3ATB and I went up to Livermore Falls in Plymouth today. I worked North Carolina, Austria, Scotland, Lithuania, and Germany.
I setup the KX3 and a 29 foot vertical wire with a 9:1 unun above the railroad track overlooking the falls. As soon as I turned on the rig, I heard Joe W2KJ working another station on 14.060. When he was done I called him. He was running 4 watts with a KX3. We had a really nice chat. There were a few dips with QSB, but solid copy both ways. Joe was a strong 599 at the beginning and faded a bit toward the end.
I moved down the band and heard GS3PYE/P in Scotland working stations. We exchanged 599s and when I was finished, I heard Tim work him. Tim was about 100 yards to my north sitting on the hillside right near the track.
A little further down the band LY/ES5ZF was working stations. We exchanged 599s, then I went briefly to 17 meters to see if the band was open. To my surprise there was GS3PYE/P operating again. We had a second QSO on 17 meters. Then I packed up and walked down to Tim's operating position. He was running a setup just like mine… KX3 and 29 foot vertical wire with a 9:1 unun.
We had a picnic lunch and then tuned around the band a final time. There was DP65HSC calling CQ and working stations. Both Tim and I had trouble sorting out his call sign, partly because he was going so fast, but also because the call is a bit of a CW tongue twister in itself. Turns out it was a special event station celebrating the 65th anniversary of the High Speed Club in Germany. Tim worked him after I did.
It was an absolutely gorgeous morning and the bands were in pretty good shape. After a fantastic time operating, Tim and I packed up and headed back to the car.
Jim Cluett, W1PID, is a regular contributor to AmateurRadio.com and writes from New Hampshire, USA. Contact him at

[email protected]

.
'LU' - 214 kHz Abbotsford, BC
This coming weekend will see another
CLE

challenge
, this time in the LF band from
275 - 425 kHz
. with a bit of a twist.
'CLE's' are 'Co-ordinated Listening Events', and
NDB
DXers around the world focus their listening time on one small slice of the NDB spectrum but this time around, the challenge has been expanded.
From CLE coordinator Brian Keyte (G3SIA), comes the following reminder:
Hello all,
Our special 'Channels Challenge' listening event is nearly here:
Days: Friday 27 May - Monday 30 May
Times: Start and end at midday, your LOCAL time
Range: 275 kHz (or 325) - 425 kHz (see below)
Target: Try to log ANY ONE NDB in each channel
The main challenge is to try and log ONE NDB on each of the 151
channels in the range from 275 kHz up to 425 kHz inclusive.
The 'channel' means the NDB's NOMINAL (published) frequency
(it may not be quite where you heard the Morse ident).
An NDB on a 'half frequency' would be OK. E.g. 345.5 kHz would
count as OK for channel 345, etc. - show it in your log as 345.5 kHz.
Each NDB must be a 'normal' one - no DGPS, NAVTEX or amateur.
If you hear any UNIDs, please show them in a separate list.
So it means a highest possible target of 151 CLE loggings in all - that
will be VERY difficult to reach, probably impossible away from Europe.
If you don't have much time, or if you want to avoid those tough
frequencies shared with DGPS, you can try a reduced challenge of
325-425 kHz. That would give a possible total of 101 NDBs, still VERY
hard for most of us to achieve.
When we first tried this in CLE170 (end of May 2013) the average number
of channels heard was 83 for Europe listeners, and 41 for Rest of the World.
If you have extra time and want to make the challenge more interesting
you could hunt for NDBs which:
# give you the greatest number of DIFFERENT RADIO COUNTRIES heard.
See our Countries list at http://www.ndblist.info/beacons/countrylist.pdf
(Each State/Province in USA, CAN and AUS is a separate radio country)
# OR give the greatest TOTAL DISTANCE from you to all of the NDBs.
# OR include the greatest number of CHANNELS WITH MIDDAY LOGGINGS
i.e. heard within 2 hours of midday by your local winter clock time.
Send your 'Final' CLE log to the List, if possible as a plain text email
(not in an attachment) with CLE207 at the start of its title.
Please show on EVERY LINE of your log:
# The full date or day no. e.g. '2016-05-27' or '27'
and UTC (the day changes at 00:00 UTC).
# kHz - the beacon's nominal published frequency.
# The Call Ident.
Show those main items FIRST on every line, before other optional details
such as Location, Distance, Offsets, Cycle times, etc.
Always tell us your location and brief details of your receiver, aerial, etc.
I will send the usual 'Any More Logs?' email at about 17:00 UTC on
Tuesday so that you can check that your log has been found OK.
Do make sure that your log has arrived on the List at the very latest
by 08:00 UTC on Wednesday 1 June.
I hope to complete making our combined results on that day.
Good hunting,
Brian
----------------------------------------------------------
From: Brian Keyte G3SIA ndbcle'at'gmail.com
Location: Surrey, SE England (CLE co-ordinator)
----------------------------------------------------------
TIPS!
Try the channels from 325 kHz first - if you start on the more difficult
lower frequencies it might dim your enthusiasm!
As always, you can find advice about CLEs generally and about this
special one by visiting our CLE page: http://www.ndblist.info/cle.htm
This time you won't need a normal seeklist to help you. However,
from our CLE page you could quickly display details of the NDBs on
a particular channel using REU, RNA or RWW as appropriate to you.
Just enter e.g. 345 - 345.5 in the frequencies boxes and click 'Go'.
(REU shows, for example, that hearing an NDB from England on 287
would be a 'first' since 1990!)
If you wish you could use any one remote receiver (e.g. Twente) for
your loggings stating the location and owner - with their permission
if required. A remote listener may NOT also use another receiver,
whether local or remote, to obtain further loggings for the same CLE.
These listening events serve several purposes. They:
determine, worldwide, which beacons are actually in service and on-the-air so the online database can be kept up-to-date
determine, worldwide, which beacons are out-of-service or have gone silent since the last CLE covering this range
will indicate the state of propagation conditions at the various participant locations
will give you an indication of how well your LF/MF receiving system is working
give participants a fun yet challenging activity to keep their listening skills honed
Final details can be found at the NDB List website, and worldwide results, for every participant, will be posted there a few days after the event. If you are a member of the ndblist Group, results will also be e-mailed and posted there.
The very active Yahoo ndblist Group is a great place to learn more about the 'Art of NDB DXing' or to meet other listeners in your region. There is a lot of good information available there and new members are always very welcome.
If you are contemplating getting started on 630m, listening for NDBs is an excellent way to test out your receive capabilities as there are several NDBs located near this part of the spectrum.
You need not be an ndblist member to participate in the CLEs and all reports, no matter how small, are of much value to the organizers. 'First-time' logs are always VERY welcome!
Reports may be sent to the ndblist or e-mailed to either myself or CLE co- ordinator, Brian Keyte (G3SIA), whose address appears above.
Please ... give the CLE a try ... then let us know what NDB's can be heard from your location! Your report can then be added to the worldwide database to help keep it up-to-date.
__._,_.___
Steve McDonald, VE7SL, is a regular contributor to AmateurRadio.com and writes from British Columbia, Canada. Contact him at

[email protected]

.
I've made some progress on the EFHW antenna since my last post here on AmateurRadio.com. I wound a new transformer, but now on a thinner plastic tube. Initially it had a 10:1 ratio, but after some initial tests at home I removed some turns and now it is 8:1.
Today, out on the parking lot, I managed to get a good match on 20 meters with 10 meter wire and a 1 meter counterpoise. A short video to prove this.

It was quiet on 20 meters in mid-afternoon. Only HS0ZJF came in with a reasonably strong signal and it was easy to work him. He gave me a 549 for my 5 Watt QRP signal and I was more than happy with that. And as fate would have it HS0ZJF is originally from Belgium, so we exchanged some Dutch greetings as well.
On 40 meters I wasn't so successful. This time I tried various lengths of wire, ranging from 19 to 23 meters, but the lowest I could get my SWR was 2.4:1. Funny thing was that the KX3 wouldn't put out the 3 Watts used when tuning at an SWR of 2.4:1, but it had no problem putting out more at a higher SWR of 3:1 or more. Now the SWR is measured behind 3 meters of coax at the KX3, which is not ideal, so the next step is to make a LED-based resistive SWR bridge to be put right behind the antenna and before the coax.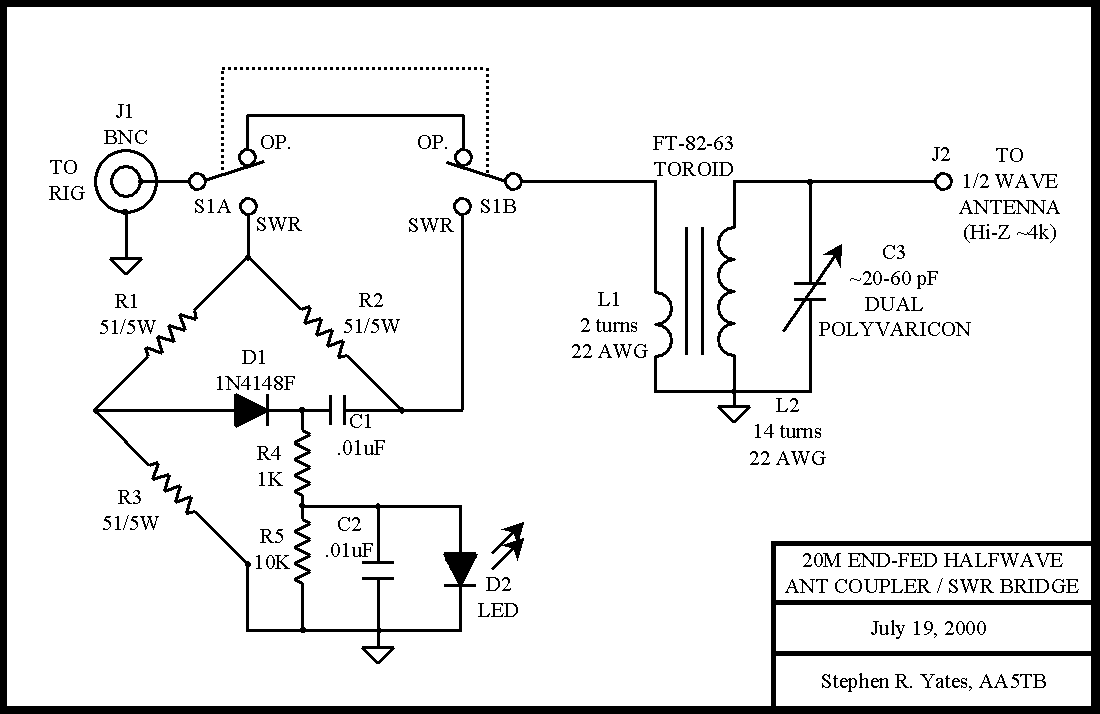 I could make it tonight, but unfortunately I only had two 51 ohm 5W resistors in my junk box. Back to the shops it is.
Hans "Fong" van den Boogert, BX2ABT, is a regular contributor to AmateurRadio.com and writes from Taiwan. Contact him at

[email protected]

.