The North America SOTA Weekend coincided with the ARRL September VHF Contest, which I interpreted as a great opportunity to do a combination SOTA activation and QRP VHF operation. A few other folks thought that was a good idea so we all got on the air from SOTA peaks on the Sunday of the weekend. I decided to operate from Mount Herman (W0C/FR-063) in grid DM79. I hiked up the same mountain for last year's September contest and got soaked by the rain. Fortunately, the weather was excellent this year, making it a great day.
For radio equipment, I took a couple of HTs for 2m and 70 cm FM and the FT-817 for CW/SSB on 6m, 2m and 70 cm. Most of the SOTA action would be on 2m FM but SSB is critical for working the VHF contest. I did put out the word to the usual VHF contesters that there would be FM activity and did work a few of them via 2m FM. The 2m FM calling frequency, 146.52 MHz, is commonly used for SOTA but is not allowed for contest use. (Another example of how this rule is just a barrier to contest activity.) We used 146.55 MHz for the contest contacts.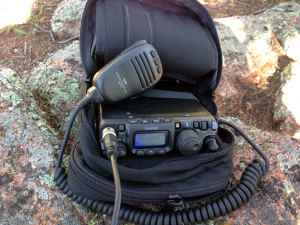 I had coordinated with Brad WA6MM who was going to be on Grays Peak (W0C/FR-002), one of the Colorado 14ers. When he made the summit, I had my 2m yagi antenna pointed in his direction and easily worked him on 2m FM at a distance of 65 miles.  Brad was using an HT with a 1/2-wave vertical antenna. Also, I worked Stu W0STU and Dan N0OLD on Bald Mountain (W0C/FR-093) , which sits on the east side of I-25 right at Monument Hill. Contest activity was light, as usual for the September contest in Colorado. We did have two rover stations that activated a few of the unpopulated grids in eastern Colorado: George AB0YM and Jonesy W3DHJ.
Band       QSOs X pt =  QSO pts.  X   Grids   =     Points
 -----------------------------------------------------------
 50         8      1      8             5             40
 144        23     1      23            5             115
 432        14     2      28            3             84
 -----------------------------------------------------------
 TOTALS     45            59            13            767
My contest score was not bad for a few hours of operating QRP portable. It turns out that I had set the Colorado section record for "single-op portable" back in 1990 with just 624 points (using my old callsign KB0CY). Oddly enough, 24 years later it appears that I set a new record. (This speaks more to the lack of QRP activity during the September contest and less about my incredible operating ability.)
All in all, it was a great day in the mountains to take a hike and play with radios. I will probably do the SOTA + VHF Contest activation again.
73, Bob K0NR
Bob Witte, KØNR, is a regular contributor to AmateurRadio.com and writes from Colorado, USA. Contact him at

[email protected]

.
Transmitting with my wet noodle
I was off work on Friday and in the afternoon I found some time to get on the radio, I was pleased to see conditions had somewhat improved. The bands most active for me were 20 and 17 meters. The MFJ 1788 loop was very good at picking up DX I heard but was not able to contact G3XOV from England his signal was a strong S8 but as I waited for him to clear the callers who were before me his signal faded to S2 I still tried but was not able to make the contact. I then came across a station who's call started with "Z" that letter always gets my attention. From these parts a "Z" call could be very good DX. The call was Z63MED very odd call I thought maybe a special event station, I looked it up on QRZ.COM and found out it was a station from Kosovo. This country is still a developing story when it comes to ham radio. It does not as of yet have DXCC recognition as it just became a country in 2008. For more Kosovo ham radio history go to
QRZ.COM
and look up the call Z60A this is the call for the Amateur Radio Society of Kosovo.
Now for the exciting news…….I ended up only making one contact and it was with EG4GET and this I found out was a special event station in Spain and has to do with football or soccer as we know it here in North America. There are 20 special event stations you can contact and contact (from North America) with 5 gets you a silver award and 10 will get you the gold award, for more information follow this
link
. So back to the exciting news…….I dropped the power on my K3 to 1 watt and made the contact with this special event station without really any trouble for a distance of 3,754 miles per watt! Looking back when I moved into the condo and only being able to use a small antenna in less than ideal conditions I felt my DX was going to be south of the boarder and that's it. I have come full circle to hitting over and above thousand miles per watt contacts. My
record for miles per watt
at this location is still 18,470 per watt in the ARRL CW contest.
Mike Weir, VE3WDM, is a regular contributor to AmateurRadio.com and writes from Ontario, Canada. Contact him at

[email protected]

.
I haven't been to the Ledges in Sanbornton for several years. The place is beautiful! Tim, W3ATB and I hiked up there today. We worked Macedonia, New Mexico, Germany and England.
We met at 2:00 pm and drove up Wadleigh Road. We went several miles passed the spot where the town stops maintaining the road. It's essentially a logging road full of ruts and large rocks. Things changed since I was here last, and we took a wrong turn on a new logging road. Fortunately, a man was working with a chainsaw and a skidder, and we hiked in to talk with him. He set us straight and we backtracked, parked the car, and started hiking.
Twenty minutes later we made the final ascent through some huge boulders and tall pines. It was well worth the climb! I tossed a wire over a nearby maple tree, setup the KX3 on some rock, and started operating on 17 meters.
Vinco Z37M in Macedonia was calling CQ, and I answered him. He gave me a 559 and I was thrilled. Working half way around the world with a peanut whistle rig, while enjoying a view to die for… what could be better? I switched to 15M and answered Paul KW7D in New Mexico. Paul gave me a 579 and I promised to send him some photos of the hike. "Solid CPY 5W," he sent. "I will look for those pics."
Next I switched to 20 meters. DL1BUG was just finishing up a QSO and I called. Red gave me a 569 and we finished a nice exchange. I called over to Tim and told him to switch to Red's frequency and give a call. Tim was running an HB-1B with a Par End Fedz. Tim got the QSO… and a 579 report! Better than mine… He was grinning from ear to ear.
With that Tim tuned around some more and quickly made another DX contact… this time with England. G4XRV near London gave Tim a good report and we both packed up.
I think it's a good bet that we'll be back when the leaves start changing color. It's a glorious spot for ham radio.
Jim Cluett, W1PID, is a regular contributor to AmateurRadio.com and writes from New Hampshire, USA. Contact him at

[email protected]

.
Weather balloons
have been routinely launched into the atmosphere for many years by government and commercial organisations for the purpose of scientific and meteorological observations and research. Hundreds are launched daily around the world, using predominately renewable Hydrogen as the lifting gas.
These balloons invariably carrying
radiosondes
, a battery powered telemetry instrument package to measure various atmospheric parameters and transmit them to a ground receiver. Worldwide they operate on radio frequencies around 400MHz and 1680MHz.
Last year
I discovered
the hobby of High Altitude Ballooning, where enthusiasts send up their own balloons loaded with experimental payloads and radio telemetry trackers using low power transmitters and amateur radio data modes and frequencies. I have since had a great deal of enjoyment receiving and decoding these as well as developing my own
payload
.
I decided last year to also try my hand at decoding the commercial radiosondes. Reception of the telemetry signals is relatively straightforward as they are of higher power than the hobbyist transmitters and decoding can be done by the
Sondemonitor
program from
COAA
available to individuals to produce graphs and charts of temperature, pressure, humidity as well as the location (if transmitted) and height of balloons.
The software is available for a 21 day trial but when I attempted to install it I was thwarted by a licensing issue caused I believe by installing trial versions of COAA's ShipPlotter and PlaneSpotter programs in the past, despite this I still decided to purchase a software licence for the princely sum of €25.
However this was just before the Christmas
upheaval
and the dismantling of my receiving set up and so it got mothballed and I have never got around to using it till now.
It was quite by chance that I was flicking around the SDR yesterday using my original (Version1) FUNCube Dongle PRO when I spotted a Radiosonde signal on 404.2MHz, my interest was piqued. (It should be noted the later FUNCube Dongle PRO+ unfortunately has a coverage gap on this frequency so cannot be used)
I connected to my
magical HAB antenna
and using SDR# and the Sondemonitor program I received and decoded my first radiosonde early this morning and a second flight around noon.
The program produces some interesting graphs showing temperature, humidity, pressure and other measurements during the ascent and after the balloon burst, as well as
Tephigrams.
I am not sure where these balloons are launched from. The Radiosondes are identified by the software as Vaisala SGP models (but have no GPS data?) Checking the Vaisala
website
there are a number of devices and one downloadable document is a comparison of the Vaisala Radiosondes made by the UK Meteorological Office in 2013 (
pdf file
) which mentions a site in Camborne in Cornwall, but I have also seen mention elsewhere of a site in Larkhill on Salisbury Plain.
The Met Office document also hints that the Radiosonde currently used by them is one of the Vaisala RS92 range, indeed the RS92-D appears to be a device which has no on board GPS and would fit with the GPSless decodes I have made.
Definitely another interesting radio diversion and if you are interested then reception can be made using RTL-SDR receivers as
this tutorial
on RTL-SDR.com demonstrates, but bear in mind the demonstration/tutorial shows GPS information being received which I have not seen on either of the two launches.
Andrew Garratt, M6GTG, is a regular contributor to AmateurRadio.com and writes from East Midlands, England. Contact him at

[email protected]

.
I was finally able to put the finishing touches on the new
GW3UEP Class-E transmitter
by mounting the hardware on a small 19" panel.
Added to the panel were a 5A DC meter to monitor drain current, a keying jack and a key shorting-switch for keydown testing. This is the third version I have built using
the design
on Roger's page, with all three performing pretty much as advertised. It is an inexpensive, easily reproducible design.
I made one small change in the third version (above) by adding an additional FET in parallel with the single IRF540 thus cutting heating dissipation as described
in an earlier blog
. At normal CW keying speeds, no heatsinking seems needed on this particular version, when operated on 12VDC. Anything a little higher or any QRSS modes would require heatsinking. I did eventually add two small heatsinks in case I chose to run QRSS at some point.
When operated at 12-13V, the measured output power is around 25W while at 22-23V, the output is around 70W. I suspect that you could get in excess of 100W out, at higher voltages and larger heatsinking or by blowing the sink with a small fan.
The main function for the new transmitter will likely be as a semi-permanent beacon as well as for a small signal source when tuning the antenna. I may also use it in the WSPR mode with a modification to the oscillator section. One particularly nice feature with the Class-E design is that with no load at all, the current drops to almost zero, should the antenna suddenly fail.
If you live in VE7 or across the border in W7 land, please have a listen on 475.0 KHz and let me know if you can hear the "VVV" beacon over the next few days!

Steve McDonald, VE7SL, is a regular contributor to AmateurRadio.com and writes from British Columbia, Canada. Contact him at

[email protected]

.
…..the summer of 2014 that is. Boy it has been hot lately. Last Monday we had a record for September: over 38 degrees Celsius and my own weather station peaked at 39.0 degrees. And the end is still not in sight. Tropical storm Fung-Wong will bring some much needed rain this weekend and with it somewhat lower temperatures. But after that it is back to spending day after day with sweat soaked clothes stuck to your body. With the shack on the top floor and without airco it is now oozing heat, even at night. And I so long for heating up my iron and getting ready for winter DX fun on the lower bands. Patience is a virtue and I need lots of it. 73 and stay cool.
Hans "Fong" van den Boogert, BX2ABT, is a regular contributor to AmateurRadio.com and writes from Taiwan. Contact him at

[email protected]

.
G1KQH
has found some very low cost TDA2003 ICs. I use one of these in my VLF beacon shown in my RSGB RadCom article and
on my website
. Best range is just short of 6km by "utilities assisted" earth-mode. When fitter again (currently I am not allowed to drive and I am still too clumsy when on my feet and moving because of my brain bleed last year) I intend to continue my VLF experiments. I have used these ICs at 8.97kHz, twice, and sub-multiples of that frequency. Beyond 20kHz would be outside their spec limits, but they may still work?
G3XBM 5W VLFearth-mode CW/QRSS beacon
Used in your LF PA 10p each nuts!

Or you can buy in 10s @ 16p each inc delivery!
Banggood sounds Chinese. I have no idea if these are genuine parts or not. They are advertised as 10W car radio audio parts.
Roger Lapthorn, G3XBM, is a regular contributor to AmateurRadio.com and writes from Cambridge, England.
Qatar will include ham radio in an upcoming 2016 geosat launch

More information on the restructuring of the UK ham radio rules

Philippine hams once again respond as a typhoon makes landfall

W5KUB announces live coverage of the K6H operating event

Soon to be space traveler Sarah Brightman starts training in January
Bill Pasternak, WA6ITF, is the co-founder and producer of Amateur Radio Newsline. Contact him at

[email protected]

.
Judy and I rode our bikes along the Pemigewasset River in Old Hill. I stopped on a knoll overlooking the river for 15 minutes and worked Belgium, Moldova, W1AW/4 in NC and Germany.
The day was fine, but a bit cool and breezy. It definitely feels like fall is approaching. Every now and then the scent of wild apples would fill our nostrils as we peddled along. Yellow leaves lay on the path. Wild asters dotted the lane way.
On the knoll I tossed my line over a pine branch and hooked up the KX3. I started out on 17 meters. Right away I worked Pat ON7PQ in Belgium. He was 599 and gave me a 569. Then… another quick contact with
Moldova… ER3MM, Victor. He gave me a 449.
Then I switched to 20 meters and heard W1AW/4 in North Carolina booming in. I made the contact easily.
I switched to 15 meters for one more QSO. Hans DL8MCG was calling CQ and I answered him. I wasn't strong… barely 539, but we had a nice chat. "UR FB with 5W," he sent when I told him I was QRP. Hans was running 500 watts to a vertical.
I packed up and joined Judy who was knitting in the sun farther down the lane.
The crickets are singing a new song now. It's the song of cooler days and the coming of winter.
Jim Cluett, W1PID, is a regular contributor to AmateurRadio.com and writes from New Hampshire, USA. Contact him at

[email protected]

.
W1ZU's home setup.
I had some spare time just before dinner time and thought it would be a nice idea to sit down and relax at the radio. The rig was set to the QRP watering hole of 14.060 and very soon after I heard W1ZU calling CQ. Now having said that I just read the other evening in my CQ magazine of how important it is to listen, so I thought I would give the ears a workout and the key could sit idle. By listening I found out that W1ZU was operating from a summit in Maine, that he was activating
SOTA
(summits on the air) summit
W1/DI 006
. Not being an active SOTA chaser I did some more listening and was very surprised how fast the pileup developed to contact him. It would seem you can obtain points for contacting summits and this one was worth one point. Once the pileup settled down I threw my call out and Scott came back to me with a decent report. If I did not spend the time to listen and just tossed my call in and make the contact and move on I would never had learned the detailed info about this contact.
Mike Weir, VE3WDM, is a regular contributor to AmateurRadio.com and writes from Ontario, Canada. Contact him at

[email protected]

.