You could say amongst our Chinese purchases what is there good from the UK for our hobby?
My new SPRAT DVD arrived this morning, complete in it's jewel case. Although a collaboration of designs and work from G-QRP members from around the world, you could say it is one of the best exports from the UK, putting knowledge right back into the Amateur's hands.
The DVD is well put together as always, an excellent scan of each magazine, with good indexing. Used in conjunction with your browser and PDF reader, you are right on top of each issue.
Revised right up to this current Autumn issue 2017 it has got to be a good stocking filler.
Of course you have to buy one to see if I am right, but I don't think many will be disappointed, especially with the price!
See my previous write up about it's launch:
sprat-on-dvd-2017
Steve, G1KQH, is a regular contributor to AmateurRadio.com and writes from England. Contact him at

[email protected]

.
Chinese purchases have been few and far between during the last 12 months or so, apart from a few component orders and with time as scarce as hens teeth lately I have not written a review for sometime, but I have one or two interesting items coming shortly, it will nice to be back.
This one made my mouse button make a sudden impulse buy, as I thought it could be a useful addition to the workbench, especially those like me having ailing eyesight with close up work.
The G600 Microscope including screen, could be a bonus to our hobby arrived this morning, however there is one little extra that needs purchasing before I write anymore, should of ordered it when I placed the intial order. So I guess it will be another month or so before that arrives from China?
Steve, G1KQH, is a regular contributor to AmateurRadio.com and writes from England. Contact him at

[email protected]

.
In this special episode, Colin M6BOY, Chris M0TCH and Martin M0SGL visit Broadcasting House in London for the official launch of G8BBC.
We would like to thank our monthly and annual subscription donors for keeping the podcast advert free. To donate, please visit - http://www.icqpodcast.com/donate
Colin Butler, M6BOY, is the host of the ICQ Podcast, a weekly radio show about Amateur Radio. Contact him at

[email protected]

.
NYQSO party
and
Worked all Germany (WAG)
contest were going to be in full swing the same time I was out. I checked to see what the contest report was supposed to be, contesters can add lots of contacts to a portable op. I set up beside the lake (Lake Ontario) with a nice breeze and in the shade as the sun was out and I did not want to overheat. I made 20m my band of choice and it so happens that it was alive with WAG contesters. The band was in great shape and lots of German stations looking for DX stations to fill their log! I was using my Elecraft KX3 at 10 watts and my
Chameleon mag
loop antenna. I was set up in 10 minutes and on the air searching the band for contacts. I was on the air for about an hour and had the following contacts:
DF0DW WAG contest
IQ1GE DX calling CQ
DL5HIA WAG contest
DF8AA WAG contest
W2RR NYQSO party
DJ6OZ WAG contest
DL0DA WAG contest
As you can see the WAG contest dominated the bands and it turned out the NYQSO party participants were just not making it over the German WAG contesters. I did not include the signal reports in the above list as it was a contest so the standard 599 was sent. I knew I was no were close to 599 as the German stations asked on more than one occasion for a repeat.
Mike Weir, VE3WDM, is a regular contributor to AmateurRadio.com and writes from Ontario, Canada. Contact him at

[email protected]

.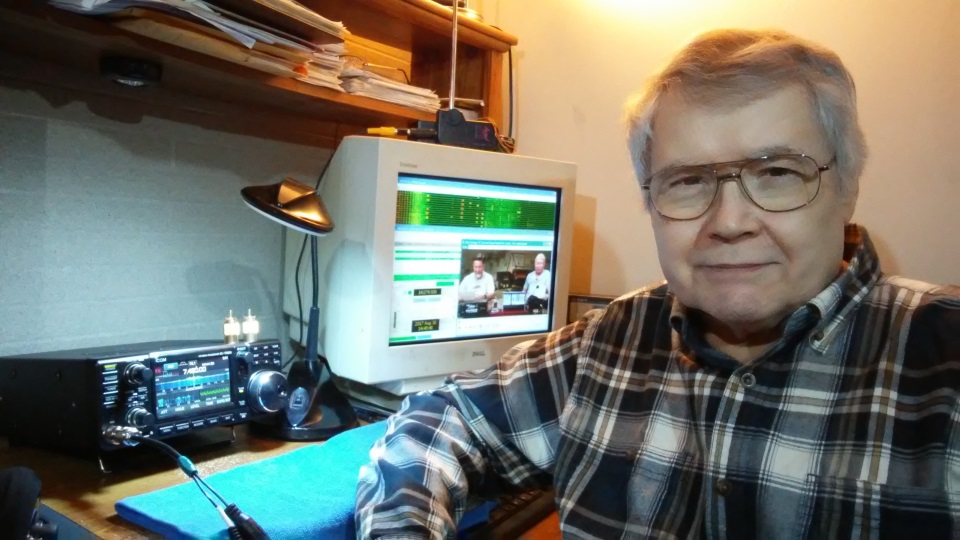 ALTV is happy to announce the winner of our 12th Anniversary contest. Ed Thomas, WD8KCT from North Canton, Ohio is one lucky guy.
Thanks Icom, MFJ, and Heil Sound for making this possible.
George Thomas, W5JDX, is co-host of AmateurLogic.TV, an original amateur radio video program hosted by George Thomas (W5JDX), Tommy Martin (N5ZNO), Peter Berrett (VK3PB), and Emile Diodene (KE5QKR). Contact him at

[email protected]

.

New bands spring to life, some denied access
A few operators reported making contacts on 630 meters the first night, although noise levels were high, and a geomagnetic storm was in progress.
ARRL
Scouts' Jamboree on the Air this weekend
Operating frequencies on HF, DMR, D-STAR, APRS, more…
Scouting.org
Meet the geek who tracks rogue satellites with coat hangers
He liked to catch the military's secret space shuttle, which sounded like a video game monster in agony.
Wired
Bicycle race communications with N7RXE
200 miles, three states, multiple public safety jurisdictions, 4 net controls, 8 repeaters including mobile repeaters, APRS iGates, portable Digipeaters, 135 operators, and 40 vehicles beaconing APRS.
HamRadio360
Elecraft AX1 Antenna
The AX1 is a dual-band (20 and 17 meter) compact antenna system based on an optimized 2-piece whip.
VA2SS
Kansas City firefighter uses Ham Radio skills to help Puerto Rico
"We put this PVC, tape measure antenna up," Dougherty explained. "Next thing you know, we were talking to somebody 100 miles away, passing traffic back to San Juan for people who needed to contact San Juan."
WDAF
ADS-B Shootout: FlightAware vs rtl-sdr.com Antenna Kit vs Jetvision
Three antennas on windowsill, one week.
Radio for Everyone
Upcoming LF tests from WH2NXD / NI7J
One of Ron's several experimental licences allows him to run as much as 10W ERP from 68-76 KHz.
AmateurRadio.com
Homemade data cable for Yaesu FT-2D
This piece of wire can be used as outlined in the manuals. I was able to read and write my FT-2D as expected.
Notizbl0g.
Video
NIMO Tube: Rarest and most dangerous digital display of all time
Rarer than a moon rock…. Deadlier than plutonium… It's The NIMO digital display tube!
FranLab
How high should a dipole be?
A look at antenna modeling.
KE0OG
Portable Ham Radio tips & tricks
Tips & tricks on taking the radio out of the shack.
K5ACL
Amateur Radio Weekly is curated by Cale Mooth K4HCK. Sign up free to receive ham radio's most relevant news, projects, technology and events by e-mail each week at http://www.hamweekly.com.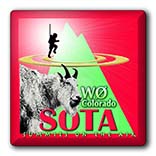 I've written before about how operating goals can be a good motivator for getting on the air and making ham radio contacts. It is fun to have a goal to work towards and keep checking items off on the list. A few years ago, I decided to apply this approach to Summits On The Air (SOTA). SOTA is ripe for this kind of thing, given its extensive database and tracking of QSOs.
Our family has a cabin in the mountains that we use to hike, jeep, ski, snowshore, explore, escape …  So I decided to make a list of the SOTA summits in the general vicinity of the cabin. I did not use a precise criteria, just listing the summits that seemed close by. I used the Lists Of John web site as a tracking tool. That site is used by hikers/climbers to track their ascents, often working on their own list of summits based on whatever criteria that interests them.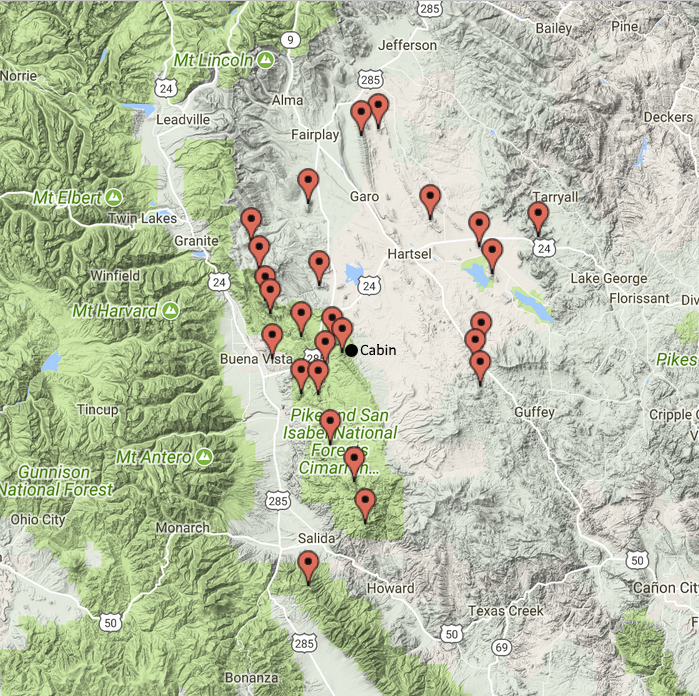 This list turned out to have 26 summits on it and I completed the last one a few months back, which was an unnamed peak (W0C/SP-055). Fifteen of these were the first activations of those summits. Some of these have still not been activated by anyone else (except for Joyce K0JJW, who usually hikes with me).
Now that I have completed that list, I obviously need to create a new one. With all of the SOTA summits available in Colorado, I won't run out of options any time soon.
73, Bob K0NR
The post Twenty Six SOTA Summits appeared first on The KØNR Radio Site.
Bob Witte, KØNR, is a regular contributor to AmateurRadio.com and writes from Colorado, USA. Contact him at

[email protected]

.