Posts Tagged 'transceiver'
I need your help!
Come meet me on the shortwave (HF) ham bands for the Morse code (CW mode) special event, the Straight Key Century Club (SKCC) celebration, with special callsign, K3Y. During the shifts (time slots) listed below, I am the control operator as K3Y/0.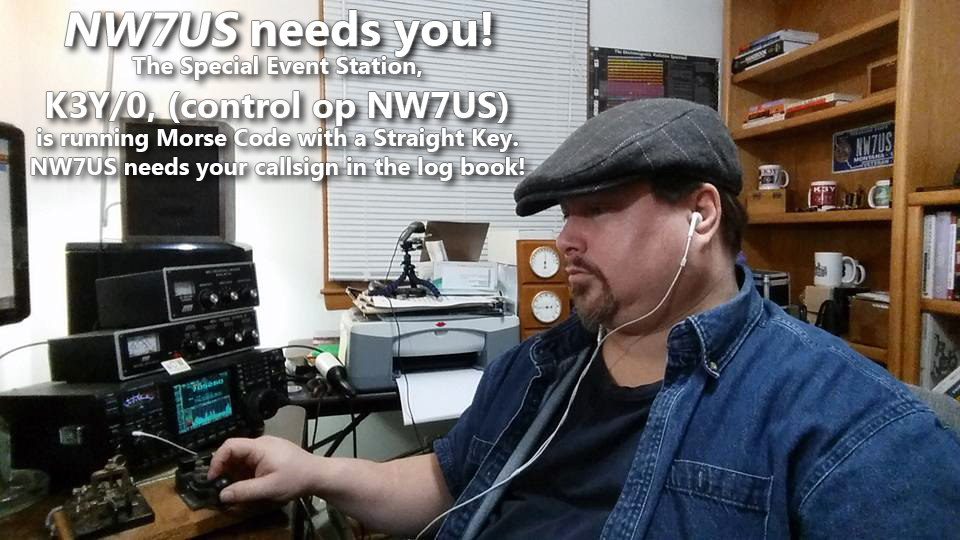 I need you to make a contact with me.
This special event takes place every year during January. We celebrate the legacy of Morse code, and promote Morse code and manual creation of the code by any non-electronic (digital) device and method. Which means that we love mechanical bugs, straight keys, two ends of a wire, or any other manual device, if Morse code is generated. The Straight Key Century Club is a free membership group. The link to their website is below.
I need you to make a contact with me, during my scheduled times, listed below.
NOTE: YOU DO NOT NEED TO BE A MEMBER OF THE (free) SKCC GROUP. To get into my logbook, you meet me on my frequency, and use Morse code to communicate with me. It is painless. If you must, you can use computer-generated Morse code. Or, you can tap it out on any Morse code signalling device, like a bug, a set of paddles, or a straight key; whatever you choose to make Morse code emanate from your HF transmitter.
HOWEVER: For those of you who want to get fully immersed in the spirit of this event, you are invited to use a straight key. And, as a bonus, you may and can join the SKCC group for FREE. Then, you would have your own SKCC number. That'd be cool; we SKCC members use that number in our exchange during our QSO information exchange. But, you don't need that. Since it is free, why not?
What is needed is simply you, getting on the shortwave band, finding me, hearing me, and responding to me with Morse code. In other words, we need to have a QSO using Morse code. I am not a fast operator, so no problem if you are not very fast. I'll meet your speed.
In any case, here are some of the times I will be on the air as K3Y/0… please dust off your straight key, bug, paddles, whatever, and make a QSO with me. Thanks!
My current schedule:

UTC Start/End (remember, these are NOT your local times, but are the UTC (GMT) times!)

(revised times, as of edit date)

00:00 - 02:59 19-Jan-16
00:00 - 02:59 20-Jan-16
00:00 - 02:59 21-Jan-16
00:00 - 02:59 22-Jan-16
00:00 - 05:59 23-Jan-16
14:00 - 18:59 23-Jan-16
20:00 - 21:59 23-Jan-16
00:00 - 02:59 24-Jan-16
14:00 - 18:59 24-Jan-16
21:00 - 21:59 24-Jan-16
00:00 - 02:59 25-Jan-16
00:00 - 02:59 26-Jan-16
00:00 - 02:59 27-Jan-16
00:00 - 02:59 28-Jan-16
00:00 - 02:59 29-Jan-16
00:00 - 05:59 30-Jan-16
13:00 - 18:59 30-Jan-16
20:00 - 21:59 30-Jan-16
00:00 - 03:59 31-Jan-16
13:00 - 23:59 31-Jan-16

Now, what frequency will I be on?
To find out what frequency I am on:
Visit http://g.nw7us.us/sched4SKCC and look on the right side for my callsign, NW7US. I usually post my frequency of operation right after my call sign.
Typically, evening operation is 30m, then 40m, and then possibly 80m.
If you are trying to alert me to your presence, you may message me on my personal Facebook profile, under my "Tomas David Hood" profile messages, but I may not see that right away.
Here is the detail covering the K3Y operation and the SKCC group: http://skccgroup.com/k3y
73 de NW7US
dit dit
This was last year:
https://www.youtube.com/watch?v=UfRvITFpTb4
..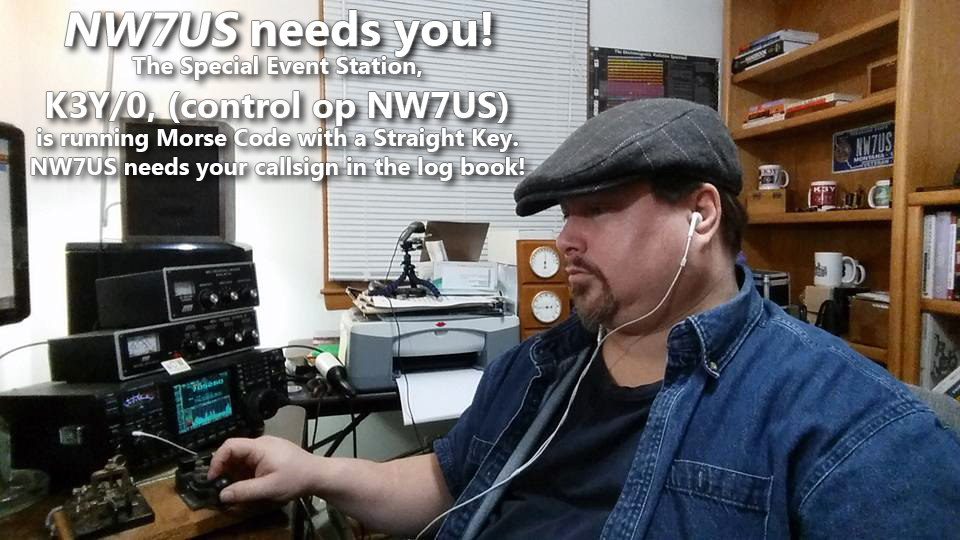 ..
This transceiver looks like it should be possible to duplicate. A neat design. I think this connects via a USB socket so the PC acts as a node for digital modes like DSTAR.
See http://unsigned.io/forum/viewtopic.php?id=2
This was news to me. I have never seen this before although the post on the website below was earlier this summer. It looks like a poor man's IC7300 and covers the same range but at QRP power levels. It is an Italian transceiver. Personally I prefer the ICOM. I have no idea about price. It looks like a "back shed job" to me.
See http://www.cqdx.ru/ham/qro-qrp/qrp-hf-transceiver-with-touch-screen/ .
On the same website are details of the Sun SDR-MB1 assembled prototype, which is another rig I have never heard about! There is a video of this at https://youtu.be/SIfvVUw0774 . This rig looks more professional and the YouTube link quotes a price of $5500. This was 3 months ago.
I notice that someone has created a 10m (28MHz) version of the BitX transceiver. Yes, all would like more details but we don't know who you are!
Anonymous said: "I have successfully designed and built a 28MHz version of the BITX transceiver. The main reason for this project was to drive homebrew transverters for 6, 4 and 2Metres. Contact me if you would like details."
G7CKF's Fourbox
Jenny, G7CKF has now taken the 2m Fredbox design and created a 4m version called the "Fourbox".
Hi Roger,
I feel I should drop you a line with my thanks and the link below, I've used your QRP AM transceivers as the basis for a 4M transceiver and published it on my blog. I've come back to amateur radio after a 20 year absence and since construction was always my main interest in the hobby I reached for the soldering iron.
http://thekeywordgeek.blogspot.co.uk/2015/05/a-transceiver-for-not-lot.html
There is no sparkling new insight to be had from it as it's pretty much your fredbox with slightly bigger coils. There is no crystal because I am cheating and using a Raspberry Pi clock generator to make my 70.260MHz.
My QTH is IO91lw, between Bicester and Buckingham and rather low lying. Very little 4M activity hereabouts, sadly, so the chances of my actually working anyone with it are slim. But that's not really the point of building, is it.
Anyway, hope you find it of interest, and thanks again for sharing your designs.

Jenny, G7CKF
My assembled 40m Pixie
The Pixie is a very simple HF transceiver. Usual power out is in the 200-1000mW region, depending on band and DC power source. It was first developed some years ago but the basic concept is using a PA transistor as a mixer in a simple direct-conversion receiver. On TX this is used as the TX PA.
Being simple, it has a number of limitations but it certainly works. A major issue can be AM broadcast breakthrough, although my 40m version is perfectly usable. I was very impressed with my little kit that came with all parts including a silk-screened PCB, all sockets and a crystal. It needed low-Z Walkman type headphones, a morse key and battery – that was all. On 40m the sensitivity is pretty good with 0.5uV clearly audible and my RF power out is around 400mW. A lack of both RF and AF RX selectivity is also noticeable.
Kits are available from several sources at prices that are hard to beat. I recently bought a kit for $10 with free airmail from China. It is available for less than half this price I subsequently found out. Unbelievable for a fully functional HF transceiver. Of course, being so simple you may prefer just to build it dead-bug fashion. I bought a kit as I wanted to see how my building skills were.
As a mature design, it has been through several iterations, some improve the basic design, but most do so at the expense of increased complexity. You'd be hard pressed to find a circuit for a complete HF CW transceiver much simpler.
This is the Pixie's "big brother". I have mentioned it before in this blog. It has more power than the Pixie and a better RX. Best of all it costs just over £15 built with free shipping from Hong Kong.
See http://www.ebay.co.uk/itm/Frog-Sounds-HAM-Radio-QRP-Kit-Telegraph-CW-Transceiver-Receiver-Radio-Station-V3-/251405614850 .