Wind Cave National Park, South Dakota. Devils Tower National Monument, Wyoming.
Friday, July 22nd – Toured Wind Cave. Once we entered the cave and started to descend, Emily was scared at first but then was ok. After the tour, the girls finished up their Junior Ranger books and received their badges for Wind Cave.
The day started getting hot. The expectation was temps into the upper 90s. I had gotten a prime parking spot in front of the Wind Cave Visitors Center which allowed me to connect to their wifi. I used the wifi connection to make reservations at the Devils Tower KOA. The heat made me want to camp at a location where we could make use of our air conditioner.
We left the Elk Mountain Campground around 1pm. Elk Mountain Campground is a good place to camp if the weather had been a bit more cooperative. I was disappointed in the lack of any substantial Ranger-led evening program.
It was a nice drive in a northeast direction through a national forest to I-90 where we were only on I-90 to go up one exit. Checked into Devils Tower KOA (located immediately outside the monument) and had some food across the street at the trading post. Ended up getting a pull-thru site next to another ham (KF5SA). He has an HF station mounted inside his trailer.
Quick trip up to the visitors center to get Junior Ranger books (from Ranger Erin Cahill). Attended evening program at the campground amphitheater which was blown out by bad weather into the picnic area.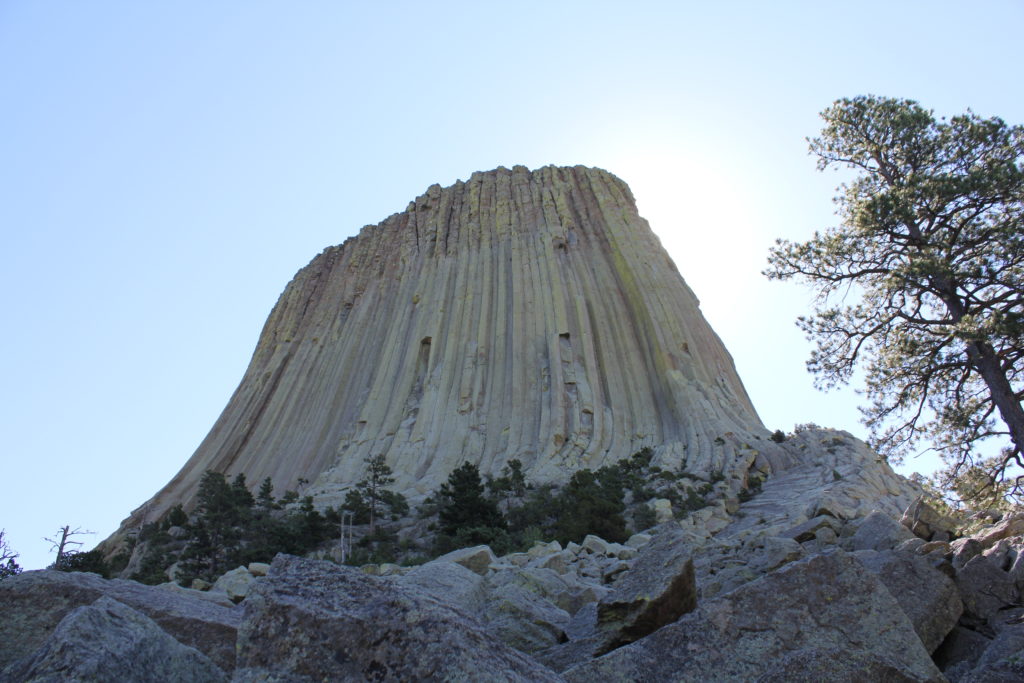 Last summer when we were camping in the national parks, there were many campsites where we had no cell phone service. I am not complaining about that, but our work around to communicate back home to the XYL often required a trip to the pay phone (sometimes hard to find). I thought about perhaps using APRS's capability of relaying short pieces of text as emails. Part of the problem is that there are many areas of the parks that don't have any APRS digipeater coverage (Glacier and Yellowstone National Parks for example). How to get a message through?
Then I remembered my MARS station (AEN5AC) in Iraq. I was using an ICOM IC-7000 and an SCS PTC-IIusb modem to pass MARSGRAMS from my location north of Baghdad to another station at the US embassy in Qatar. The pairing worked quite well and I was consistently able to connect and pass traffic using PACTOR 3 at the 1400 baud rate. Could I use a similar setup to provide an HF email option while camping this summer?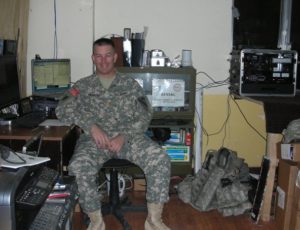 I dug out my SCS PTC-IIusb modem. I had not used it since shutting down the MARS station in June of 2008. Everything was still in the box. To include the cables necessary to interface the modem with an ICOM IC-706MKIIG… the same rig I use for HF mobile.
I pulled out my spare IC-706MKIIG. Coming back to Kansas from Field Day in California back in 2009, my IC-706MKIIG quit on me. I ended up buying a second at the HRO in Denver and sent the broke one to ICOM. ICOM fixed it and returned it. I kept it in the box and it went back on the shelf. I did order a 6 pin Molex connector with powerpoles to allow for an easy power connection (#9). I connected the two cables from the modem to the rig. Once cable is for the data and plugs into the 706's 13 pin accessory connection (#4). The other cable connects to the 706's CI-V interface (#6) to have the radio change frequencies based on what station is being contacted.
I had the basic hardware of a HF email station, except for a computer. I would need one that would function out of the vehicle. This would probably require a laptop. I also decided for the ease of simplicity that the computer should be Windows driven (instead of Linux). Gasp! The bottom line is that the software and drivers required to send email via HF and use the SCS PTC-IIusb modem is Windows based. The answer ended up being an Dell XPS 15.

Using a Windows based computer helped me with a number of summer travel tasks that could not be accomplished by my small Linux laptop:
(1) Run the software required for HF email (more on Winlink and Airmail later)
(2) Run ARRL's TravelPlus for Repeaters
(3) Run RT Systems radio programming software for my TM-D710A
(4) Run RT Systems radio programming software for my VX-8RGs
(5) Read the SD card from my Canon digital camera
Interestingly enough, the new laptop does not have a CD/DVD drive nor an RJ-45 connection for a LAN cable. Neither of these have been a show stopper yet.
ARRL's TravelPlus for Repeaters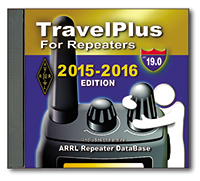 I had purchased TravelPlus for Repeaters with the intent of installing it on my existing Linux laptop and running it under a VirtualBox Windows session (similar to how I run iTunes on my Linux laptop). However the software failed to install. I tried troubleshooting and looking at suggested fixes found on the forum sites but still had no luck. I tried installing TravelPlus using WINE. It installed but would not run as well.
Dell XPS 15 to the rescue. As the laptop does not have a CD/DVD drive, I copied the drive onto network storage. I then was able to install TravelPlus over the network and it is working without issue.
RT Systems Programming Software
The RT Systems programming software works fine under a VirtualBox Windows session. As I was moving all my vehicle related radio/computer tasks to the new Windows laptop, I attempted to install the programming software for the TM-D710A (used for beaconing the location of my vehicle and talking on VHF/UHF). Following a similar procedure that worked for TravelPlus, I copied the programming software from the install disks to a network drive. The software installation for the TM-D710A worked without a hitch. The software for the VX-8RGs (HTs we use for around camp and hiking) failed to load. The error said that I must use the original disk to install. A big challenge when the laptop doesn't have a CD/DVD drive. The work around is that you find another Windows computer with a CD drive, load the software CD, then back on the driveless laptop, map the CD drive (like you would map a network drive). That worked and I was able to install the programing software for the VX-8GR.
HF Email Software
There are two main choices for software to allow for HF email: RMS Express and Airmail. I installed both. Airmail was the same program I used in Iraq and it offered easy configuration with the IC-706MKIIG and the SCS PTC-IIusb.
I now had all my equipment for a test run setup in my basement hamshack: spare IC-706MKIIG, SCS PTC-IIusb, and the Dell XPS 15 with Airmail. I connected the IC-706MKIIG to my Elecraft tuner and used my existing G5RV antenna. Airmail configures easily. The software has a list of stations offering mailbox services that can be viewed on a propagation chart by frequency and distance. Based on time of day, I selected a station in Texas that offered a 40M PACTOR 3 connection. Airmail allows me to click on the frequency in the propagation chart which then changes the dial frequency of the radio. After listening to see if there were any ongoing connections, I initiated contact. The modem lights flashed and the rig clicked between transmit and receive. The connection was made and I was able to send a test email as well as a position report.
Success! The position reports that go into the Winlink system are copied over into APRS. Now, even if I am not able to reach a digipeater with my VHF APRS beacon, I can send a position report over HF to let the XYL know where we are.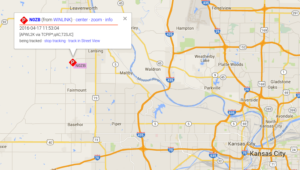 I then thought about the steps I would have to take of transitioning my IC-706MKIIG configured for HF mobile to be ready to work with the PTC-IIusb to send email. As the remote head is located up near the drivers seat, this would present problems with being able to observe the modem, laptop, and radio control head all at the same time.
What if I just dedicated the spare IC-706MKIIG rig to the task of HF email? It would save me time and bother in pulling and plugging cables. It would also give the camping option of being able to operate HF from outside the vehicle.
Using an additional iPortable box, I rack mounted the spare IC-706MKIIG and the SCS PTC-IIusb. Now I will have a spare HF rig with me, so if one goes out I will still be operational. I also attached the Tarheel screwdriver antenna's rocker switch to raise and lower the antenna on the side of the box. During normal HF mobile operations, the TurboTuner (connected to the other IC-706's tuner connection and CI-V connection) manages achieving a correct match between the operating frequency and the screwdriver antenna.
I only have the one TurboTuner. The TurboTuner requires a connection to the CI-V. So does the SCS PTC-IIusb. My solution was to leave the TurboTuner alone. Instead, using the rocker switch, I can manually tune the antenna while visually observing the 706's SWR meter.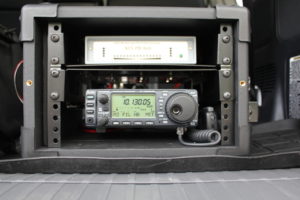 To transition between using the 706 dedicated to HF mobile to the 706 now dedicated to HF email, I have to do the following:
(1) disconnect the antenna feedline from the TurboTuner
(2) disconnect the control line that goes from the TurboTuner to the Tarheel screwdriver antenna
(3) connect the antenna feedline directly to the HF email 706
(4) connect the control line to the rocker switch
(5) connect the laptop to the SCS PTC-IIusb via a USB cable
(6) connect the iPortable's powerpole connection to the junction box in the back of the vehicle
… then I am ready to go. The iPortable box rests nicely on the vehicle's tailgate, next to the laptop. All at about lawn chair height. Not only can I use this setup to send email via HF, but I can also use it for causal National Parks On The Air contacts as well.
What's left to do:
(1) Constant cooling fan modification for both IC-706s (see AD5X's article)
(2) An extended control cable for the Tarheel screwdriver antenna. This will allow me to further remote away from the vehicle, but still use the antenna.
(3) A length of antenna feedline for remoting.
(4) A length of powerpole-ready powerline to attach to either the travel trailer battery or directly to the spare vehicle battery… again for remoting away from the vehicle.
(5) I have a set of Heil headsets that worked with my IC-7000. I think if I get the AD-1ICM, I should be able to use them with the 706.
(6) A Heil HS-2 hand PTT switch to use with the headset.
All aboard for ADVENTURE! I purchased this book a while back and I finally dug it off the shelf. Kay Everett Calls CQ, by Amelia Lobsenz, is about a young college girl who takes a summer road trip from North Carolina out to the West with three friends, a travel trailer, and ham radio. For me, this book has several things going for it: (1) strong female protagonist (I have two daughters), (2) HF mobile (I need to get my rig installed in my new vehicle), and (3) a travel trailer trip to Yellowstone National Park, Idaho, and the Colorado Rocky Mountains. The plot centers around a jewel thief, who is also roaming the West, and Kay learning about the amateur radio hobby. Ham radio plays a critical role in several places and the author has the main characters explore several aspects of the hobby (… they even go to a hamfest).
The author, Amelia Lobsenz, was an experienced ham, licensed in 1941. After a stent in publishing, she ran her own public relations firm. She based some of the characters on her actual friends, to include Theresa Korn, K7JGU. In the story, Terry, a YL and pilot, takes two of the girls flying over Idaho (aeronautical mobile, where they end up directing smokejumpers into a wildfire). The protagonist, Kay, is named after Ms. Lobsenz's own daughter.
Ms. Lobsenz used a 1940's trip out West to serve as inspiration for Kay's trip. Among the many places the girls go include:
– National Elk Refuge National Wildlife Refuge
– Grand Teton National Park
– Yellowstone National Park
– Craters of the Moon National Monument
– The Great Salt Lake in Utah
– Rocky Mountain National Park
Amelia became a Silent Key in 1992, but I think her written work will live on.
This blog started in conjunction with my return to the United States in 2005 and purchase of a Toyota Tundra. After being away from the US for four years, I celebrated my return by the purchase of the new truck and a (mostly) circumnavigation of the lower 48. My first encounter with Toyota was through my friend Robb and a 1980s Toyota 4×4 he had. Robb was going to school at Cal Poly, San Luis Obispo. Robb was fond of taking his truck to Pismo Beach and enjoying the beach and dune experience. Robb loved his truck.
After spending a year in Monterrey, CA learning Russian at the Defense Language Institute and a few months honing my listening abilities at Goodfellow Air Force Base near San Angelo, TX, I got my follow on orders to Fairbanks, Alaska (Fort Wainwright). I didn't have a car. I was an enlisted Army soldier making not a whole lot of money. Heading way, way up north. I figured I needed a 4-wheel drive vehicle to make my life a bit more comfortable. My first thought was a Ford Ranger. But it ended up being too expensive. The most reasonable costing 4-wheel drive vehicle was a Toyota 4×4. It was 1993 and the Tacoma had not come along yet. 1993 Toyota 4×4. Manual locking hubs. Manual windows. AM/FM radio. Bench seat. No A/C. 4 cylinders. That truck was to go on to perform flawlessly in Alaska, transported me from Alaska to Georgia and several cross-country trips. Arizona. Washington State. Texas. And California. For seven years, that truck never let me down. I was heading off to Korea for a year to be followed by three in Germany. I sold the truck.
When I was planning my return to the US, I knew I wanted to get another Toyota. I settled on the Tundra. But instead of the minimum package, I was able to swing a 2005 Toyota Tundra Limited Double Cab 4×4. This truck offered to support a newly forming family. I broke the truck in with a trip around the US. I continually upgraded my ham radio installation in the truck, further enhancing my mobile enjoyment. The Tundra performed flawlessly. Never an issue.
The Tundra proved to be the hero of the 2015 Summer trip. Five national parks. From Kansas to Montana, Wyoming, out to California and back. Pulling a travel trailer. No issues, no problems. Over 120,000 miles.
It was time to think about the future. A future of summer travel. Exploration of national parks in the west. Colorado. Arizona. Utah. Maybe an upgrade to the travel trailer. The 2005 Tundra had an older drive train and a towing capacity topping out at 4,200 lbs. Comparing the aging 2005 Tundra to the current available 4x4s… the 2005 had a hard time measuring up.
I wanted to find something that was as reliable and dependable. Offered increase towing capability. But maybe smaller? Truth be told, I often had difficulty parking the Tundra. The turning radius was… challenging. Was there something available in a smaller package, yet offering increased performance and towing capabilities? Oh… did I mention that it has to be a Toyota?
Having an EchoIRLP node here at home allows me the option of communicating with the XYL (who holds a Tech license) when I am on the road. I found this very useful when I was stationed in Korea. With the time difference, the end of my day was the beginning of hers. I could check APRS to see when she started her morning commute and then connect to my home node. This allowed me to check in with her as well as saying "Hi" to the kids.
With the Summer Trip, the XYL will not be with us the whole time. Therefore, IRLP may well offer a solution.
Time change will not be a significant factor – which means the best times to schedule IRLP QSOs with the XYL would be during the commute times. That should work fairly well because I do not plan to be on the road either too early in the morning or much past the late afternoon.
What is the availability of IRLP nodes along the route I am taking and will they be near our overnight stops? Enter the ARRL's Repeater Directory. I remember my dad almost always having the shirt-pocket version of this directory by his easy chair along with his HT and a mechanical pencil that he used to make notes. I have consistently followed his lead, although I usually keep a copy in my truck as I am not too much of an HT guy. Another difference is my excitement about the Desktop Edition of the Repeater Directory. I find the shirt pocket edition way too tiny and difficult to use. The Desktop Edition is the Business Class of directories…. spacious, roomy, and comfortable.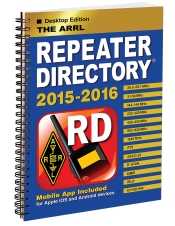 I took advantage of ARRL's birthday coupon to purchase the 2015-2016 directory and am using that to start my IRLP node research. Without digging up my maps and looking too much at the surrounding areas, here is what I found:
Sioux Falls, SD, IRLP Node #7346, 444.2, 82.5
Gillette, WY, IRLP Node #3307, 449.75, 123
Cody, WY, IRLP Node #7194, 146.85, 103.5
Great Falls, MT, IRLP #7908, 147.3
Great Falls, MT, IRLP #5670, 147.36, 100
Bozeman, MT, IRLP #3692, 448.35, 100
Billings, MT, IRLP #3398, 449.75, 100
What I will probably do is use my home node to connect to these nodes to see if they are in operation and get an idea as to what their coverage areas are.
My current assignment at Fort Leavenworth has me traveling quite a bit. My intent has been to bring a rig with me and have some casual QSOs while on the road. My success has been mixed. I would mostly attribute this to either a lack of planning on my part or being in a stuck in a hotel room with zero antenna opportunities.
One of the most inspiring ham radio blogs I ever ran across was the 100 Pound Dxpedition. I enjoyed how Scott, NE1RD, covered his adventures of conducting portable operations… documenting what worked and what did not. His last post on that paticular blog was back in 2007, but I still use the site as a reference. Scott's praise for the Buddipole led me in using the Buddipole during my recent tour in Korea. Another tip from Scott I am going to try out is using a hardside golf bag case to transport my Buddipole to Hawaii.
Now for a rig… I think the Elecraft KX3 would be ideal for a Hawaii trip. With 10 watts output and an internal battery, I can't think of better rig to take to the beach. But the wait time for the KX3 is still quite a while. I have both an Elecraft KX1 and a Yaesu FT-817ND. The KX1 would be great due to its small size and ease of use. But it is limited to only CW and I would like to do some PSK in addition to CW.
I pulled out my FT-817 and conducted an inventory:
– West Mountain Radio RIGblaster Plug n Play connects directly to the DIN socket on the back of the rig.
– CAT cable that connects from the RIGblaster to the rig's ACC socket which enables rig control.
– PowerPole 12v adapter.
– Palm Paddle.
– Elecraft T1 Auto-tuner.
– Nifty manual for the FT-817.
My FT-817 has quite a few of the optional bells and whistles from W4RT:
I also splurged on two recent upgrades:
– Peg Leg tilt stand – I think this will be helpful as one of my significant dislikes of the FT-817 is the small display which is hard to see.
– Magnets for the Palm Paddle – this is critically important as the Palm Paddle by itself is not heavy enough. The magnets allow the Palm Paddles to firmly stick to the top of the FT-817.
For PSK, rig control, and logging I have my Dell Mini netbook. I had not used the netbook in a while, so I started it up to see how it was working. I initally purchased it back in 2009 baselined with Ubuntu and have kept Ubuntu installed on it since then. After booting it up. I updated the distribution to 10.04 LTS and installed fldigi. The RIGblaster easily interfaced with the netbook via a USB connection and the headphone/microphone jacks.
I configured fldigi to work with the RIGblaster to include rig control using Hamlib:
– Audio: PortAudio using the netbook's hardware soundcard for both Capture and Playback
– Rig: Hamlib; Device /dev/ttyUSB0; Baud rate 38400; Stopbits 2; PTT via Hamlib command checked
… clicked on the Initialize button and I was good to go.
Setting up the macros on flidigi is pretty straightforward with the default macros only needing slight tweaking for my personal preferemces.
Once I fired everything up all I had to do was switch to 14.070 MHz, switch the mode to DIG, and drop the input level a bit. With the narrow yellow PSK streams cascading down the waterfall, I picked one that was calling CQ and answered. Transmit worked and my home antenna provided a nice low SWR, no need for the tuner. My macros worked and the QSO was concluded successfully. All with 5 watts.
I plugged in the Palm Paddle, switched to 7.115 MHz, listened and heard nothing, then used the paddles to send QRL? a few times. SWR still looked decent. After a few CQ calls, I got an answer followed by a short QSO. Great – both PSK and CW were working FB.
Now the question is: do I want to bring my small Tokyo Hy-Power HL-100B amplifier that will raise the output to 100 watts? If I bring the amp, I will have to bring a power supply and a different tuner. I am thinking I need to be able to use two different configurations:
(A) Beach and Buddipole: using the barefoot FT-817, running everything on batteries.
(B) Lanai Portable: used from the hotel room, with amp and assoicated power supply.
Now it is time to go through my Buddipole bags and figure out what I need to pack.
Looks like I will be there during the Hawaii QSO Party!
Ham radio and trail hiking have been a natural pair. There are a few hams (that I know of) who have stood out over the last few years in hitting the trails with their amateur radio gear.
The first is Ed, WA3WSJ. He has been out on the Appalachian Trail (or AT) numerous times and has brought along a minimalist setup to get on HF and make some contacts. Chances are that you have heard of the Appalachian Trail – it streches from Georgia to Maine and allows an individual to hike from start to finish.
Ed's an advocate of pedestrian mobile (WA3WSJ/pm) and has published a few books that tells of his experiences and offers advice for those interested in following his footsteps. He also has established the Great Outdoor Radio Club, which offers resources to avid and aspiring radio trail men.
Another amateur radio hiker is Dennis, K1YPP. He actually completed the Apalachain Trail and also wrote a book on his expierences. Hiking from one end to the other involves reducing the backpack weight as much as possible. Dennis successfully used QRP rigs during his time on the trail.
Here is a podcast of two hams who discuss hiking the Appalacian Trail, including the use of amateur radio (ham radio) and QRP (low power, less than 5 watts) along the way. From the series at Atlanticon 2006 in Timonium, MD.
The APRS folks also are involved in activities on the Appalachian Trail (check out here and here).
Heading west, the next major trail is the Continential Divide Trail. The trail goes from Mexico to Canada and spends a good portion of its time following the Rocky Mountains. Although not a dedicated Continential Divide Trail hiker – Steve, WG0AT, has spent plenty of time in the Rocky Mountains making amateur radio contacts. Steve's take on hiking is a bit different as he brings two goats with him that help carry the equipment. If you have not seen his Youtube videos, then you are missing out.
Bob, K0NR, is also active in the Rockies… having most recently participated in a unique ham radio event – The 14er. Paul, W0RW, is an pedestrian mobile ham who has taken to the mountains to log contacts. However, I do not think either Steve, Bob, or Paul have actively hiked the Continental Divide Trail along with their rigs.
Further west is the Pacific Crest Trail. I was curious to find that not many hams head to the Pacific Crest Trail for hiking and QRP work either. There is a repeater guide by Bill, AA6J – but I am not sure how much of the trail he has hiked or if he brought any HF gear. The only ham I can find that has attempted the hike was Bruce, N7RR. It also looks like he did not make it all the way. Being a Californian, I am surprised that more west coast hams have not hit the trail along with their HF radio gear.
Have you had a QSO with a ham on the Appalachian Trail, Continental Divide Trail, or Pacific Crest Trail?


How do you feel about the idea of packing up a rig and heading for the mountains?