I'm sure that all of you have heard about Amelia Earhart and how she wanted to become the first woman to fly solo around the world. On June 1, 1937, she and her navigator took off from an airport in Florida and attempted to do just that. She however didn't make it, but she came close. Her plane disappeared somewhere in the Pacific ocean.
Eighty years later, Brian Lloyd, WB6RQN, decided that he would attempt to fly around the world solo following(for the most part) her historic flight. Thankfully, Brian made it home back here to Texas, however it wasn't without it's problems.
In this episode of the Everything Ham Radio Podcast, we talk with Brian about his trip We talk about all the highs and lows, about all the awesome people that helped him along the way and generally about his adventure.
Give this episode a listen, I had a great time talking with Brian and I hope that you enjoy listening in on our conversation. You can find the show notes for the episode as well as listen to it at:
Thinking back to when I was a kid, I used to love riding my bike. My friends and I would get up early every morning and go riding our bikes for about an hour before school started. Then after school we would leave and ride our bike for another two hours or so until it was time to go home for supper.
I wasn't a ham back then, but I sure loved that bike. Fast forward a few years to my junior year of high school when I got my ham license. I didn't ride my bike so much anymore, because I didn't live in town anymore and would've been a seven mile ride to and from school and on roads that probably were not the best roads to ride on.
I did start to merge the hobbies somewhat around this time though, however it isn't anywhere near what Mike and the rest of his club does on theirs. I would clip an HT to my belt and the speaker mic to my shirt and that was the about it.
In today's episode, Mike talks with me about how he does it, how he operates while being Bicycle mobile. We talk about some of his experiences and some contacts he has made.
This is Episode #186 of Linux in the Ham Shack. In this episode, topics include driving while using your amateur radio in Canada, UHF regulations in The Netherlands, amateur radio testing, Samba, tickr, Arch Linux, GeckoLinux and a whole lot more. Thank you so much for listening. We appreciate each and every one of you.
73 de The LHS Crew
I've always had a liking for the General Mobile Radio Service (GMRS). It's a licensed radio service but does not require a technical exam so it works great for basic personal communications. When our kids were young we made good use of GMRS communications. This was back in the Pre-Cellphone Era, shortly after the dinosaurs left the earth. I still have my GMRS license: KAF1068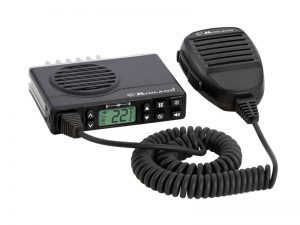 GMRS uses frequencies in the general vicinity of 462 and 467 MHz. When the FCC created the Family Radio Service, they intermingled the FRS and GMRS channels, creating a real mess. See this page for a good explanation of how FRS and GMRS frequencies are arranged. Many of the low cost walkie-talkie radios sold in stores are combination FRS/GMRS radios.
I recently came across this really sweet little GMRS rig, the Midland MXT-100 Micro Mobile GMRS Radio. This thing is nice and small with an external mag-mount antenna for the roof of the car. It only has 5W of output power, which is not much more than a typical FRS/GMRS handheld radio but the external antenna should help a lot. (I've heard there are newer models on the way so stay tuned for that.)
I've encountered 4WD / Jeep clubs that use FRS radios for on the trail communications. This Midland radio would be a good upgrade for that kind of use, providing additional radio range. Some of these 4WD enthusiasts have gotten their ham ticket via our Technician license class. Ham radio provides a lot more capability but not everyone in their club is likely to get their ham license. GMRS is a great alternative…the other UHF band. It will work for other outdoor, community and club activities that involve "non radio" people.
FCC recently reduced the cost of the GMRS license to $65 for 5 years. I suspect that most people don't bother with getting a license…but they should. For more detail on GMRS, see the FCC GMRS Page or for some good bedtime reading see the FCC Part 95 Rules.
73, Bob KØNR
The post GMRS: The Other UHF Band appeared first on The KØNR Radio Site.
Hello, listeners! We're putting out our latest episode of Linux in the Ham Shack just before Hamvention. We have great topics tonight including hams suing hams, the fight between Oracle and Google, antenna and kit building, mobile operation and so much more. Don't forget that we WILL be at the Dayton Hamvention this year in the East Hall, booth 625. Also, please note that we could still use your help in defraying some of our Hamvention expenses. If you'd like to donate (and maybe pick up some cool LHS swag in the process), please click on our Generosity Campaign link. See you there!
73 de The LHS Crew
This recycled post from 2008 is still accurate, but I do have my HF antenna up and recently used it for the CQ WW SSB Contest.
I was looking out the window the other day and noticed that my wire HF antenna is laying on the ground. Hmmm, probably doesn't radiate very well that way. But if I put a long, lossy coaxial cable in line, the SWR will still be good at the transmitter. And I can tell my buddies that it works just fine because "I can work everyone that I hear." (What a dumb thing to say.)
This made me realize that most of my ham radio activity lately has been on 2m FM. Actually it has been on 2m and 70cm FM, as I tend to lump these two activities together. These days, my VHF/UHF FM rigs have at least 146 MHz and 440 MHz in them (FT-7800, FT-8900, etc.). I cruise down the road and flip on the rig, talk to the locals, talk to the XYL, etc. It is just too easy and too convenient. It fits the mobile lifestyle, whether it means operating a mobile rig in the car or grabbing an HT to take along on a business trip. (I used to run HF and SSB VHF mobile but found that the rigs were rarely used, so I removed the gear from my vehicle.)
Of course, I need to apologize to the rest of the ham community for this failure to act according to accepted social norms. You know how it is…Real Hams operate HF, weak-signal VHF, microwaves, etc……almost anything that is not 2m FM. Every so often I hear that comment about "well, those techs just hang out on 2m FM," implying that those guys are permanently stuck in ham radio middle school, unable to graduate to the next level. Or sometimes the FM operators are referred to as having "shacks on the belt" which are dependent on the "box on the hill." The main message is that 2m FM is just too easy, too plug-n-play, too much like an appliance….too convenient. We certainly can't have that!
Don't get me wrong…I enjoy HF, DXing, contesting, digital modes, almost anything to do with amateur radio. That's the cool thing about the hobby…so many bands, so many modes. One of my favorite activities is operating the major VHF contests. (I've even been known to make a few CW contacts.) But on a day-to-day basis 2m FM just seems to fit in better.
Some people call 2m FM the Utility Mode, because it is the mode that gets the job done. Last week, we had a weather net activated to track thunderstorms and a few tornadoes. Did this happen on 40m? I don't think so. Two meters carried the load. Where do most of the ARES and RACES nets meet? Two meters. How is most public service communications handled? Two meter FM. Even some hard core HF DX enthusiasts are known to flip over to 2m FM to tell their buddies that the DXpedition to a rare country is on the air. It is the Utility Mode.
Over the weekend, I was driving through the mountains and heard an aeronautical mobile working stations simplex on 146.52 MHz…lots of fun. Another time, I heard a station calling about 80 miles away (I was in a high spot) and I had the pleasure of making that contact….again, on 2m FM. A few weeks ago, I operated in the Colorado 14er Event from the summit of Pikes Peak. Since many of the mountaintop stations had hiked up, the most popular mode of the day was (you guessed it) 2m FM.
So sorry, I have been hanging out on 2m FM. I'll try to get that HF antenna back in the air one of these days.
73, Bob K0NR
The post Sorry, I've Been On 2m FM Again appeared first on The KØNR Radio Site.
All aboard for ADVENTURE! I purchased this book a while back and I finally dug it off the shelf. Kay Everett Calls CQ, by Amelia Lobsenz, is about a young college girl who takes a summer road trip from North Carolina out to the West with three friends, a travel trailer, and ham radio. For me, this book has several things going for it: (1) strong female protagonist (I have two daughters), (2) HF mobile (I need to get my rig installed in my new vehicle), and (3) a travel trailer trip to Yellowstone National Park, Idaho, and the Colorado Rocky Mountains. The plot centers around a jewel thief, who is also roaming the West, and Kay learning about the amateur radio hobby. Ham radio plays a critical role in several places and the author has the main characters explore several aspects of the hobby (… they even go to a hamfest).
The author, Amelia Lobsenz, was an experienced ham, licensed in 1941. After a stent in publishing, she ran her own public relations firm. She based some of the characters on her actual friends, to include Theresa Korn, K7JGU. In the story, Terry, a YL and pilot, takes two of the girls flying over Idaho (aeronautical mobile, where they end up directing smokejumpers into a wildfire). The protagonist, Kay, is named after Ms. Lobsenz's own daughter.
Ms. Lobsenz used a 1940's trip out West to serve as inspiration for Kay's trip. Among the many places the girls go include:
– National Elk Refuge National Wildlife Refuge
– Grand Teton National Park
– Yellowstone National Park
– Craters of the Moon National Monument
– The Great Salt Lake in Utah
– Rocky Mountain National Park
Amelia became a Silent Key in 1992, but I think her written work will live on.