Several Dual Band DMR handhelds have been introduced into the market in the past few months. Having owned most of them, I would have to place this one toward the very top of the list. The DMR-6X2 is both VHF and UHF, Tier II  DMR digital as well as FM analog with most features geared strictly toward ham radio use.
Important Note:  The BTech DMR-6X2 is Not made by Baofeng. (see note below).  That being said, let's see what's…
In the Box
Included with the radio are the:
–  Two (2)  Li-Ion Batteries   (2100 and 3100 mAh)
–  Two (2)  Belt clips
–  Hand Strap
–  37 page User Guide – English
–  Charger base & AC adapter
–  Antenna – 6.25″ (16cm)
–  Programming Cable
–  Earphone / Microphone
General Description
–   DMR / FM
–   VHF / UHF Dual Band
–   Size:  5.1 x 2.4 x 1.5″   (129 x 61 x 39mm)
–   Weight:    9.9oz   (282g)  w/ant & 2100 mAh battery
–   Weight:   10.8oz  (306g)  w/ant & 3100 mAh battery
–   136-174   400-480 MHz
–   CTCSS/DCS  DTMF/2TONE/5TONE
–   Digital Simplex Repeater
–   <1.0w / 6.0w transmit
–   4000 channel
–   250 Zones (up to 250 channels per zone)
–   10,000 contacts
–   150,000 DMR Database Contacts
–   Part 90 compliant – 2AGND-DMR6X2
–   N0GSG Contact Manager Compatible
Basic Description  (additional features)
The heart of the 6X2 is the proven Anytone D868. Under contract with Anytone, BTech had several addition features exclusively added to the 6X2.
Some of the additional features exclusive to the 6X2 include:
–  Multiple Scan Groups
–  Priority Scan
–  Change TG via Keypad (Adhoc) with Unlimited Hold Timer
–  Display Color Options
–  Digital Simplex Repeater
–  Analog Squelch Level Adjustment
–  Start Up Code Plug Compatibility
–  Display Hold

– Multiple Scan Groups in Same Channel
The 6X2 allows multiple scan lists to be entered  per channel. You are no longer limited to one scan group entry per channel. The scan groups can include and mix of DMR or analog channels.
– Priority Scan
When developing a scan list, up to 2 channels can be assigned as priority. This allows the priority channels to be interwoven in the scan list. As an example:
–  Channel 1
–  Priority Channel 1
–  Channel 2
–  Priority Channel 1
–  Channel 3
–  Priority Channel 1
– Change Group via Keypad ("Unlimited" hold timer)
This is specially nice when using a hot spot. By setting a key function to "Dial" or "Long Press 0", and the Group Call Hold time to "Unlimited", you can enter a Talk Group using the number pad and it will remain permanently or until the channel is changed. No longer is the hold time set in seconds or minutes.
– Display Color Options
There are two display color options available. They are White on Black background, and Black on a Powder Blue background. (shown below). They are selectable by either software or keypad menu.

– Analog Squelch Level Adjust
The analog squelch level can now be adjusted using one of the programmable keys.
– Start up Code Plug
To assist with start up, the software was written to initially accept an Anytone D868 code plug.  I've had a 868 since they first came out, and this was a huge time saver. Everything transferred and I was ready to play radio in minutes.
Note: Due to the extra features in the code plug, a 6X2 CP cannot be transferred back to a D868.
– Digital Simplex Repeater
Not to be confused with a standard repeater, this feature allows the DMR-6X2 to function as a Store and Forward Simplex Repeater. The 6X2 records a transmission and stores it in memory. Immediately after the incoming signal is dropped, the transmitter keys and re-transmits the recorded audio. The re-transmission can be either on the same or different frequency (not necessarily on the same band).
This feature allows the 6X2 to be used as a relay point during events such as marathons, races, etc. where a central relay method is needed and there is no local repeater.
– Display Hold
When a signal is received, the data image (name, call, location, etc) remains on the screen until the next signal is received rather than drop back to a standby screen. There is a Call End indicator at the bottom, but the data remains.
The Technical Side of the 6X2

The Transmitter
The frequency range of the DMR-6X2 is both VHF 136-174 and UHF 400-480 MHz. Along with DMR, the radio also supports analog FM (Wideband and Narrowband)

The power levels hold pretty close to the specifications. There are four power levels with a high of 5.0W and a Turbo mode of 6.5W. I personally run mine in 5W mode. Turbo isn't going to Make or Break the signal, but it helps the battery.
What I do like is the low power mode is less than 1W. I run a hotspot here and if the power was only 0.3W I would be happy.
My audio reports have been excellent both through a DMR hotspot and the local repeaters. There is a five level microphone gain parameter that allows you to select the microphone gain level that best suited for your voice. I use level 3 (mid-level) for a full smooth audio response. I tried level 5 and found the audio was way too hot.
Power levels are listed below and were taken using a calibrated Bird Termaline wattmeter.
Enclosure
The DMR-6X2 case has a good solid feel and weight, and fits the hand well.  It weighs in at  9.9oz   (282g) with the standard battery attached and 10.8oz (306g) with the high capacity battery. Battery removal requires a simple push of the release slide located at the top of the battery. No battery sliding or pushing is required.
I found the keypad buttons a bit larger than most with a lighted keypad layout of three across and four down. This puts the zero (0) at the bottom of the keypad where I believe it belongs. The PTT button requires only a light pressure that doesn't tire the finger to press.

Antenna
The included dual band antenna is 6.25″ which is a fairly common size for a handheld. I found that there was a slight improvement of about 2db by using an NA-771.  The 771 is 10″ longer, so a difference would be expected, but I'll probably stay with the stock antenna.

Receiver and Audio
The receiver sensitivity is very good on both digital and analog. I found the receive audio is amazing with wide and smooth frequency range.
The volume control range is adjustable with the software. Level 1 sets the full range of the volume control to a soft level, even at full volume. Level 8 sets the volume range to very loud at the top end. My preference is level 3 to 5 which is plenty loud, even for mobile operation.
Display
The radio has a two multi-color display options. The high contrast White on Black, and the softer is a Powder Blue with multi-color icons. The color is selectable via software or as a keypad menu option. The screen size is 1.1″ x 1.4″ with excellent resolution .
There are multiple sites where the current DMR User Database can be downloaded. There are various formats available allowing you to view name, call, location, user ID, license class, etc.
.

Software
Along with entering data in the conventional manner, the software allows you to import and export data to 'csv' files. Loading in a contact (TG) list, channel list, database, etc. is relatively simple.

I found being able to export to a 'csv' file has several advantages. I like having my channel list in sequence. With most software, you can only add new channels to the bottom of the list. Now I can sequence the list so it's easy to view then load it back into the code plug.
Adding a new repeater can be done in minutes. I just cut and paste a copy of an existing repeater, change the frequencies, and load it back.
Note: The BTECH 6X2 can import a code plug (.rdt) from an Anytone D868UV directly. This is a great way to get your 6X2 on the air. Once loaded, however, due to the expanded parameters, the D868 is not capable of reading a 6X2 code plug.

CSV transfer Caution
Adding large amounts of data, updating and re-sequencing via CSV files is a major plus, but should always be done with Caution. For instance, Talk Group data must always be loaded before or at the same time as the Channel data. If not, improper data attachment may not occur.
Always backup your current code plug before modification.
Firmware
As additional features and future enhancements are developed, the radio can be updated to latest model. A firmware upgrades can be done with a Windows computer in about 5 minutes.

Note: The DMR-6X2 firmware is specific to this radio. It cannot be uploaded to a different model in hopes of adding new features.
Programming Cable
The DMR-6X2 comes with the necessary programming cable. The UART chip inside the radio, so the cable itself is straight through. There is no circuitry inside the cable itself. The driver will load automatically when the cable is attached.

For reference, although the cable appears to be the same as some that have the chip in the cable, those cables are not compatible.
The charger base requires a standard 12vdc wall wart (included). The LED on the front of the charger base is Red when charging, and Green when either fully charged or no radio in the cradle. The battery easily charges to full capacity with an overnight charge.

Battery and Charger
There are two batteries included with the 6X2, a 2100mAh and a high capacity 3100mAh. With battery save on, I can get 2 to 3 days out of the 3100mAh battery before needing a charge.
There are also USB charging cables available with output of 12V. These can also be used in place of the included Wall Wart.
Conclusion
If you think the BTECH DMR-6X2 very closely resembles a D868UV, you are correct, but as shown above, it is definitely not simply a rebadged Anytone. There are features and enhancements that set these two radios apart. I think BTECH was wise to wait for the bugs to be ironed out before introducing the 6X2 to the market.
If you're waiting for this radio to drop in price, don't hold your breath. Its features and performance make it well worth the price.
The obvious pros are the following:
–  True Tier II DMR
–  Same Band and Cross Band digital simplex repeater
–  Dual Band VHF/UHF operation
–  Multiple Scan Groups per Channel
–  Priority Scan
–  On the Fly Talk Group Entry
–  Built-in Voice Recorder
–  2TONE and  5TONE decoding
–  150K user database capacity
–  FCC Part 90 certified for commercial use
–  N0GSG Contact Manager Compatible
There are plenty of options geared more for hams than commercial use. It performs well and makes a nice addition to the ham shack.
Available from:   
and    Amazon


For Clarification
BTech (BaofengTech) is not a division of Baofeng. They are an ODM that partners with OEM manufacturers to spec and build to their own requirements, whether from scratch (UV-5X3) or from an existing product. This 6X2 is an Anytone at heart with additional unique features found only in that model.

Here's a comparison chart showing the major differences.
Click to enlarge.


For the Colorado 14er Event, Joyce/K0JJW and I decided to activate Mount Princeton (W0C/SR-005).  I had climbed this summit many years ago, well before Summits On The Air (SOTA) was a thing. Princeton is a majestic peak that towers over Buena Vista and the surrounding area. We see that mountain quite often when we are up at the cabin, so I kept thinking it would be great to activate it for SOTA. Despite it being a popular 14er, it had only been
activated 2 times before (now 4 times with Joyce and me).
For complete information on climbing this summit, spend some time studying the 14ers.com web site. You will see references to the Upper Trailhead and the Lower Trailhead. A 4WD road leads to the upper trailhead which is where we started our hike at 11,800 feet. The Lower (or Main) Trailhead is way down at the bottom (8900 feet) which makes for a much longer hike.  Also, you end up hiking on the road, which tends to be boring.
The Road
The 4WD road is mostly "easy 4WD" with some challenging spots inserted along the way. It was no problem to drive the road with our Jeep Wrangler. A crossover-style SUV would have trouble in spots but can probably make it with very careful wheel placement. We parked very close to the upper trailhead, just pulling off to the side of the road, but there is not much room there. There is a lot more parking near the communications towers shown on the map but you have to hike another mile or so on the road. We made sure we had a parking spot by arriving at the upper trailhead at 5:30 AM; we were the first ones there.
The trail starts out very distinct and is easy to follow. Later, the terrain turns to talus (fields of large rocks) which continues for the entire climb. In some spots, the trail fades and is difficult to follow. Even when you are "on the trail" you get to do a lot of rock hopping. There is a reason they call these the Rocky Mountains. By my GPS app, the distance was 2.1 miles (one way) with 2360 vertical feet.
Summits On The Air
For radio operating, we focused on 2m FM using the Yaesu FT-90 Transceiver with LiPo battery, putting out 30W into a 3-element Arrow yagi antenna. I did have my very first DMR SOTA contact with Terry/KE0HNW, using my Tytera MD-380 handheld on 70 cm. I also made a few calls on 446.0 MHz but never got a reply.
Here's my log…Joyce's is about the same but with fewer QSOs.
UTC   Band  Mode Callsign
15:38 144MHz FM KD0VHD mobile
15:40 144MHz FM KS0E Jefferson
15:42 144MHz FM KI6YMZ Maroon Peak (W0C/WE-002)
15:46 144MHz FM N0MTN Mt Sherman (W0C/SR-061)
15:47 144MHz FM K0ETT Huron Peak (W0C/SR-010)
15:48 144MHz FM WA6MM Mt Bierstadt (W0C/PR-015)
15:49 144MHz FM KN0MAP
15:50 144MHz FM KD0YOB on his way up Mt Flora
15:53 144MHz FM KE0HNW
15:54 144MHz FM KE0RMY
15:55 433MHz DV KE0HNW My first SOTA DMR contact
15:57 144MHz FM W0AJO
16:17 144MHz FM K0BLL Mount Belford (W0C/SR-006)
16:30 144MHz FM W0ASB Mount Antero (W0C/SR-003)
We worked six other mountaintop stations, all of them 14ers. I also worked a few more summits on our way down the mountain but we were outside the activation zone, so I submitted those as a chaser log.
Thanks to everyone that came out to play!
73 Bob K0NR
The post Colorado 14er Event: Mount Princeton (W0C/SR-005) appeared first on The KØNR Radio Site.
The  AMP-25  series  VHF / UHF Amplifiers
The recently announced BTech Digital and Analog amplifier series puts a whole new spin on mobile operation. It performs more like a mobile than it does a power amp. The D series are true TDMA Tier2 DMR amplifiers.
Note: This review was done using an Anytone D868UV on both DMR and analog.

In the Box
Included with the 40W Mobile Amp are:
–  Mounting Bracket
–  3′  Interface Control Cable (Kenwood K1 connectors)
–  3′  RF connect cable (SMA-M to SMA-F)
–  Microphone and Hanger
–  All necessary mounting hardware
–  User Guide

General Description
–  UHF or VHF Power Amplifier
–  2-6W  >  20-40W  Output
                         Modes of operation include:

             V25  U25
            V25D   U25D

Analog (FM)




C4FM (Fusion)




P25  (Phase 1)




NXDN




IDAS




dPMR




MPT1327

 >  DMR Tier II (TDMA)
 >  P25  (Phase 2)


Analog (FM)




C4FM (Fusion)




P25  (Phase 1)




NXDN




IDAS




dPMR




MPT1327
A Different type of Mobile Amplifier

I found these to be much more than a typical power amplifier. Although they can function as a simple 'In and Out' power amp, this is about as close to a full mobile as you can get. Although the driving
force was my DMR handheld sitting in my cup holder, the transmit audio was that of the included hand microphone and the receiver audio out was coming through the built in speaker driven by a four watt audio amplifier.
Transmit Power

I tested the power on two different models. The VHF V25 (non TDMA) and the U25D for UHF DMR.  The power was tested using the analog side of both into a calibrated Bird Termaline wattmeter. The maximum current drain from my 13.6V 30A power supply was just under 6A. This is low enough for the amp to be powered by the 10A accessory jack in your vehicle.
Enclosure
The basic frame measures 4.6″W x 1.3″H x 5.5″D (excluding the SO-239) and weighs in at 26oz.  I was
curious to see the internal layout of the amp and to no surprise, there was a 5/8″ finned heat sink spanning the entire length and width of the case along with air vent along the back of the enclosure.
Operating Modes

These are single band amplifiers.
V25(D) = VHF 136-174MHz
U25(D) = UHF 400-480MHz.
Note: The V25D and U25D were designed to include DMR Tier II (TDMA) and P25 Phase 2 along with all other modes. Their operation varies slightly.
V25  /  U25
To operate VHF through the UHF (U25) amplifier, or UHF through the VHF (V25) amplifier, simply power off the amplifier. This will allow you to run straight through directly to the antenna without power amplification on that band.
V25D / U25D
These amplifiers will only operate within their specified VHF or UHF range. This is due to the circuit switching design of DMR Tier II and P25 Phase 2.

Hook Up
The simplest configuration is using the included RF cable to attach the radio to the amp. You could add a Spkr/Micr to the handheld, but you would still be bypassing some of the best features.
I use the two included cables. The 3′ RF cable to attach the radio to the amp, and the control cable. This
allows me to use the full size hand microphone as well as connecting the four watt audio amp powering the speaker. The power included power cable is compatible with handhelds using the standard two pin Kenwood style connector, such as an MD380, D868, GD77, UV5R, F8HP, UV82, etc.
I use an Anytone D868 on DMR as well as analog with the hookup diagrammed below. Depending on your radios antenna jack, you may need to pickup an SMA-M to SMA-M adapter.
Convenience

All channel selection and volume adjustments are done using the handheld. No duplicate programming or code plugs are necessary. Whatever is in my handheld is what I operate in the mobile
Operating my handheld in the low power position, I still get 22W out on UHF and my handheld's battery life remains excellent, but high power gives me a solid 39W.
Conclusion

I was glad to see someone finally develop what is a full featured mobile amplifier capable of  DMR as well as all other modes including C4FM and D-Star that is small enough to mount in the car, boat, and on top of your computer. This amplifier is Part 90 certified and definitely worth considering.
Available from Amazon:    V25     V25D     U25     U25D
and     
VHF /UHF
Digital / Analog
Mobile Power Amplifiers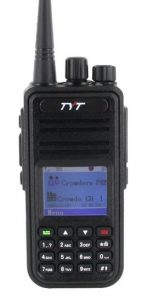 The Tytera MD-380 is an low cost radio for analog FM and DMR on the 70cm band (see video here). One of the limitations with the radio is that it only holds 1000 contacts…which seems like a lot of contacts but it fills up quickly. With DMR, each radio or user has a unique 7-digit radio ID number. For ham radio use, the DMR-MARC organization maintains a database that maps radio ID number to user name and callsign. If a user is in your contact list, the user's name and callsign pops up in your radio's display. Otherwise, you just see the radio ID which is not very helpful. There are over 63,000 users in the database with more being added on a daily basis.
There are a number of firmware updates to the MD380 and I have not checked them all out. I heard some guys talking about the TyMD380Tools on one of the DMR talkgroups, so I decided to give it a try. This software was developed by KG5RKI (go here) and is easily installed from Windows without a lot of messing around. This firmware upgrade loads the entire DMR-MARC database into the radio.
Now that I have the worldwide database of DMR users loaded onto the radio, its like having caller ID on my HT (see photo below). Actually, its better than that, it pulls up the other ham's full name, callsign and location information.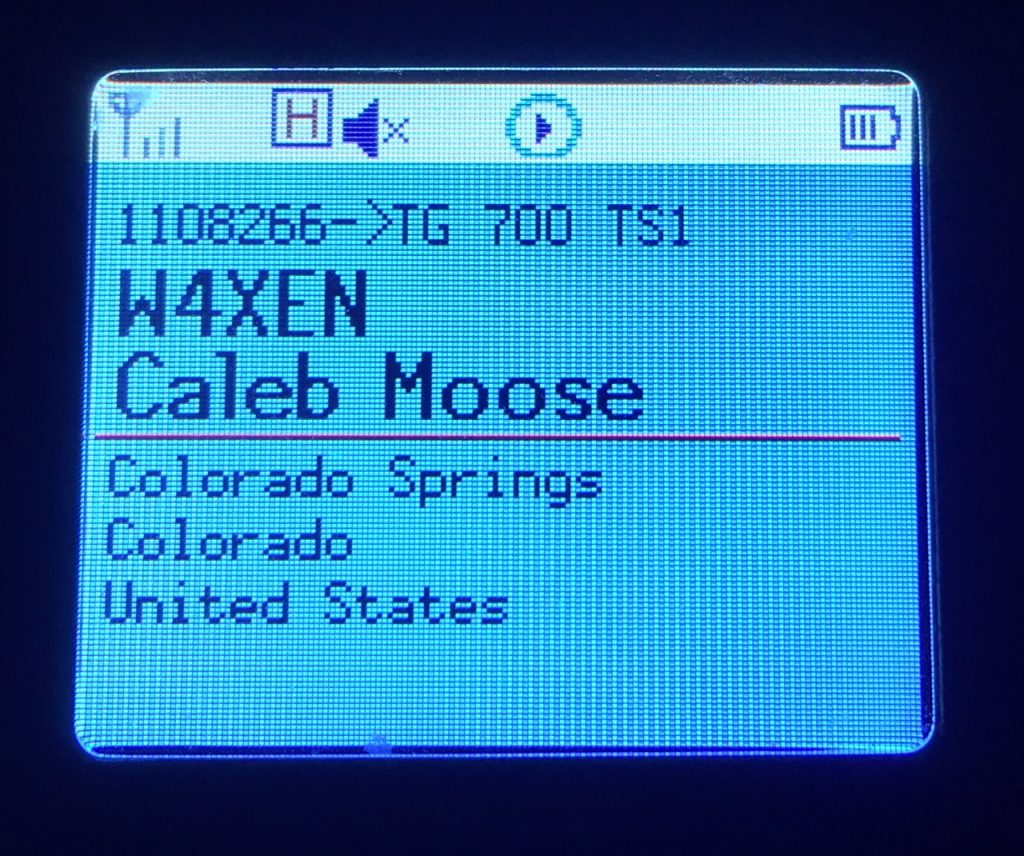 This may not seem like a big deal but I've found it to be surprisingly useful. I am often scanning a few channels or talkgroups with my radio and just listening casually. I may not be tracking who's talking but I can just look at the radio to see who's on the air. It's one of those convenience features that makes me think "why don't all of my radios do this?"
The TyMD380Tools implements a bunch of other features but increasing the number of contacts has been the most important one for me. This is a great example of radio amateurs adapting ("hacking") commercial gear with improvements for ham radio use. KK4VCZ, DL4YHF and others contributed to this code. Check out the software…seems to work great.
73, Bob K0NR
The post TyMD380tools for Tytera MD-380 appeared first on The KØNR Radio Site.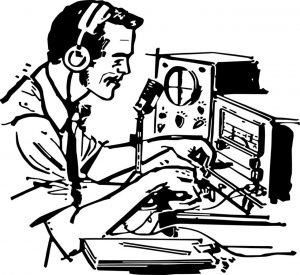 Things had been pretty quiet on the ham front lately but then I ran into a string of "That's Not Real Ham Radio" discussions. This happens from time to time…I usually ignore it…but this time I got sucked into the topic.
It started with some HF enthusiasts I know talking about how "digital modes" are just not very satisfying. Their point is that with CW and SSB, there is an audio connection to your ear that makes you an integral part of the radio communication. The extreme-DSP modes such as JT65 insert serious signal processing that essentially removes the human connection.  This can quickly lead to the generalization that these digital modes "aren't real ham radio."
I think its fair to say that most hams think of the HF bands as the center of the hobby…getting on the air, bouncing signals off the ionosphere to talk to someone over the horizon. Some hams will go even further and say that CW is the only way to go. Anything less is just phone. FM and repeaters? Forget that stuff…not enough skill required. And certainly, don't get stuck on 2 meters.
In a previous post, I argued we should not confuse religion with modulation. I do occasionally make snarky comments about the continued use of AM (AKA Ancient Modulation), but I've tried to tone that down in recent years.
What About DMR?
Just last week, I was playing around with a DMR hotspot on the Brandmeister network. It really struck me that people on the system were having a blast talking to each other across North America and around the world. But then that nagging little voice in the back of my head said "hey, wait a minute…this is not real DX…the RF signal might only be traveling 20 feet or so from an HT to a hotspot."
This caused me to put out a plea for insight on twitter:

I received a lot of good replies with the answers tending to clump into these three categories:
I don't know ("That's Not Real Ham Radio")
It's fun, new technology
It's a digital network that brings ham radio operators together
My interest seems to fall into the second category: this is fun, new technology. Which does make me wonder how long this new technology will remain interesting to me. Well, that is difficult to predict but I'll invoke the principle of try not to overthink it. The idea that DMR is a digital network that brings ham radio operators together makes some sense. In the past, I have argued that amateur radio is not for talking. In other words, if you just want to talk someone, there are much more convenient ways of doing that. Still, there is something attractive about this ham-radio-only digital network.
It really is important to not overthink this kind of stuff. Ham radio is supposed to be fun, so if you are having fun, you are probably doing it right. If you are not having fun, then you might want to examine what you are doing. See my post on the Universal Purpose of Amateur Radio.
Sometimes hams can get a little spun up about those other guys that don't appreciate our way of doing ham radio. What the heck is wrong with them anyway? I've always been inspired by the Noise Blankers Mission Statement:
Do radio stuff.
Have fun doing it.
Show people just how fun it is.
If your preferred form of ham radio is so superior, it ought to be easy to show other hams how cool it is. If not, then maybe you aren't doing it right. Conversely, as long as other hams are having fun and operating legally, don't knock what they are doing. In fact, encourage them. We need more people having fun with ham radio, even if it's not your favorite kind of fun.
That's my opinion. What do you think?
73, Bob K0NR
The post That's Not Real Ham Radio appeared first on The KØNR Radio Site.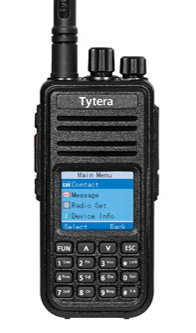 At our radio club meeting on Monday night, I talked about DMR radio, the fastest growing digital format on VHF/UHF. Wow, did I get a positive response! There is a lot of interest in this topic and many of our members are out buying DMR radios and getting on the air. My presentation is available here: DMR W0TLM Meeting Presentation.
Most folks are buying the UHF Tytera MD-380 due to its attractive price point. The price on Amazon seems to fluctuate but it is typically around $100: TYT MD-380 – UHF DMR Ham Radio.  Main Trading Company usually has a good price on the radio, too.
A good source of codeplugs for Colorado is the Rocky Mountain Ham Radio web site. I adapted a recent MD-380 codeplug for use in the Monument area: K0NR Rev 1 RMHAM_MD380_2017-10-28.rdt
You'll need to use the MD-380 software to load/edit this codeplug. See the VA3XPR web site if you need the software. Under General Setting, you must change these entries:
Radio Name – enter your callsign
Radio ID – enter your DMR-MARC radio ID number
Intro Screen – recommend putting your name and callsign there (or whatever you want)
In the codeplug, I created the W0TLM zone for use in the Monument area which should cover most of your needs. After you get used to the programming software, you can add/modify channels and zones. But be careful as there are many parameters that need to be entered correctly.
I will be updating this codeplug from time to time. Let me know how it works for you.
73, Bob K0NR
Update 18 Nov 2017: I updated the codeplug to incorporate the latest RM Ham Radio repeaters. This is based on the latest RM Ham codeplug dated 28 Oct 2017. I highly recommend you adopt the TyMD380toolz so you can just pull all of the worldwide DMR radio ID database into your radio.
The post DMR Codeplug for Tytera MD-380 appeared first on The KØNR Radio Site.
Amateur adoption of Digital Mobile Radio (DMR) continues to increase, with a number of new innovations playing out. It was way back in 2012 when I wrote this article about DMR for CQ VHF Magazine: TRBO Hits the Amateur Bands.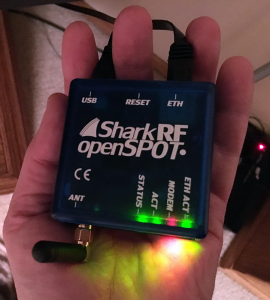 A few years ago, I picked up some used MOTOTRBO gear to use on our local DMR repeater system (MOTOTRBO is Motorola's version of DMR). Here in Colorado, the Rocky Mountain Ham Radio group has been instrumental in establishing a great network of DMR repeaters, a real asset for Colorado radio amateurs. See Rocky Mountain Ham Radio TRBO/DMR Network.  Worldwide, the DMR-MARC organization has created a robust network of MOTOTRBO repeaters in over 60 countries.
A more recent development is the establishment of the BrandMeister Network, which promotes more of a homebrew approach to DMR. This evening, the BrandMeister dashboard shows 634 industrial repeaters (commercial equipment), 263 homebrew repeaters and over 1300 hotspots of various types.  A variety of DMR hotspots are available, including the DV4mini. I'm not going try to list all of the hotspots available as I'm sure I'll miss something.  The SharkRF openSPOT caught my attention because of this excellent review by John 'Miklor' K3NXU. Because of its popularity, the openSPOT is on backorder (price: 182.5 Euro).
This HamRadioConcepts video walks through the setup and basic operation.

I thought the openSPOT would be a good widget to have around the shack. It is a standalone hotspot, so I don't have to dedicate a computer to it. Also, it is very turnkey…no assembly required…but some configuration to work out. Its user interface is a web page that you access via your local network…nicely done. I got it working in less than one hour and have been fiddling around with it ever since.
Hotspots are a funny item. They have very limited RF range, so their main purpose is to provide local RF access into the network (just like your Wi-Fi hotspot). One role they play is to provide fill-in coverage when no repeater is available. Another role they fill is being a personal device that can be connected to your favorite reflector or talk group.
I should point out that the openSPOT also operates as a D-STAR and Yaesu Fusion (YSF) hotspot. You just change the configuration of the modem and it starts speaking the selected modulation. More surprising is that I was able to use a YSF handheld radio to talk to the openSPOT which routed me to a DMR talkgroup. Yes, a Yaesu YSF radio talking on DMR.
The first thing I noticed when listening to some of the more active talk groups is that it seems like every person getting on the system said "I just got this Tytera MD-380 radio and you are my first DMR contact." OK, sometimes it was a Connect Systems or Motorola radio but the MD-380 at around $100 is having a big impact. I picked up an MD-380 and while its not quite as nice as my Motorola, I really do like the radio. (Note that there are other low cost DMR radios that have serious technical issues.) There will be other radios on the market…the technology will keep improving and improved models will hit the market. Right now, everyone is wondering who will create a good dualband 2m / 70cm transceiver for DMR.
I see some very strong technology and market trends in play here that are going to impact the ham radio world. First off, DMR is a true industry standard (ETSI),  well designed and documented. Second, we are seeing multiple radio vendors offering competitive, low cost transceivers. Third, there is high quality commercial repeater gear available from land mobile providers such as Motorola and Hytera. But there's one more thing that really tops this off: the number of ham-built products emerging that are focused on DMR. This is classic ham radio adaptation and innovation that leverages commercial gear for ham radio use.
Stay tuned…this is going to be interesting!
73, Bob K0NR
The post DMR Hotspot from SharkRF appeared first on The KØNR Radio Site.