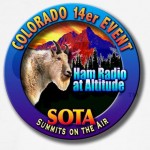 The Colorado 14er Event (Aug 3) is less than a month away so it is time to get ready. This event was born out of the basic observation that many hiking hams were taking along their radios (typically, a VHF/UHF handheld) when they climbed the Colorado 14,000 foot mountains. So we thought "let's all climb on the same day and see who we can contact." The typical 2m FM contacts have expanded to other frequencies and modes, including the high frequency bands, with the potential for worldwide propagation. We've also embraced the Summits On The Air (SOTA) program, opening up over 1700 summits in Colorado for ham radio activity.
How can you join in the fun? The most active way to participate is to operate from a summit. If you are interested in climbing 14ers, then you may want to operate from one of the 54 14,000 foot mountains. In my opinion, all of the 14ers are strenuous hikes, so be sure to assess your ability and check out the challenge of any summit you attempt. There are a few that you can drive up, Pikes Peak, Mount Evans and Mount Bross (4WD only). Note that a "non-motorized final ascent" is required if you want to qualify as a SOTA activation, which is encouraged. See this web page for some great tips on activating a SOTA peak. If you want to try something less difficult, consider one of the easier SOTA peaks (more than 1700 in Colorado). Everyone can find a SOTA peak that fits their particular hiking ability.
If you can't get out and operate from a summit, you can still have fun trying to contact the radio hams on the various summits. There will be quite a bit of activity on 2m FM, starting with 147.42 MHz and moving up from there using the standard Colorado band plan. You'll want to be roughly within "line of sight" to as many peaks as possible for working them on VHF. Many radio operators will be on the HF bands, too. See the recommended frequency list here.
Summits On The Air has some great infrastructure that we can use during the event. The SOTAwatch web site is using for "spotting" SOTA stations so that you know who is on the air. Spotting yourself is encouraged and can be done from many peaks using a mobile phone. SOTA Goat is a great iOS app for making and tracking spots.
Take a look at this posting for some additional SOTA resources. There's quite a bit of information out there so take advantage of it. Remember, the Colorado 14er Event is based on the fundamental purpose of ham radio: to have fun messing around with radios. But  be careful out there, we don't want anyone to get hurt.
Questions, comments, let me know.
73, Bob K0NR
Disclaimer: Climbing mountains in Colorado can be dangerous. Only you are responsible for your safety. In particular, be very aware of the lightning danger if you are hiking above treeline.
Bob Witte, KØNR, is a regular contributor to AmateurRadio.com and writes from Colorado, USA. Contact him at

[email protected]

.