Welcome to Handiham World!
It looks like we will meet our goals for Radio Camp this summer. We have a healthy level of participants, and most have completed their paperwork and made their travel plans. Quite a bit remains to be done in preparation, though. We have an excellent tower and beam antenna on a hill behind the camp's "Rotary Building", where we plan to set up an HF station using a Kenwood TS-570SAT and a TS-2000. Having these rigs to choose from should help make more operators comfortable. Since the beam has not been used this past year and things have been moved around, I will need to locate the rotor control box and dress the wiring back into the shack for a test run. One thing I have learned about antenna systems over the years is that unexpected problems can show up at the most awkward times. It pays to do a little footwork in advance. In this case, I will need to do real footwork, too. The main Handiham Headquarters building rests in a storybook-like clearing surrounded by forest at the base of a hill. Built on and into the side of the hill is the Rotary Building, named for its benefactors, the Rotary Clubs. Long ago, when the Handiham System was very young, there was a ham radio station in the Rotary Building, which was used during the shorter "May Convocations" that would ultimately evolve into the full-fledged Radio Camps.
So you can imagine that there would need to be an antenna system near the Rotary building, and sure enough, there was. A 50 foot self-supporting tower and beam antenna were installed up at the top of the hill behind the building. The entire system fell into disrepair when the Radio Camps moved to Courage North, and it wasn't until recent years that the antenna and wiring were refurbished as part of an Eagle Scout project by Peter Widin, KC0ENI. This excellent resource will once again be used at Radio Camp, and should provide us with the opportunity to work some real DX! What is different this year is that we plan to install a permanent station in the library of the Rotary building, an excellent gathering space with plenty of room for operating skills participants. In preparation for the use of this area, I have completed the installation of wireless Internet and done some preliminary planning of the station setup. Although we could set up temporarily as in the past, this year we will have one of the familiar equipment desks that we have used at Courage North. This cabinet will provide a place to lock up the stored equipment when non-ham radio users are in the space.
Meanwhile, back on the Woodland side of camp, which is where we will enjoy living in the modern cabins during the week, I have checked the Internet and done my walk through of the buildings. I am thinking that we may have only one HF station, if that, set up at the Woodland cabins. After all, we will have stations on the pontoon boat, at the Rotary Building, and at the Headquarters. We do plan to have a JAWS computer with Echolink and the Remote Base software available as a training tool. Since there are wireless Internet hotspots available in Woodland, the Rotary, Lakeside dining hall, the Lakeside Gazebo, and Handiham HQ, there should be no shortage of places for us to use the Internet-enabled stations. Furthermore, the camp repeater will be on the air and it is Echolink-enabled. One of our goals is to teach the use of these new tools to as many of our campers as possible. If we are successful in getting our new IRLP node that has been configured by Lyle, K0LR, set up on our Woodland Internet connection, we will be able to use that to connect to IRLP node 9008, the Vancouver BC system.
By the way, this month marks 60 years since the FCC created the Novice class license. I was reminded of this by Ron, K3PID, my co-editor of our local radio club newsletter, who was asking club members to send in stories about their Novice days. I thought that was such a good idea that I would like to steal it, so how about some of those Novice stories? I will tell you one of my own next week.
Thanks for your support!
The Owatonna Steele County (Minnesota) Amateur Radio club recently sent in a gift of $50 in support of the Dr. Dave Challenge Grant. Dr. Dave Justis, KN0S, has challenged us to raise at least $5,000, which he will match.
Help us win the Dr. Dave Challenge!
We need your help.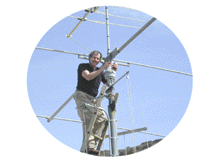 Money is tight these days and we desperately need your support. Now, thanks to a generous challenge grant by Dr. Dave Justis, KN0S, we have a chance to help fill the budget gap. Dr. Dave will donate $5,000 to the Handiham System if we can raise a matching amount. That means we need to really put the fund-raising into high gear! If you can help, designate a donation to Handihams, stating that it is for the "Dr. Dave Challenge". We will keep you posted in our weekly e-letter as to the progress of the fund.
Nancy can take credit card donations via the toll-free number, 1-866-426-3442, or accept checks sent to our Courage Center Handiham address:
Courage Handiham System
3915 Golden Valley Road
Golden Valley, MN 55422
Be sure to put a note saying "Dr. Dave Challenge" somewhere in the envelope or on the note line of the check.
Thank you so much for your support!
Pat Tice, WA0TDA, is the manager of HANDI-HAM and a regular contributor to AmateurRadio.com. Contact him at

[email protected]

.