Welcome to Handiham World.
We wish our USA members a happy Independence Day, and our Canadian members a belated Canada Day.
High summer here in North America isn't exactly the best time to explore the HF bands, given the constant parade of interference-generating thunderstorms marching across the continent. While bands like 160 and 75 meters may seem like wall-to-wall noise, there are always some intrepid operators sticking to their usual schedules. The best time on both bands is usually early morning before solar heating and convection starts cooking up more lightning and thunder and before absorption becomes too odious, a real problem for propagation as the sun climbs higher in the sky. Summer is the traditional sporadic-E skip time of year, so it doesn't hurt to keep checking out the VHF bands. A clue is that you might hear repeater identifiers that you don't recognize because they are far outside the usual repeater coverage area. If you hear stations on 10 meters, you might also check out the 6 meter band. You never know – perhaps there is an opening, and if you are trying to work all states, such openings can be pure gold.
Summer, especially post-Field Day, is often considered the least active time of the ham radio year. Radio clubs may shut down for a few months in the summer – usually June, July, and August – and resume operations in September. The conventional wisdom is that people are busy doing summer stuff like taking vacations, working in the yard, boating, fishing – you name it, ANYTHING but sitting inside at the radio! But summer weather might chase you indoors with its heat and humidity. Maybe it wouldn't be a bad time to get on the air after all. Besides, summer is a good time to get antenna projects done. Let's list some summer ham radio activities:
Put up or repair your antenna system.
Check out VHF propagation on 6 and 2 meters. Try SSB on both bands. Log your contacts and send us a brag about your farthest contact so that we can publish it and make you famous.
Go bicycle mobile!
Take ham radio on vacation with you, both as a mobile station in the family car and as a portable station.
Check into the daily Handiham Echolink net. If you have a smart phone, try checking in via the Echolink app. (Android and iPhone)
Try out the Handiham HF remote base stations. Say hello to the folks on the always-friendly PICONET on 3.925 MHz.
Build a kit.
Study for a license or upgrade.
Try setting up your own EchoLink or IRLP node.
Take your handheld radio with you on a walk and find out how many contacts you can make on local repeaters.
Set a goal to work as many stations as possible on 10 meters. Log all your contacts.
What?!! You don't have a logging program? Install XMLog and learn to use it. http://www.xmlog.com (Yes, it is blind-friendly, and it's free.)
On the water? Take ham radio with you on the boat. Don't drop the radio in the water.
New to blind-accessible technology? Try downloading DAISY book software and reading a DAISY book with it. Make it a ham radio book from the Handiham website. (More on this in a minute.)
I could go on and on (maybe I already have), but you get the idea. Now let's get out there and have some ham radio fun!
This is a reminder that the Handiham office is closed this week and open only with very limited services and hours next week.
Email me at [email protected] with your questions & comments.
Patrick Tice, WA0TDA
Handiham Manager
---
Storms sideline Handiham remote base stations: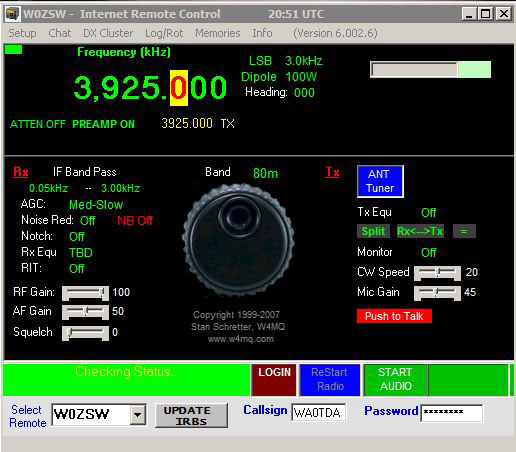 Severe storms in northern Minnesota last night had disrupted internet service to W0EQO at Courage North. The station returned to service around 12:50 PM on 3 July 2012.
W0ZSW is still offline following storm damage and power outages that disrupted our internet and networking equipment at Camp Courage. It was the first time in the history of our double remote system that both stations have been offline at the same time due to storms. Due to limited staffing at this time, we are unable to resolve the problems quickly.
Solar Activity Forecast: Solar activity is expected to be moderate during the period (03 – 05 July) with M-class flares expected from Regions 1513 and 1515.
Geophysical Activity Forecast: Geomagnetic field activity is expected to remain at unsettled to active levels on day 1 (02 July) as CH HSS effects persist. Activity is expected to decrease to quiet to unsettled levels during days 2 – 3 (04 – 05 July) as CH HSS effects gradually subside. The CME associated with today's M5/2b flare is not expected to disturb the field during the forecast period.
Pat Tice, WA0TDA, is the manager of HANDI-HAM and a regular contributor to AmateurRadio.com. Contact him at

[email protected]

.