Ham Radio General License
Two-day Class
Black Forest, Colorado
Two class sessions on Sat Sept 24 and Sat Oct 1 (8 AM to 5 PM) FCC Exam session on Oct 8th
Location: Black Forest Fire Station
Intersection of Burgess Rd. & Teachout Rd.
The General License provides access to regional and worldwide communications on the HF bands via ionospheric skip, greatly expanding operational capabilities!
Upgrade from Technician to General Class radio privileges
Pass your FCC General Class amateur license exam Oct 8 *
Live equipment demonstrations and activities
Learn to operate on the HF bands, 10 Meters to 160 Meters
Gain a deeper understanding of radio electronics and theory
Take the next step with antennas, amplifiers, digital modes
Registration fee: $30
(No FCC exam fee required at Oct 8 exam session)
In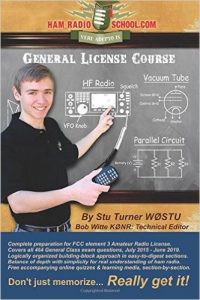 addition, students must have the required study guide:
HamRadioSchool.com General License Course
Second Edition, effective 2015 – 2019, $22.95
Current FCC Technician License required for registration. Advanced registration is required by Sept 10th or earlier. First-come registration acceptance until class is full.
To register for the class, contact: Bob Witte KØNR
Email: [email protected]  or Phone: 719/659-3727
Sponsored by the Tri-Lakes Monument Radio Association.
The post General License Class (Black Forest, CO) appeared first on The KØNR Radio Site.
Bob Witte, KØNR, is a regular contributor to AmateurRadio.com and writes from Colorado, USA. Contact him at

[email protected]

.