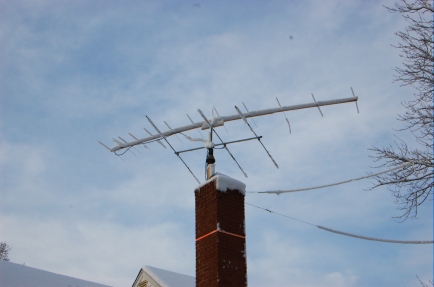 Last weekend (two weekends ago now), Sarah was out of town with friends from college, so I was free to meander in and out of the shack at will.  Between making QSOs on 2 meters, I got a "modern" computer set up for SDR.  More on this in the future.  Was pleased to make some QSOs into New England with the "$200 VHF station" that consists of the TS-700S, Mirage B3016G amplifier, and homebrew FO12 antenna.  Nevermind that the Pro-Set, Bencher, and Keyer cost at least that much again.
Still working on getting the other bands going.  50 MHz is very close, although with the recent sale of some extra gear, a K3 is almost within striking distance if I sold one the of the TS-930s.  One of the locals has offered to lend me his FT-736R to get on 222 and 432 for now.  So, I think I'll try to finish up the 50-MHz transverter and pick up the '736 while working on the antenna situation for those bands.  I'm going to have to change the rotor/mast situation to do that.  Not sure how that will go…I may just duplicate a "rover mast" and accept whatever sacrifice is introduced by stacking the beams too close together.



                    ARRL January VHF Sweepstakes

Call: K8GU
Operator(s): K8GU
Station: K8GU

Class: Single Op LP
QTH: FM19la
Operating Time (hrs): 

Summary:
 Band  QSOs  Mults
-------------------
    6:
    2:  44     15
  222:
  432:
  903:
  1.2:
  2.3:
  3.4:
  5.7:
  10G:
  24G:
-------------------
Total:  44     15  Total Score = 660

Club: Potomac Valley Radio Club

Ethan Miller, K8GU, is a regular contributor to AmateurRadio.com and writes from Maryland, USA. Contact him at

[email protected]

.