If you have been paying any attention to the world of ham radio DX, you have heard about the DXpedition to Navassa Island. According to Wikipedia, Navassa Island is a unorganized, unincorporated territory of the United States. Haiti (just 40 miles to the east) also claims ownership of the island but it appears that the US currently has control. The island is designated as the Navassa National Wildlife Refuge by the US Fish and Wildlife Service and access to the island is severely limited. (There is some interesting reading about the various territories of the US on Wikipedia.)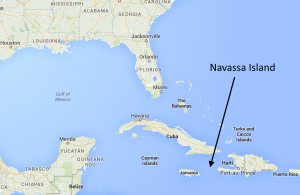 For the purposes of DXCC, Navassa Island is considered a separate country (I mean entity), one that is very difficult to work because no one lives there. Actually, its worse than that because hardly anyone is even allowed to set foot on the island, let alone install a ham station. This means that Navassa is near the top of the list of the most wanted DXCC entities.
An enterprising and persistent group of radio hams managed to get permission to visit the island and put it on the air. The logistical challenge is large, including the use of ships and helicopters to get all of the people, radio gear and supplies on and off the island. As you can imagine this gets quite expensive.
This is where I have to chuckle at the silliness of the situation. Imagine explaining this to someone that drops in from another planet. We have this hobby that involves communicating long distances via electromagnetic waves. One of the pursuits in this hobby is counting up how many countries you have contacted. Well, they aren't all true independent countries, so we have to keep a special list to keep track of which ones are considered countries. Now, we have this one island that is on the list but we also have this rule that no one is allowed to live on this island. This causes a group of people to assemble a major expedition, costing a great deal of time and treasure, with the sole purpose of enabling electromagnetic communication from the island.
At this point, I should mention I am a slacker DXer. Many years ago, I did take the time to get >100 countries confirmed so that I could claim DXCC but I don't spend much effort trying to chase new countries.  When I heard about the Navassa DXpedition, it did peak my interest because I knew it was such a rare opportunity. Who knows when and if I would get another shot at working this country? I also knew the getting enough RF from my station to Navassa would not be very difficult. It is only 2300 miles from Colorado, a slam dunk on 20m, even with my modest 100W to a dipole antenna. Except that there would be 20,000 other hams called at the same time, creating a huge pileup. Which is why I don't get into chasing rare DX. While I love the challenge of bouncing my signal off the ionosphere to reach distant locations, I don't groove on the pile up that normally ensues. That quickly turns into a contest of who has the biggest signal (size does matter) and who is most adapt at getting the attention of the DX station.
About the time that K1N started operating from the island, I was out of town on business. I began to think that working Navassa was not for me. However, I did manage to find some operating time on Feb 14, which turned out to be the last full day of K1N operation. After just a couple of calls, I got through the pileup and worked them on 20m SSB. (I'd like to think that it was superior operating technique but it was probably just dumb luck.)
Thanks to the team that put Navassa Island on the air. (Yes, I did send in a small donation to help the cause.) From what I experienced, this DXpedition was very efficient and well run. Take a look at the interview with one of the participants, Glenn W0GJ,  who had some interesting comments about the experience.
73, Bob K0NR
The post What's All the Fuss About K1N? appeared first on The KØNR Radio Site.
Bob Witte, KØNR, is a regular contributor to AmateurRadio.com and writes from Colorado, USA. Contact him at

[email protected]

.
2 Responses to "What's All the Fuss About K1N?"