You probably already heard about the terrible wildfire on the west side of Colorado Springs. The fire burned 18,247 acres, destroyed 346 homes and killed 2 people.
Here's a map of how the fire progressed over time.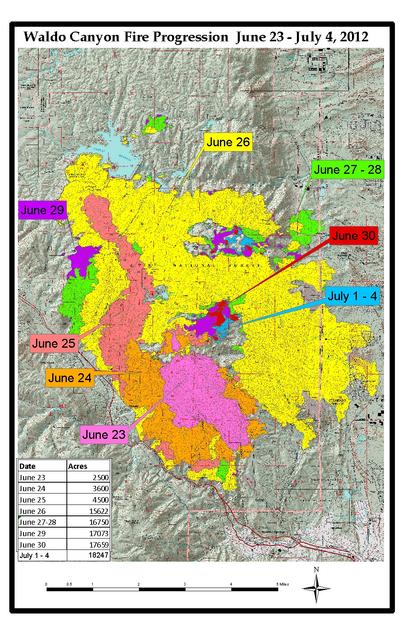 18,247 acres is a little more than 28 square miles of area burned. Think about a fire that consumes 28 square miles in your back yard. Pretty sobering.
Here's a time lapse video that shows the fire from a distance.

The Denver Post has some of the best photos of the fire as it burned structures on the northwest side of Colorado Springs.
There were two major ham radio activities (that I am aware of) in response to the fire:
The RACES team (Special Communications Unit) attached to the El Paso County Sheriff's office staffed the Emergency Operations Center in Colorado Springs. I did help out for one 12-hour shift, a relatively minor role.
Pikes Peak ARES  supported the Red Cross, who operated the emergency shelters for ~32,000 people that had to evacuate their homes. The Pueblo newspaper ran an article about this.
The real heroes are the firefighters that battled the blaze, especially on that terrible Tuesday night when so many houses were lost. Those guys and gals are awesome!
- 73, Bob K0NR
Bob Witte, KØNR, is a regular contributor to AmateurRadio.com and writes from Colorado, USA. Contact him at

[email protected]

.
One Response to "Waldo Canyon Wildfire in Colorado"