It was another great day for Summits On The Air (SOTA) activity. I hiked up to Kaufman Ridge HP (W0/SP-081) with Joyce K0JJW to do the first SOTA activation of that summit. This summit is just south of Kaufman Ridge North (W0/SP-085) mentioned in this post.
Unlike some of my previous SOTA activations, I actually kind of sort of planned this one. I had my Yaesu FT-60 HT with a decent omni antenna for 2 Meters (the MFJ-1714). I also took along the VX-8GR handheld for use as an APRS station. Note the innovative In The Tree mounting scheme for the FT-60: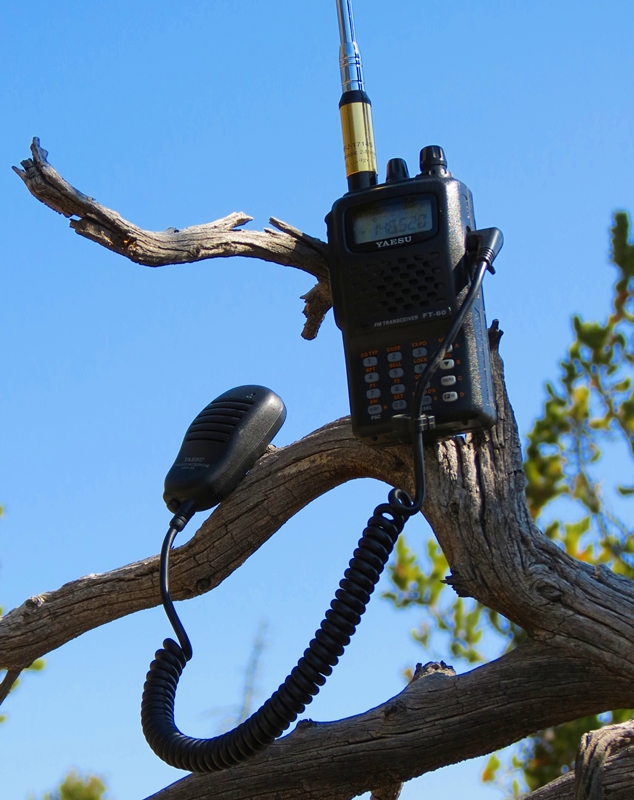 On the way up, I heard Steve WG0AT on the summit of Mount Rosa (W0/FR-034) calling on 146.52 MHz. I gave a quick call to Steve to let him know I was hearing him but that I was not at the summit yet. About 20 minutes later, I was on top and worked Steve and his hiking partner Frank K0JQZ, for a summit-to-summit contact.
A call on 146.52 MHz got a reply from John N0EVH who was operating mobile. Then I worked Bill KD0PFF who was driving up a 4WD road to Red Cone Peak. Later, I worked his 4WD partner Stan KD0PFC. Fred WA0SIK, a regular in the various VHF contests, came up on five two to give me another contact. Then I got a call from Dave K0HTX who spends many weekends over on the other side of South Park. Finally, I caught Randy KN0TPC and Jeremy KD0MWT on 147.555 MHz, near Divide at a Boy Scout Camporee.
It was really cool to catch all these folks out having fun in the mountains. It was a glorious fall day and the aspen trees were at their peak fall color.
73, Bob K0NR
Bob Witte, KØNR, is a regular contributor to AmateurRadio.com and writes from Colorado, USA. Contact him at

[email protected]

.