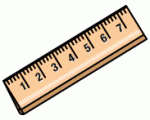 A while back, I had someone point out a few errors I made concerning the use of metric units. This caused me to review the SI system to make sure I had it correct. (I am sure I'll continue to screw up a few things but, hey, life is a journey.)
The International System of Units, universally abbreviated SI (from the French Le Système International d'Unités), is the modern metric system of measurement. For a thorough treatment of the topic, take a look at the National Institute of Standards and Technology (NIST) publication: Guide for the Use of the International System of Units (SI). A shorter and easier-to-read document was written by Charles Poynton: Writing SI units and symbols.
But more to the point, here are three common mistakes I often see occurring in ham radio literature:
Using mHz instead of MHz to indicate megahertz (one million hertz). Upper case M indicates mega, while lower case m indicates milli (one thousandth). In ham radio usage, we rarely speak of frequencies in mHz.  Note that I wrote mega with a lower case m even though the abbreviation has a upper case M. The unit of hertz is with a lower case h but when abbreviated as Hz, it should be upper case.
Using KHz or khz instead of kHz to indicate kilohertz (one thousand hertz). Lower case k should be used for kilo but upper case H is used for hertz. It is common to see upper case K used to indicate 1024 in digital systems.
Using M instead of m to indicate the unit of meter. The proper way to refer to the wavelength of the 144 MHz ham band is 2m, not 2M. Similarly, the abbreviation for kilometers is km, not kM or KM. The abbreviation for centimeter is cm.
Units that are based on a person's name use an upper case letter in the abbreviation. For example, ampere, volt, watt and hertz are abbreviated as A, V, W and Hz respectively. When the unit is spelled out, it is left lower case (go figure).
While the world does keep on turning when we make these mistakes, accuracy and understanding is improved by proper usage. Did I miss any other common SI errors?
73, Bob K0NR
The post Three Common Mistakes When Using Metric Units appeared first on The KØNR Radio Site.
Bob Witte, KØNR, is a regular contributor to AmateurRadio.com and writes from Colorado, USA. Contact him at

[email protected]

.
4 Responses to "Three Common Mistakes When Using Metric Units"