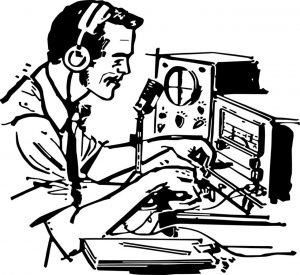 Things had been pretty quiet on the ham front lately but then I ran into a string of "That's Not Real Ham Radio" discussions. This happens from time to time…I usually ignore it…but this time I got sucked into the topic.
It started with some HF enthusiasts I know talking about how "digital modes" are just not very satisfying. Their point is that with CW and SSB, there is an audio connection to your ear that makes you an integral part of the radio communication. The extreme-DSP modes such as JT65 insert serious signal processing that essentially removes the human connection.  This can quickly lead to the generalization that these digital modes "aren't real ham radio."
I think its fair to say that most hams think of the HF bands as the center of the hobby…getting on the air, bouncing signals off the ionosphere to talk to someone over the horizon. Some hams will go even further and say that CW is the only way to go. Anything less is just phone. FM and repeaters? Forget that stuff…not enough skill required. And certainly, don't get stuck on 2 meters.
In a previous post, I argued we should not confuse religion with modulation. I do occasionally make snarky comments about the continued use of AM (AKA Ancient Modulation), but I've tried to tone that down in recent years.
What About DMR?
Just last week, I was playing around with a DMR hotspot on the Brandmeister network. It really struck me that people on the system were having a blast talking to each other across North America and around the world. But then that nagging little voice in the back of my head said "hey, wait a minute…this is not real DX…the RF signal might only be traveling 20 feet or so from an HT to a hotspot."
This caused me to put out a plea for insight on twitter:

I received a lot of good replies with the answers tending to clump into these three categories:
I don't know ("That's Not Real Ham Radio")
It's fun, new technology
It's a digital network that brings ham radio operators together
My interest seems to fall into the second category: this is fun, new technology. Which does make me wonder how long this new technology will remain interesting to me. Well, that is difficult to predict but I'll invoke the principle of try not to overthink it. The idea that DMR is a digital network that brings ham radio operators together makes some sense. In the past, I have argued that amateur radio is not for talking. In other words, if you just want to talk someone, there are much more convenient ways of doing that. Still, there is something attractive about this ham-radio-only digital network.
It really is important to not overthink this kind of stuff. Ham radio is supposed to be fun, so if you are having fun, you are probably doing it right. If you are not having fun, then you might want to examine what you are doing. See my post on the Universal Purpose of Amateur Radio.
Sometimes hams can get a little spun up about those other guys that don't appreciate our way of doing ham radio. What the heck is wrong with them anyway? I've always been inspired by the Noise Blankers Mission Statement:
Do radio stuff.
Have fun doing it.
Show people just how fun it is.
If your preferred form of ham radio is so superior, it ought to be easy to show other hams how cool it is. If not, then maybe you aren't doing it right. Conversely, as long as other hams are having fun and operating legally, don't knock what they are doing. In fact, encourage them. We need more people having fun with ham radio, even if it's not your favorite kind of fun.
That's my opinion. What do you think?
73, Bob K0NR
The post That's Not Real Ham Radio appeared first on The KØNR Radio Site.
Bob Witte, KØNR, is a regular contributor to AmateurRadio.com and writes from Colorado, USA. Contact him at

[email protected]

.
21 Responses to "That's Not Real Ham Radio"