Posts Tagged 'Dayton Hamvention 2010'
I attended a great fox hunting presentation at Dayton this year, hence a few posts on the topic.
I had some posts in the past about tape measure beam antennas.  Really neat antennas and they have multiple purpose use (they are GREAT for hitting distant repeaters when you orient them vertically!).  Much like the picture on the right (courtesy of Joe Moell K0OV) they are more useful for fox hunting when you add the active attenuator to your setup.  FYI, Joe is the co-author of the great book "TRANSMITTER HUNTING, Radio Direction Finding Simplified" available where most ham books are sold.  His website has more information on the book at http://www.homingin.com/THRDFSinfo.html and he contributes to CQ and CQ VHF.
So….. just what is an offset attenuator?  Joe explains it on his "Homing in" site as:
An RF attenuator is a device that goes between antenna and receiver to reduce the signal strength down to within the range that the receiver S-meter can handle. Without one, you may think you're close to the fox when you're still far away. You won't be able to get close enough to a camouflaged hidden T to identify it. The amount of attenuation should be adjustable so that you can add just a little when your S-meter first pins, up to a lot as you get within a few feet. Special ARDF receivers used by champion foxhunters have electronic attenuation built in, but ordinary handi-talkies don't. Adding it would require major micro-surgery in the HT.
His attenuator page is:
http://www.homingin.com/joek0ov/offatten.html
I recommend his site in general, many great projects:
On his attenuator page, he has full schematics to make an offset attenuator.
But wait…… there's more!
Further on his page, you see one made in a sweet Pomona box. 
I like this box and thought it was a bit pricey at first, until I did the math and figured out the cost/time to do it myself.  These boxes are shielded with the connector of your choosing (BNC/SMA/259, etc).
They generally cost around $25 or so and are shielded!  Great to have.  When you add the cost of connectors and such, it isn't really so expensive after all.
I really advise using such a case or a metal case in general, makes things work out much smoother in the end.  More information on this box at: http://www.pomonaelectronics.com/index.php?i=prodsub&parent=BOX&cat=BONCONN&getDetails=
But wait….. there's even more!
Marvin Johnston KE6HTS is now offering a "semi-kit" for this attenuator on his website.  I've seen this kit when I was at Dayton this year and encouraged a friend to pick it up and build.  I may end up running a buildathon here in CT on these attenuators.
The price is really not bad at $22.00.  You can purchase them built for a few dollars more.
Information on the kits and pre-built models are at:
http://www.west.net/~marvin/k0ov.htm
And yep……. there's even more (again!).
If you would like to "roll your own" from parts you may have on your bench, but don't want to make a circuit board, you can get one from……. you guessed it…… Far circuits.  I picked one up and am going this route myself.
There are a few boards/projects on the Far circuits website at:
There are a ton of great resources out there on the web, these will really get you going right from the start.  Fox hunting is a really fun and useful part of our hobby and one that doesn't cost a ton of money to get started in.  If there are no active fox hunts in your area – start 'em!  There are plenty of options as far as transmitters and such and really doesn't cost a club much money to get started.
So, here I was at Dayton a few weeks ago and decided to check out the fox hunting/amateur radio direction finding (ARDF) forum.  I forgot who did the forum, but it was actually very well done.  One of the projects I learned about was "The Montreal Doppler".  This is a really neat project designed by Jacques Brodeur, VE2EMM.
I saw many neat attenuators, offset attenuators….. but this….. well…. it has LEDS!  Pretty lights…. OK, I digress.  Working with a bunch of these LED's is pretty kewl and looks sweet.  This is a project that is well documented on the web and I'll provide links below.
The biggest question I had was, where do I get the microcontrollers and firmware.  Not only was I able to acquire the PICS (microcontrollers), but I was able to get PC boards and the LCD for a very reasonable price from FAR Circuits!  I know I picked up the last one he had at Dayton, but he may be able to do more (they cost $45.00).  Check out the FAR circuits website at http://www.farcircuits.net/
A little about this project from VE2EMM's website, list of features:
–   36 LEDs display; center LED when green = good signal, when red = no signal ,  the direction is frozen to the last good signal.
–   Uses 3 PICs; a PIC16F628A for the display, a PIC18F4520 as the main processor and a PIC12F675 as a frequency divider.
–   Filters; a Max 267, the best bandpass filter that I have ever seen, followed by the Roanoke switch cap filter for very narrow band width (+/- 0.5Hz).
–   My DopplerII integrating and phase detection software in the main PIC.
–   LM386 for monitoring the audio independently from the doppler.
–   Simpler menu selection, turning a selection pot and a pushing a DO switch.
–   It will switch 4 antennas with a + or – going signal, 4 antennas differential, 8 antennas with a + or – going signal.
–   Pushing the DO PB sends the direction to APRS.  The protocol is:  <cr><lf>%359/Q<cr><lf>. The Q (0<8) is the quality of the signal just before the
extraction of the phase information.
–   GPS information goes through the doppler, it will be instantly interrupted when the doppler sends a DF to APRS on a PC.
–   Faster main processor, PIC18F4520.    **** NEW ****  June 06
The model I saw really intrigued me and there are a few really well done websites devoted to this project (it has quite the cult following).
The original site is at:
http://www.qsl.net/ve2emm/pic-projects/doppler3/doppler3-e.html
Here is another page on Jacques site that has some examples from other builders:
http://www.qsl.net/ve2emm/pic-projects/doppler3/md3_photos/dopler%203%20pictures.html
KA7OEI has a neat page with a bunch of information on this project:
He has a lot of information about an alternate firmware that looks like the image below: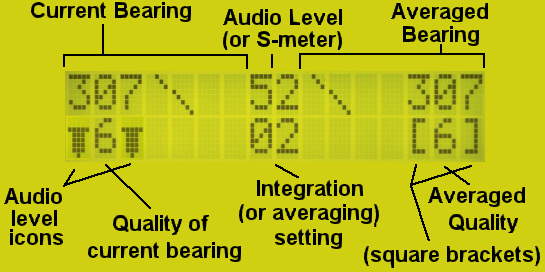 The alternate firmware page is at:
http://ka7oei.com/emm2_mont2a.html
If you have any more information on this project, resources or anything of the sort, please comment below.