Before amateur radio took over my life my main pastime was competing at dog agility which I did moderately successfully for many years, for several of those I was even the chairman of a Nottingham Agility Dog Training Club and organised one of the larger Kennel Club Championship shows as well as judging at many events. If you
search
my YouTube page there are a number of videos showing me and the dogs in action.
Things change and sadly I became disillusioned with the sport as seemingly endless rule changes and its increasing popularity saw it losing its core ideal, what was meant to be fun for dog and handler had sadly become too competitive, professional and commercial, too many people now make money out of the sport and what was once an enjoyable social activity is now spoilt by unsportsmanlike behaviour, complaints and bitchiness.
When my dog Boris suffered a cruciate injury the enforced time-out made me realise I didn't want to do it anymore and so I don't.. well apart from the odd exception, last weekend was the West Lakes Agility Club Show held in the small town of
Haverigg
on the Cumbria peninsula (Locator IO84IE)
This is a lovely old-style small friendly show with the bonus of being held just a stones throw from the sand dunes and beach. I had agreed to go and like the
recent holiday
in Skye it was initially planned with no thought for any radio operating.
We would be caravanning at the show for the best part of four days without any electrical hookup and the wife had volunteered to help on Saturday leaving me on my own for most of the day... so a plan was hatched at the last minute.
I purchased a nice new 'spare' 100A/h leisure battery and smuggled on board the FT-857D with some suitable battery clips, headphones, a fiberglass pole, some antennas. I don't own a suitable 'portable' ATU at present, having borrowed one from
SKARS
on several occasions but as this was a last minute thing I would have to chance operating without it. I took the M0CVO HW-20P
OCF-Dipole
, which has a usable VSWR on 20m, 17m, 15m, 12m and 10m without an antenna tuner and the M0CVO
Magitenna
, but wasn't sure what I would get from this as I'd only ever used it with a ATU.
The weather was difficult all weekend, we arrived on the Friday to be met with warm and sunny conditions but a steady strong wind. There was bit of a battle to get the caravan awning up but we managed it.Saturday the wind just got stronger, the forecast for Sunday was for even stronger winds so it was dismantled and packed away, indeed it was worse around 25-30mph with must stronger gusts.
Undeterred I got the antennas up, however the fiberglass pole I have must be getting on for 10 years old, and would often fly a pirate flag when camped at agility shows. It had already lost it's top section many moons ago but was still quite tall and so I hoisted up the OCFD balun and coax and the end of the magitenna wire in the buffeting wind and it was swinging around wildly - almost inevitably it proved too much and the remaining top section splintered!
Despite losing over in a metre in length I tried again and managed to get everything up, the OCFD wires were tied out to form a sort of inverted-vee using a handy nearby fence, the Magintenna was pulled to form a sloper across over the front of the caravan, but due to the lost height actually touched the front of the roof. Amazingly I got an almost 1:1 VSWR on 40m and loud and clear RX.
This weekend was the
International Lighthouse and Lightship Weekend
(ILLW) this annual event has been going since 1995 and promote public awareness of lighthouses and lightships and their need for preservation and restoration, and at the same time to promote amateur radio and to foster International goodwill.
The bands were kind and I had an enjoyable Saturday afternoon and a few hours on Sunday making QSOs with a number of UK and European lighthouse stations on 40m and 20m and it seems the whole event was a great success. Alas the wind proved too much for the remainder of the fiberglass pole and it developed a large crack in the bottom section forcing me off the air.
By coincidence Haverigg has two lights, the old Hodbarrow beacon and the restored Hodbarrow Point lighthouse (pictured above from the beach). Last year we walked to the restored lighthouse but since the restoration was
completed
in 2004 it is sadly looking in need of some remedial work.
I only learned of the ILLW event at the last minute and sadly neither of the Haverigg lights were activated that weekend, next year if the show is on at the same time I may look at trying to operate from them.
Oh and the wind? Here is a video of a walk on the beach on the Sunday morning..
Have taken one further step up the amateur radio licensing ladder, passing the Intermediate exam and assessments. A big thank you to
Grantham ARC
and Alan and Keith for invigilating and congratulations to my fellow candidate Mark Orbell who also passed.
My new callsign is 2E0NRD
Current QTH
I am currently writing this blog entry while on holiday sitting in the caravan watching the sun rise over the Lake District. I have brought the rig along with a
M0CVO magitenna
for HF and not wanting to miss out on the 144MHz UKAC tonight have a
Sandpiper 3-Element Delta Quad
.
It has already caused some strange looks on the campsite while I built it up and tested it last night and I hope I won't have any RFI issues as caravans are often fitted with wideband TV amplifiers! Thankfully the site is currently very quiet as the school holidays have finished.
Testing the Delta Quad last night
Initially was going to make a Moxon for 2m but I messed up my first attempt and ran out of time to make another so at the last minute ordered the Delta Quad from Sandpiper. It is a well built antenna I just had to cut the three loops and solder them up, the instructions were very clear. It is easily dismantled and seems ideal for portable work so is an investment for the future. I hope to use it during July's
VHF NFD
.
The antenna has an excellent VSWR match and when testing I clearly heard a cw/jt65 beacon around 144.480MHz which must have been
GB3NGI
on the Slieve Anorra Mountain in County Antrim, Northern Ireland (IO65VB)
I will be operating as M6GTG/P tonight as don't want to upset my UKAC scores and I am not really sure what to expect as surrounded by mountains in most directions here but should be fun. I might even rope in Boris to give me a hand
Boris not looking too impressed
Last Tuesday (27 May) was the 50MHz UKAC. I had intended to do some operating over previous Bank Holiday weekend and with reports of Sporadic E propagation picking up on 6m I had put my homebrew Moxon back up on the pole with the new rotator. Unfortunately the operating was curtailed due to the discomfort I am currently suffering due to a trapped nerve in my back.
That weekend saw some horrendous weather and it rained heavily for several days, indeed it had rained most of Tuesday, checking the VSWR in the evening before the start of the contest I was shocked to see it had risen from 1:1.5 to nearly 1:3!
I knew the bad weather was forecast before putting the antenna up so had made sure all the coax connectors and the feedpoint were properly sealed with self amalgamating tape so was somewhat perplexed. In the end I decided what I thought the issue was, the moxon frame was untreated softwood and in the bad weather had become very wet and damp and suspect it was affecting the resonance.
Despite this I decided to carry on as I was only running 10W and had a productive few hours despite some local noise.
I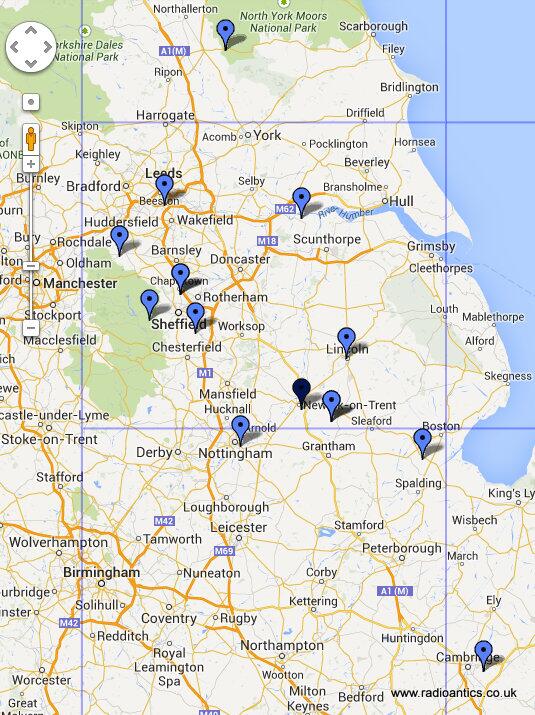 27 May 2014 - M6GTG 50MHz UKAC QSO Map
Anyway time to put the kettle on and I will post an update about how I get on tonight.