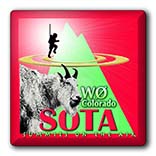 The Summits On The Air (SOTA) program was launched in Europe in 2002 but is just now making its way to the United States. Recently, there has been a surge of activity in Colorado as the program gains traction here.
The basic concept of SOTA is an award program that rewards the radio operators that activate summits and the radio operators that chase summits. For those of us that enjoy the mountains and enjoy ham radio, this is a great fit. I won't go into all of the rules here (Warning: There Are Lots of Them), so check out the SOTA web site for the complete details.
Steve WG0AT (World Famous Alpha Goat) just published another one of his Rooster and Peanut videos that capture his recent activation of Mount Herman. I managed to work Steve on 2 Meters and I make a cameo appearance in his video below as I make my first official SOTA contact.
Steve has been activating SOTA summits for a while now and others are joining in. Here's a video from Pikes Peak with Mike, KD9KC and Ron,WT5RZ on North American Summits On the Air weekend.

Recently, Jerry KD0BIK succumbed to the SOTA addiction, activating Mount Herman and  Green Mountain (click on the mountain names to see his blog postings). Chris NW5W has also been active…check out his web site here.
There are numerous SOTA videos on youtube from all over the world.
The SOTAWatch web site is dedicated to posting future SOTA operating plans (Alerts) and SOTA activations in progress (Spots). The North American SOTA Yahoo! Group is another great source of information.
See you on a summit soon.
73, Bob K0NR
Bob Witte, KØNR, is a regular contributor to AmateurRadio.com and writes from Colorado, USA. Contact him at

[email protected]

.