Signal Mountain (W7Y/TT-161) is now my favorite spot in the Grand Teton National Park. The summit is well-marked on the Grand Teton NP map, on the east side of Jackson Lake. It has a paved road to the top and it provides excellent views of Jackson Hole and the surrounding mountains. Oh, and it's a great location for ham radio.
On this summit, I did a combination Summits On The Air (SOTA) and National Parks On the Air (NPOTA) activation. Well, sort of. It turns out that when I packed for the trip, I included my usual SOTA gear, which is all VHF. For NPOTA, I loaded up my HF DXpedition gear that needs a pretty hefty power source. These means that the HF stuff uses my car battery, so it is not SOTA-compliant. Oh well.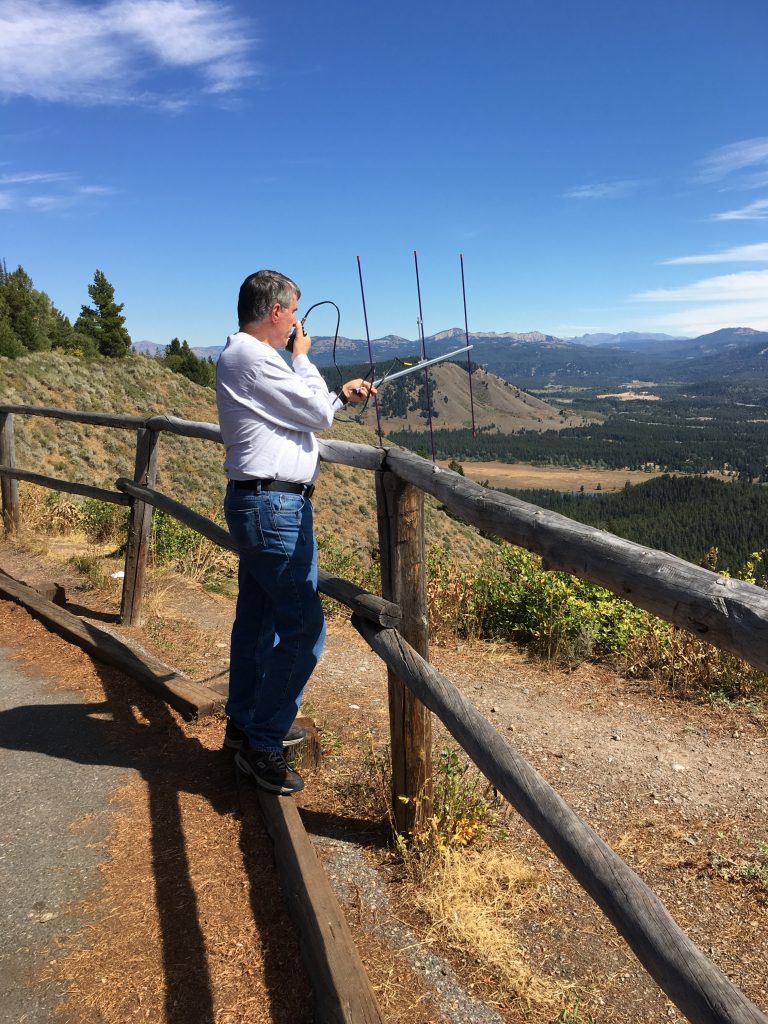 For the SOTA activation, I used the Yaesu FT-1DR and my 3-element Arrow yagi antenna to work a handful of stations on 146.52 MHz. I was a little concerned about finding enough stations listening on 52, but once again a little bit of patience payed off and I made my four QSOs.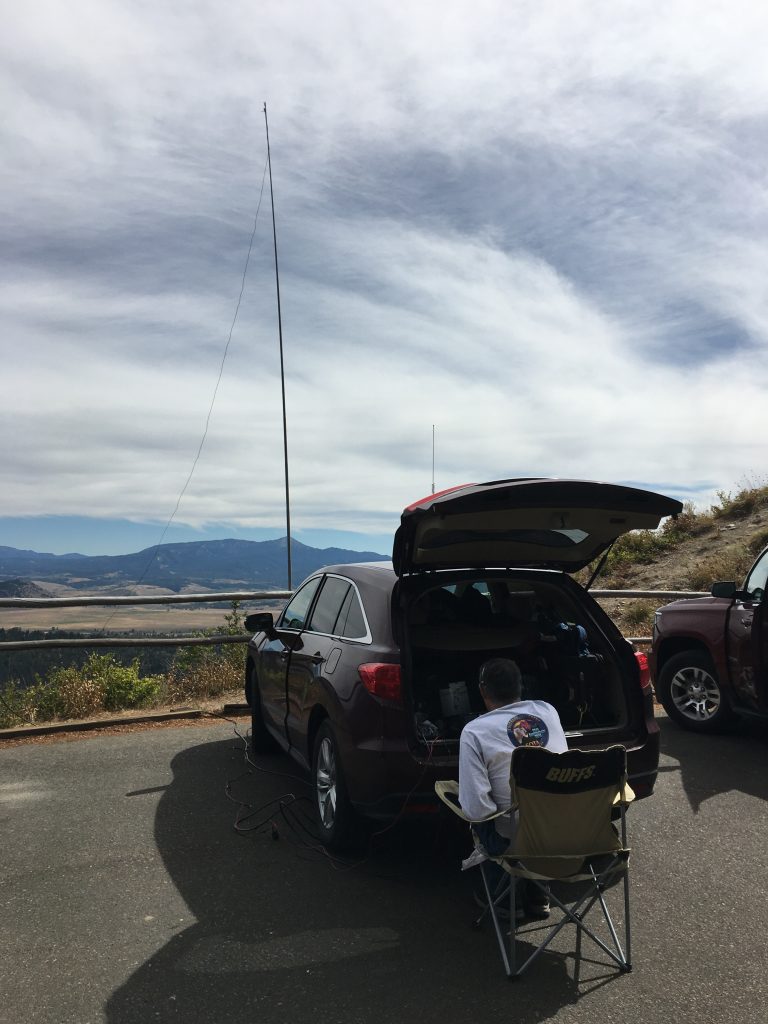 Then I set up the NPOTA station to activate Grand Teton National Park (NP23). My equipment was a Yaesu FT-991 driving an end-fed half-wave for 20m from LNR Precision. I've tried a number of different portable antennas over the years but have found that a half-wave radiator up in the air is a pretty effective antenna. This could be a center-fed dipole antenna but that can be a challenge to support, depending on the physical location.
The end-fed half-waves (EFHW) from LNR Precision are easily supported using a non-conductive pole such as the 10m SOTABEAMS pole. The top two sections of the pole are too thin to support much of antenna, so I have removed them. This makes my pole about 9 meters in length which is still long enough to support a 20m halfwave.  (The antenna angles out a bit as shown in the photo but its pretty much vertical.) I attached the pole to a fence post using some hook/loop straps. I don't fiddle with the length of the antenna, I just let the antenna tuner in the FT-991 trim up the match. This is the same configuration I used in Antigua (V29RW), where it worked great.
The FT-991 is a great little radio for this kind of operation. The SUV we were driving is not set up for HF operation so I just located the radio in the back of the vehicle and plopped down on a folding camp chair. For power, I clipped directly onto the vehicle battery with fused 10 gauge wires.
I started by making a few calls on 20m ssb. As soon as I was "spotted" on the usual web sites, I had a good pileup going. I worked 40 stations in about 40 minutes, so averaged one QSO per minute overall. Thanks to everyone that worked me; all contacts have been uploaded to Logbook of The World.
Oh, and it was a lot of fun.
73, Bob K0NR
The post SOTA plus NPOTA on Signal Mountain (W7Y/TT-161) appeared first on The KØNR Radio Site.
Bob Witte, KØNR, is a regular contributor to AmateurRadio.com and writes from Colorado, USA. Contact him at

[email protected]

.