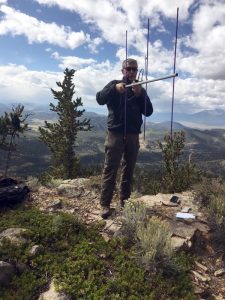 Kaufman Ridge is a ridge line that runs along the border of Park and Chaffee Counties in Colorado, near Trout Creek Pass. There are two Summits On The Air (SOTA) summits on this ridge: Kaufman Ridge (W0C/SP-081), formerly Kaufman Ridge HP, and North Kaufman Ridge (W0C/SP-085), formerly Kaufman Ridge North. I have activated these summits before including a winter activation of North Kaufman Ridge. These summits have turned out to be popular SOTA activations because they are easy to access, easy to hike and have outstanding views of the surrounding area.
Joyce/K0JJW and I decided to do a SOTA activation on a pleasant September day. On previous trips, we approached the summit from the east without much thought to the route. This time we approached from the north, based on a tip from other SOTA activators. This route is a little bit longer than coming from the east but it turned out to have fewer steep spots and less downed timber to navigate.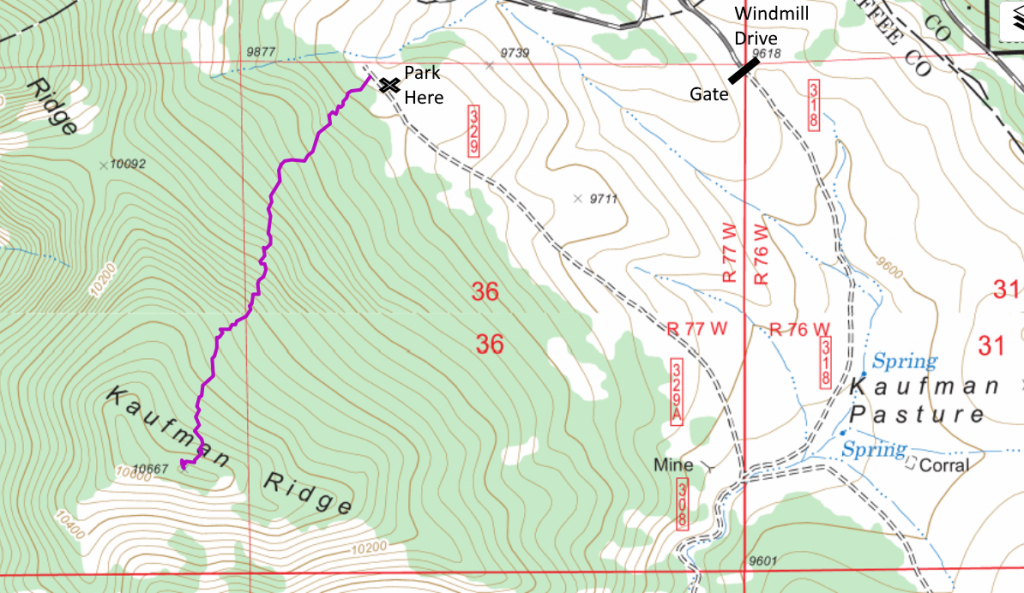 To get to the start of the hike, we went south on Windmill Drive to FS 318, entering the San Isabel National Forest. There is a gate at the entrance to the forest that is closed from December to April. We turned right onto FS329, which may not be marked but is an obvious 4WD road heading to the north. We drove to the end of the road and parked near the National Forest boundary. These are really easy 4WD roads such that a high-clearance 2WD vehicle should have no problem.
At this point, we aimed straight at the summit and started hiking. We found only bits and pieces of a trail here and there. Someone has attempted to mark the trail in places but it was difficult to follow. No worries though as the route was relatively smooth without many obstacles such as rock formations and difficult downed timber. We had to do some minor route finding but just looking ahead for obstacles was sufficient. The one-way distance was 1.1 miles with a vertical gain of 800 feet.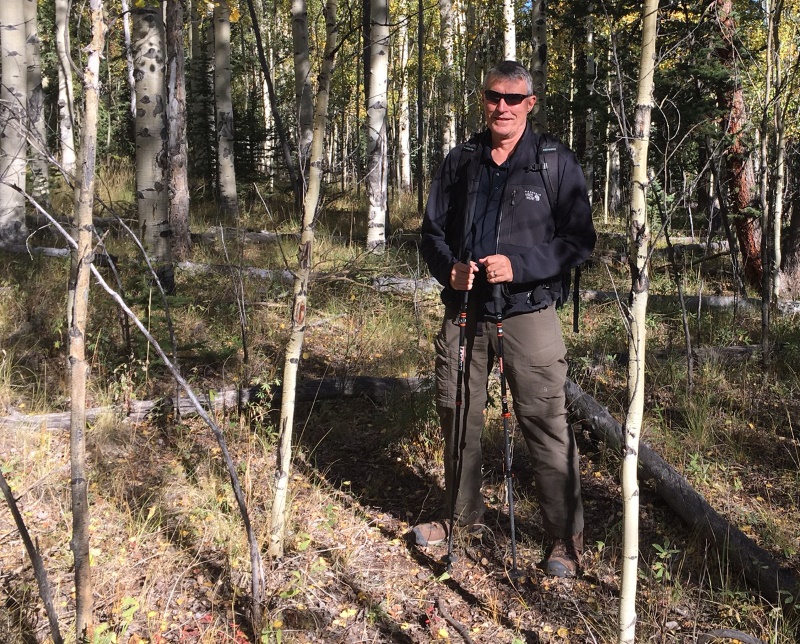 On top, we both snagged plenty of radio contacts on VHF/UHF and enjoyed the excellent views in all directions.  This made for a nice SOTA activation on a sunny fall day!
73, Bob K0NR
The post SOTA Activation: North Kaufman Ridge (W0C/SP-085) appeared first on The KØNR Radio Site.
Bob Witte, KØNR, is a regular contributor to AmateurRadio.com and writes from Colorado, USA. Contact him at

[email protected]

.