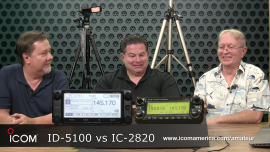 Ray Novak from Icom America came by the AmateurLogic studio with Icom's newest 2m/70cm, D-Star capable radio. We had the perfect opportunity to host another smack down match. This time it was between the new ID-5100A vs the IC-2820H.
Check it out here: ID-5100A vs IC-2820H
George Thomas, W5JDX, is co-host of AmateurLogic.TV, an original amateur radio video program hosted by George Thomas (W5JDX), Tommy Martin (N5ZNO), Peter Berrett (VK3PB), and Emile Diodene (KE5QKR). Contact him at

[email protected]

.
One Response to "Smack down, round 2. ID-5100A vs IC-2820H."