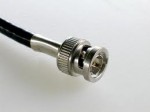 There was a discussion on Google+ the other day about how a particular handheld transceiver has an SMA connector, instead of the venerable BNC connector. I noted that many of the newer HTs are going with SMA, presumably because of the smaller size. In fact, I started thinking about it…I didn't think you can buy an HT anymore with a BNC.
I took at look at some of the ham radio dealer websites to see if I was right. These radios all have SMA connectors: Alinco DJ-175T, DJ-C7T, DJ-G7T, DJ-G29T, DJ-V17T, DJ-V57T; ICOM IC-80AD, IC-92AD, IC-T70A, ID-31A: Kenwood TH-D72A, TH-F6A, TH-K20A; Yaesu FT-60R, FT-250R, FT-270R, VX-3R, VX-6R, VX-7R, VX-8R. The Wouxun radios are SMA but with a male connector on the radio (opposite gender compared to the other manufacturers…a topic for another day.)
But I did find three ICOM models that have BNC connectors: IC-V80, IC-V82, IC-U82.
The trend line is clear…the BNC is on the way out for amateur radio handheld transceivers.
Do I care?
Well, yes, I do.
I have a collection of extended length antennas that are much more efficient than the standard dummy load rubber duck. These are great for portable operation, mountaintopping, etc. I have not found very many of these antennas available with SMA connectors. Even if they were available, I am not sure I'd want to attach them to an SMA connector on an HT. For example, a 1/2-wave 2-Meter antenna is about 38 inches long — I am skeptical that an SMA provides enough mechanical strength to support it. Even with a BNC, I have always been very careful to not put too much strain on the connector.
We will have to see where this leads but it seems that the BNC will fade away for amateur use. Most mobile and base rigs use PL-259 and/or N connectors so HTs have been the main application for a BNC.
Goodbye, BNC, I am going to miss you.
73, Bob K0NR
Update on Feb 24: I've had several people suggest to me "just use a BNC-to-SMA adapter." This certainly takes care of making a good electrical connection but mechanically they are generally weak.
Bob Witte, KØNR, is a regular contributor to AmateurRadio.com and writes from Colorado, USA. Contact him at

[email protected]

.
4 Responses to "Say Goodbye to the BNC"