The North America SOTA Weekend coincided with the ARRL September VHF Contest, which I interpreted as a great opportunity to do a combination SOTA activation and QRP VHF operation. A few other folks thought that was a good idea so we all got on the air from SOTA peaks on the Sunday of the weekend. I decided to operate from Mount Herman (W0C/FR-063) in grid DM79. I hiked up the same mountain for last year's September contest and got soaked by the rain. Fortunately, the weather was excellent this year, making it a great day.
For radio equipment, I took a couple of HTs for 2m and 70 cm FM and the FT-817 for CW/SSB on 6m, 2m and 70 cm. Most of the SOTA action would be on 2m FM but SSB is critical for working the VHF contest. I did put out the word to the usual VHF contesters that there would be FM activity and did work a few of them via 2m FM. The 2m FM calling frequency, 146.52 MHz, is commonly used for SOTA but is not allowed for contest use. (Another example of how this rule is just a barrier to contest activity.) We used 146.55 MHz for the contest contacts.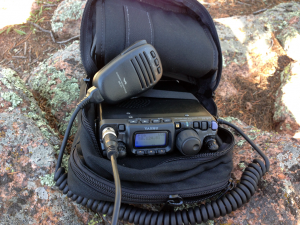 I had coordinated with Brad WA6MM who was going to be on Grays Peak (W0C/FR-002), one of the Colorado 14ers. When he made the summit, I had my 2m yagi antenna pointed in his direction and easily worked him on 2m FM at a distance of 65 miles.  Brad was using an HT with a 1/2-wave vertical antenna. Also, I worked Stu W0STU and Dan N0OLD on Bald Mountain (W0C/FR-093) , which sits on the east side of I-25 right at Monument Hill. Contest activity was light, as usual for the September contest in Colorado. We did have two rover stations that activated a few of the unpopulated grids in eastern Colorado: George AB0YM and Jonesy W3DHJ.
Band       QSOs X pt =  QSO pts.  X   Grids   =     Points
 -----------------------------------------------------------
 50         8      1      8             5             40
 144        23     1      23            5             115
 432        14     2      28            3             84
 -----------------------------------------------------------
 TOTALS     45            59            13            767
My contest score was not bad for a few hours of operating QRP portable. It turns out that I had set the Colorado section record for "single-op portable" back in 1990 with just 624 points (using my old callsign KB0CY). Oddly enough, 24 years later it appears that I set a new record. (This speaks more to the lack of QRP activity during the September contest and less about my incredible operating ability.)
All in all, it was a great day in the mountains to take a hike and play with radios. I will probably do the SOTA + VHF Contest activation again.
73, Bob K0NR
Bob Witte, KØNR, is a regular contributor to AmateurRadio.com and writes from Colorado, USA. Contact him at

[email protected]

.