My award certificate for the 2013 ARRL June VHF Contest arrived in the mail this past week. The new VHF contest certificates look great, don't you think? Nice job, ARRL!  Similar to other years, I operated from the family cabin at 9600 feet elevation in DM78 near Trout Creek Pass with temporary antennas (see my previous blog posting.) I knew that I scored OK in the contest but I've had higher scores in the past. The June VHF results article is a good summary of the national activity.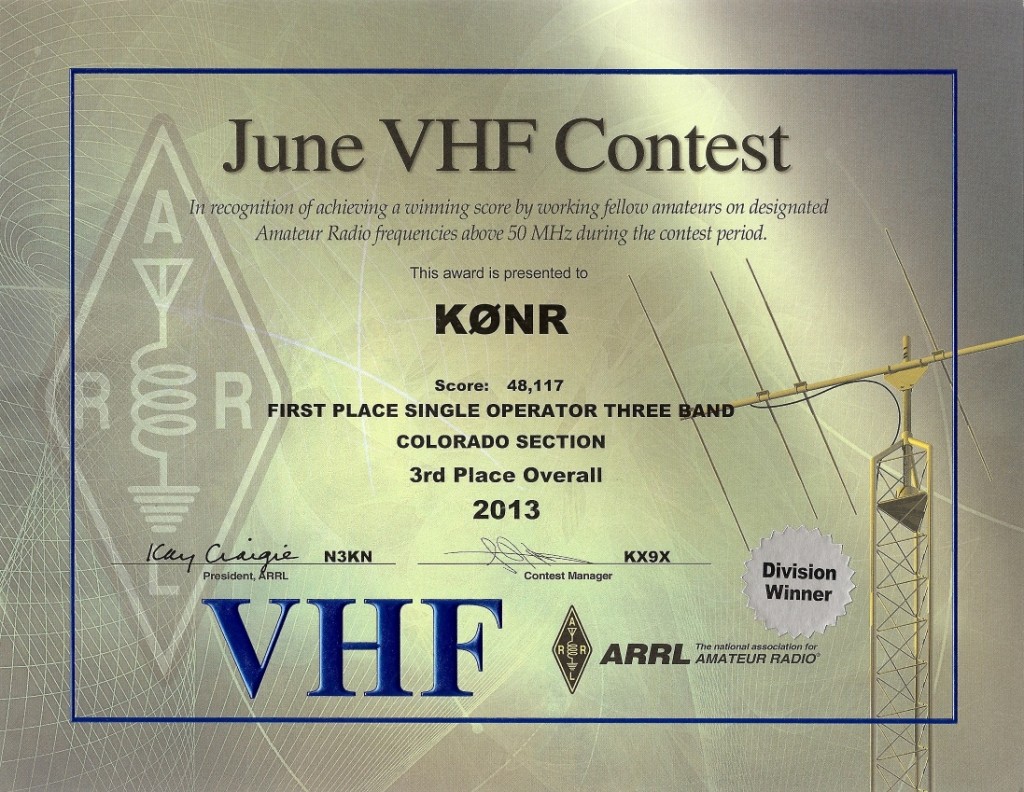 This was the first year for the Single Operator Three Band category, defined as operating on 50 MHz (100W limit), 144 MHz (100W limit) and 432 MHz (50W limit). I found this category to be very attractive because my interests are focused on VHF and not the higher bands. Often, I'll just run 6m and 2m during VHF contests but with the three-band category it was not a big stretch to add in 70cm. The scoring system for the normal single operator categories provides a large incentive to operate on 1.2 GHz and higher, which makes it more difficult for a "VHF only" station to win in those categories. Some guys like the challenge of operating more bands and pushing the limits of going higher in frequency. I totally get that, so more power to them…it is just not that interesting to me.
It was not a big surprise that I took first place in Colorado and the Rocky Mountain Division because there were only a handful of entries in my category. I was pleased to place third in the overall contest. I expect that competition in this category will get more intense as other single-op stations realize they can win in this category.  But limited to three bands and 100W, this competition will be more about propagation and operator skill, and less about deploying lots of gear.
The 2014 June VHF Contest is just around the corner (June 14-15), so time to get the station ready!
73, Bob K0NR
Bob Witte, KØNR, is a regular contributor to AmateurRadio.com and writes from Colorado, USA. Contact him at

[email protected]

.