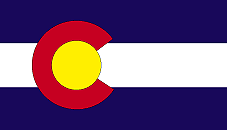 It was a fun day working the
Colorado QSO Party
from the cabin near Trout Creek Pass. State QSO parties are contests designed to focus attention on a particular state, with an emphasis on activation of counties. This brings out the
County Hunters
and other folks interested in working that particular state.
The contest format is quite flexible, including CW, Digital and Phone on most bands from HF through UHF. There were many mobile stations out activating counties…which is important in Colorado since some counties are sparsely populated and there may be (literally) no active ham radio operators living there.
I decided to operate from our cabin near Trout Creek Pass in Park County, which is considered "rare" by most folks. My station was a Yaesu FT-950 running 100W to a trap dipole up in the trees. I mostly operated phone since I don't consider my CW skills up to that challenge of a contest. I did make a few CW contacts at the request of a few folks than wanted Park County on CW.
Thanks to all of the mobile stations out there, both in Colorado and out of state. I was surprised how many people were mobile or operating portable (often camping out for the holiday weekend). I normally monitor 146.52 MHz while up at the cabin for anyone out hiking or mobile. I heard Eric W0ECE doing a SOTA activation on Mt Evans and worked him for QSO Party points and SOTA points.
The score below includes the CW contacts so the score will drop a bit when I submit in the phone only category (77526, I think).
I was disappointed with the Qs on 15 Meters but I looked in my log from last year and it was also light on 15 Meter contacts. Twenty meters is always a bit crowded and I really like when 15M and 10M open up. I almost doubled my score from last year, so I was happy with the result.
        Band  Mode  QSOs    Pts   Sec   Mul
            7  CW       3      12    2    0
            7  LSB     93     186   23    1
           14  CW       1      4     1    0
           14  USB    400     802   41    0
           21  USB     23      64    5    0
           28  USB      1      2     0    0
          144  FM       4      8     3    0
        Total  Both   525    1078   75    1
           Score : 81,928
Thanks to the Pikes Peak Radio Amateur Association for sponsoring this event.
73, Bob K0NR
Bob Witte, KØNR, is a regular contributor to AmateurRadio.com and writes from Colorado, USA. Contact him at

[email protected]

.
One Response to "K0NR Colorado QSO Party Results"