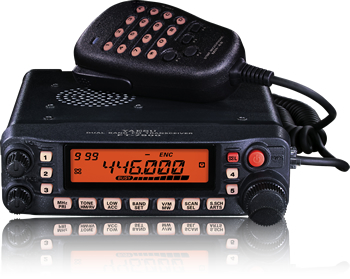 I encourage newly licensed radio amateurs to go ahead and get a dual-band FM rig…handheld, mobile or both. I think the additional cost of the dualbander with both 2 Meters (146 MHz) and 70 cm (440 MHz) is justified by having the ability to operate on the additional ham band. I have noticed that the price of the single-band 2 Meter mobiles are pretty low, less than $200… a real bargain in terms of technology. This made me wonder what the price premium for the second band (70 cm) really is.
I pulled all of these prices from the same major ham radio web site, trying to keep some consistency among the price of the various models. (I ignored specials and coupon pricing.) I looked at a basic 2 Meter FM rig and any comparable dual band models from the same manufacturer. I tried to stick to the basic transceivers and not include models that had advanced features such as D-STAR and APRS in them.
The data is captured in the table below. Note that I differentiated between a single receiver (one frequency at a time) dual-band radio and a two receiver dual-band radio, since the latter variety is much more expensive. I calculated a percent premium for each of the dual-band transceivers, calculated as the percent increase in price over the single-band radio from the same manufacturer. I think this is the most objective way to describe the extra cost of a dual-band radio.
| | | | |
| --- | --- | --- | --- |
| Transceiver | Price | Bands | Percent Premium |
| Yaesu FT-2900R | $185 | 2M | |
| Yaesu FT-7900R | $330 | 2M/70cm | 78% |
| Yaesu FT-8800R | $460 | 2M/70cm Dual Receiver | 149% |
| ICOM IC-2300H | $260 | 2M | |
| ICOM IC-2820H | $670 | 2M/70cm Dual Receiver | 158% |
| Alinco DR-135T | $170 | 2M | |
| Alinco DR-635T | $320 | 2M/70cm Dual Receiver | 88% |
| Kenwood TM-281A | $145 | 2M | |
| Kenwood TM-V71A | $395 | 2M/70cm Dual Receiver | 172% |
It is worth noting that only Yaesu and Alinco offer a single-receiver dual-band rig. These two radios are 78% and 88% more expensive than their single band counterparts (less than twice the cost). The two-receiver dual-band radios are consistently more expensive, with a price premium ranging from 149% to 172%. While these rigs are often described as having two radios in one, they are more than twice as expensive as a single-band radio.
Although I appreciate the extra utility of the two-receiver radios, it looks to me like the best value is with the single-receiver dual-band rigs.
What do you think?
73, Bob K0NR
Bob Witte, KØNR, is a regular contributor to AmateurRadio.com and writes from Colorado, USA. Contact him at

[email protected]

.
6 Responses to "How Much Does That Second Band Cost?"